Imagine you invite someone to your house, and when they walk through the front door, you say nothing. Awkward. Or, they immediately begin telling you about a picture you have to buy for your entryway—weird vibes.
A warm welcome and a "get-to-know-you" period are essential anytime you kick off a new relationship. That means each time someone new invites your brand into their inbox, you need to play nice.
Welcome and onboarding emails set up positive first impressions and build trust between customers and your brand. What are you supposed to say, though? And how do you not overstay your welcome?
We're going to break down what to include and when to send new customer emails.
When to use welcome emails
A welcome or onboarding email is in order anytime you gain a new subscriber. The most common entry points include:
Signing up for your newsletter
Joining your rewards program
Starting a free trial
Making a purchase
What's the point of creating a special series for new subscribers? Couldn't you send them the same weekly emails as everyone else? You could, but you'd miss out on valuable opportunities to increase engagement and retention.
A welcome email's goal is to give a good first impression, move people onto the next step of your buyer's journey, or encourage them to use your product to the fullest. In short, your first emails lay the groundwork for more sales.
Taking advantage of the momentum a new subscriber feels about your brand also helps you capture email engagement, which is good for your sender reputation and deliverability.
4 elements of winning welcome emails
Since welcome or onboarding emails are so versatile, it may seem complicated to nail down what they need to succeed. No matter the type of welcome or onboarding email, there are four things to consider.
Context
Since a specific subscriber action kicks off a welcome email, context is more important than in a standard newsletter. You need to consider what action the person took, their history with your brand, and what you want them to do next.
For example, monday.com uses an email to offer an extended free trial. Since the person didn't convert during the first trial, the company presents templates to quickly get started since they may have been overwhelmed by options the first time around.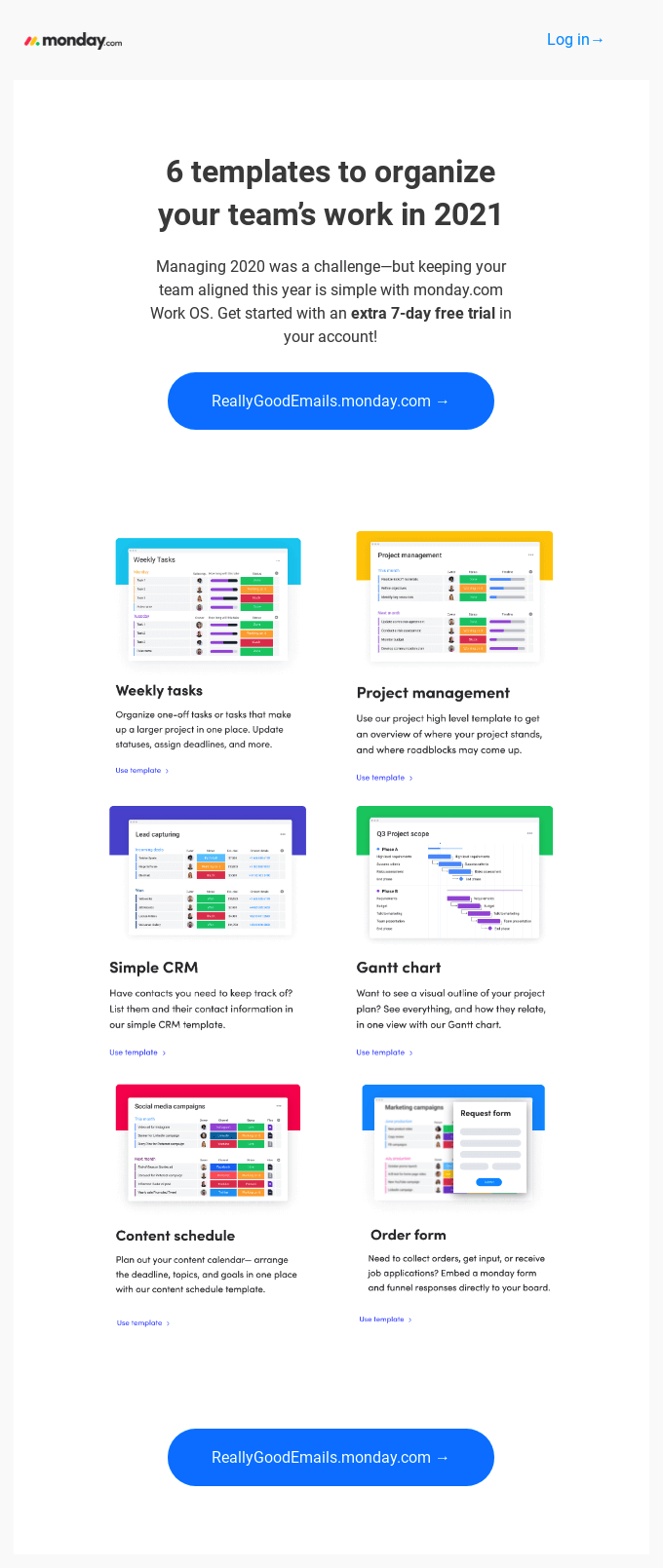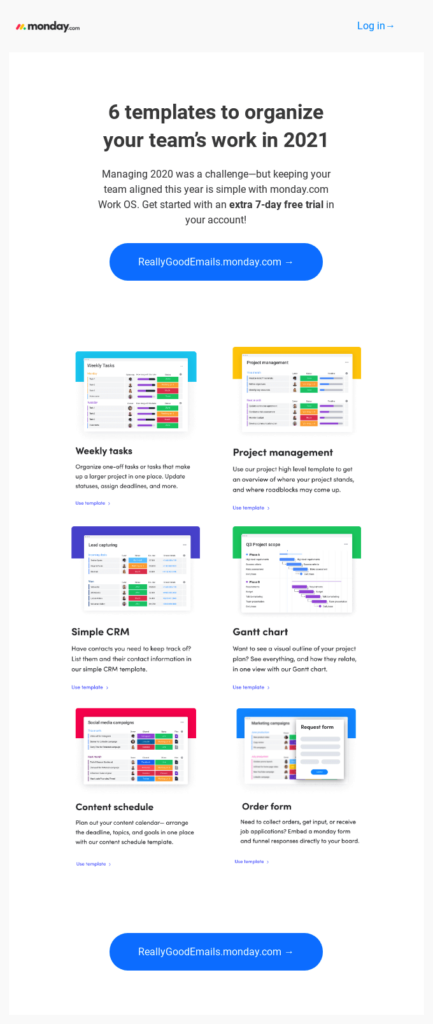 Focus
You don't want to overwhelm a new subscriber's inbox or distract from important messages in welcome emails. So, it's best to ensure new subscribers aren't put onto a standard promotional mailing list immediately.
Welcome emails should be the only messages they receive. How long you keep them segmented on a welcome series depends on things like:
The length of your free trial
How long it usually takes to make the first purchase
When subscribers tend to either convert or disengage
Automation
At the very least, your welcome email series will trigger when someone takes action, like subscribing to a newsletter. There's a whole world of automation opportunities after that, however. Setting up automations that send different messages depending on subscriber actions can help you boost engagement.
For example, suppose your analysis of past free trials shows a correlation between accounts that add another teammate in the first week and higher engagement rates. In that case, you want to encourage that behavior. If someone hasn't taken action in the first few days, your automation could trigger a message.
Google outlines a three-step checklist to getting started with a G Suite trial. They could send reminder messages for uncompleted steps.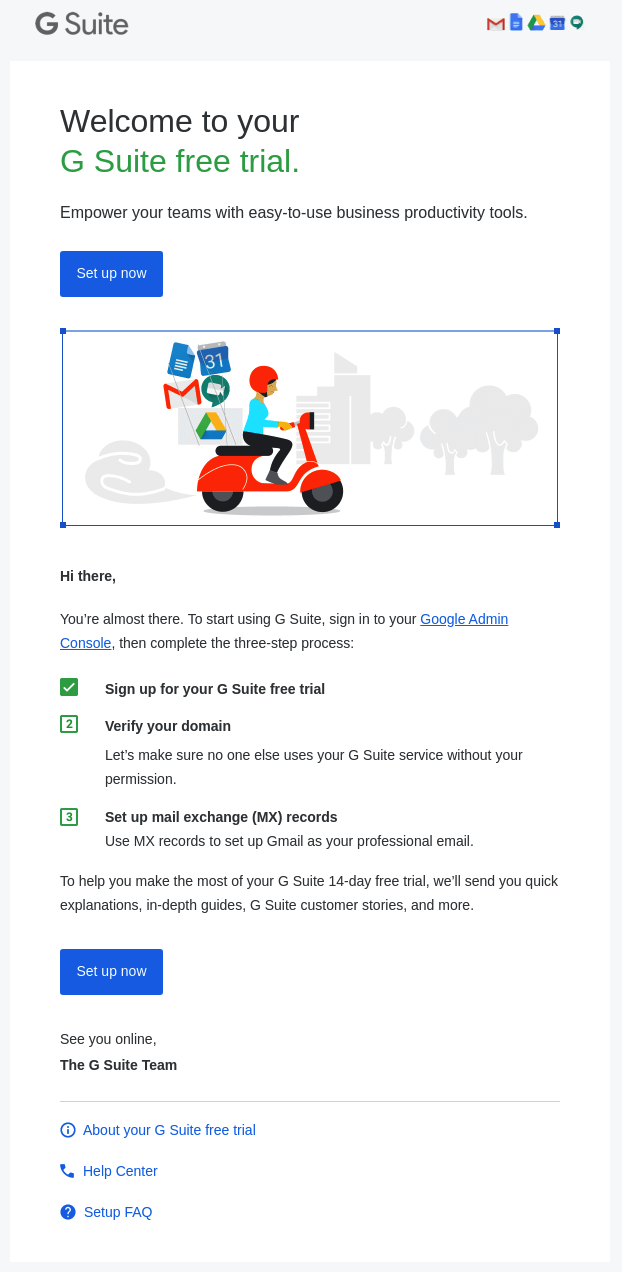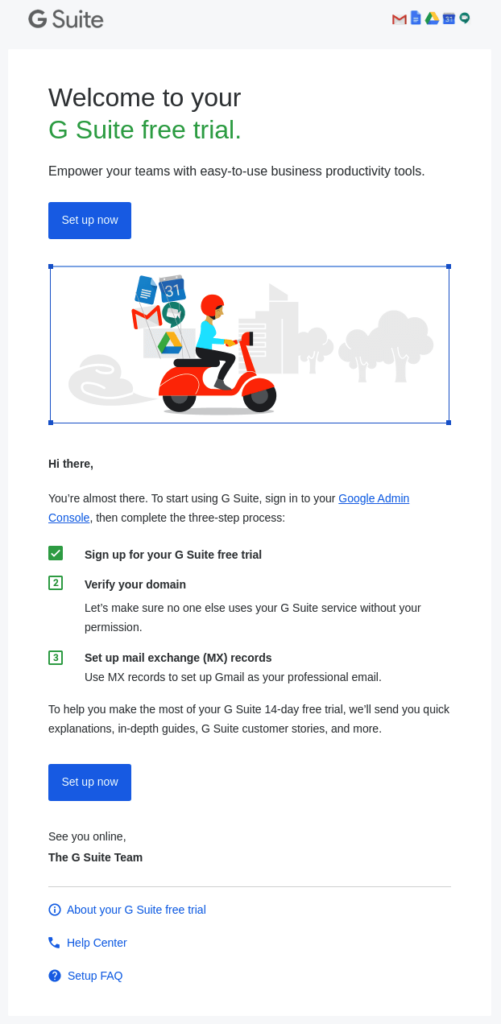 Personalization
After creating a relevant experience through automation and behavioral triggers, you can also personalize email content. Since you may not have past purchase data to refer to, try segmenting by location, including their name, or creating email variations depending on which landing page they signed up from.
For example, after a first-time booking with MGM Resorts, the welcome email pulls in a photo of the hotel booked plus name and confirmation info.


Welcome and onboarding email examples
Newsletter
Supergoop
When someone signs up for the Supergoop newsletter, it launches a welcome series that introduces the company and products.
There are two things I love about Supergoop's initial newsletter email—the personal welcome and the information about what's to come. Being able to put a face to the brand and why the CEO believes in the company makes it easier to connect. It's also nice that they give a preview of the type of content they send so subscribers know what to look out for.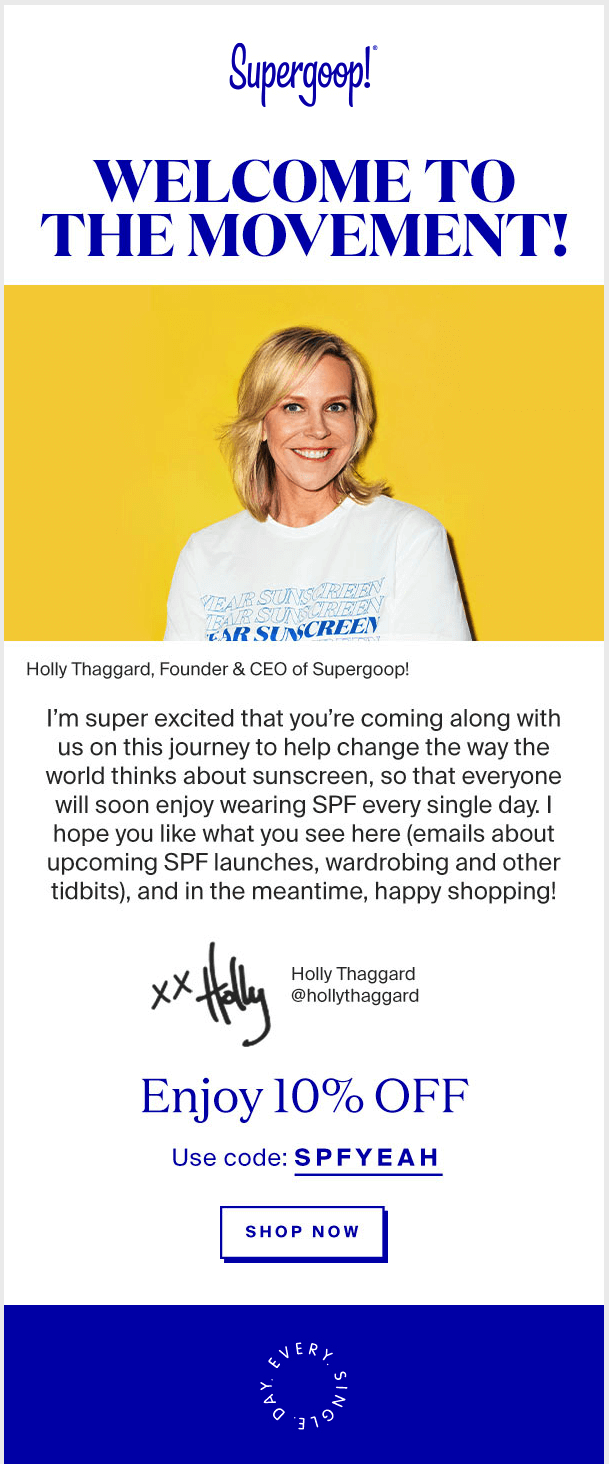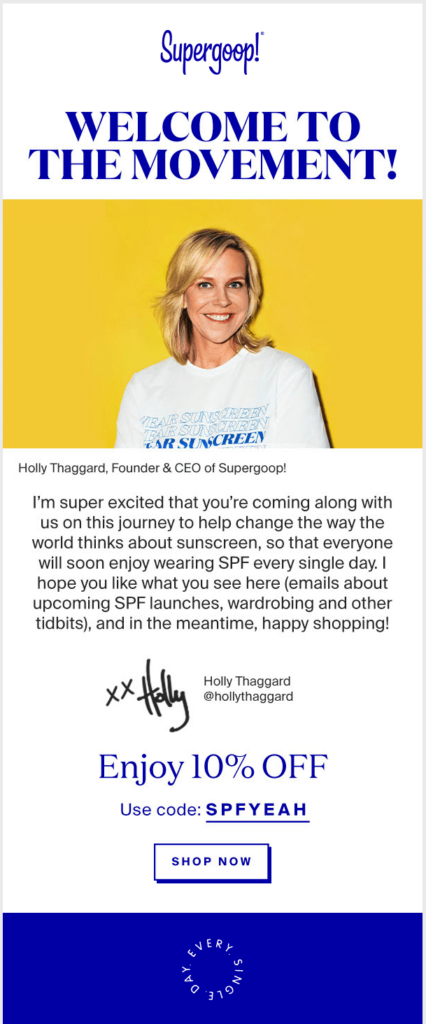 The following two emails in Supergoop's welcome series focus on the product.
The first of these messages help people identify which item is best for them depending on their skin type. Removing the barriers of indecision makes it easier for new subscribers to commit to a purchase.
The next message also acts as a product showcase slash informational piece about sunscreen myths.
Reward program
If your company has a rewards program, you might need a kickoff message to bring new members up to speed. Zoës Kitchen uses a simple email to welcome people to their ZK Rewards program and prompts them to order online or download the company's app.
The reward program's welcome email summarizes how people earn points, both through the app or in-store. It then prompts the subscriber to make an order.


If activity on the rewards account has stagnated, Zoës Kitchen sends a re-engagement offer. Offering a free product brings people back to the company and re-familiarizes them with the rewards app.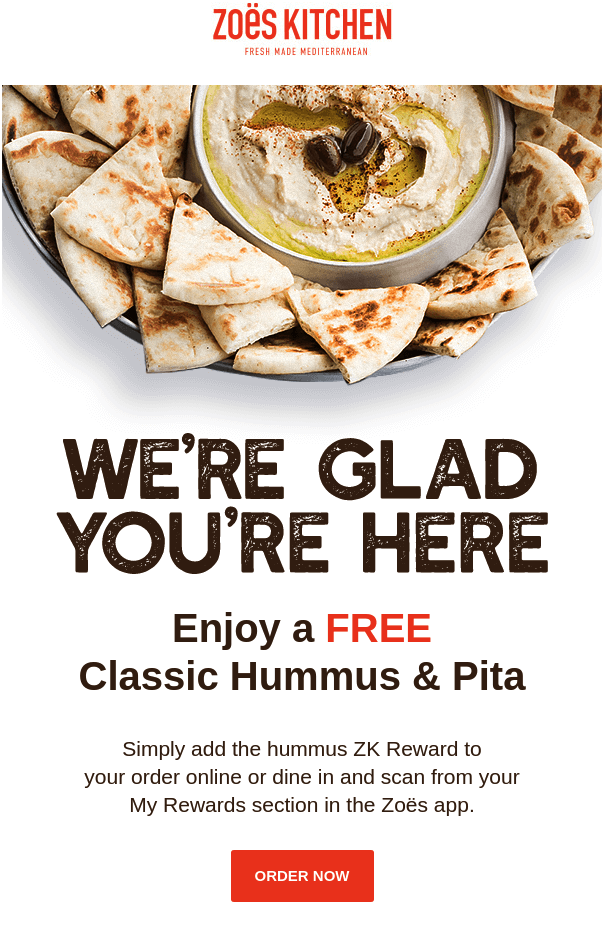 Free trial
Free trials need to help new users build a habit, and Headspace understands that. Their free trial series sets expectations about what will happen during the next ten days and delivers reminders and prompts to keep users moving forward.
Headspace uses the welcome email to introduce the "Take 10" trial and describe how to review account details. There's also a prompt to download the company's mobile app.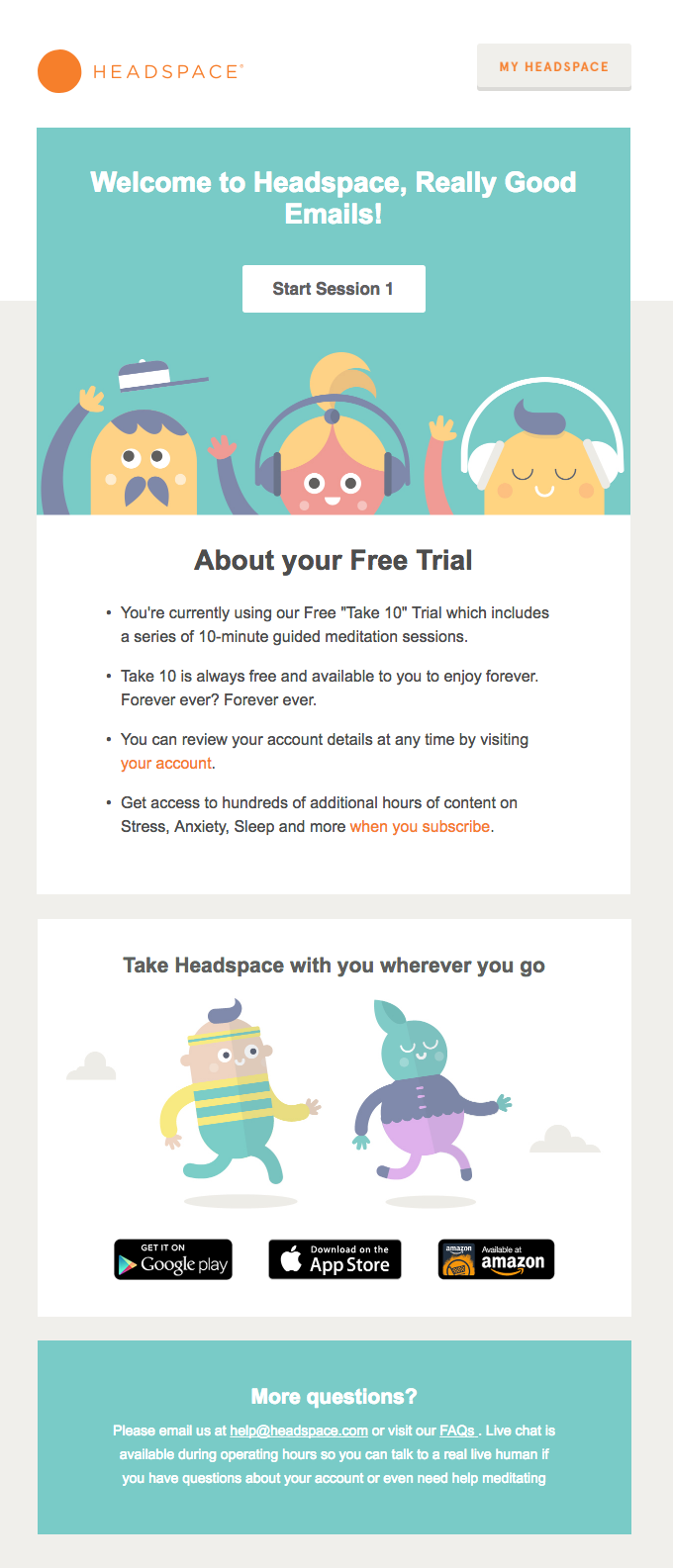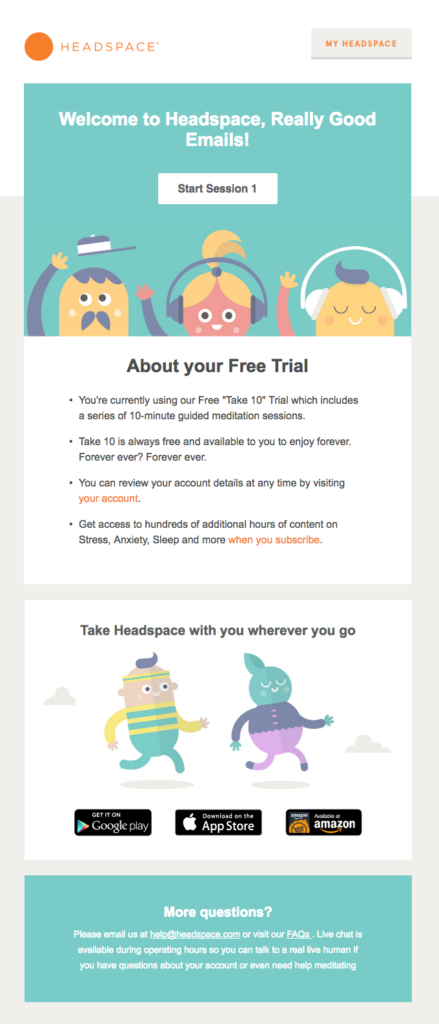 Next, it's time to get started. Headspace invites users to begin the first day of the challenge while addressing potential concerns. The welcome email talks about the benefits of meditation but points out that the person can't know until they try. Luckily, it only takes ten minutes a day.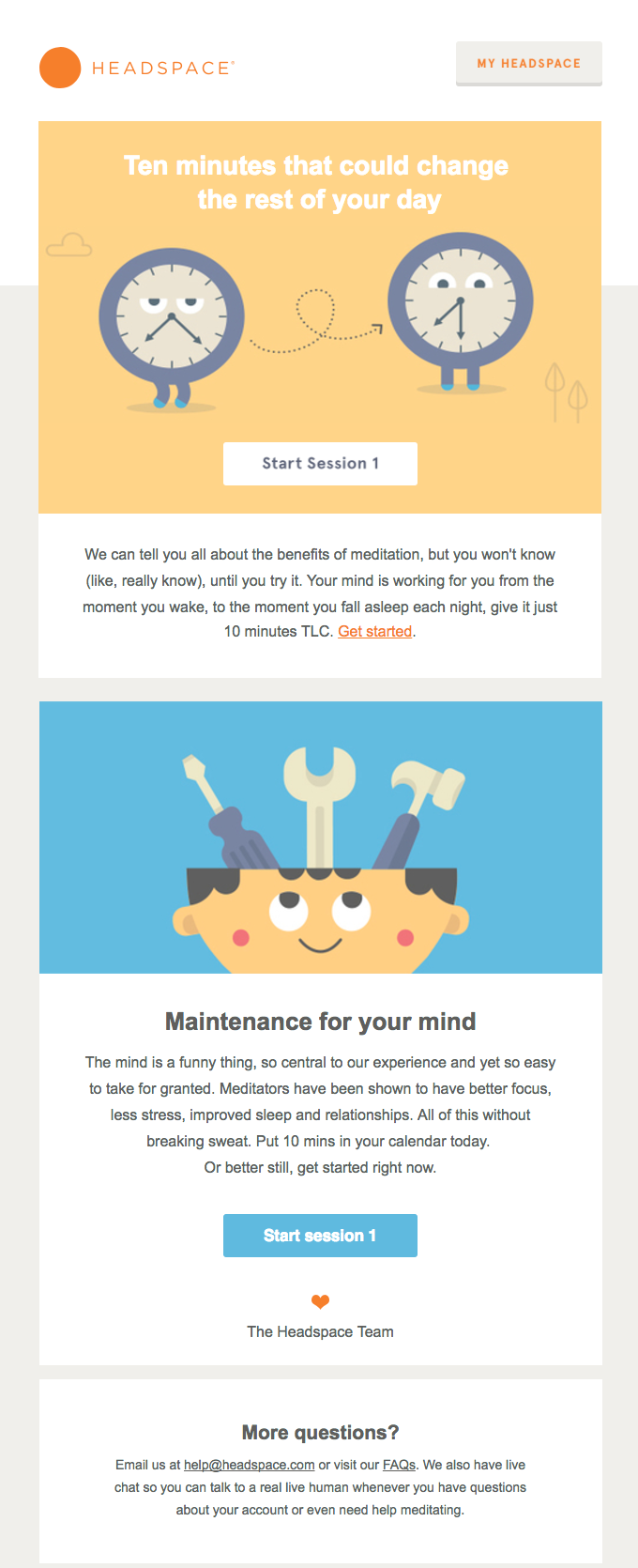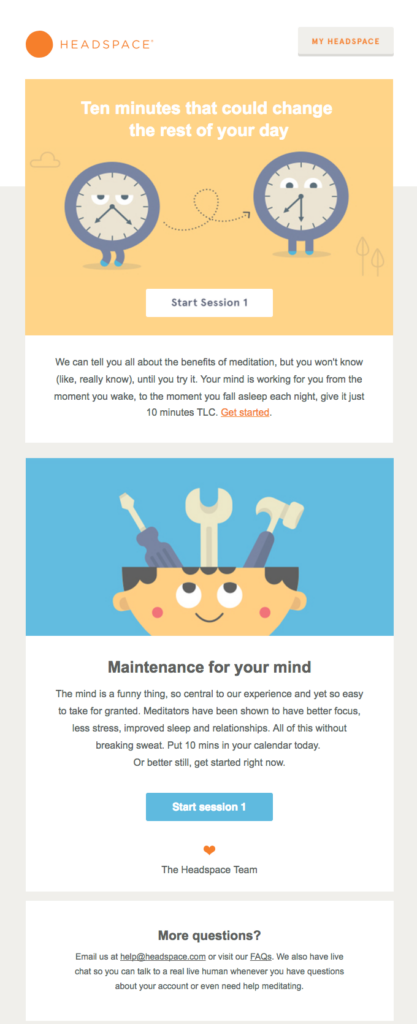 If a person completed day one, the message on the second day says the subscriber is "1 for 1." Action-based triggers and small personalizations like that make an automated sequence feel bespoke.


The free trial sequence continues with a congratulatory note on day three. Headspace asks people to reflect on their journey and gives subscribers a goal by citing research that states mental changes begin after six hours of meditation.


Post-Purchase
The Farmer's Dog uses their post-purchase email series to get new customers excited while waiting for their first order to ship.
The series starts with an order summary and process overview, complete with pet name personalization and order details. It takes standard purchase confirmation details and turns them into a story that gets the customer excited about what's to come. The welcome email also answers questions about the creation and shipping process.


Since The Farmer's Dog operates as a subscription, an email in the series also prompts you to set up an account so you can manage future orders and more.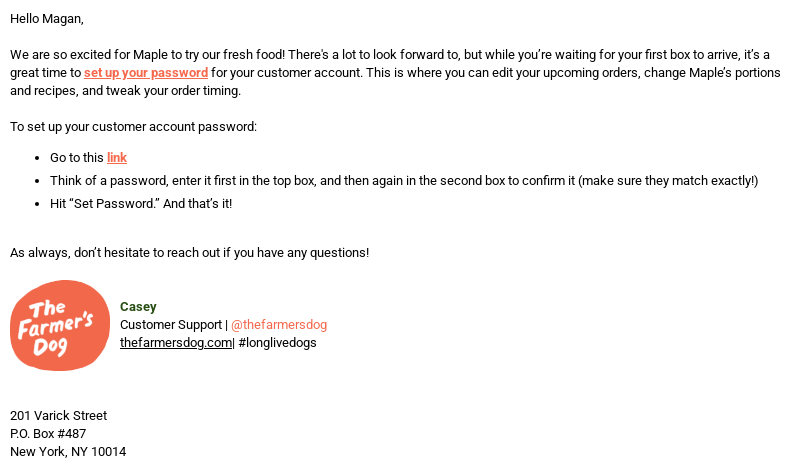 Between ordering and shipment, an email uses both the head and the heart to promote the product. First, The Farmer's Dog presents logical and factual reasons why their product is superior to other brands. Then, it hits you with pet owner testimonials (along with adorable dog photos).
This informational email is a prime example of a message you could use for new subscribers who have yet to purchase or new customers you want to reassure.


Finally, The Farmer's Dog sends an education email when it's time for the order to ship. There's a place to track the order, plus info on how they pack it and what to do with it when it arrives. There's also a note about how to transition your dog to their new food. Since retention is more likely when someone has a positive experience (and uses the product correctly), it makes sense to take time setting new customers up for success.

Email testing: the final piece of your welcome strategy
After you've strategized, designed, written, and developed your welcome email, there's one last step—ensuring deliverability. Email deliverability is always important, but new customers won't even get a chance to form an opinion about your brand if you land in the spam folder. Make sure that you also test your welcome emails across clients to make sure they look the way you intended.
Testing all of the emails in a new or updated series can be daunting, but you can automate your testing to speed the process up.
Give your team the gift of time—with Litmus

Empower your team—wherever they are—with the tools they need to collaborate seamlessly and send better emails, faster.