More than 40% of marketers say email marketing it's very critical—up nearly 30% since before the pandemic. With the stronger focus on email marketing comes an increase in email production volume—and more pressure to stand out in the inbox.
According to our 2021 State of Email report, personalization and automation are must-haves. Customers now expect engaging, personalized, email experiences, and 71% of consumers feel frustrated with impersonal experiences. Yet, 72% of marketers say meeting customer expectations is more difficult.
While more than 50% of marketers told us boosting personalization is a priority, they're finding it increasingly difficult to keep up with demand without adequate data or technology to streamline their workflow.
That's why with our February 2022 release, we're excited to deliver new solutions to help you execute compelling campaigns that engage subscribers, without the added work.
Here's what's new in Litmus.
Create uniquely personalized, engaging experiences with Litmus Personalize, powered by Kickdynamic
Litmus now provides the industry's most comprehensive email personalization, optimization, and insights platform with Litmus Personalize, powered by Kickdynamic—an AI-powered content automation platform.
The Kickdynamic solution empowers your team to automate and scale the creation of personalized individual email experiences that drive results. 
Live email content
Break past the limitations of personalizing content at the time an email is sent with live email content—like polling, countdown timers, geolocation targeting, weather, and more—boosting email engagement and driving conversions.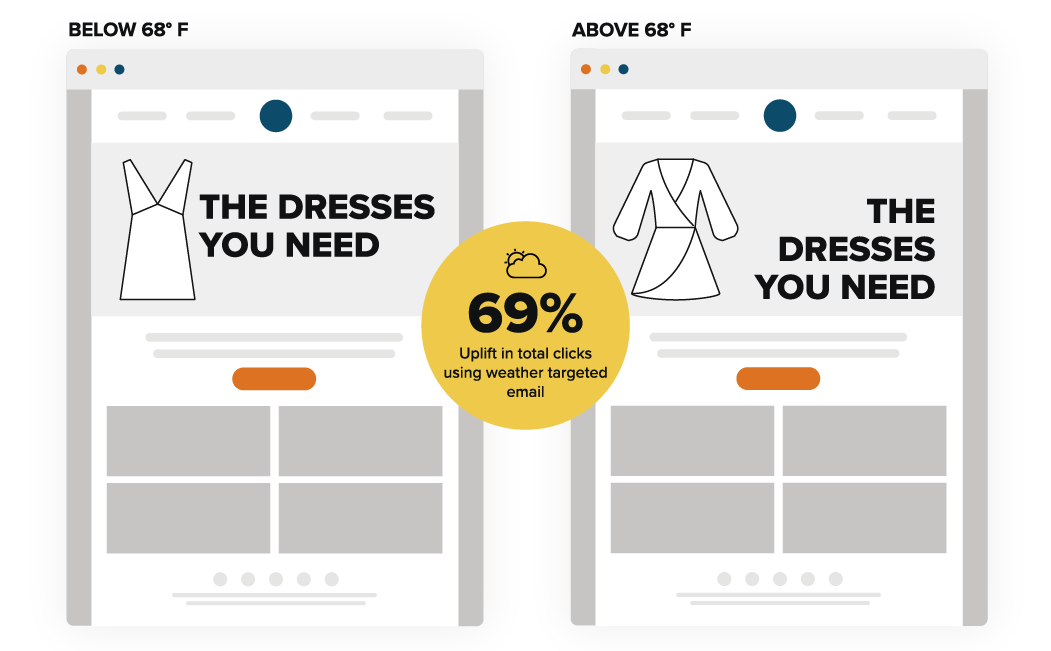 Content automation
Make it easier to create true, 1-to-1 subscriber experiences—without manually creating version upon version of every email. Kickdynamic Content Automation pulls the latest data from your CRM, product feeds, and more—allowing you to automatically generate endless email variations from a single HTML tag.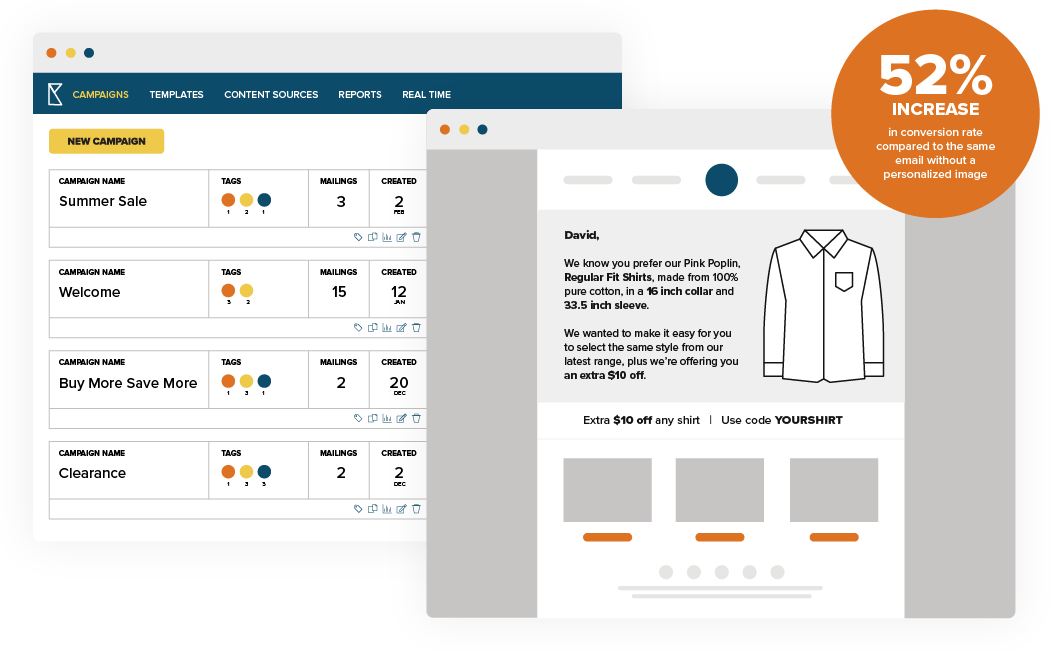 Predictive Recommendations
Supercharge your subscriber experience with Predictive Recommendations, powered by Lynx, Kickdynamic's revolutionary AI prediction engine. Increase conversions by automatically surfacing the products that are resonating with similar audiences in near realtime.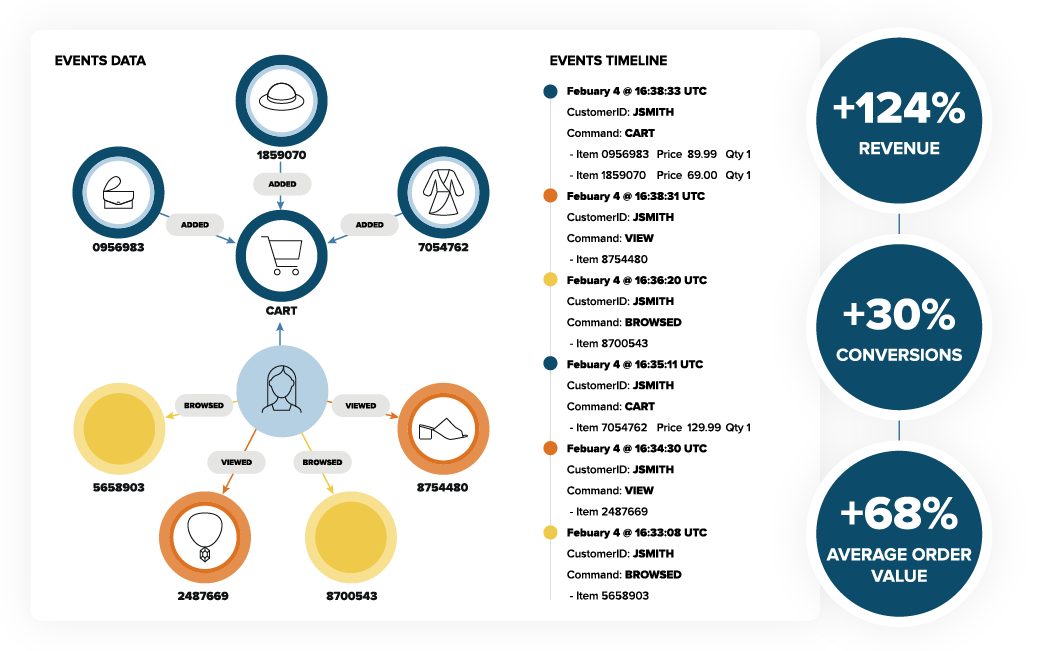 With Kickdynamic, it's never been easier to build more individualized emails for every unique subscriber. Harness the power of AI-driven recommendations and yield powerful results that boost customer loyalty and drive revenue.
Friendly heads-up: Kickdynamic is available exclusively as a standalone solution.
Powerful, actionable insights at a glance with Email Performance Indicators
While ESPs display metrics like click-through rate (CTR) and unsubscribe rate, many do not offer an easy and automated way to identify actionable insights to inform your email strategy.
Email Performance Indicators in Litmus' Integrated Insights Report provide powerful, actionable insights at a glance.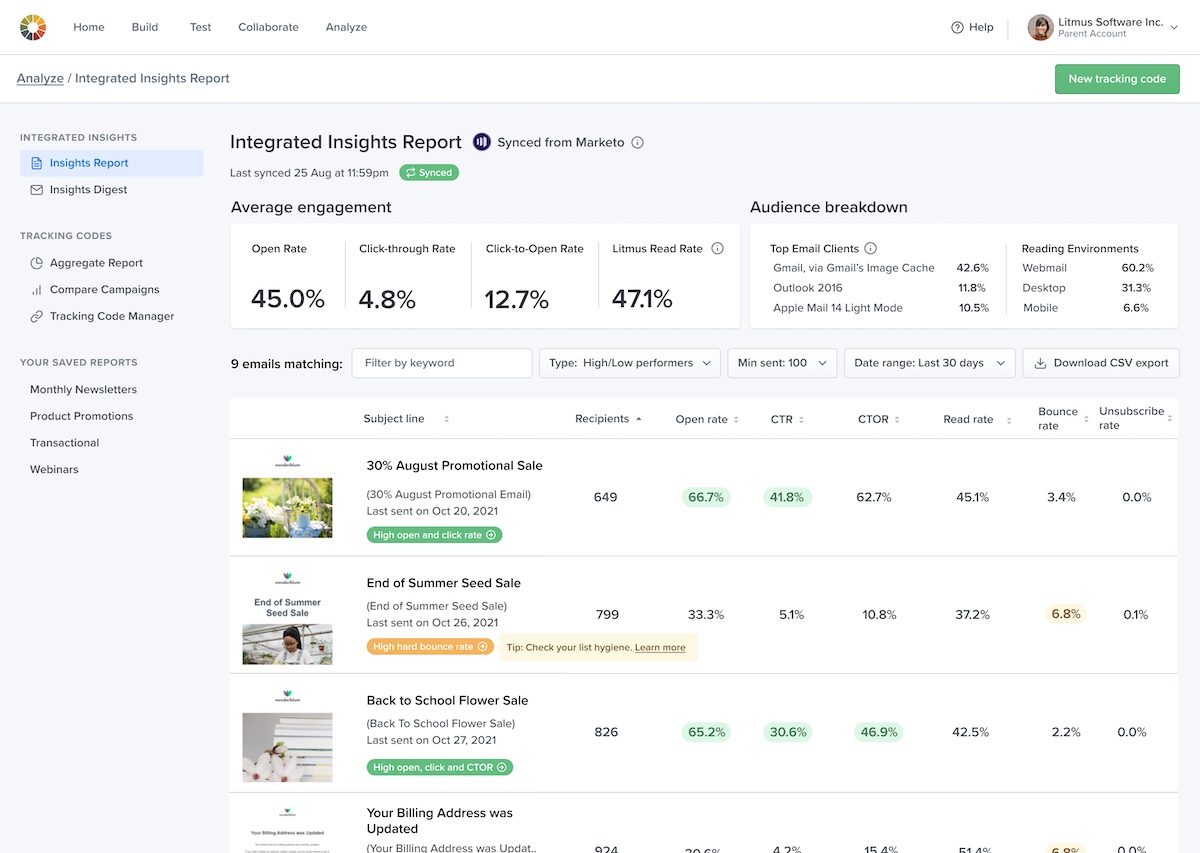 Visual badges automatically surface emails that are performing well (or not), and highlight specific details on why—so you don't have to dig into the data.
Each badge includes suggested follow-up actions so you can optimize segmentation, list hygiene, and design and development without guesswork.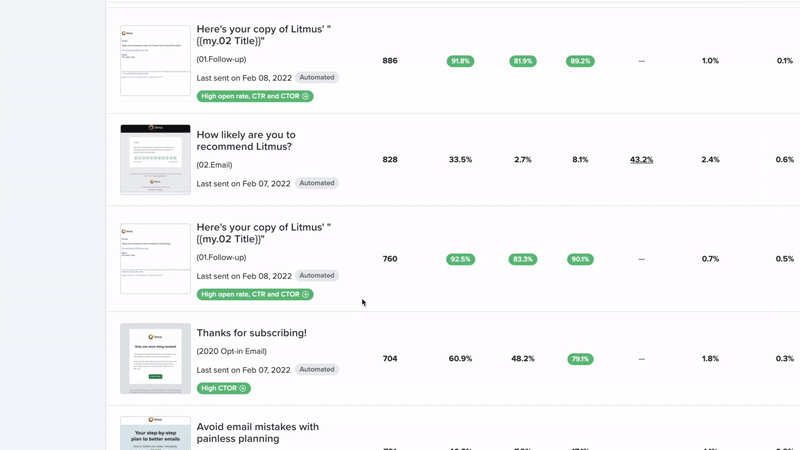 Get powerful, actionable insights at a glance with Email Performance indicators in Litmus' Integrated Insights Report. Automatically surface email performance to continuously learn and improve your email campaigns.
Friendly heads-up: This one's exclusive to Litmus Enterprise plans for Salesforce Marketing Cloud, Oracle Eloqua, and Marketo.
Easily identify insights with the
new Analyze dashboard 
Time is a precious resource—and the new Analyze tab has been redesigned to help you gain it back. Get data at your fingertips so you can focus on driving results.
The new dashboard experience in the Litmus Analyze tab makes it easy to quickly view insights and take action, without sorting through a list of emails.
With a single dashboard view that shows key insights from your Integrated Insights Report, average subscriber engagement metrics, and even highlights your most engaging email content, you can access valuable insights on the fly or easily navigate to detailed reports.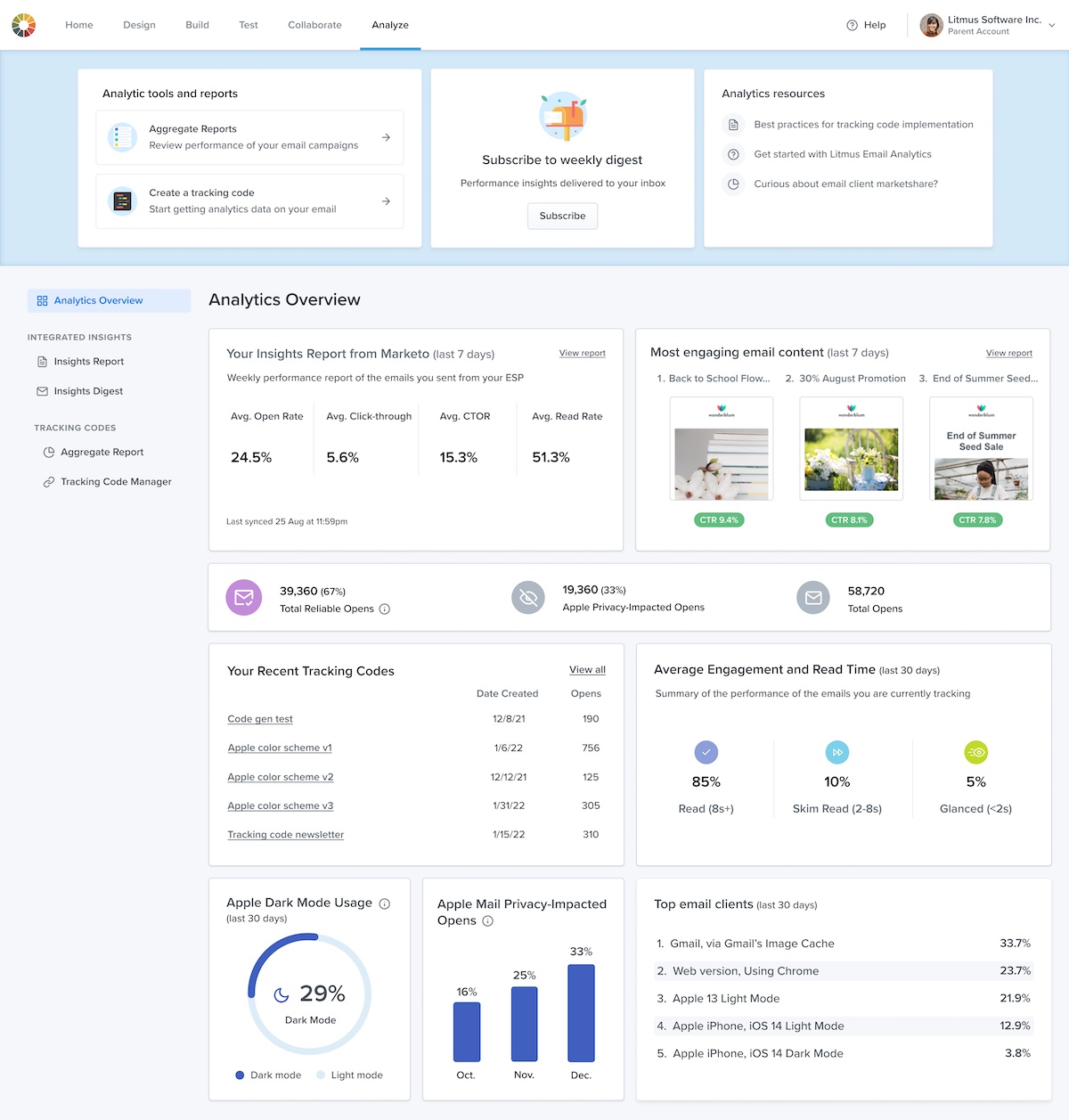 Friendly heads-up: Litmus Email Analytics is available on Litmus Plus and Litmus Enterprise plans.
Build, test, and review emails easier than ever with ESP Sync Enhancements
Organization is key to success when sending campaigns at scale. Email developers need the flexibility and freedom to keep emails organized in their email service provider (ESP) as they build in Litmus—without the added steps.
Location selection
You can now choose which folder to sync your emails for the following ESPs: SFMC, Marketo, Eloqua, HubSpot, and Mailchimp. It's never been easier to build, test, and review emails, without switching between tools.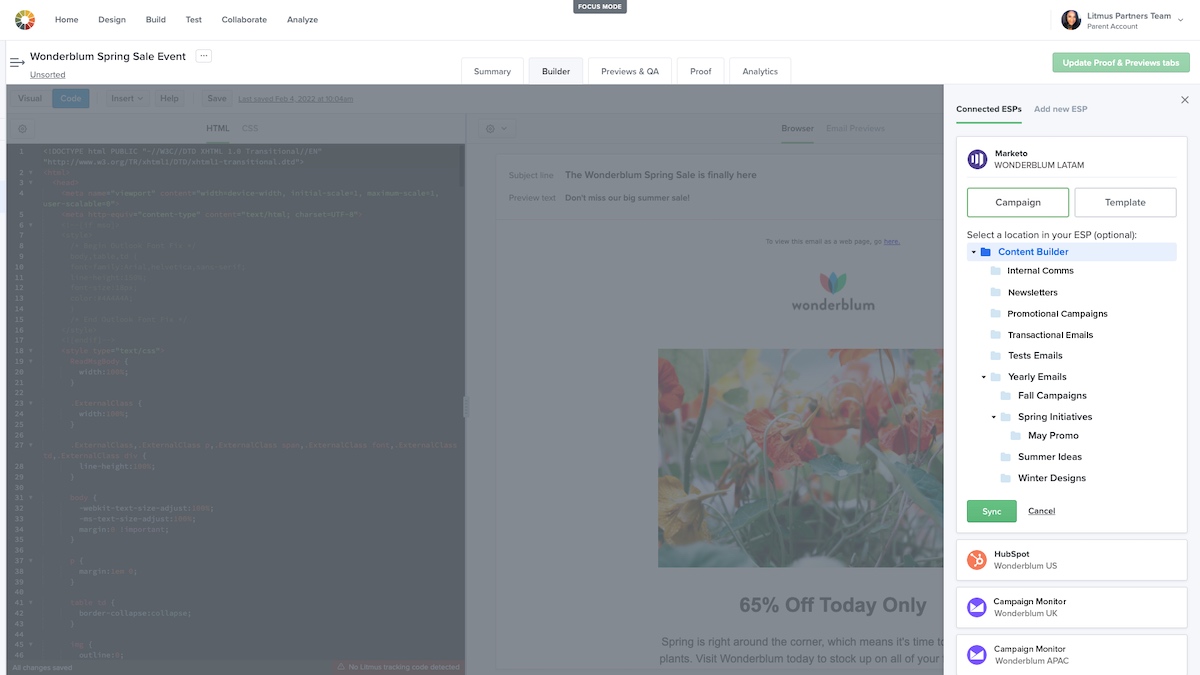 ESP connection nicknames
Many organizations, especially agencies, work with more than one ESP or ESP instance.
You can now label each of your ESP connections so it's easier to distinguish between them when using ESP sync to build, test, and review emails.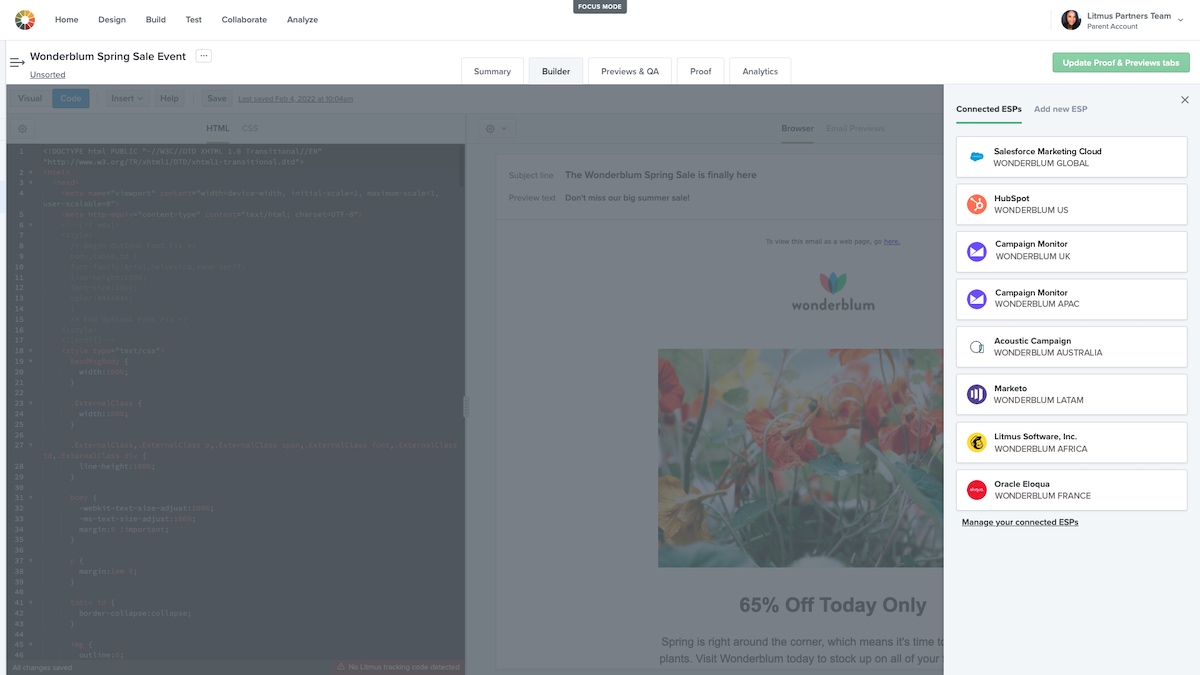 Friendly heads-up: ESP Sync is available for HubSpot and Mailchimp users on  Litmus Plus and Litmus Enterprise plans. ESP Sync is available for Salesforce Marketing Cloud, Marketo, and Eloqua exclusively on our Litmus Enterprise plans.
New email clients: Windows 11 Mail, Outlook 2021, and Outlook for Android 11 in both Light & Dark Modes
Our latest additions to the Email Previews testing suite in Litmus help you ensure your emails look perfect with every send.
We've introduced the following three new email clients:
Windows 11 Mail (Light Mode/Dark Mode)

Outlook 2021 (Light Mode/Dark Mode)

Outlook for Android 11 (Dark Mode)
We've also upgraded Outlook for Android 11 (from 7) in Light Mode.
Ready to dive in?
Delivering data-driven, personalized experiences that drive conversions has never been easier. Start the year strong: Up-level your email strategy and optimize your subscriber's experiences with advanced personalization using our new capabilities.
If you're already a customer on a Litmus Enterprise plan, see what's new in your account. Otherwise, get in touch with us to see how you can get the new Enterprise features.
Make email easier

Our time-saving features help you get more emails to market, faster. Integrating Litmus into your email workflow helps your emails be on-brand and error-free—every time.