Make every send count with Litmus
Build It
Easily scale the design and creation of on-brand, personalized emails that provide subscribers with the most up-to-date information.
Test It
Ensure every email is error-free with automated email testing and a streamlined review and approval process.
Trust It
Get the uptime, security, and reliable email analytics needed to protect sensitive data and inform future email strategies.
9 of the top 10 US banks trust Litmus to deliver great email experiences

"We pride ourselves in offering our subscribers advice that affects their financial future and that's where email adds value. We needed to gain efficiencies in how we reach, engage and walk our customers through their decisions. Litmus offered us a reliable email testing and optimization solution, which increased production efficiency."
Jason Ribovitch,
Director of CRM Integration at National Bank of Canada
National Bank of Canada protects their email marketing investment and boosts ROI by using Litmus to build and test every email they send.
See how they do it
Make your emails more effective and protected
When your marketing team is lean, subscription lists are large, and accuracy and data security is paramount, getting error-free emails out the door is no easy feat for financial institutions. Litmus equips your entire team with a powerful set of tools for faster, safer, and more impactful email marketing.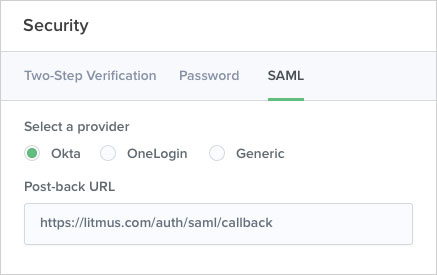 Keep client data safe
When it comes to communications and client data, you can never be too cautious. From compliance and privacy measures to enterprise-grade security safeguards, Litmus is the partner you can trust to help keep client information confidential—all while building, testing, and analyzing effective email campaigns.
Ensure emails are error-free
Quickly catch and address potential issues before you hit "send" to ensure accuracy and quality with every email. Litmus provides powerful pre-send checklists and testing tools to help you spot check for broken links, funky formatting, and other issues that can impact performance. Analyze subject lines, verify links, and check your code for critical tags—all in one simple, seamless workflow.
Automate and integrate
Say "goodbye" to tedious, time-consuming review cycles. Litmus integrates with other tools you use daily to automate workflows and ease your most painstaking processes. With specialized features for banks and other financial institutions, you can consolidate feedback from various departments and stakeholders in one central location where it's easy to proof, test, and analyze.
Boost email relevancy
Your customers need access to financial details that are relevant at the exact moment they open your email. Ensure every email is as relevant as possible by using Litmus Personalize to automatically and securely create personalized emails with dynamic content at scale.
Protect sensitive data with single sign-on, two-step verification, custom password settings, and more
Catch broken links, test spam filters, and see how your email looks on 100+ apps and devices
Keep everyone on the same page with custom task lists, status updates, and assigned reviewers
What Users Are Saying On
It's time to make every send count—with a partner you can count on
Litmus empowers you to make every send count. It's a core component of your tech stack that allows you to create, personalize, test, review, and analyze every email you send.
Talk to an expert