Make your emails more effective and protected
If there's one challenge all financial institutions face, it's creating effective email campaigns at scale. When your marketing team is lean, subscription lists are large, and accuracy is paramount, getting error-free emails out the door can be a big accomplishment. Add in mounting concerns around preventing data loss, and the process can seem downright impossible. Litmus equips your entire team with a powerful set of tools for faster, safer, and more impactful email marketing.
See why Litmus is the go-to tool Bree Penninger uses daily with her 30-person financial services email marketing team.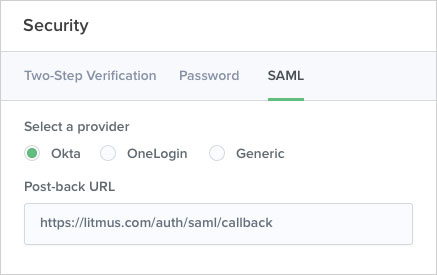 Keep client data safe
When it comes to communications and client data, you can never be too cautious. That's why Litmus is built on a strong foundation of security features that leverage the most advanced technology available today. From compliance and privacy measures to enterprise-grade security safeguards, Litmus is the partner you can trust to help keep client information confidential—all while building, testing, and analyzing effective email campaigns.
Ensure emails are error-free
Quickly catch and address potential issues before you hit "send" to ensure accuracy and quality with every email. Litmus provides powerful pre-send checklists and testing tools to help you spot check for broken links, funky formatting, and other issues that can impact performance. Analyze subject lines, verify links, and check your code for critical tags—all in one simple, seamless workflow.
Automate and integrate
Say "goodbye" to tedious, time-consuming review cycles. Litmus integrates with other tools you use daily to automate workflows and ease your most painstaking processes. With specialized features for banks and other financial institutions, you can consolidate feedback from various departments and stakeholders in one central location where it's easy to proof, test, and analyze.

Protect sensitive data with single sign-on, two-step verification, custom password settings, and more

Catch broken links, test spam filters, and see how your email looks on 100+ apps and devices

Keep everyone on the same page with custom task lists, status updates, and assigned reviewers
6 of the top 10 US banks trust Litmus to deliver great email experiences
Real Customers. Real Results.
"We rely on email correspondence to engage with our customers on a daily basis. Litmus Builder provides me with reliable real-time testing results to ensure our customers will have the best possible mobile experience."
What Users Are Saying On