Read Time: 7 min
2021 Email Trends to Date and Predictions for the Future: Webinar Recording + Q&A
It's hard to believe we're already well into the second half of the year. Let's take a moment to look at how our predictions for this year have been coming along.
In the first part of our online Ultimate Email Summit, Jessica Raggio (VP of Product Marketing at Litmus) and April Mullen (Director of Brand and Content Marketing at SparkPost) shared their takes on these 2021 email trends to date and predictions for the future of:
Agility, adaptability, acceleration
Privacy & trust
Accurate personalization
DMARC adoption because of BIMI
Newsletters
Humanity and empathy messaging
Team morale (and keeping it high)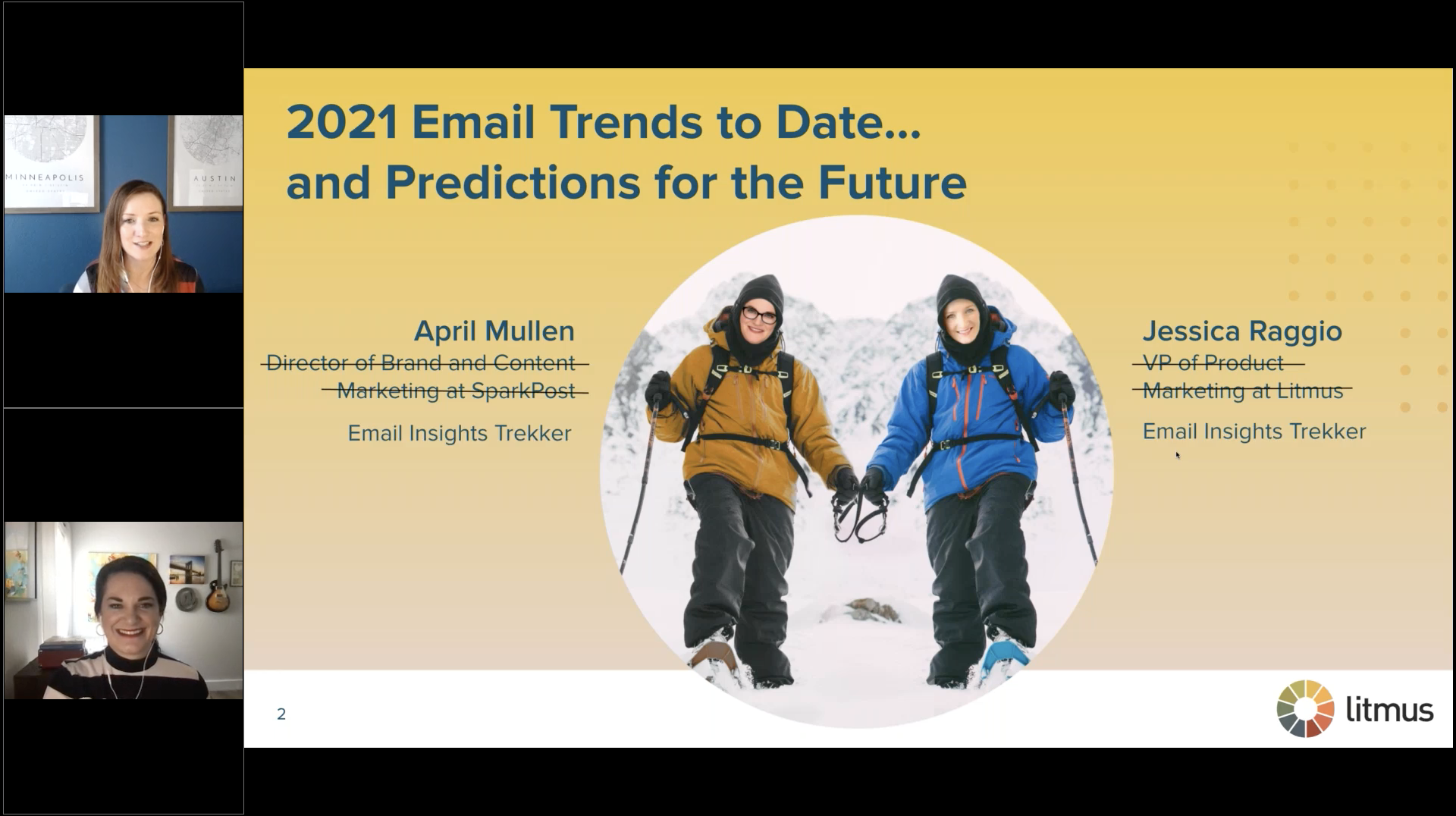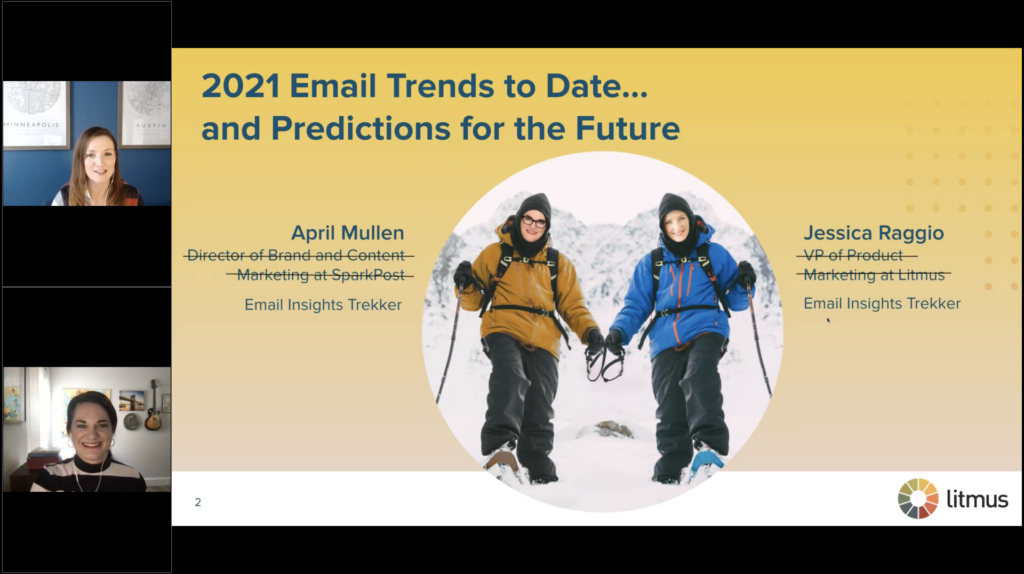 Didn't have a chance to watch the webinar live? Don't worry. You can access the full recording at any time and read the Q&A below.
Q&A
A big thank you to everyone who chimed in during the webinar with a question! Here's a recap of our answers to the most popular ones. Have more? Ask us in the comments below.
Is it possible to apply agile methodologies with multiple teams? For example, we have separate teams for email strategy, build and execution, and results & analysis. They don't interact frequently so it's difficult to keep them all on the same platform or dashboard.
April chimed in, talking about the SparkPost marketing team's sprint process and how they work with other stakeholders in the organization. She shared two tips:
Meet regularly with the other teams.
Have a shared view into projects.
"Work closely with those other teams, find out a process that would work for them, and look at it in terms of the overall workload that your team has. A tool like Asana really helps us with that workflow in keeping things going. We've been super efficient in recent weeks. It has really helped in moving to that process, and we're moving a lot faster."
Go agile with email marketing


Learn about the micro-efficiencies so easy to adopt, even your most stubborn stakeholders can't resist going agile. Plus, view our agile email workflow chart for reference.
How do we create a non-Apple open segment?
Check out our blog post that walks through step by step how to create a reliable opens audience for non-Apple Mail users with Litmus Email Analytics. It's really easy!
Personalization in some countries is not allowed. How do we personalize in such countries like Italy? We are not allowed to do subject line and preheader personalization.
While we don't know the exact rules and regulations in countries like Italy, see if you can contextualize where your subscribers are in their journey with your brand.
April said, "Maybe they just made a purchase, then you want to send them a communication that tells them how to use that product. Things like that tend to perform really well. It doesn't just have to be a name and other personalized details. Sending communications that are relevant to where they are in your journey could be a way around some of those laws. But check with your attorney."
How would we segregate inactive users? By time or number of newsletters sent? If time, what is the time frame? And if it's number of newsletters, how many newsletters should we send before segregating the inactive users?
Since we may not be able to rely on open rates anymore as an indication of activity (because of Apple's Mail Privacy Protection), you should be more intentional about asking your subscribers if they still want to hear from you. This reduces the reliance on just the click-through rate because not every email is designed to create a click-through.
We share 6 tips for successful re-permission campaigns worth reading.
And you can test out different approaches to timing or number of emails sent, based on the 3 kinds of inactive subscribers and your brand's tolerance for deliverability risk.
Where can we get more information on applying BIMI to our emails?
We've got a blog post on how to set up BIMI for brand recognition in the inbox. Other than that, BIMI Group is a great resource for all things BIMI (that's Brand Indicators for Message Identification for those who don't know).
BIMI is worth it because it:
Helps your email reach the inbox because it's safelisted with the mailbox providers.
Gives you brand recognition in the inbox because your logo shows up next to your email.
Adds an additional layer of security to prevent spoofing.
What are some examples of first-party data that we should focus on?
April said that getting that valuable email address is ground zero. From there, it really depends on your brand. If you're a car company, for example, when is your audience in the market so you're not coming on too strong? If you're worried about losing IP addresses for gathering geolocation, then you'll want to ask your subscribers for their zip code.
Think about email address plus two to three other elements that would drastically create a positive impact for your subscribers early on. Don't ask for everything up front.
We suggest creating a really strong email preference center to get personal.
Do you see the trend of email privacy expanding to other email clients? How quickly?
Regardless of what happens, we need to rethink our email marketing approach without open rates and geolocation. That gives us the most opportunity to innovate so we're not impacted when other email clients adopt something similar to Apple's Mail Privacy Protection. We just need to plan on it happening.
What are the stats and metrics we should focus on once the Apple Mail Privacy Protection goes into effect?
We'll know if an email was delivered, if it was inboxed, and if someone clicks, unsubscribes, or issues a spam complaint. April mentioned gamifying emails to encourage more people to click, such as using interactivity to reveal content from a click.
Jessica talked about being really transparent with your subscribers, telling them how something like this will impact their email experience with your brand. Because people do want personalization.
The other thing to think about is looking at email performance beyond email-specific metrics. We talk more about that in our blog post on the holistic email metrics matrix.
Get more insights on email performance visibility


Check out our State of Email Analytics report to see how your email analytics stack up against your peers, learn where you have visibility gaps, and understand how to take your email performance tracking to the next level.
How do we be transparent or more personable within a general newsletter? Any tips?
Beyond just saying "we" and "you," think about your newsletter as having a very similar voice to your social media presence. Remember, this is you speaking with your audience in a conversational way. A newsletter can show more of that brand spirit. And recognize what your community is saying within your newsletter.
We may be biased, but we're huge fans of Litmus Weekly. Hear more about how we evolved our weekly newsletter to one that's got email geeks obsessed.
How will opens be counted for people who use Apple Mail on a phone and Gmail in the browser? Will that count as two opens? And how will clicks get counted? Will it look like two separate users?
On the Litmus Email Analytics side, we count total opens, not unique opens. So in that instance, it would count as two opens. On the ESP side, it'll likely be two total opens, but April mentioned that they're not sure yet about parsing out Apple opens, although it's possible they will.
Be sure to talk to your own ESP to see how they'll handle it.