Read Time: 6 min
Email Client Market Share in September 2021: Early Data on the Impact of Apple's Mail Privacy Protection
Welcome (back) to our monthly recap on the shifts and trends with email client market share that happened in the previous month. Compared to our annual email client market share blog post, this series takes a look at the data on a month-to-month basis.
And September has quite a few curious observations because of a not-so-little thing called Mail Privacy Protection (MPP) that Apple rolled out to its Mail app on iOS 15 and iPadOS 15 on September 20th.
What did we see? Well, you're just going to have to keep reading to find out. 😉
Top 10 email clients overall
The top 3 email clients are still Apple iPhone (iOS Mail), Gmail, and Apple Mail (macOS Mail) both before and after MPP. To be extra clear, before MPP is data from September 1-19 and after MPP is data from September 20-30.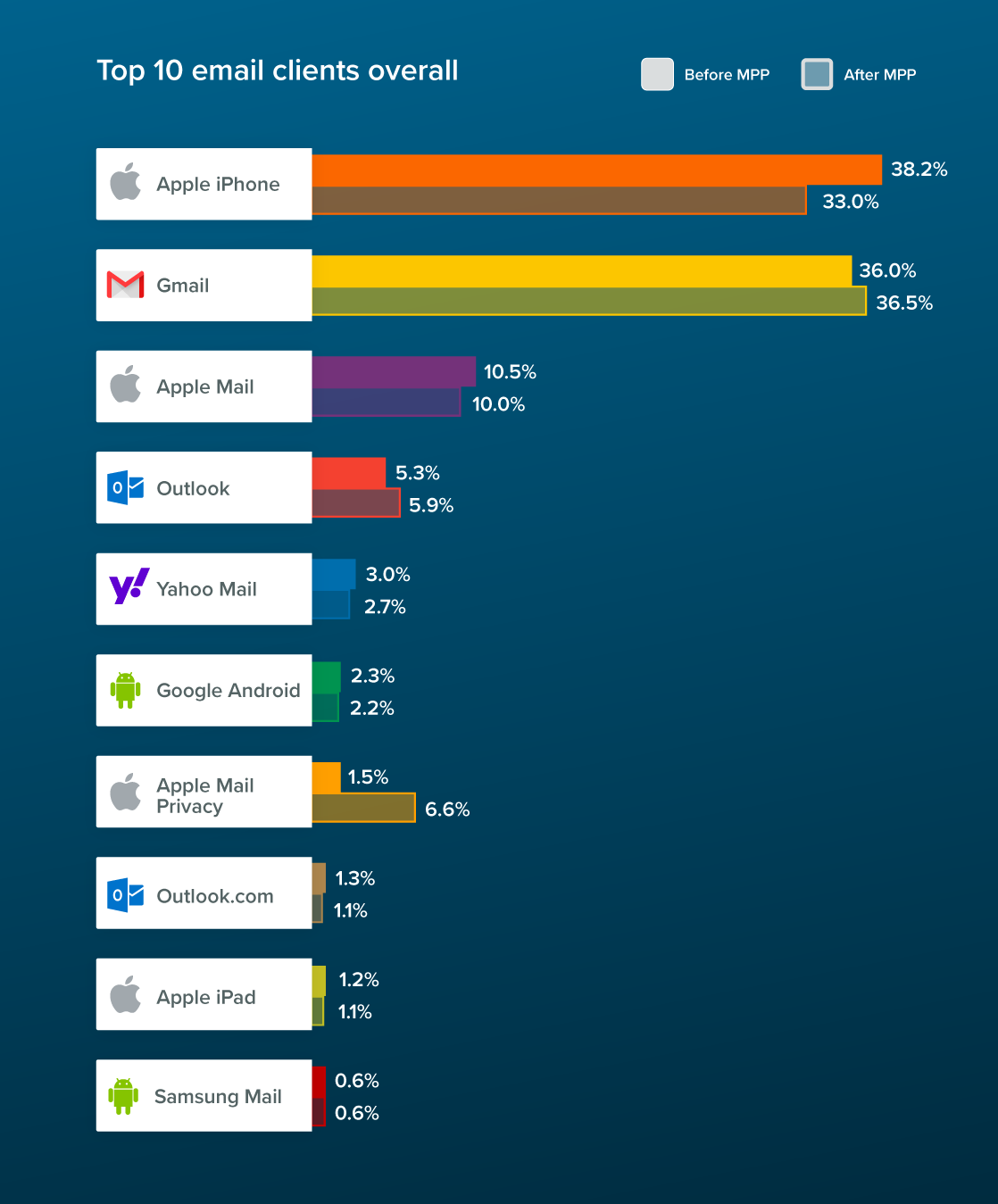 So did MPP change anything? Yep—after MPP, Apple iPhone has finally been dethroned, losing 13.4% of its share from before MPP. Gmail is now ranked as the most popular email client overall.
That being said, a decent chunk of iPhone's share has been taken by what we're dubbing "Apple Mail Privacy"—all opens impacted by MPP—which accounts for 6.6% of email client market share (currently ranked #4). If we assume these are all from the iPhone (since the iPad's share is so small and macOS Monterey with MPP hasn't been released yet), then Apple iPhone would still be ranked #1.
Two key things to note here: 1) MPP hides device data so we can't differentiate between iOS, iPadOS, or macOS, and 2) the new OSes also don't differentiate between MPP and non-MPP in the user agent data it passes. Meaning all opens from the Mail app on iOS 15 and iPadOS 15—whether or not MPP is activated—look the same to us. I know. We weren't expecting that. The silver lining is we do expect most people who upgrade their Apple OS to turn on MPP, so our data is likely very close to reality anyway.
Before MPP
Apple iPhone (iOS Mail): 38.2%
Gmail: 36.0%
Apple Mail (macOS Mail): 10.5%
Outlook: 5.3%
Yahoo Mail: 3.0%
Google Android: 2.3%
Apple Mail Privacy: 1.5%
Outlook.com: 1.3%
Apple iPad (iPadOS Mail): 1.2%
Samsung Mail: 0.6%
After MPP
Gmail: 36.5%
Apple iPhone (iOS Mail): 33.0%
Apple Mail (macOS Mail): 10.0%
Apple Mail Privacy: 6.6%
Outlook: 5.9%
Yahoo Mail: 2.7%
Google Android: 2.2%
Outlook.com: 1.1%
Apple iPad (iPadOS Mail): 1.1%
Samsung Mail: 0.6%
Quick note: You might be wondering why we have Apple Mail Privacy data before MPP. That's because we were capturing data from folks using the beta release to open their emails.
With just 10 days of MPP data at the end of September, we're seeing:
Apple Mail (non-privacy): 44.1%
Apple Mail (privacy-impacted): 6.6%
Non-Apple Mail: 49.3%
That's 13% of Apple Mail opens coming from privacy-impacted devices. Adoption of iOS 15 and iPadOS 15 have been a tad slower than predicted since there have been several bugs with the initial release, and Apple has not prompted people to update yet.
Looking at non-Apple Mail clients in the top 10, there hasn't been much movement in each of their share of the market.
Get a view into historic email client market share info

What exactly is email client market share and why is it important? Find out, learn where our data comes from, and see a snapshot of the top email clients from August 2020 to August 2021—before the launch of MPP.
Opens by environment
Popularity of reading environments hasn't shifted much before and after MPP for webmail and desktop. However, mobile is down 12.8% after MPP compared to before.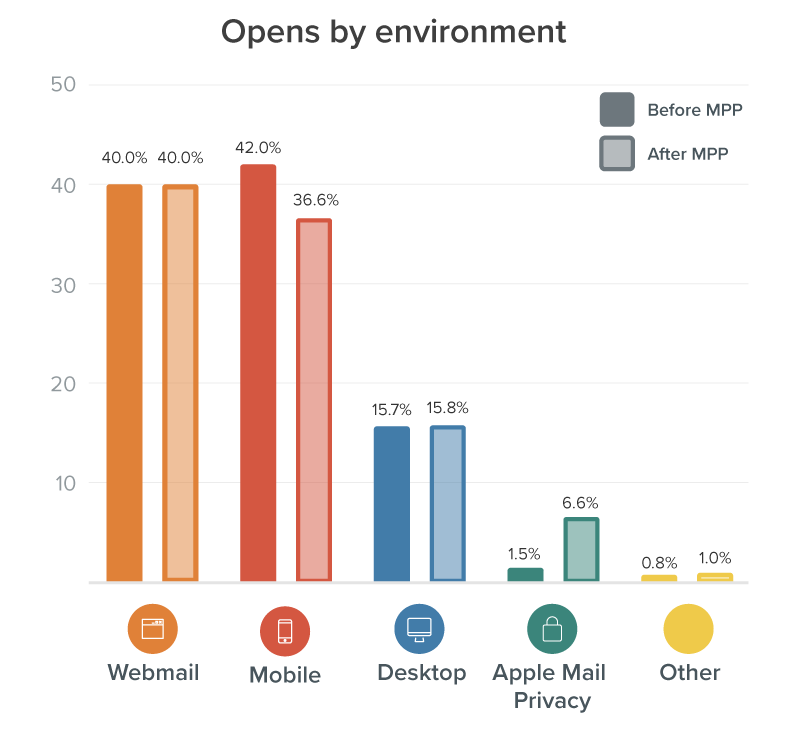 As we mentioned, MPP prevents marketers from seeing where opens are coming from, so we can't tell the difference between reading environments. And that's why we've put it into its own category.
Before MPP
Mobile: 42.0%
Webmail: 40.0%
Desktop: 15.7%
Apple Mail Privacy: 1.5%
After MPP
Webmail: 40.0%
Mobile: 36.6%
Desktop: 15.8%
Apple Mail Privacy: 6.6%
Since MPP is only on mobile right now, though, it's safe to assume the Apple Mail Privacy share is all mobile—and if lumped together with the mobile share, then mobile is still the most popular reading environment, not webmail.
Most popular mobile opens
Although MPP has decreased mobile's share of opens, it hasn't impacted the iPhone's share of that mobile market—yet.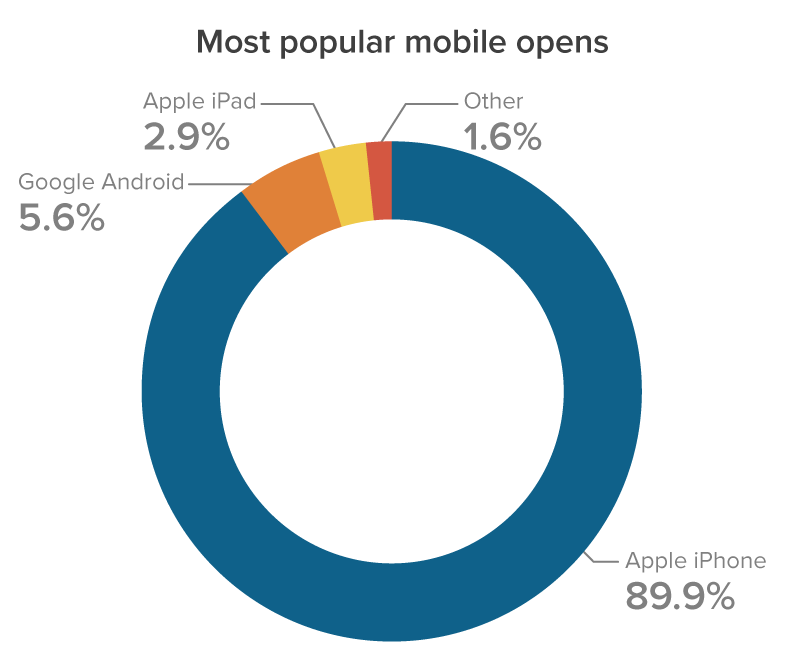 Apple iPhone (iOS Mail): 89.9%
Google Android: 5.6%
Apple iPad (iPadOS Mail): 2.9%
Apple iPhone has such a lion's share of mobile opens that it's likely to stay #1 for quite awhile. However, it may lose its crown sometime next year as MPP reaches peak adoption.
Most popular webmail opens
Diving into webmail opens, Gmail is still far and away #1.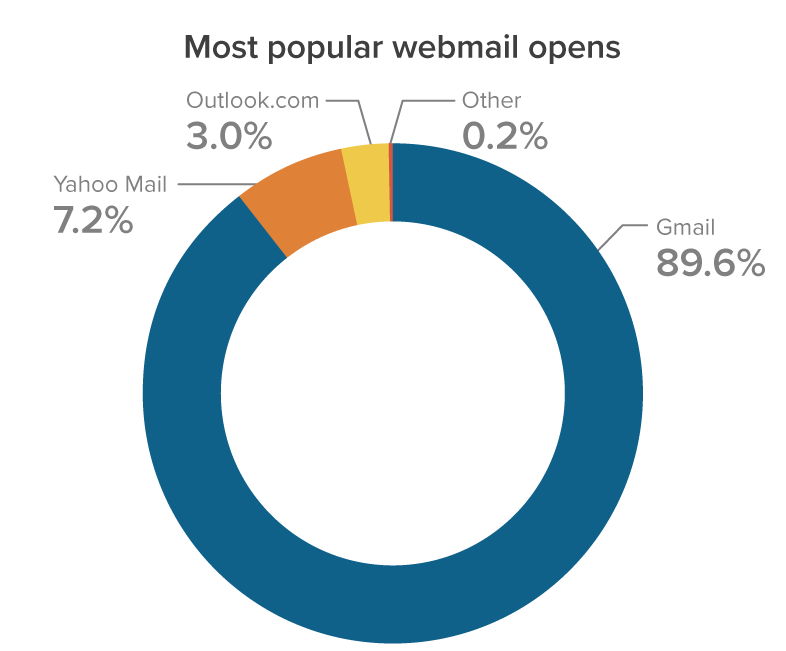 If you've been following these updates for the past few months, you may have noticed Gmail has been slowly increasing its share of webmail opens while the rest have been going down. September is no exception.
Since August, Gmail has increased its webmail client market share by 3.8%, now at nearly 90%.
Gmail: 89.6%
Yahoo Mail: 7.2%
Outlook.com: 3.0%
Wondering why we place Gmail under the webmail umbrella? Learn how Gmail opens are reported in Email Analytics.
Most popular desktop opens
For desktop email clients, Apple Mail has a 2.5% stronger hold on the top spot since August, sitting at 64.5% now.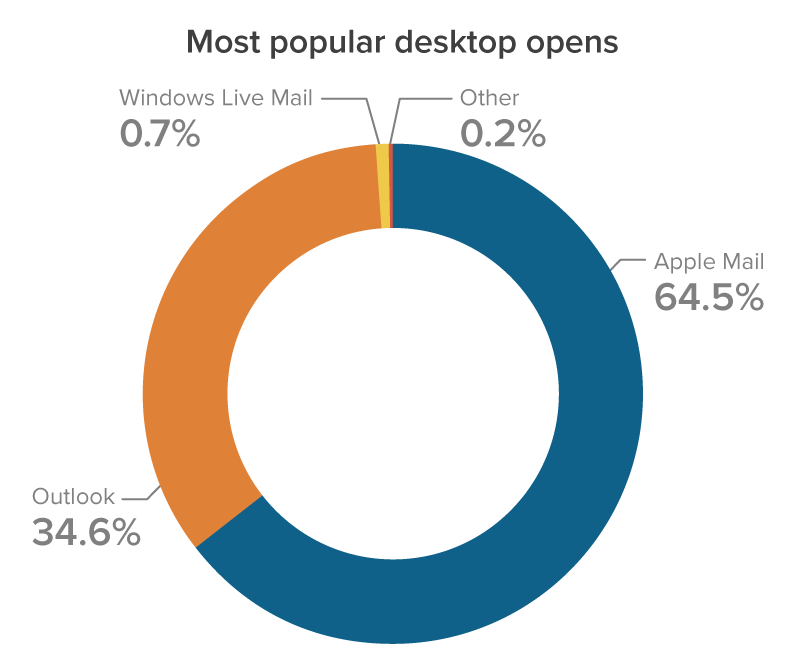 Apple Mail (macOS Mail): 64.5%
Outlook: 34.6%
Windows Live Mail: 0.7%
macOS Monterey—and thus, MPP for macOS Mail—has not been released yet. But new macOS adoption is typically much lower and slower than iOS, so MPP's impact on the visibility of desktop Mail opens won't be as significant.
Dark Mode usage
Starting with this blog post, we'll start tracking Dark Mode usage more regularly. In September, 26.3% of emails were opened in a Dark Mode setting.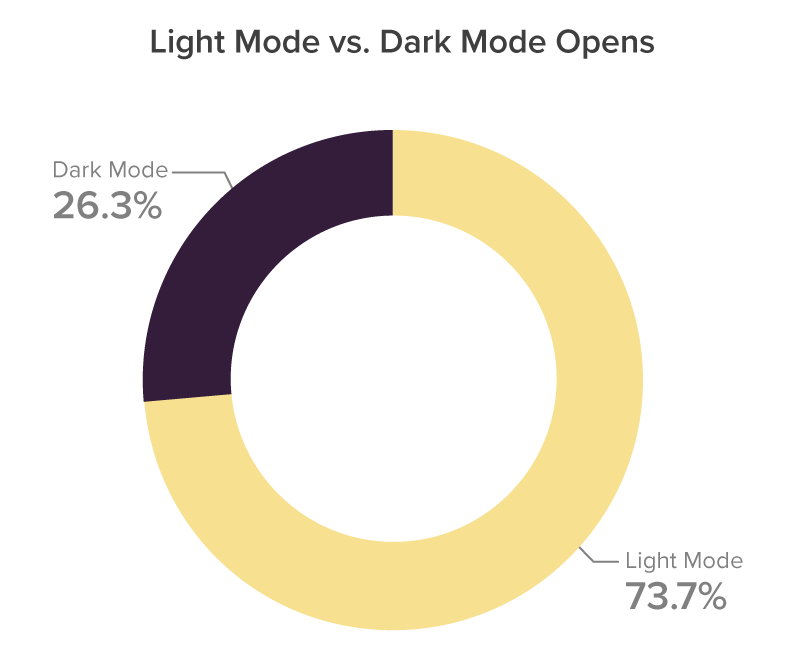 Light Mode: 73.7%
Dark Mode: 26.3%
Keep in mind, our Dark Mode data is only based on the Apple Mail app for iOS 13, macOS 13, iOS 14, macOS 14, iPadOS 14, iOS 15, iPadOS 15, and Apple Mail privacy-impacted devices.
What's next?
Little shifts can lead to big changes over time. While our early data shows the impact of MPP isn't huge yet, this will continue to change and will show a completely different story come this time next year.
Tune in next month as we continue to share more of our findings.
Where did we get all this data? Our email client market share stats are pulled from over a billion email opens, anonymously collected and aggregated with Litmus Email Analytics from September 1-30, 2021. It highlights global trends across all industries and verticals. Some email clients may be over- or under-represented, particularly with mobile and webmail. This is due to image blocking or image caching, most notably with Gmail. Still curious? Learn how we get this data.
Get insights into your audience—with Litmus Email Analytics

Get visibility into your audience—Apple Mail and otherwise—so you can see how much your program will be influenced by MPP, adapt for the future, and continue to create more effective campaigns, faster.