According to Emma, email send volume was at an all-time high in 2021 with over 10 billion emails sent. 2022 shows no signs of slowing down either—it's predicted that this year will bring an additional 14 billion more sends than last year. To stand out in the inbox, ensuring your email marketing design is on-trend has never been more important.
So what email designs and best practices are proving to be the most effective in the inbox?
Email content, layouts, message hierarchy and interactive elements are just some of the foundations of email design—and all play a critically important role regardless of trends.  Here are the email marketing design trends we're expecting in 2022, with examples from leading brands.
Color trends
Duotone & multi-shade gradients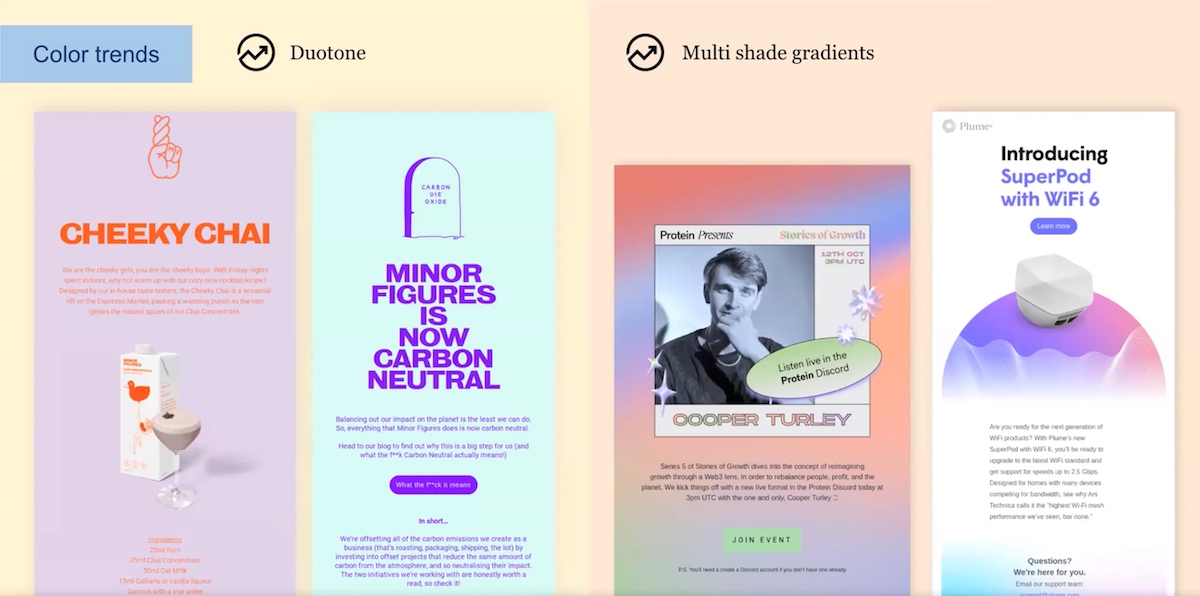 These email marketing design trends create a retro feel in emails. This trend has carried over from 2021, and remains one of the most popular. By using duotone and multi-tone gradient designs, brands are able to evoke feelings of nostalgia. It's so important to have an email that's be visually appealing to the reader, so by using these color trends you are able to stay true to your brand style, and pique the recipient's interest.
Shape trends
Arches & waves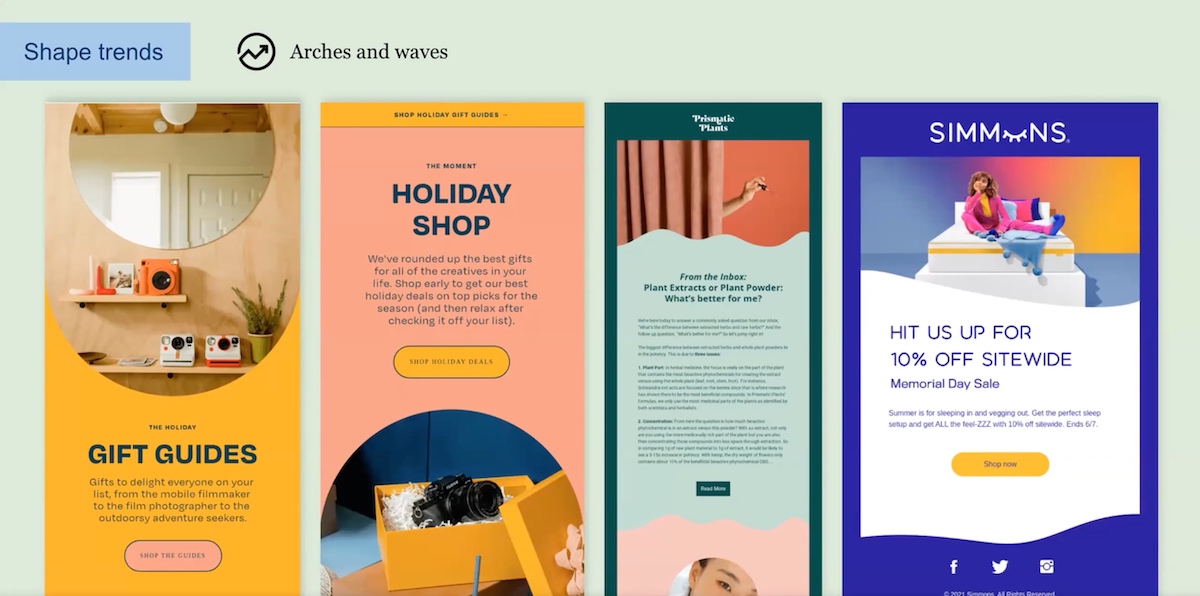 These designs also tie in with the retro aesthetic email design trends. By using softer shapes, designers can take out the hard lines and edges, but create direction cues with the arches and waves. This is a great way to break up the usual email template grid format. By using shapes that flow with the design of the email you are making it easier for the reader to follow the email. You don't need to have big calls-to-actions (CTAs) which don't fit in with the rest of the email, you can create simple ones which reflect the softer, wavier aesthetic.
Typography trends
Font distortions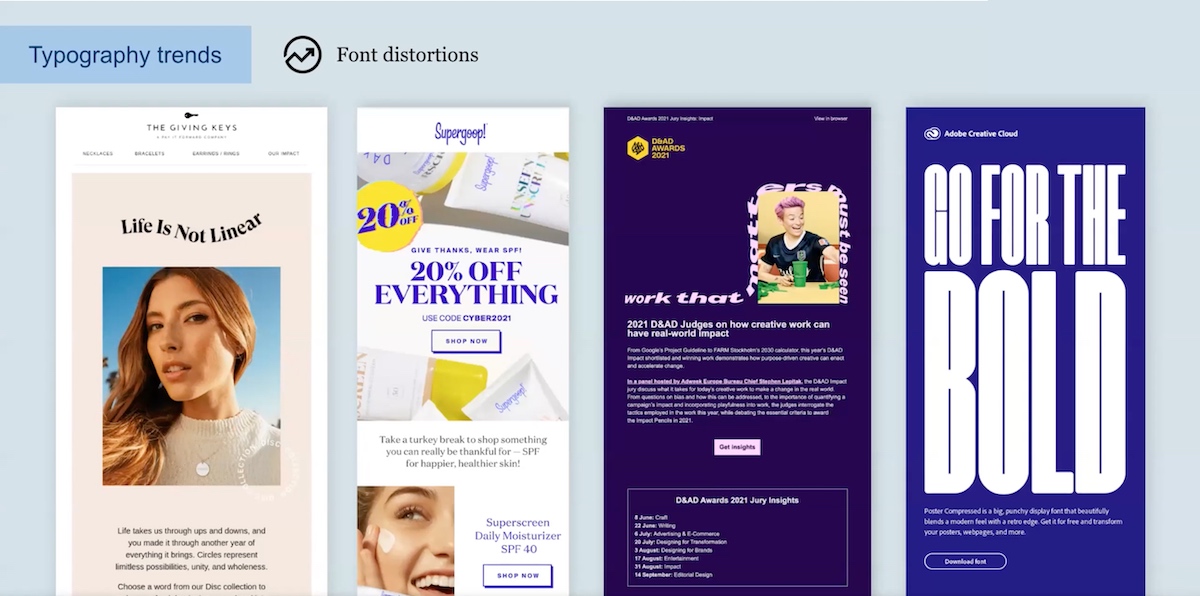 Bold typography has been popular for a few years. While not a  new email marketing design trend, it has taken on a new form using distortion. By distorting a bold font, brands are able to draw the email recipient's eyes in and focus on the message they want to convey. By making main message big, bold and interesting, you can draw recipient into the email and encourage them to stop scrolling and read. 
Layouts
F-pattern and compartmentalized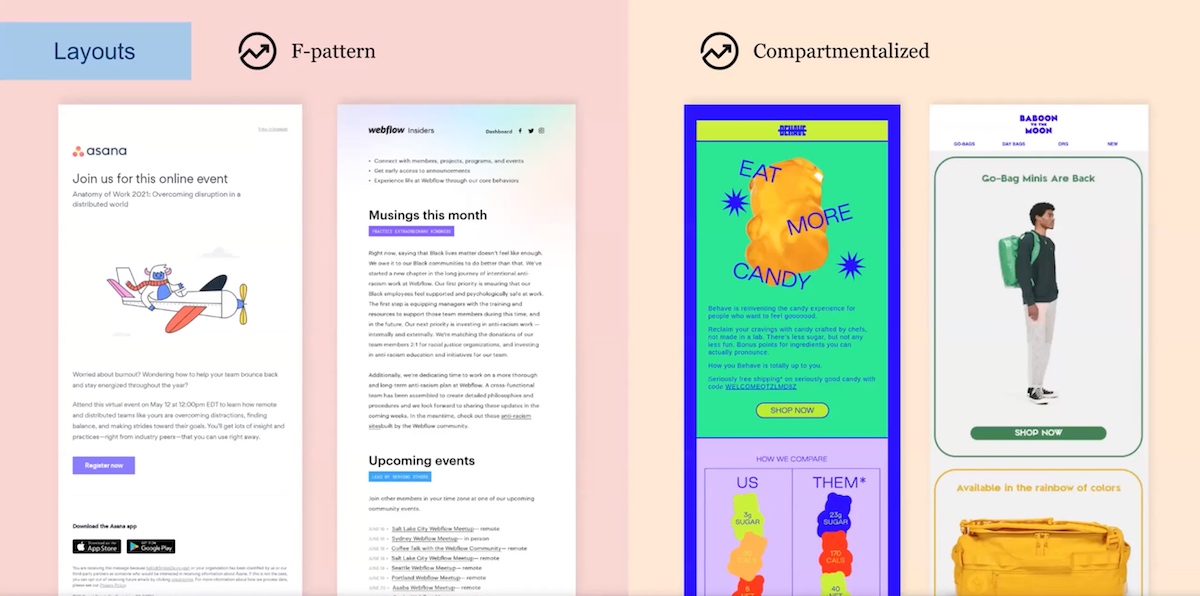 The F-pattern email marketing design trend helps recipients read emails. They are highly scannable and flow with how people will read an email – from left to right.
Compartmentalized emails are almost at the opposite end of the email marketing design trend spectrum, and are a more effective way to design when there are many different topics within one email. By compartmentalizing text within boxes and borders, brands are able to have each topic stand alone. This email marketing design is very popular with tech and retail brands.
Creating your own email design system can be the easiest way to ensure that emails being sent are using the best layout they possibly can. You can utilize the F-pattern layout through this, as well as the compartmentalized one. It's really important to create email designs that flow with the reader in mind – easier reading, leads to more engagement.
Visual content trends
Mixed media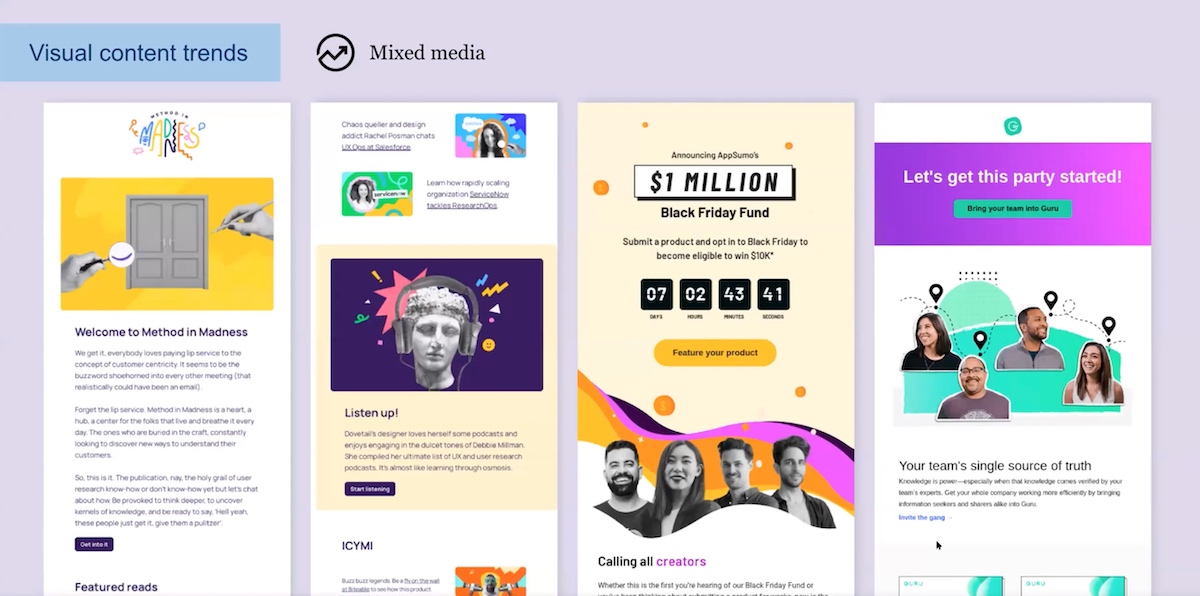 Even in 2022, large-scale photoshoots aren't as easy or effective to execute as they once were. mixed media in email marketing design adds flair and personality to stock imagery, making emails look more exciting and engaging. The risk with using stock imagery is that your competitors may also use the same images–making the element of mixed media a differentiator. ! By adding illustrations, effects and even animations, you can turn those stock images into your own, ensuring that no other competitor will have the same.
Immersive experiences
Scroll experience and tangible products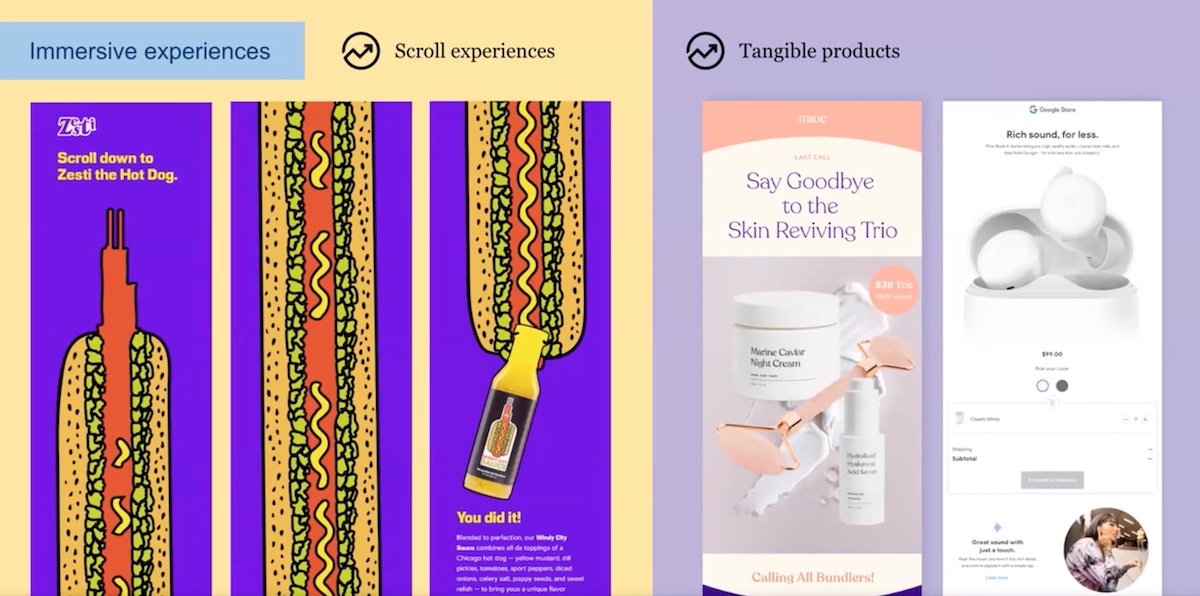 Creating an immersive experience through email marketing design is a great way to keep recipients engaged. It allows them to interact with the email and fully immerse themselves in the experience the brand is trying to create. From using fun scrollable experiences to creating tangible products which can be interacted with, a brand can create an in-store-like experience with the click of a mouse.
Ensuring customers interact with emails should be a top priority for email marketers. By creating responsive, engaging content that recipients want to engage with, emails become more interesting, andby using responsive designs you are also allowing designers to have more autonomy over the emails, ensuring emails look great to everyone, everywhere they open them.
Personalization
A truly personalized experience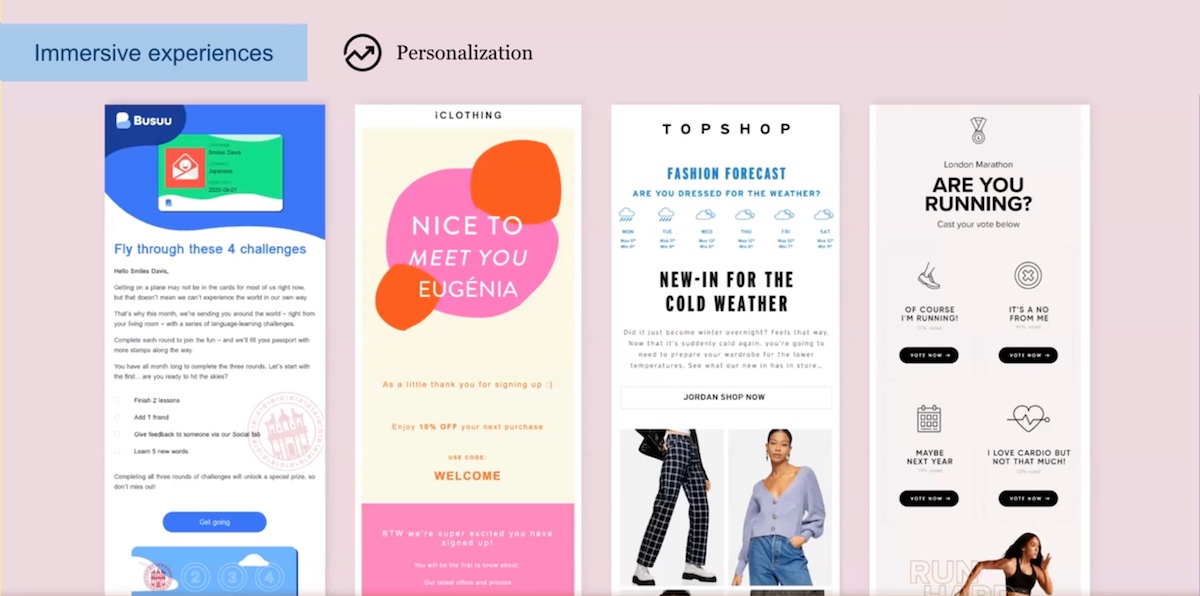 Personalization is one of the biggest email marketing design trends of the moment and it's only going to grow in 2022. By using customers' data, brands are able to tailor each email experience for each customer. From using simple personalization, like the recipient's name, to more intricate personalization that speaks to the recipient's shopping habits, brands are able to create a truly personalized email experience.
Click here to see how Litmus Personalize, powered by Kickdynamic, empowers you to  use email personalization to create individualized experiences at scale.
Create individualized email experiences at scale

Get powerful results with uniquely personalized, engaging email experiences that boost customer loyalty and drive revenue.