As email marketers, we're always looking for that elusive sweet spot: sending the right message at the right time to the right person. Get any of those wrong, and your email could fall flat. Not to mention the wasted time and resources on your team's part. So how can you get closer to this ultimate email dream? Email preference centers.
Email preference centers help you meet your subscribers in their inbox on their terms.
If subscribers don't want your emails anymore, they'll either unsubscribe, report you as spam, or manage email preferences. And trust me, you do not want unsubscribes or spam complaints.
In this blog post, I'll cover:
Why do people unsubscribe anyway?
Knowing why people unsubscribe is important for figuring out how you can keep them with an email preference center. There are many reasons why someone might unsubscribe, but the main ones are:
Too many emails
Irrelevant content
Situation changed
Leaving for a competitor
About 51% of people unsubscribe because they receive emails too often. And 49% would like to receive email at a frequency they chose versus what brands choose for them. Hmmm.
Sometimes, it's not even your fault. I've gotten feedback from folks telling me they're unsubscribing not because they get too many emails from my brand, but because they get too many emails in general. And my brand just didn't make the cut during their inbox cleanse.
This brings me to something I've discovered during my many years in email marketing:
When people complain about getting too many emails, what they're really complaining about is getting too many irrelevant emails.
Think about it. You're a subscriber, too, so it's likely there are brands you enjoy getting emails from on a daily basis. While you'd hate it if another brand sent you that many. One reason for this is relevant content, which ties back to personalization and what your subscribers need at the time they need it.
Another popular unsubscribe reason is if someone's situation changed. This is somewhat of a catchall because it can cover a broad range of things such as losing a job, your audience outgrowing the age range of your service, or a resolution to stop indulging in your product. These are circumstances that are likely out of your control, but they're still important to consider for empathizing with your audience and perhaps growing your product or service line to fit the changing needs of your subscribers.
The last big reason people unsubscribe? Leaving for your competitor. Ouch. Your emails could be to blame, but it could also be the products or services your brand offers.
And if your subscribers are especially frustrated with your emails, they may go straight to marking you as spam instead—and this hurts your overall email deliverability.
All this to say that you can help prevent unsubscribes and spam complaints with a thoughtful preference center that addresses the reasons your specific audience might unsubscribe from your emails—so they choose to stay on your list instead.
What is an email preference center? (And what is it not?)
But first, what do we mean by an email preference center?
An email preference center is a page that gives your subscribers a choice in the emails they get from you (such as content or frequency) in addition to the option of unsubscribing. This way, subscribers can opt down instead of completely opting out.
Email preference centers are not the same as unsubscribe pages.
An unsubscribe page confirms an opt-out, might ask for feedback, and could prompt people to re-subscribe. It's basically all or nothing. This is the experience most brands deliver when people click to unsubscribe from an email because 1) it's a minimum legal requirement and 2) it's easier than building out a preference center.
But email preference centers don't have to be complicated, and they're worth the time and effort to create. Keep reading to find out why.
The benefits of email preference centers
Email preference centers have a lot of advantages that can do wonders for your email marketing program. Let's dig a little into why they're important.
Reduce unsubscribes
The most tangible benefit of email preference centers is that they help decrease the number of people unsubscribing from your emails. When subscribers are unhappy with your emails, and the only choice you give them is to unsubscribe from everything, then that's what they'll do. But when you offer choices, subscribers are more likely to stay on board—just not at a full-time capacity anymore. And that's okay.
According to MarketingSherpa research, 49% of people prefer to get emails and choose the frequency themselves versus 24% preferring the brand choosing for them. Keep that 49% sticking around with an email preference center.
In addition to reducing unsubscribes, you'd also lower spam complaints as well as general customer service or social media complaints. These things could not only damage your email deliverability but also your brand reputation.
Showcase your email offerings
Email preference centers can highlight everything you have to offer, especially if they originally came in for a specific reason only. Subscribers could see an email list or topic they're interested in but not currently opted in to, and opt in!
This also gives you the opportunity to expand on the benefits of subscribing to your emails so you can convince your subscribers to stay.
Personalize the subscriber experience
One perk of giving your subscribers options? Their preferences can fuel your segmentation strategies and personalization efforts. You can dial in on what your subscribers actually want which leads to a better subscriber experience. For example, let's say you're a sports retailer. By offering preferences, you can tailor your emails based on the sports each subscriber is actually interested in.
About 74% of consumers would find "living profiles" like preference centers valuable if they could be used to curate the experiences, offers, and products they receive.
Increase engagement and inbox placement
The level of personalization that email preference centers gives you means increased email engagement and many other improvements.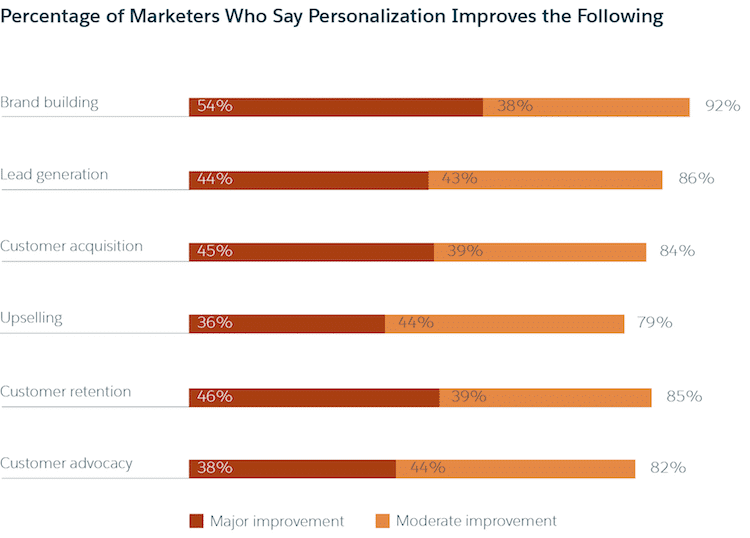 This meets the need for relevant content and could have your subscribers looking forward to and even sharing your emails. And because many spam filter algorithms rely heavily on how subscribers engage with emails, they'll see this positive impact as a sign that you belong in the inbox—not the spam folder.
Learn more about your best audience
According to our latest State of Email report, email returns $36 for every $1 spent—more than any other marketing channel! This makes your email subscribers like gold. They're your best audience, and an email preference center would give you the chance to learn more about them. If you can figure out what makes them tick (and click!), you can attract more people like them. And that's great for business.
Get ahead of privacy and anti-spam laws
Laws around the world are becoming more strict when it comes to protecting people's data and privacy. Even if you only do business in the U.S. with a law as lenient as CAN-SPAM, many states are taking the lead in providing stronger protections like the California Consumer Privacy Act (CCPA). Even the tech giant Google plans to end support for third-party cookies by 2022 as they work toward a more privacy-first web.
An email preference center would give you first-party data on your subscribers that you can still safely use—even as more laws crack down on third-party tracking.
The good news? 57% of people are okay with providing personal information as long as it's for their benefit and being used responsibly. 77% would trust businesses more if there's an explanation on how that personal information improves their experience.
What are different preferences you can offer?
Whether you want to create a new email preference center or optimize an existing one, you need to think through the actual preferences you want to collect first. Here are some ideas to get you started. (Hint: You can use more than one!)
Email lists or content
The most basic choices you can offer subscribers in a preference center are the different email lists you have. These should cover the different types of content you send such as newsletters, events, product updates, or deals & discounts. And this setup is the most common among brands.
Here at Litmus, this is how we decided to do our own preference center, too: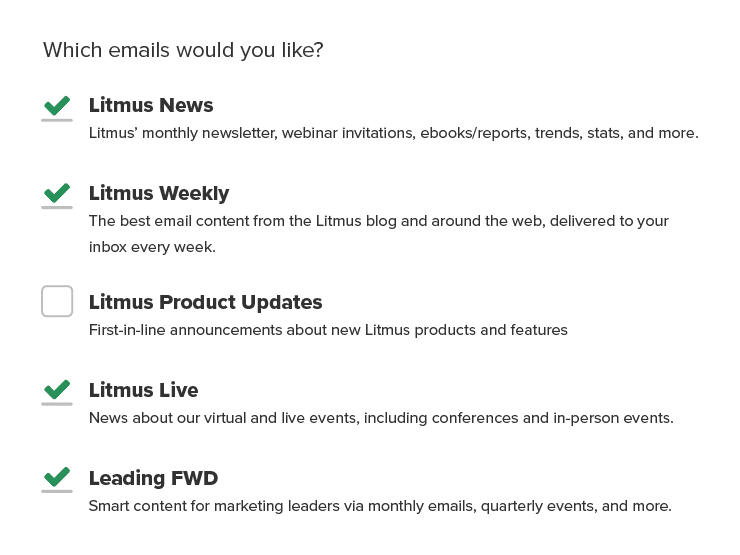 Interests or topics
If you want to get more specific with content personalization but don't have the right behavioral data to do it, capturing your subscribers' explicit interests is the way to go. This gives you the flexibility to use dynamic content or smart segmentation in any of your emails. For example, instead of sending the same newsletter to every subscriber, you can send different versions based on interests such as one focused on retirement investing and another on college savings.
You can even use your preference center to capture seasonal interest, like giving your subscribers the option to opt out of Mother's Day emails.
adidas' preference center focuses on their subscribers' interests. And they do it in a fun and interactive way!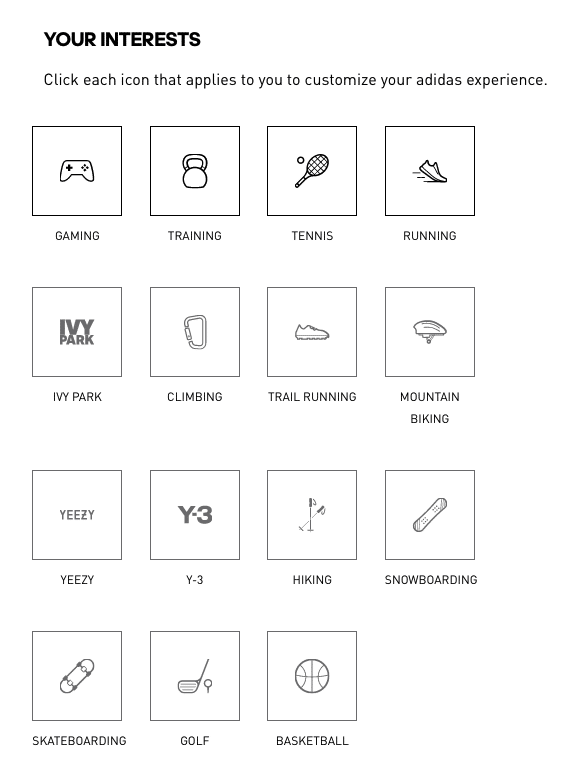 And Primary's preference center includes choices to opt out of Halloween or holiday-related emails.

Timing
Controlling your email frequency or timing is another great option to give your subscribers, especially if your brand sends a high volume of emails. You can give options such as:
Daily, weekly, or monthly
Mondays, Tuesdays, or evenings
Pause or snooze for a set amount of time
One caveat to this, though, is you and your email platform must be able to handle this kind of request. Trying to juggle your email schedule around these preferences and deciding how to prioritize which email someone gets within their designated timeframe is a painful process to do on your own.
Here's a snapshot of how Zulily incorporates some timing options into their email preference center:

And this example from MarketingProfs shows how you can use specific days as preferences: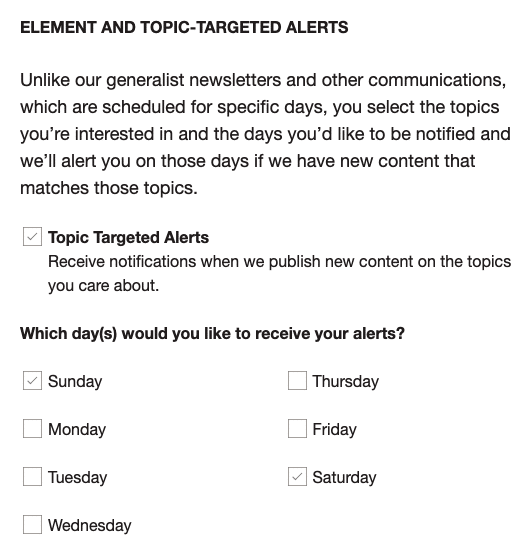 Multi-channel
Your preference center isn't limited to just emails. As much as we hate to admit it, sometimes your subscribers would prefer another communication channel over email. But that's okay because you're still giving your audience what they want, even if it's not email.
Alternatives to email that you can offer are short message service (SMS), mobile push notification, or direct mail—depending on your content. For example, your audience can subscribe to flash sales via email, SMS/text message, or both.
Spotify gives their customers the option to receive updates via email and/or push notifications. Simple and gets the job done.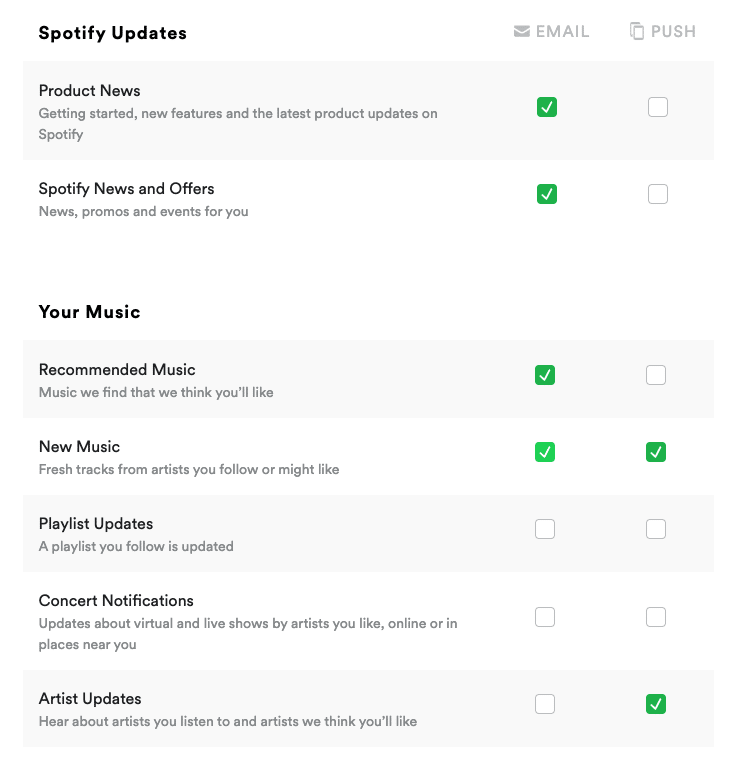 Profile information
You can also use preference centers to collect your subscribers' profile information such as:
First and last names
Job title
Location
Gender
Birthday
Shoe size
This kind of data gives you even more ways to personalize your subscribers' experience that simple email preferences may not provide. You can use someone's birthday to send them a celebratory email or use someone's shoe size to send them a seasonal sale email that links to only the shoes left in that size. Pretty powerful, huh?
Part of Sephora's email preference center asks for the country and zip code you live in. What's more, they set expectations on how they plan to use that information to motivate subscribers to share this info.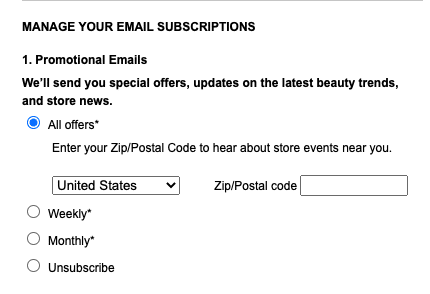 How to create an effective preference center
Once you've figured out the preferences you want to offer your subscribers, it's time to think about how you're going to lay it all out there. While there are always exceptions, here are some general best practices you should consider.
1. Give a universal unsubscribe option
If you're going to replace your emails' unsubscribe link with your preference center, you have to provide a way for people to unsubscribe from all of your emails. This helps you stay compliant with laws such as CAN-SPAM from the U.S., Canada's CASL, the EU's and UK's GDPR, and others around the world—now and in the future.
Even if you have a separate unsubscribe link in your email, it's still a good idea to have an unsubscribe option in your preference center. This covers you in cases when someone clicks to manage preferences with the intent to unsubscribe from everything or decides they don't like any of the options you give and would prefer to unsubscribe from all.
On that note, make it easy for people to unsubscribe from your preference center page. Don't force them to uncheck every box first. And please don't send an email confirming someone's unsubscribe. If someone doesn't want to hear from you, they don't want to hear from you.
This is how we do ours at Litmus. Easy, right?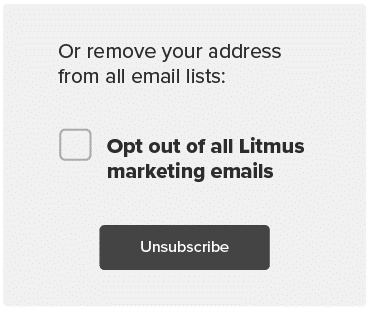 2. Only offer what you can deliver
I love data, so I get it if you're like, "Give me ALL THE DATA!" But are you really going to use all of it? And can you guarantee your subscribers that you can honor their preferences?
As much as you'd like to hyper-personalize your emails, you might not have the time, resources, or content to pull it off. So while you might think it'd be cool to send out a birthday email, think about if that makes sense for your brand and if you have the technical capabilities to do it. Because if you don't, nix it.
Another thing to consider is if your options make sense for your audience. For example, is a "preferred format" option of HTML or plain text still a thing? These days, this is an option people can set within their email clients instead, so save your preference center real estate for something else.
3. Don't overwhelm your subscribers
On that note, having too many options in your email preference center can be overwhelming. This can cause choice paralysis and makes your subscribers less likely to take action. Plus, a lot of options can give the impression that your audience will be bombarded with your brand's emails—and that's not a good look.
Take a look at this example… Whew!

Consolidate where you can and prioritize what would be best for your email marketing program and your subscriber's experience. There's no perfect number of preferences, but be reasonable. Your preference center shouldn't feel like a survey.
4. Keep everything on one page
You may have heard the saying, "Keep it simple," and that rings true here, too. Your email preference center should be one page only. Meaning, don't make someone click to another page for more preferences.
When your subscribers click through to your preference center, their purpose is to either opt down or opt out. So they're already not in the best mindset to do the extra work of clicking to another page. That extra click is a barrier you want to remove. And if you feel like you need an extra page for all of your fields and options, consider narrowing them down instead.
5. Ditch the default and be on-brand
Using your email platform's default preference center is usually better than nothing. But if you can brand it? Even better for the subscriber experience.
By customizing your email preference center to your brand guidelines, you increase trust and credibility between your brand and your subscribers. Otherwise, this could raise questions on the legitimacy of your preference center page. With growing concern and increased regulation over data and privacy, this isn't something you want to risk.
And even if your subscribers leave, you should always ensure a great brand experience. You may not know exactly why they're unsubscribing, but they could still refer your brand to friends or even come back themselves.
6. Make it mobile-friendly
About 40% of email opens are on a mobile device, according to our latest State of Email Engagement report. This is more than desktop apps or webmail clients. So you want to make sure your email preference center is optimized for mobile, too. Having a broken mobile experience on your page is frustrating and can lead to subscribers choosing to unsubscribe or mark you as spam instead.
7. Set expectations
Define what exactly subscribers can expect from each of the preferences you offer. Tell them what they're going to get out of it and how often. Even better if you can also show real-life examples of the emails your subscribers will get.
Merely saying "newsletter" is not the most enticing thing ever. And don't assume that subscribers understand your lingo.
Wistia sets expectations perfectly with visual cues, helpful descriptions, and email frequency.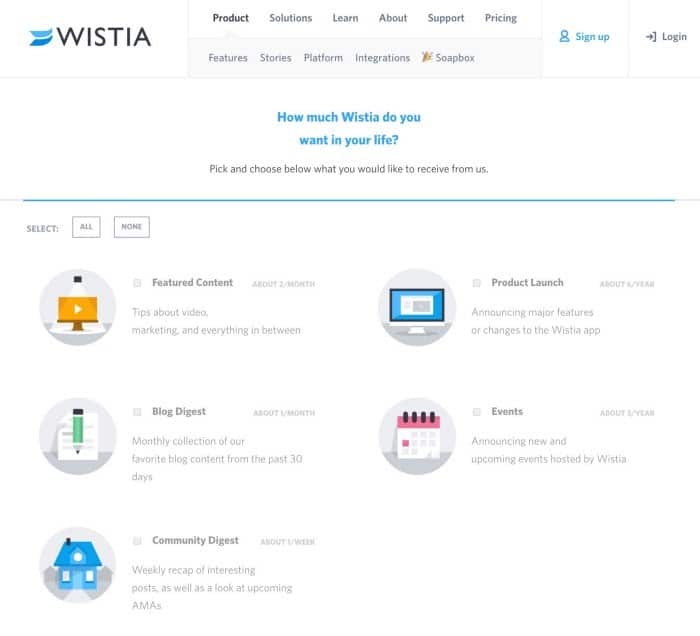 8. Avoid shady tactics
No one wants to see their subscribers go, but if you make it difficult—intentionally or not—to opt down or opt out, you could end up forcing subscribers to do something more drastic like mark you as spam, which can send your emails to the junk folder.
This brand uses their preference center for opt-out options, which can be confusing for subscribers who are used to seeing positive confirmation for opting in.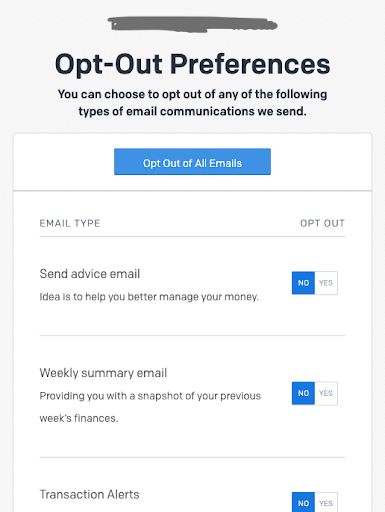 9. Pre-populate known information like email address
You have your subscribers' email addresses. If they click to your preference center from your email, they know you already have their information and likely expect those fields to be pre-populated. Don't make them fill in their email address. And by pre-filling in this information, it gives them a way to confirm what you have on file.
Remember, the easier you make it for your subscribers to choose their preferences, the less likely they are to do damage to your email deliverability or brand reputation.
10. Don't force people to sign up or log in
On a similar note, don't force people to sign up or log in to manage their preferences unless it's a security issue. It's otherwise a poor subscriber experience and isn't compliant with most laws if this is someone's only way to unsubscribe.
I kid you not: I had trouble unsubscribing from a big-name tech brand. They couldn't find my email address in their database, so they said the only way they could stop sending me emails was to sign up for their email list. Whaaat. Needless to say, I hit the spam button.
11. Surprise and delight
Okay, "surprise and delight" is really just a nice-to-have, but it's here because I wanted to shout out to a preference center I found and fell in love with. Most email preference centers are blah. So why not take it up a notch and make your subscribers actually want to engage more with your page?
That isn't to say you should turn your preference center into a game. Keep in mind why your subscribers are there, make it easy for them, and add a delightful touch to it.
I love Help Scout's preference center: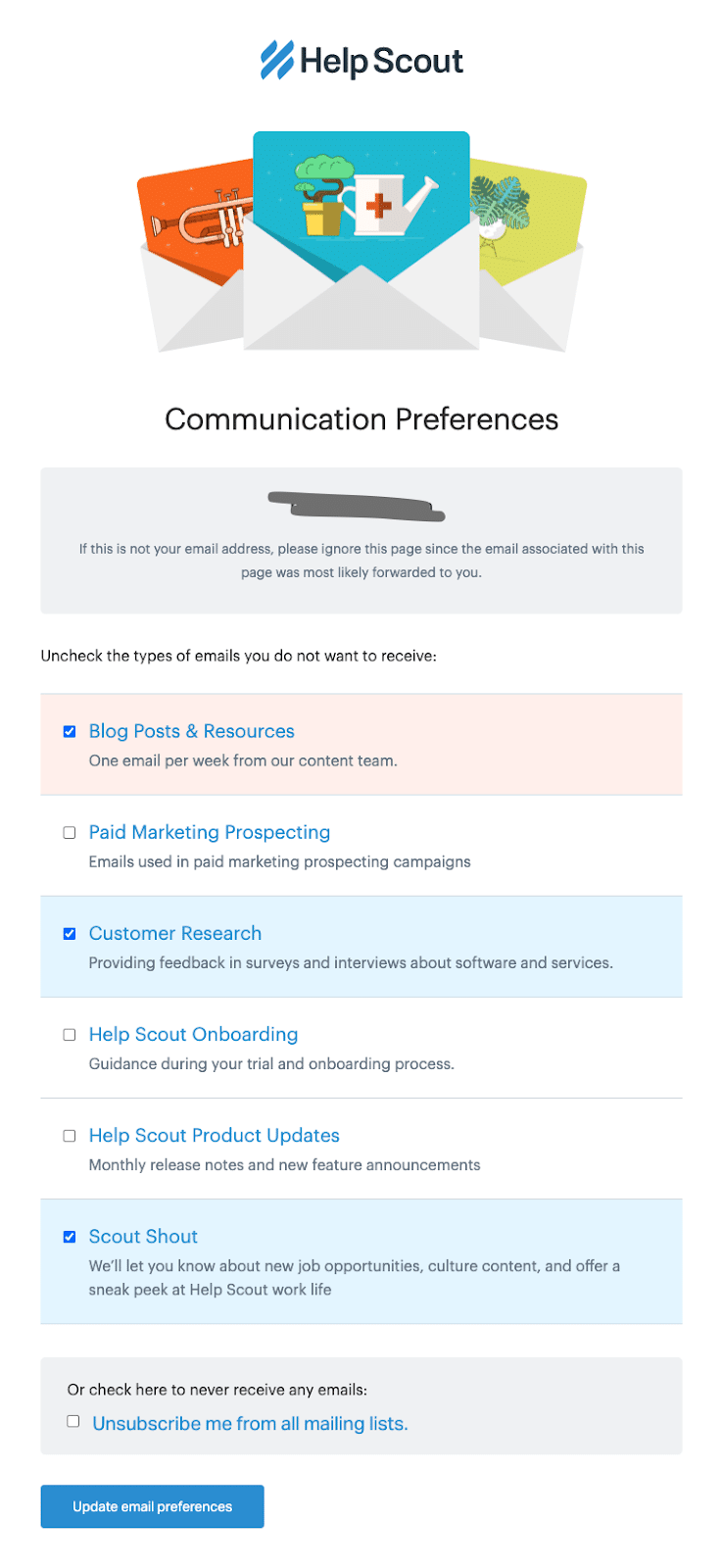 It's super simple but has an interactive touch to it with two visual cues to confirm your preferences, so it's extra clear what you are and are not signed up to. When you opt out of something, the checkbox goes unchecked and the background color goes away. And if you check to unsubscribe from all, every email preference fades out to emphasize what opting out of everything means.
How to get people to actually use your preference center
So your email preference center is set up and ready to go. Now what? This isn't a situation of "if you build it, they will come." Your work isn't over yet. Here are a few ways you can get the word out.
Make it standard in your email footer
At the very least, put your email preference center in the footer of every email you send. Many brands use hyperlinked text such as "Email Preference Center" or "Manage Preferences."
This is what our email footer at Litmus looks like: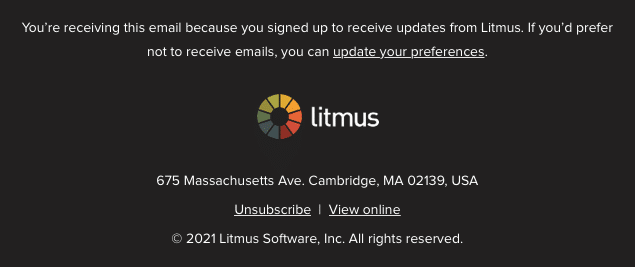 Our "update your preferences" and "unsubscribe" links both go to our email preference center. Only do this if your preference center is compliant with opt-out regulations. Otherwise, your unsubscribe link should go to a separate unsubscribe page.
You could also forego the preferences language and only have an unsubscribe link that points to your compliant preference center—but I don't recommend this. By hiding your preference center behind unsubscribe text, your subscribers won't know they have the choice to manage their preferences until they're ready to completely unsubscribe.
And you definitely shouldn't replace your unsubscribe language with only managing preferences. To be compliant with anti-spam laws, you must make it clear how to unsubscribe—and nothing is more clear than the word unsubscribe.
Put it in your welcome email
You just got a new email subscriber. Why would you immediately tell them a way they could potentially opt down? Welcoming your new subscribers with their preferences is a great way to start your relationship.
This first impression creates trust because it lets your subscribers know you care about their needs.
It tells them what they can expect from your email marketing program and gives them control to dial it up or down to their liking right off the bat. And they're more likely to remember in the future that this is an alternative to unsubscribing from everything.
This welcome email from Casper tells their audience the kinds of content they can look forward to as a new subscriber.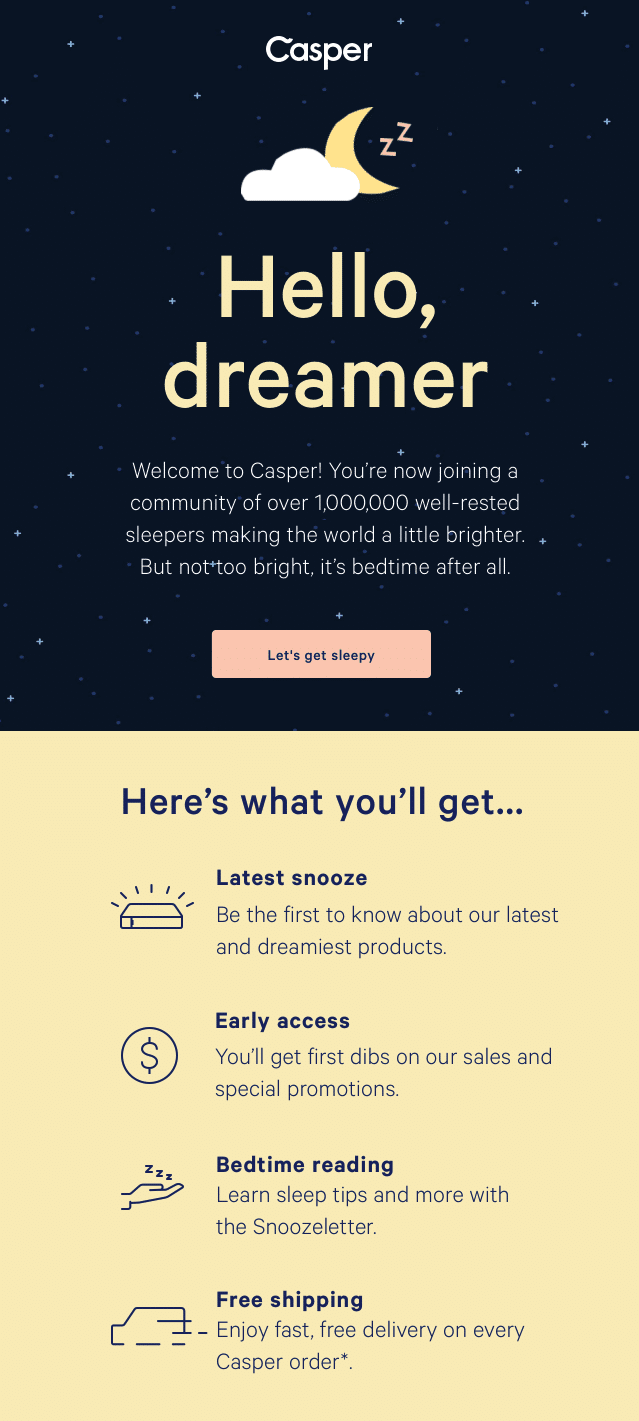 In Protein's welcome email, they tell their subscribers right away that they can customize notifications and what they'll get by default if left as is.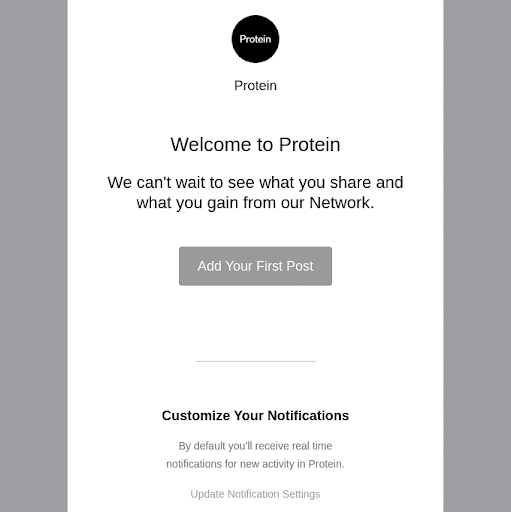 Send an email to promote your preference center
You can also send a dedicated email or announcement to promote your preference center or have it as a prominent content block within your emails. This is a great way to let your existing subscribers know that they have choices. You can even incentivize your subscribers with a giveaway.
This email from Remote lets their audience know what they could be getting if they complete their profile.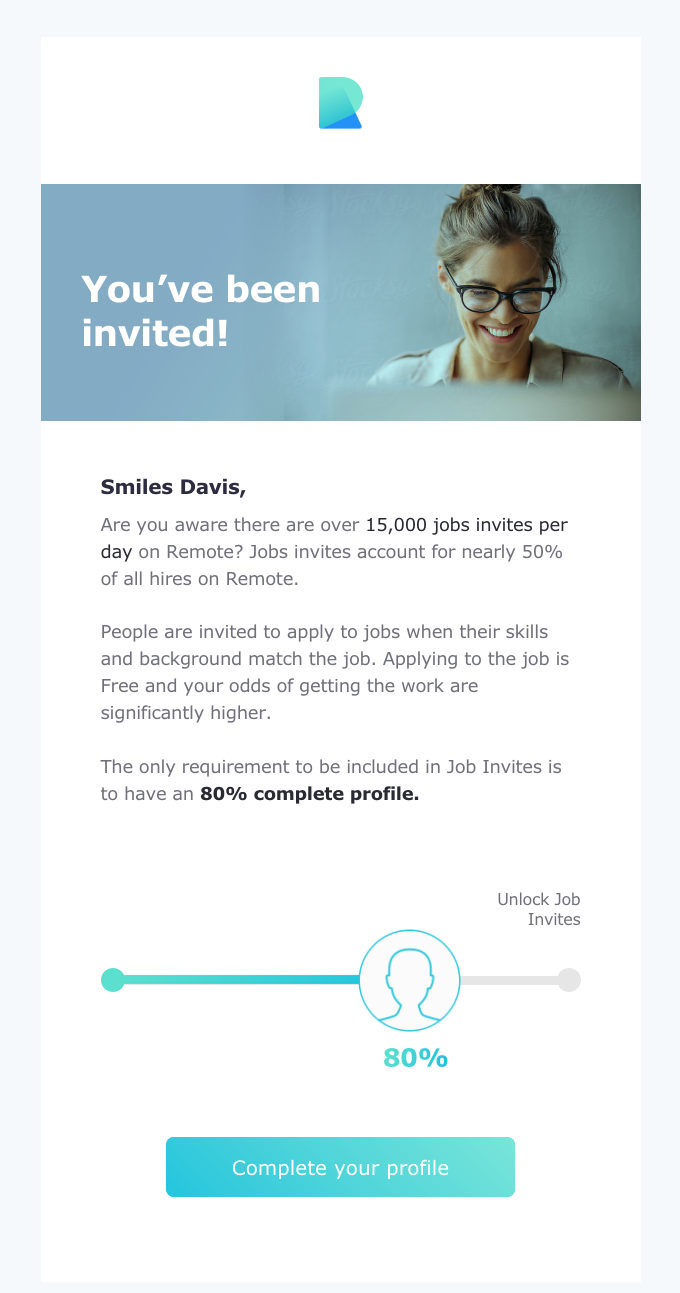 Bespoke Post has an entire email all about preferences so they can customize their audience's products and email content.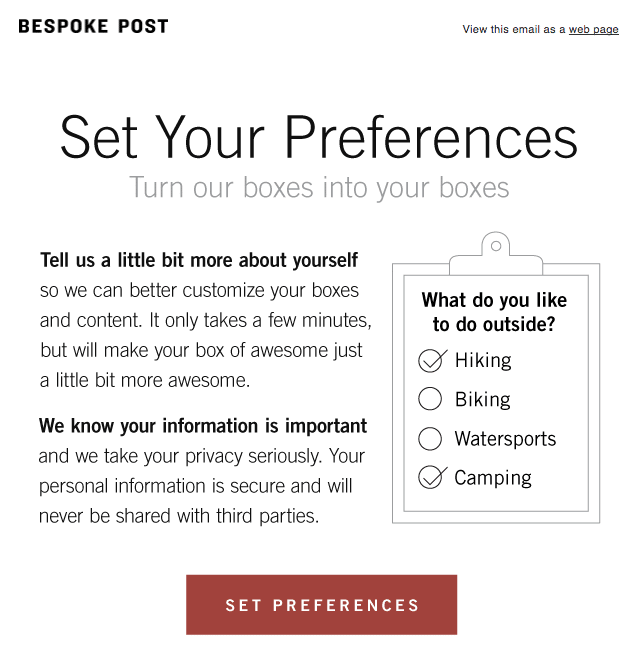 Ask for information little by little
Sometimes, it can be a lot to ask your subscriber to fill out their preferences all at once. Another strategy you can try instead is progressive profiling: Ask for information one piece at a time. It's much easier for your audience to take action, and it allows you to focus on telling them the benefit of that one data point.
In Rapha's welcome email, they only ask for one thing so they can ensure their subscribers hear about the type of clothing that suits them.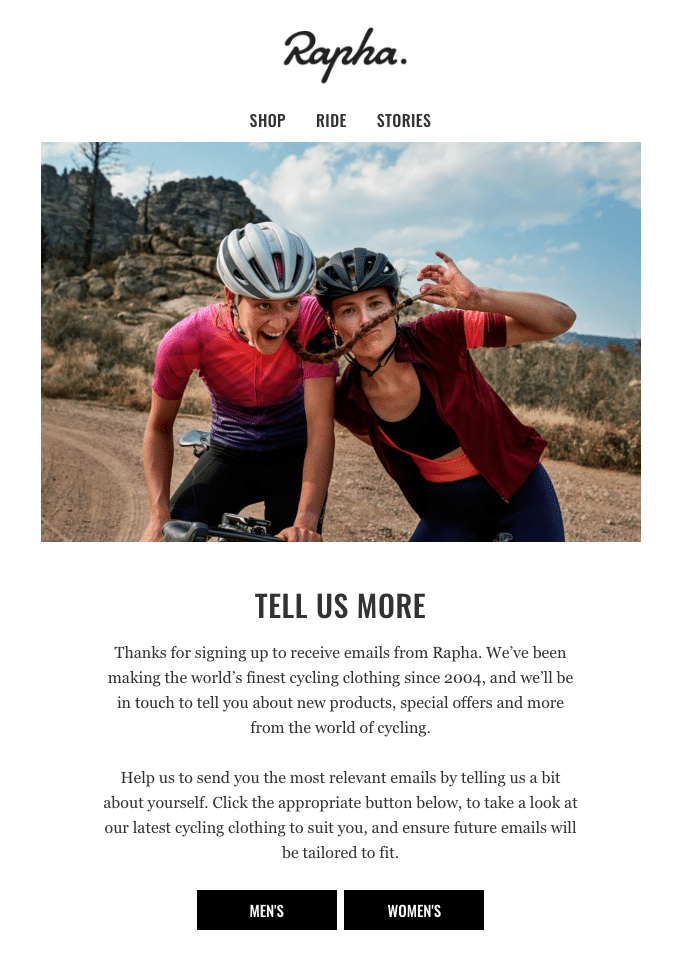 Kendra Scott sends an email only asking for birthdate and what their subscribers will get out of it.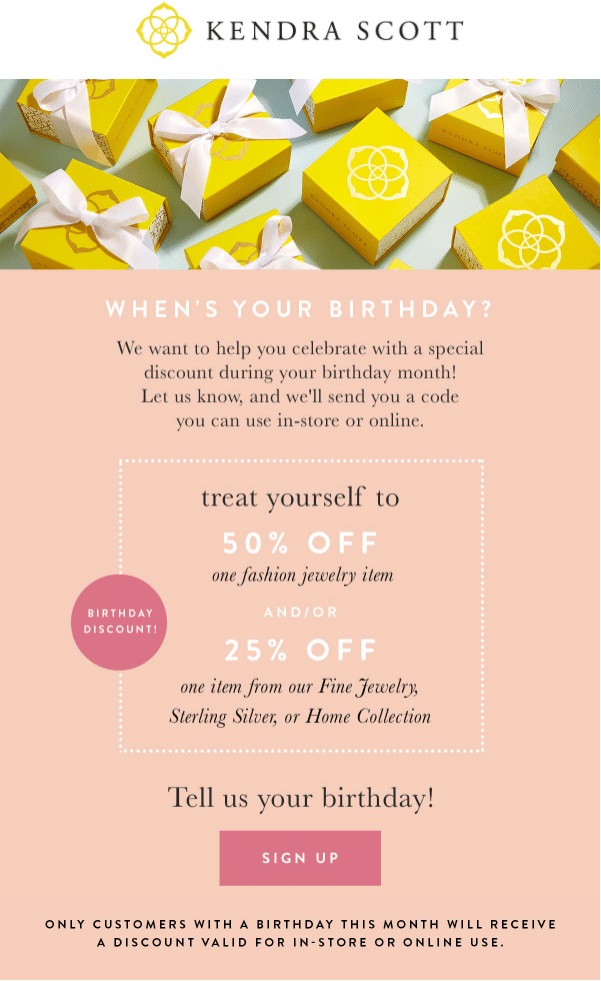 Include it your re-engagement campaign
Something that might be worse than unsubscribes? Your inactive subscribers who just ignore your emails. They stay on your list but drag down email performance. So before you let them go, send them a re-engagement campaign—and let them know they can actually get emails they want. By telling you their preferences, your inactive subscribers might start to engage again.
Animoto gets straight to the point in their email by telling their unengaged subscribers how they can get interesting and relevant content.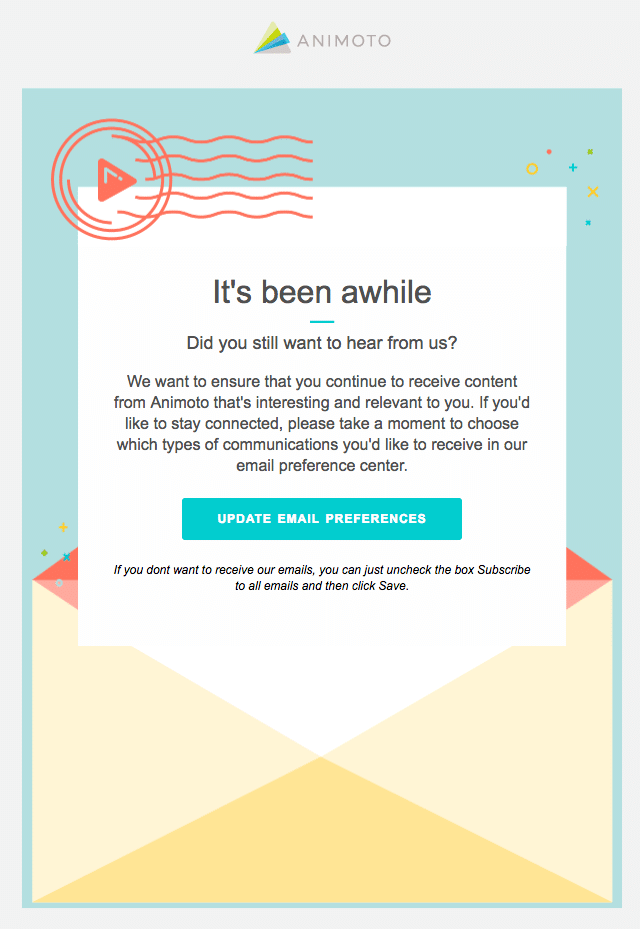 Email preference centers work
Email preference centers are worth the time and effort to personalize your subscribers' experience if you ask for the right information and have the resources to support their choices.
When I managed the email marketing program of an e-commerce brand, I revamped their preference center, reworked how it was messaged in the email footer, and created a strategy to promote it across multiple campaigns. This cut unsubscribes in half! And the data from the preference center helped fuel my segmentation and personalization strategies which boosted email engagement significantly. I was able to send fewer emails overall and increase revenue.
Email preference centers are powerful when done right. Follow the best practices in this blog post, and you'll be well on your way to reaping the rewards!