Read Time: 6 min
How does your email sound?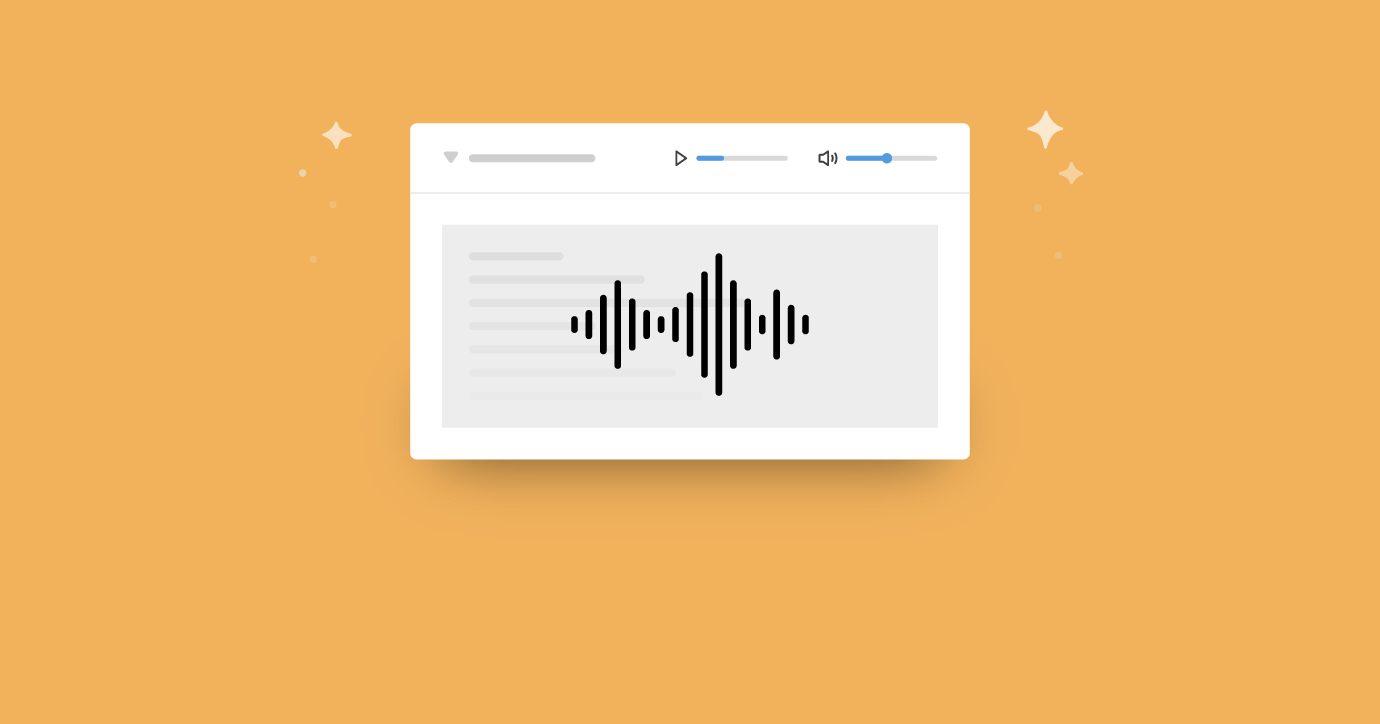 As email marketers, designers, and developers, we care a lot about how our emails look in our subscribers' inboxes. But have you ever asked yourself how your email sounds?
More and more people rely on screen readers to help them consume digital content—including emails—so optimizing your messages for screen readers is becoming increasingly important for brands.
With screen readers on the rise, the sound of your email matters
The World Health Organization estimates there are around 1.3 billion people with visual impairments, 36 million of which are considered blind. Many rely on screen readers and the underlying software that translates the interface and content seen on a screen into audio, allowing low-vision and blind users to use modern devices.
"For those of us without sight, computers don't work straight out of the box. Software called a "screen reader" is needed to translate visual information verbally, so we can make sense of what is on screen. Screen readers open up so many doors, and for example allow us to learn, interact, or shop online."

Mick Curran, Founder and Executive Director at NV Access
Screen reader software isn't exclusive to people with disabilities, though. The recent proliferation of voice assistant software—like Amazon Alexa, Apple's Siri, and Google Assistant—mean that assistive technologies have effectively gone mainstream. According to industry tracker Voicebot.ai, smart speaker users rose to 66.4 million in the U.S. alone in 2018, a 40% increase from 2017. And research firm Juniper predicts that voice assistants will be used by 275 million people by 2023.
More people than ever are using voice assistants to get news, do their shopping, and, yes, even check and reply to their emails. But too often, brands don't consider the audible email experience and fail to make their emails accessible to screen readers.
Is your email accessible?

Litmus' Accessibility Checks make it easy to test your email against accessibility best practices. See how you can improve and make better emails for everyone.
This doesn't sound right: When emails don't work with screen readers
Screen readers work by looking at the underlying code of an interface—in our case, an email—and translating it into audio that reads the interface out to the user. For any online content, if your code isn't complying with accessibility best practices, the screen reader's audio output may not be usable. But the quirkiness of email development comes with unique challenges for users relying on screen readers.
For example, most email templates are built using HTML tables. HTML tables are still the most reliable way to structure emails and have them display properly across the 90+ email clients in popular use. However, HTML tables are actually meant to be used for tabular data, not layouts. The default for most screen readers is to read each individual table, table row, and table cell out loud to the user.
Let's look at this really simple email header from one of our own emails. This header relies on tables to structure the layout. If your code doesn't make it clear that you're using the table for layout purposes only, the screen reader will assume it's an actual table. It will literally tell you how many rows and columns there are, telling you each column's position and content, making it impossible to understand your message.

Here's how a screen reader will read out our email header, if we hadn't optimized it for accessibility.
This isn't very helpful, is it? Now imagine a full email with lots of content that relies on multiple nested tables. Subscribers would have to wade through a lot of markup garbage to get to the actual content. The screen reader's audio would likely be unusable—and your email's content would be inaccessible for anyone relying on a screen reader.
"Trying to access content that doesn't comply with key accessibility best practices is a frustrating experience—and many content creators aren't even aware that they're excluding a significant portion of their audience."

James Boreham, General Manager at NV Access
Only in Litmus: Listen to how your email sounds on a screen reader
The first step to optimizing your email for screen readers is knowing how your email actually sounds. In the end, you can't fix what you don't know!
That's why we've integrated NVDA, a leading open-source screen reader technology developed by NV Access that over 100,000 people rely on to consume digital content, into the Litmus platform. Now, you have the power to listen to a screen reader recording of your email right within Litmus. As part of our brand new accessibility optimization tools in Litmus Checklist, our screen reader integration lets you check and optimize the screen reader performance of your email when you QA your campaign.
Integrating screen reader optimization into your email workflow has never been easier!
"Giving content creators insights into how screen readers translate their content helps surface the need for accessibility optimization to the people in charge of content creation. NV Access is supportive of more accessible and inclusive content being developed and distributed for blind and vision-impaired audiences.

We are excited to see how NVDA is used by companies like Litmus in this process."

James Boreham, General Manager at NV Access
Listen to a screen reader recording of the Litmus newsletter
We've used our new accessibility testing tools to optimize our newsletters for screen readers. Curious to hear how the result sounds? Listen to a screen reader recording of this newsletter.
Ready to start making your emails more accessible?
Accessibility Testing in Litmus Checklist is available on all Litmus plans. Start your free trial and start making your emails better for everyone.
Ultimate Guide to Email Accessibility

This guide has the insights and step-by-step advice you need to write, design, and code emails that can be enjoyed by anyone—regardless of their ability.