Read Time: 7 min
Litmus Builder Essentials: How Teams Can Use Our Email Builder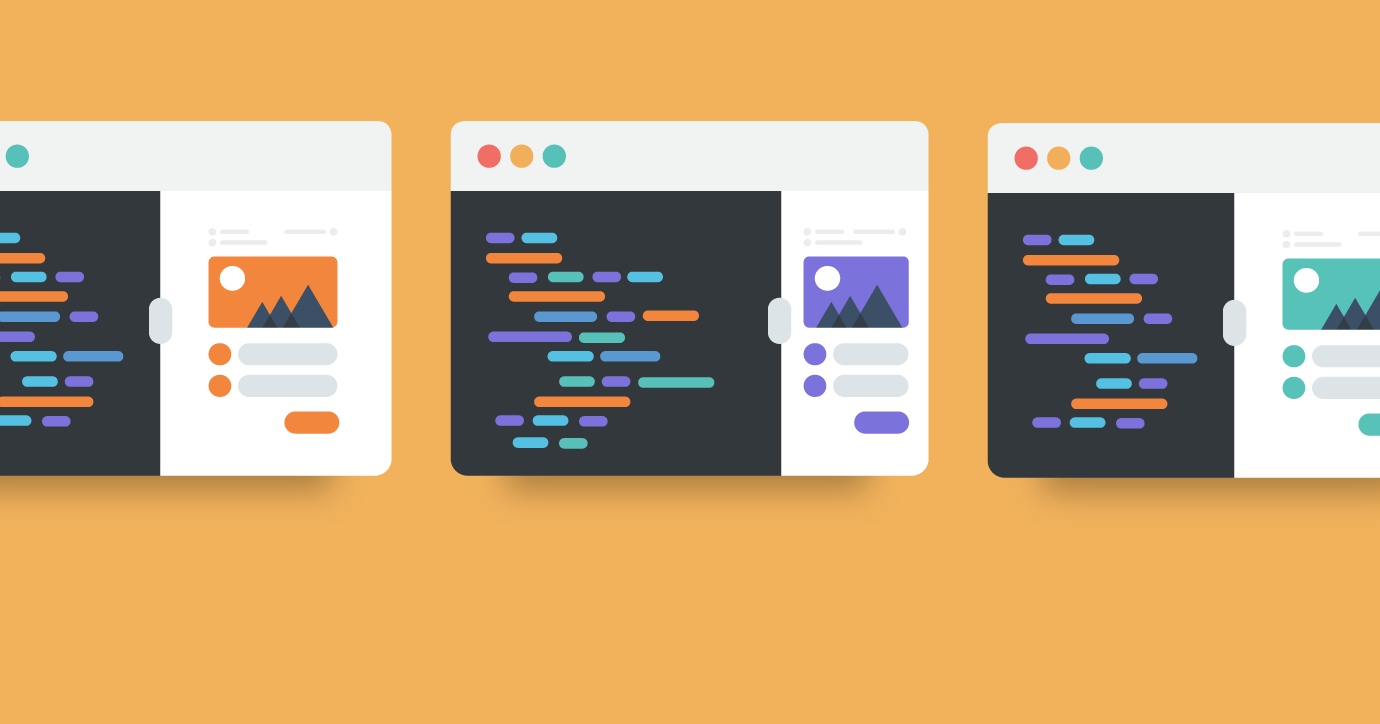 In the previous two parts of our Litmus Builder Essentials series we walked through Builder's interface and developing an email in Builder. Now that you're comfortable navigating around and using the code editor, we'll dig into how entire email teams can use Litmus Builder.
Emails aren't solely created by the email developer or designer. Often copywriters, strategists, and other marketers get involved in the process. Ensuring everyone on your team can easily collaborate is vital to a successful email campaign.
In the third installment of our Litmus Builder Essentials series, see how a cross-functional team can use Litmus Builder to collaborate and produce email campaigns that everyone will be proud of.
Stay organized
All your campaigns stay under one roof
Logging into Builder the first thing you'll see are your Projects. Projects are collections of HTML emails and are handy for organizing different types of emails for different purposes (e.g. marketing vs. transactional) or collecting specific emails together, like all of your weekly newsletters for a specific month.
All users in your Litmus account can view your projects, so keeping them organized is the first step to productive teamwork. Project names are searched for when using the search feature in Builder. So, create and stick to a naming convention for project names the whole team can easily remember to organize Projects in Builder.
At Litmus, we have projects for each of our regular campaigns—Litmus Weekly, the monthly newsletter, Community Digest, and our webinars. Each project name also includes the year to stop our projects overflowing with emails, and to help us find specific emails in Projects.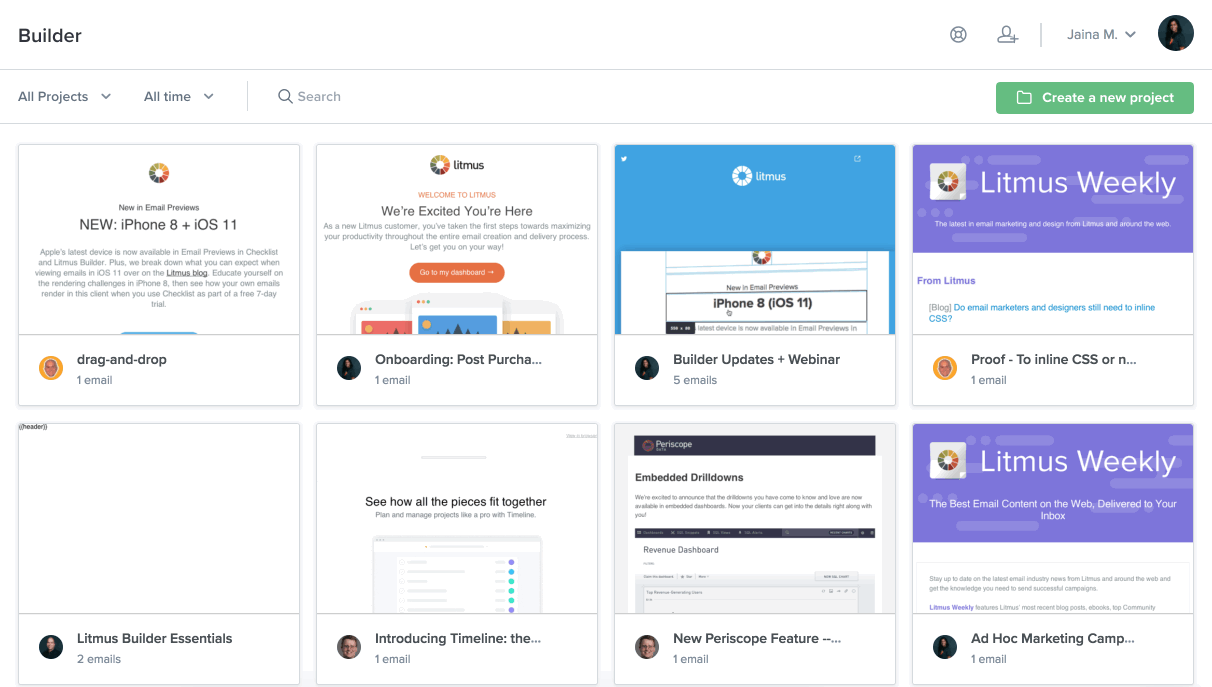 Tip: Looking for just Projects you created? Use the dropdown at the top of the page and select "My Projects"—a faster way of searching through the multitude of projects you may have.
Email organization
You may have a lot of emails files living in one Project, so implement a naming convention for your individual email files in each project, too. Builder sorts the email files in Projects alphabetically. Combining numerical values and email titles is a simple way to take advantage of the alphabetical sorting.
Using the date the email is scheduled to send will give the email a unique name and it's an easy naming convention for everyone to remember. For example, 05172017-SpringSale-Email1.
Tip: Add the initials of the team member who created the email file at the end of the file name to further identify owners of specific emails.
Get Collaborative
Build a code library
There are pieces of code that you use over and over again in your emails, including headers, footers, call-to-action buttons. Code libraries are the easiest way to store this code so it can be shared across the team and used in multiple emails.
Create your own code library using Builder's built-in Snippets and Partials. Team members can create reusable blocks of code that the whole team can access. So rather than copying and pasting code from one email to the other (and making mistakes on the way), your team can rely on a single repository of code blocks—a huge help in maintaining code consistency. Plus, since your team can insert snippets of code with a single click rather than writing the code from scratch, you'll not only write more consistent code but get your email out the door faster than ever before.
Collaborate on emails
"I need help with my email code,"
—said every email developer, many times.
Sharing your code in Litmus Builder is the easiest way to get help from team members if you're struggling with something tricky. Send the link to the email file you're working on directly to them via your communication app of choice. You don't have to send physical files or attachments. Documents won't be duplicated or re-saved in new locations. Changes are made live to the email file in the Builder project. Only one team member can make edits to any file at a time, so be sure to save the email file before sharing with another team member to work on.
See who made changes to your code (and restore any version at any time)
No matter if you've asked a colleague to help you fix a bug or if you're handing off a template to the marketing team to replace copy and imagery, Litmus Builder's Timeline keeps track of every change that's made to your email.
Timeline shows you who made changes to your email and when, and lets you view the entire history of your email. Restore any iteration at any time, with a simple click of a button. Rest assured that no piece of code will ever be lost again—even if many people are involved in the email creation process.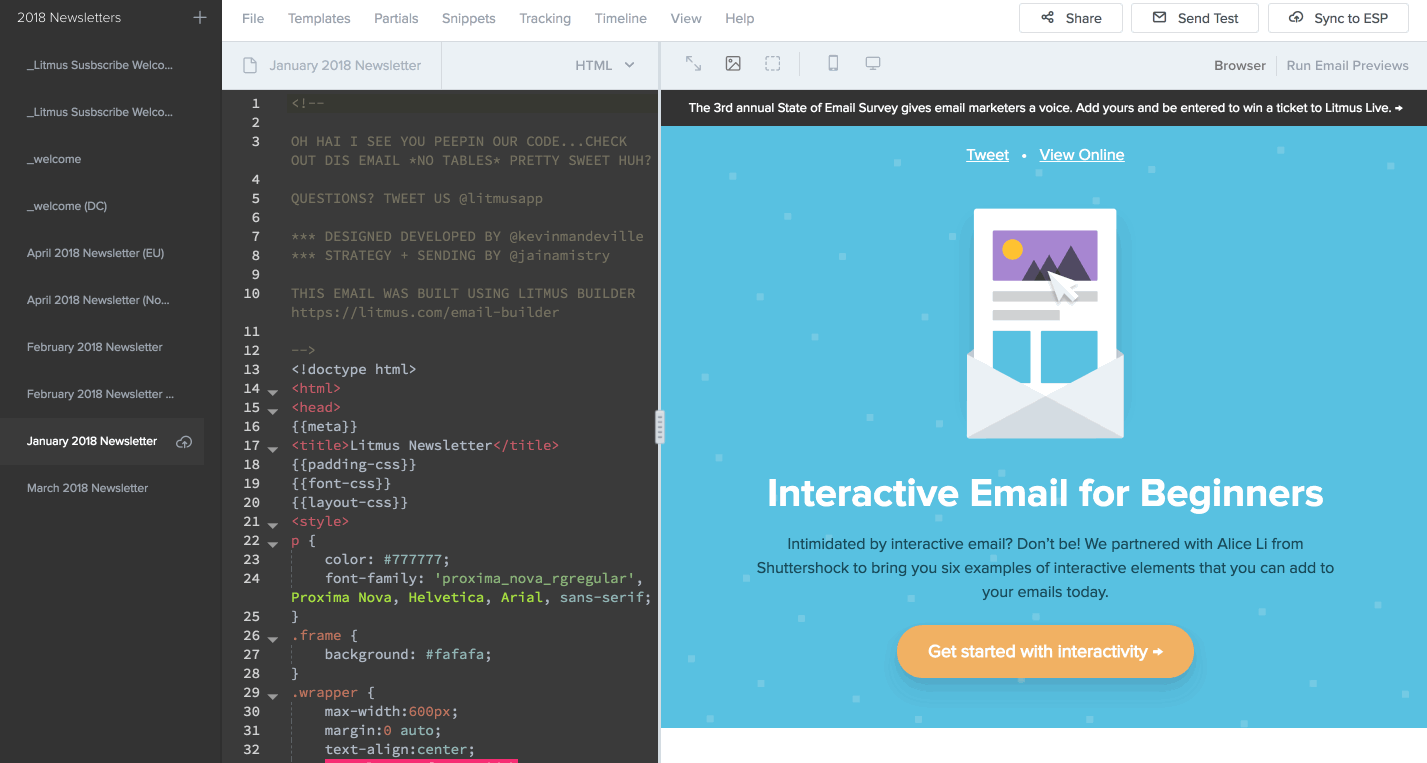 Share your work in progress with your team
If you don't want to share your Builder project itself, but still want team members to see how the email renders across different email clients and apps before an initial send from your email service provider (ESP), simply create a sharing link: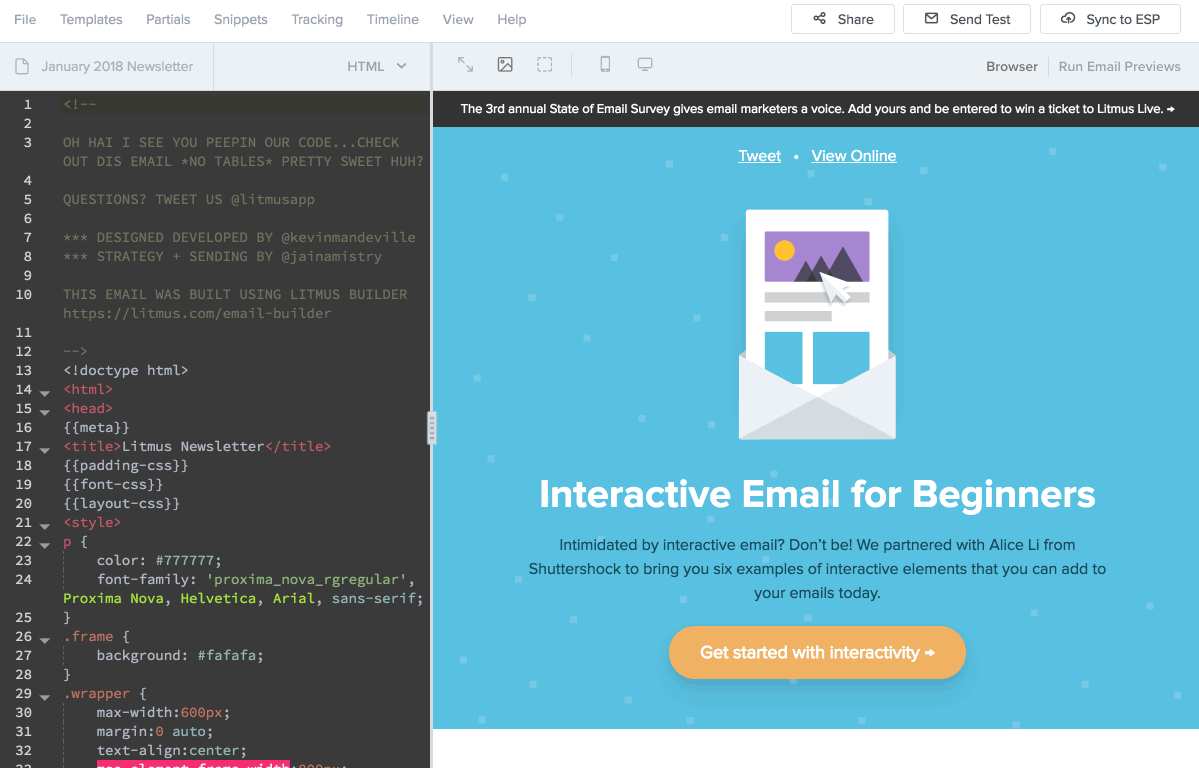 Speed up your quality assurance (QA) process by getting team members looking at the email earlier on in the workflow, and address any issues before moving to the next stage. Share with copywriters, strategist, and the rest of the team involved so they can see their work in progress too.
If you'd like your colleagues to get a sneak peek of your email in their inboxes rather than the browser, you can do so, too: Use the Share by Email feature for your team members to get an early look at what the email looks like before it gets uploaded to the ESP.
Consistent tracking
Measuring the success of an email campaign is vital. Marketers use services like Google Analytics and append tracking codes to the links in an email to measure activity on those links.
In the past, updating and ensuring the tracking codes are correct is a process that's been in the hands of the email developer as these tracking codes are usually hard-coded into the email.
Builder's Tracking Manager feature allows the tracking code to be abstracted away from the code of the email, making it easy for anyone in the team to add, view, or update an email's tracking code—even if you're not an email developer.
The team member responsible for email tracking can simply open the Tracking Manager in the top right corner, type in the tracking code, and choose which links to apply the tracking code to.
The tracking code isn't visible in the HTML code in Builder, keeping your code more concise while coding email. When you're done building your email, compile the code, and your tracking code will automatically be added to the links in your email.
See exactly how Tracking Manager works in our explainer video: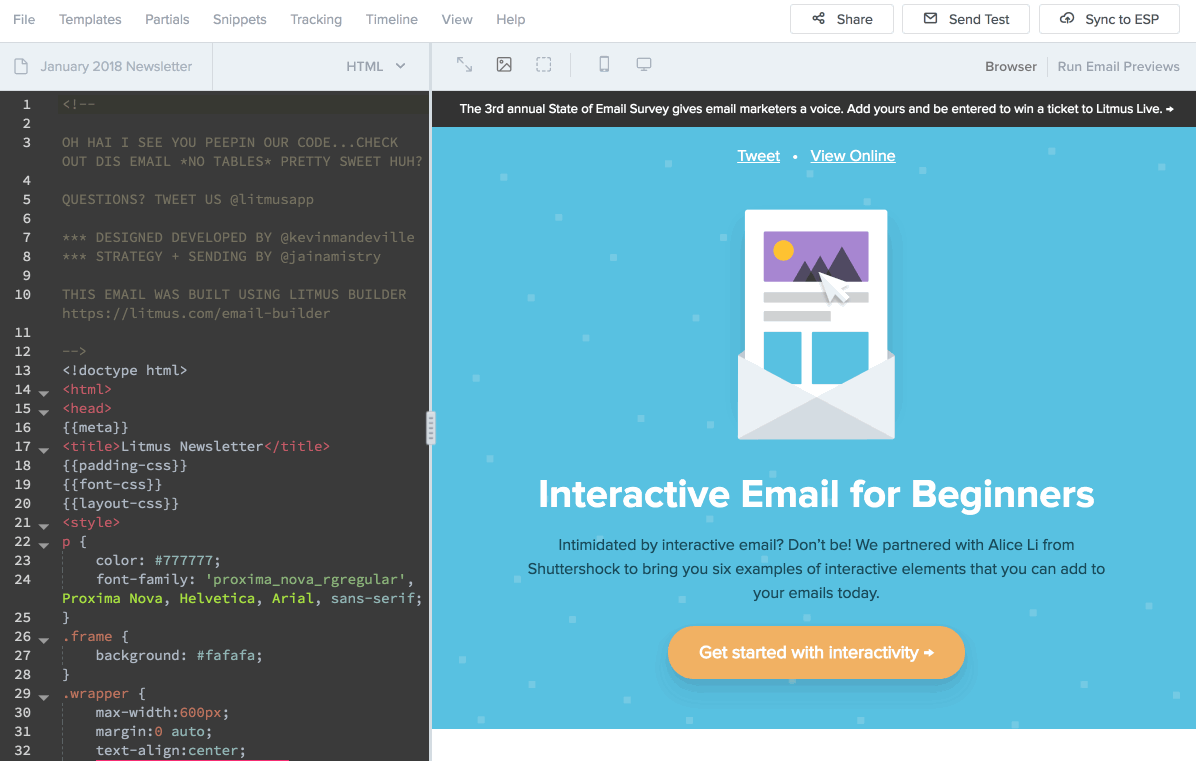 Litmus Builder is the ideal code development tool that's not just for the developer or designer in the team. Utilize Builder's extensive toolset to create a more collaborative approach to your email workflow, and send better email, faster.
Try Litmus free for 7 days and see how Builder can improve your development process today.
Get to know Litmus Builder

Quickly build and test on the email clients that matter most to your audience, and utilize reusable HTML and CSS code snippets and pre-tested templates to reduce errors and maintain brand consistency.
Learn More in our Litmus Builder Essentials Series