Interactivity has been a top email design trend for a few years, and it's easy to see why. Interactive elements make an email more accessible, and often, more fun and engaging. The concept takes a format that has long been a single, static message, and turns it into an entire experience within the inbox. Yet it isn't actually a pervasive design or strategy.
We asked nearly 2,000 email marketers about their team's use of interactive email design, and we're a little surprised by the results.
Nearly half of marketers haven't tried interactive design… and don't plan to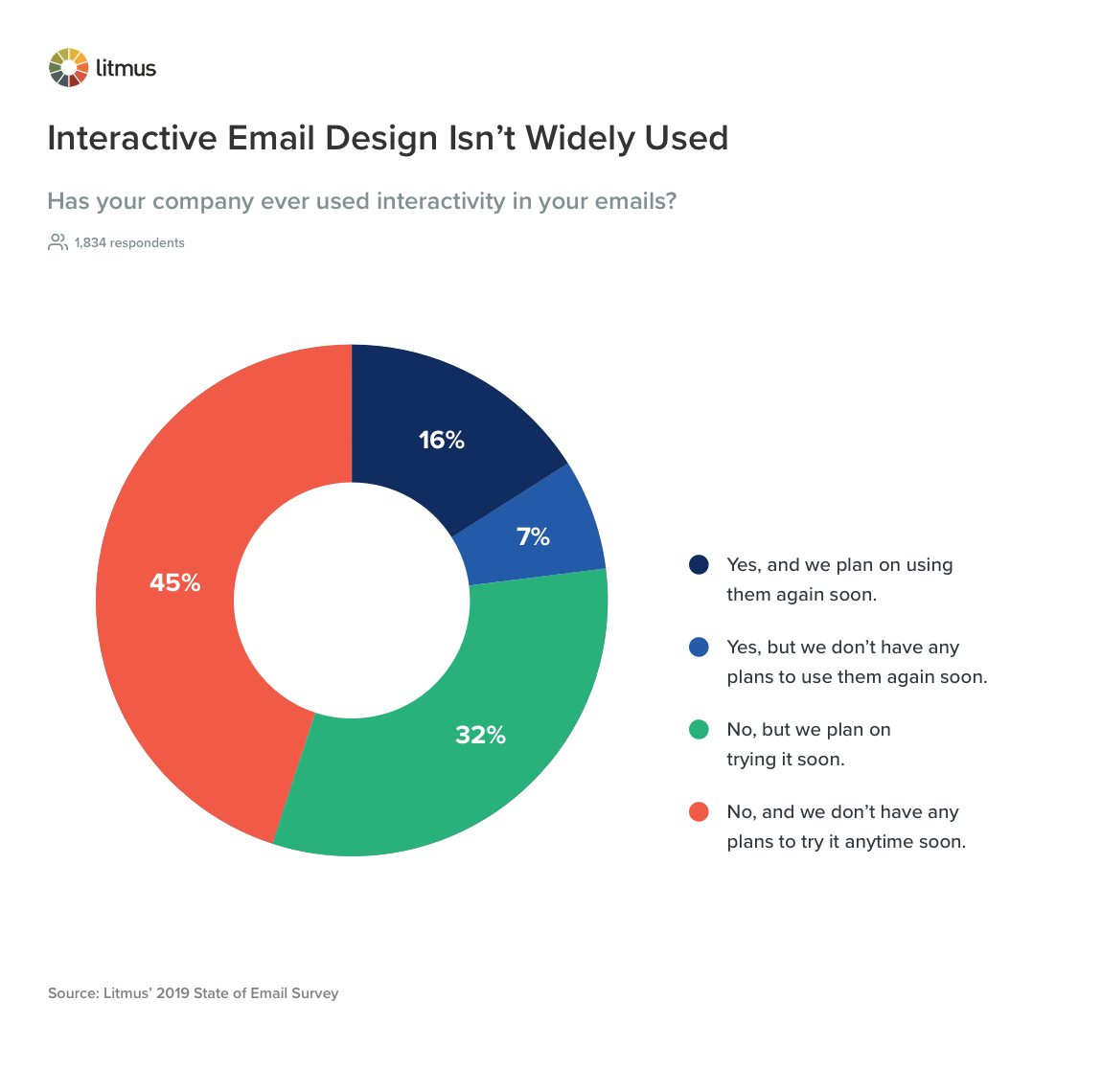 The most common response to whether or not an email marketer has used interactivity was "No, and we don't have any plans to try it anytime soon." With 45% of responses, almost half of email marketers don't have interactivity on their radar. On the other end of the spectrum, only 7% of marketers have used interactivity in the past, but don't plan on continuing to implement interactive techniques in their email campaigns.
But regardless of the industry buzz around the topic, interactivity in email hasn't reached the email marketing mainstream yet. Only 23% of marketers say they've used interactive elements in their emails. The large majority (77%) says they haven't worked with interactive emails.
If interactive email design is a trend that catches marketers' eyes—and companies that have tried it will typically use it again—what's holding so many marketers back?
Interactivity may seem intimidating (or frivolous)
Coding an interactive email design may be intimidating. Email service provider support for different interactive elements has varied some over the past few years, which might make designers shy away from taking the time to implement interactivity. After all, there's not much worse than your hard work going to waste.
We suspect that email marketers may also view interactivity as a tactic reserved for the biggest companies and "best" email developers. It doesn't help that most of the current examples are from well-known companies. If an email marketer heads to Really Good Emails' interactive email examples, they would see Xfinity, Taco Bell, Adidas, BBC, and more. If you look a bit closer at the examples from household names, like the one from the BBC below, you might notice that not all interactivity is overly intricate. This email doesn't have a bunch of different effects or elements at play.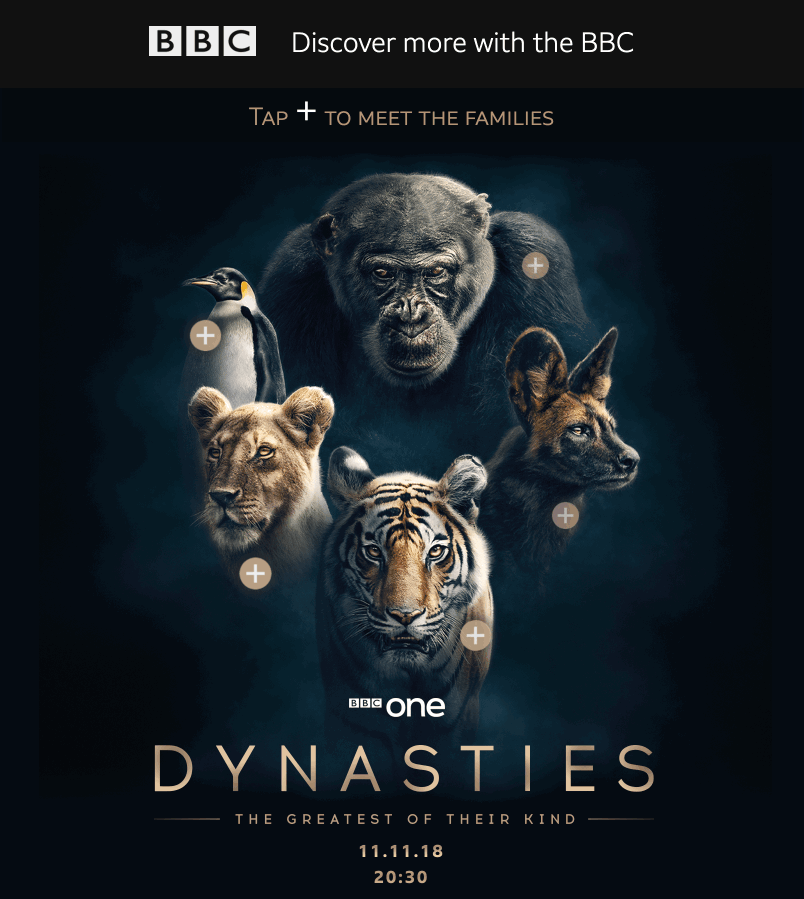 Another apprehension some email marketers may feel towards interactivity is that it's a bit frivolous. In email games and quizzes, like Taco Bell's holiday maze, there's an undeniable fun element to them.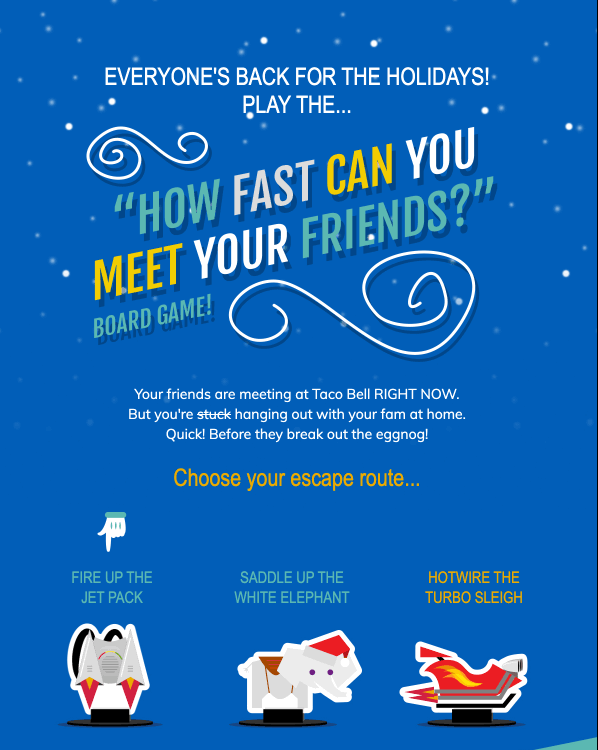 However, in the grand scheme of all the tasks an email marketing team needs to tackle, it might not seem worth it to learn a new skill for one email a year. Perhaps email interactivity will become more widespread when companies begin to use various elements in the emails they regularly send.
It's understandable to be intimidated by a new, and seemingly fancy, skillset. The good news, though, is email interactivity doesn't have to be scary—and it isn't just for the biggest companies.
Where should curious email developers start?
32% of marketers haven't use interactivity yet but plan on it. That means there's a big group of email professionals gearing up to test a new skill. We also heard from 16% of marketers that they've used interactivity and will keep doing so.
If you're an email marketer who's been meaning to try an interactive design—or even someone who thought it might be out of reach—let's break down some easy ways to get started.
The first place beginner interactive email developers should start is with hover effects. Adding a hover effect to an email element, such as a link or image, not only makes the email more engaging, but it also indicates clickability. You can also add hover effects to nearly every aspect of the email, from text to images to buttons.
Email accessibility is another top email trend, and for a good reason. An estimated 1.3 billion people live with visual impairment, and interactive elements such as high contrast switchers make sure every customer can enjoy your emails.
For the July newsletter on accessibility, Litmus' Principal Email Engineer, Alice Li, adapted Paul Airy's accessibility switcher to create a fully interactive email. The newsletter, which you can interact with here, featured switchers and hover effects. If you want to try out these effects on your own emails, Alice teaches you how in this Litmus Community post.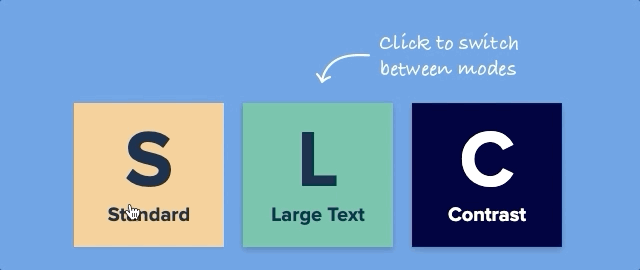 Interactivity is commonplace on websites and apps, but this popular design trend isn't yet widespread in email marketing. Some teams have experience with it, but there are still plenty who've yet to commit. If you've been putting off giving interactivity a try, you're not alone. Here are some great resources to help you get started with using interactive elements in your emails: