Getting the most out of email is not an easy task, particularly when circumstances are less than ideal. As the world grappled with another year of the pandemic, marketers found themselves tasked with a multitude of challenges in 2021.
In addition to meeting lofty business goals with limited budgets and resources while maneuvering ongoing changes to privacy regulations, increasingly complex workflows added additional hurdles. On average, companies utilize more than 12 different tools to manage their campaigns and 60% of companies have more than 4 stakeholders that need to be involved in the review process. With marketing responsible for contributing 44% of all company revenue, the pressure to succeed is high.
How Litmus Solved Email Challenges
Litmus tackled these challenges head on in 2021 through product innovation, allowing marketers the ability to gain all possible efficiencies in their email workflow. We focused on solutions that empowered agile, on-brand, error-free email creation, resulting in exceptional subscriber experiences and measurable business results.
We also adapted to increasing email privacy regulations. Our goal continues to be to help marketers put measures in place that not only better connect with subscribers, but also to gain a true understanding of what content, tactics, and strategies truly resonated with their audiences.
Intuitive email creation for all—regardless of technical coding ability
Marketers need to quickly and easily create on-brand emails for their campaigns but varying levels of HTML knowledge can make this a challenge.
With the introduction of drag-and-drop modular building in Litmus Builder, all team members, regardless of their HTML knowledge, can quickly build effective on-brand emails using reusable code modules and templates. New categories in Design Library paired with the ability to quickly and easily save new code modules, help teams maximize efficiency so they can get more high-quality emails to market faster and drive business results.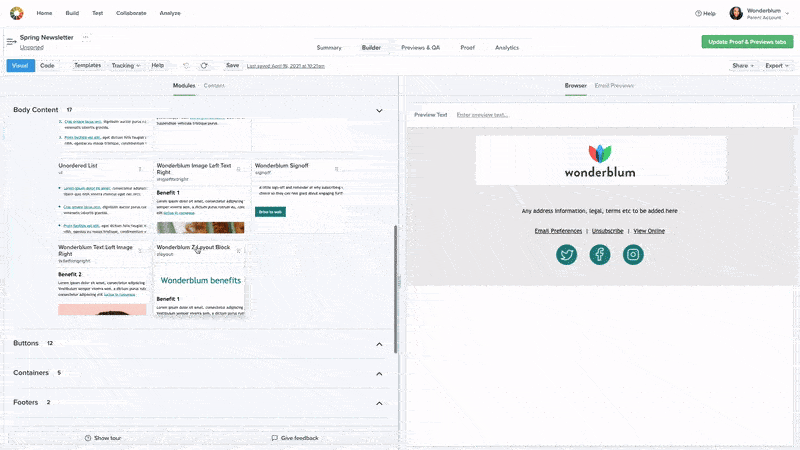 Faster and smarter email testing
With more than 300,000 possible renderings for a single email, thoroughly testing the latest and most popular email clients and devices is more important than ever. Emails that arrive broken are often quickly deleted, leading to a loss of subscriber engagement.
In addition to support for many new email clients and devices, we introduced the ability to filter and sort email previews within a Litmus Test to help marketers accelerate their email testing workflow. The keyword search filter helps marketers easily navigate to high priority previews like Dark Mode or iPhone. Filters can sort by platform type or most popular email clients to stay on top of subscriber trends. And for those using Litmus Email Analytics, filtering helps to identify the most popular email clients used within their specific audience.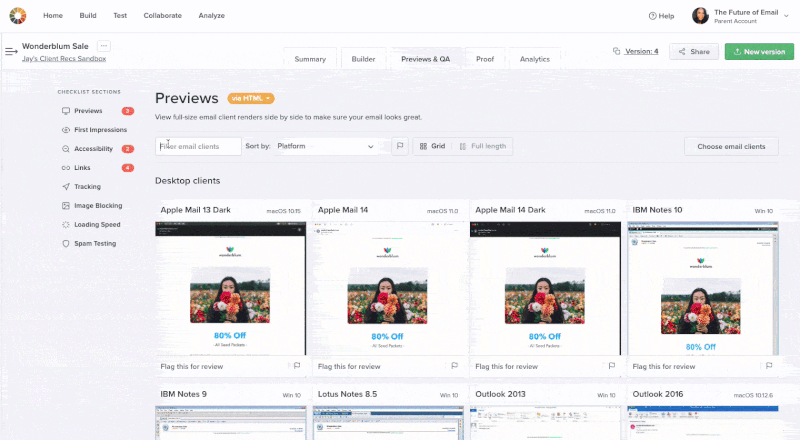 Simplified and streamlined review and approval processes
The email review and approval process is one of the most complex and time-consuming steps in the email workflow. With an increase in email project volume and the same or fewer resources, more and more email teams are gaining workflow efficiencies by adopting agile email marketing best practices to streamline review and approvals.
Enhancements to Litmus Proof in 2021 make it easier and faster for all stakeholders—regardless of whether they have a Litmus login or not—to review HTML emails and email designs including GIFs. With better visibility, improved collaboration, and a single, centralized tool for sharing feedback, email teams can enjoy less review cycles, faster production times, and more campaigns to drive business results.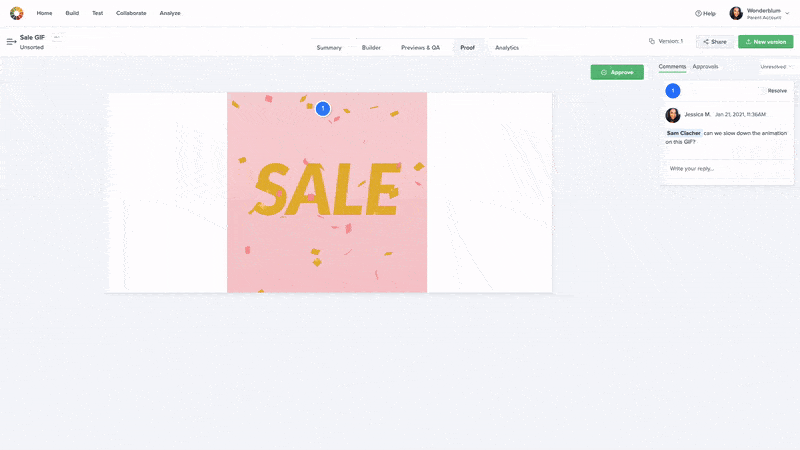 Access to the subscriber engagement insights that matter most
As data privacy protection measures (like the introduction of Apple Mail Privacy Protection) increase, marketing teams need to re-engineer their approach to data-driven decisions for campaign success. In addition, marketers are often faced with the challenge of managing data and inputs from multiple sources.
In 2021, we introduced new reliable subscriber insights to help teams continue to understand what resonates with their audience and apply those learnings to future campaigns. We also launched an Apple Audience Report that helps email marketers using Litmus Email Analytics prior to 9/20/21 (when Apple Mail Privacy Protection went live) have a historic benchmark for their Apple audience engagement.
To enable all email marketers to continue to glean reliable, actionable insights without added manual work, we added Integrated Insights to Litmus Email Analytics. This makes it easier to combine key subscriber insights from Litmus with data from an ESP.*
*Integrated Insights is available for users of Marketo, Salesforce Marketing Cloud, and Oracle Eloqua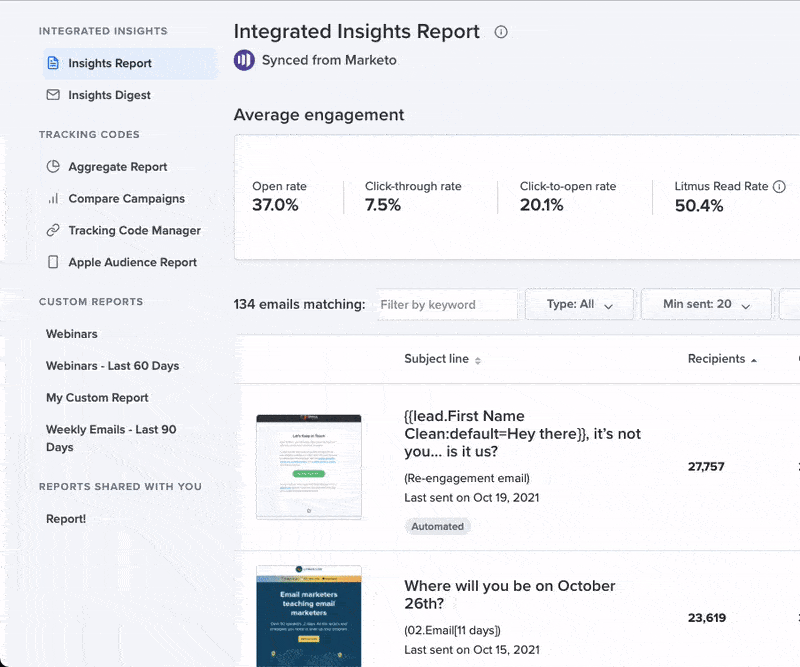 Integrations that let you bring the power of Litmus wherever you go
It's important for email marketers to test their emails early and often in their email creation process. This prevents costly errors and reduces review cycles, but switching between tools can be a hassle.
That's why we are excited to have incorporated brand new integrations with Pardot, Adobe Campaign Standard, HubSpot, Adobe Journey Optimizer, Acoustic Campaign Composer, and Intilery. With these new integrations, marketers can efficiently build and test emails without the added effort of switching between tools. This saves time and helps catch and fix costly errors before they become a problem.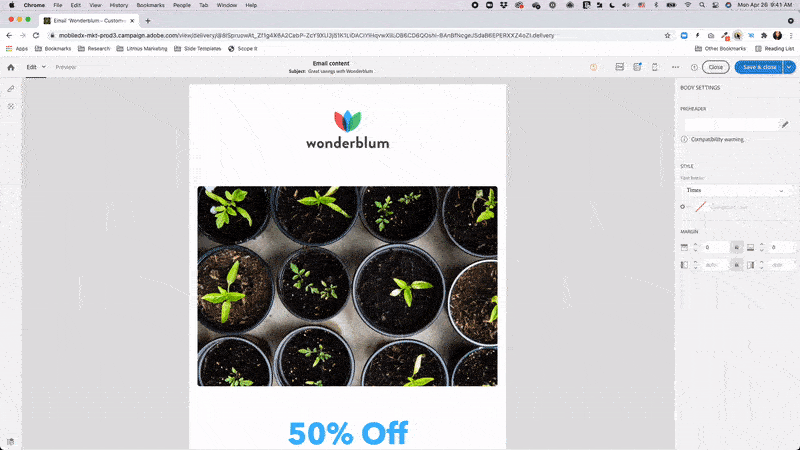 Looking ahead
There's no doubt, this year was busy for everyone and 2022 looks to bring its own challenges. As we continue to navigate new territory in the email marketing space, it's important for marketers to remember to stay agile in their approach. We're excited to continue to find new ways to make creating effective email easier and faster than ever.