At the heart of email marketing's boom is personalization. More emails mean more competition in the inbox, making it harder for marketers to catch their audience's attention. One way to stand out? Personalization. That's why 55% of marketers are making personalization a priority, especially for their email program.
Based on our 2021 State of Email report:
9 in 10 marketers believe personalization is imperative to overall business strategy.

80% of customers are more likely to make a purchase from a brand that provides personalized experiences.

83% of customers are willing to share their data to create a more personalized experience.

76% of buyers expect more personalized attention from marketers to develop an intimate relationship with your brand.
What kind of personalization do marketers use?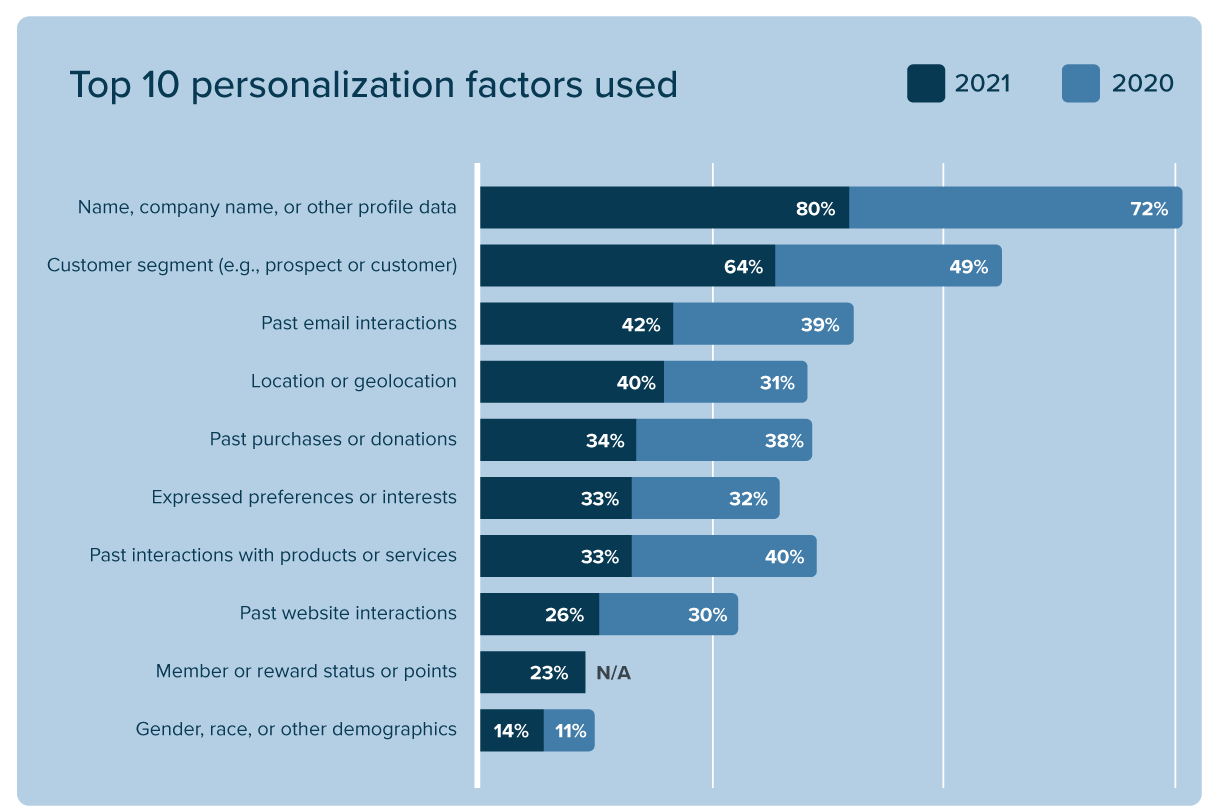 More brands are personalizing in more ways almost across the board since last year. However, less brands are using past purchases and past interactions with their website, products, or services as a way to personalize emails this year. This may be because companies are preparing for life after the loss of third-party cookies.
There are many ways to segment and personalize your emails, and marketers use multiple tactics throughout the year. Based on the data in the chart above, it isn't uncommon for email marketers to have used nearly four different tactics.
Simpler personalization tactics, such as a user's name, are easy to include in all of your newsletters and transactional emails. Other tactics, like customer status and geolocation, could be particularly useful for specific campaigns or seasons.
Using the recipient's name is most popular
Let's start with the reigning champ in email personalization. 80% of email marketers stated that they use either a person's name or company name in their emails. This tactic is widely used for a few reasons. First, it's the easiest data to gather and implement. After all, even the shortest sign-up forms usually require a first name. Also, "first_name" is easy to apply to any email.
But the question that remains is whether or not it's enough. These days, the answer is no. The fact that most companies do it means it's expected, and therefore, shouldn't be the extent of your personalization strategy.
Segmentation drives personalization
Data allows you to create more versions of your email to target different audiences at scale. As personalization and segmentation continue to drive optimization, the need for additional versions of emails goes up significantly. 
More than 65% of marketers are creating at least two versions of an email on average. Nearly 16% are creating four or more.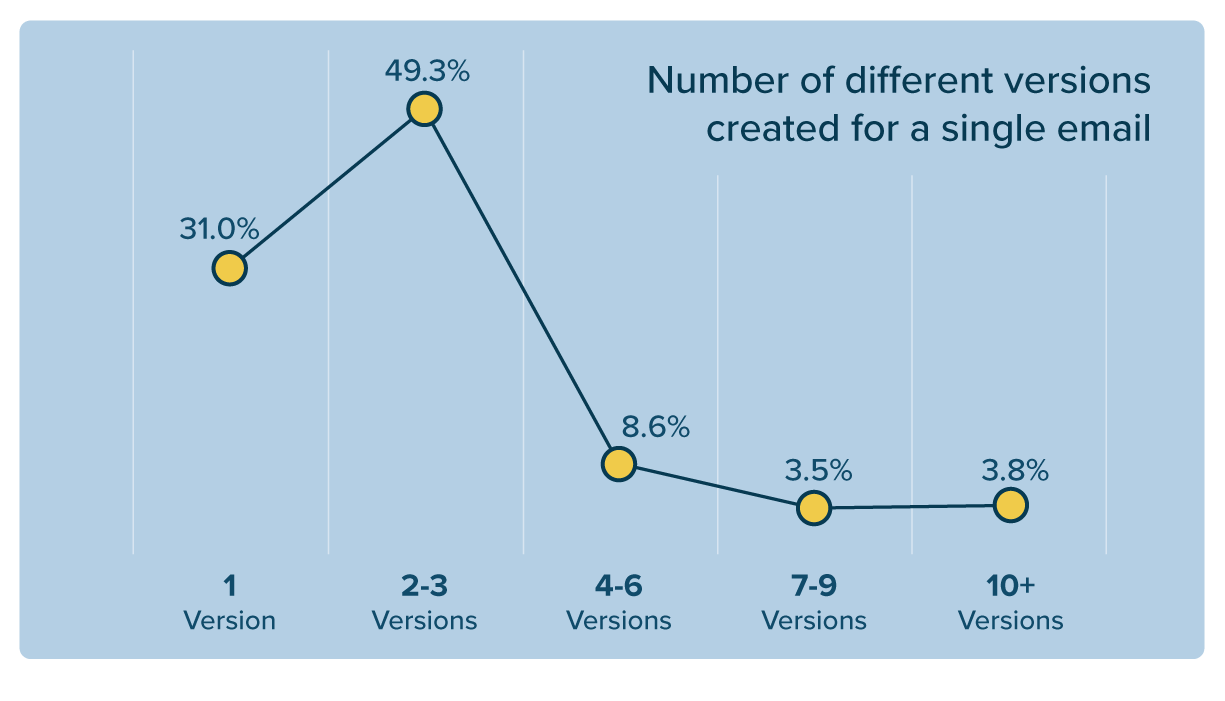 And what's even better? Combining segmentation and personalization can be a powerful way to add sophisitcation and enhance your customer data to better inform your future strategies.
Scale personalization with automation
In an effort to personalize and scale, automation and artificial intelligence (AI) is critical for an efficient and effective email program. About 59% of marketers have made expanding automation a priority for their email program. Why? It's all about sending the right content to the right audience at the right time without the manual processes.
Marketers currently using email campaign automation apply it to triggered emails, drip or nurture campaigns, and email segmentation strategies.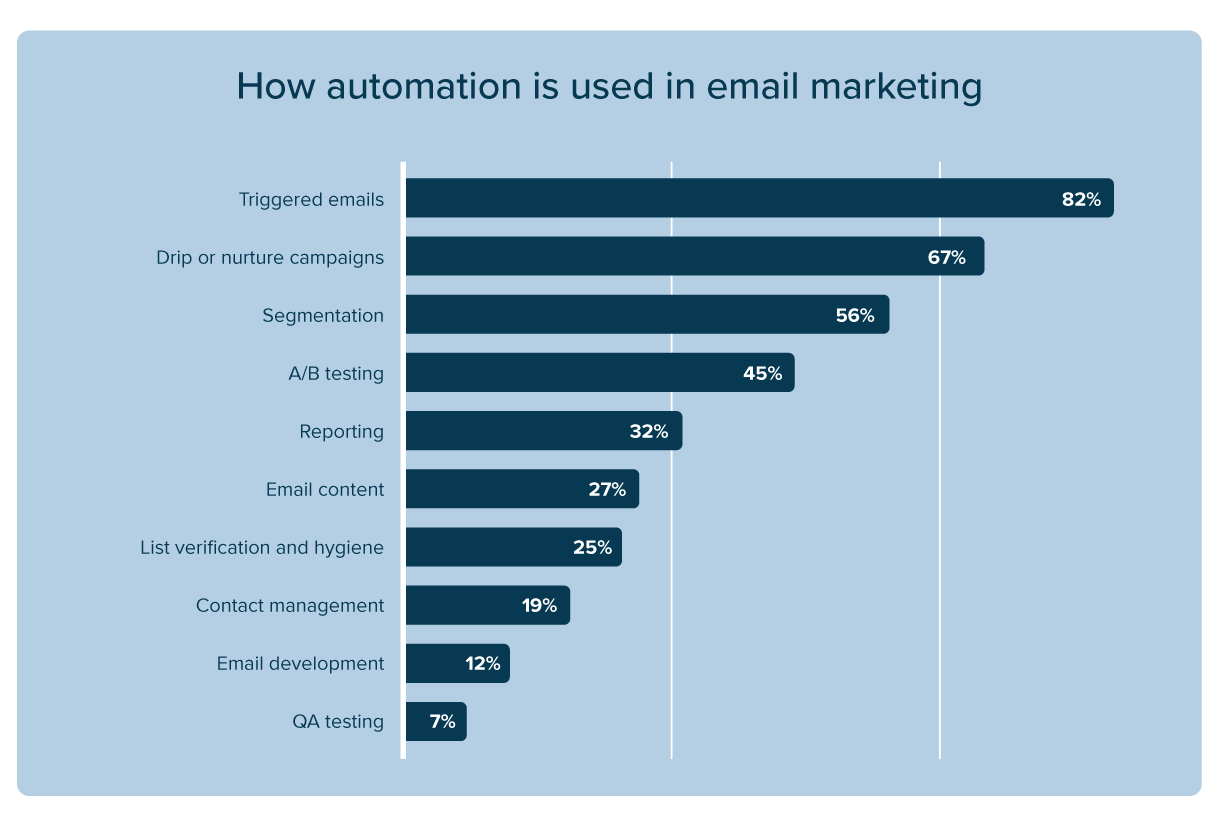 According to our State of Email report, the most popular emails to automate are the welcome series, onboarding or post-purchase emails, and subscriber re-engagement.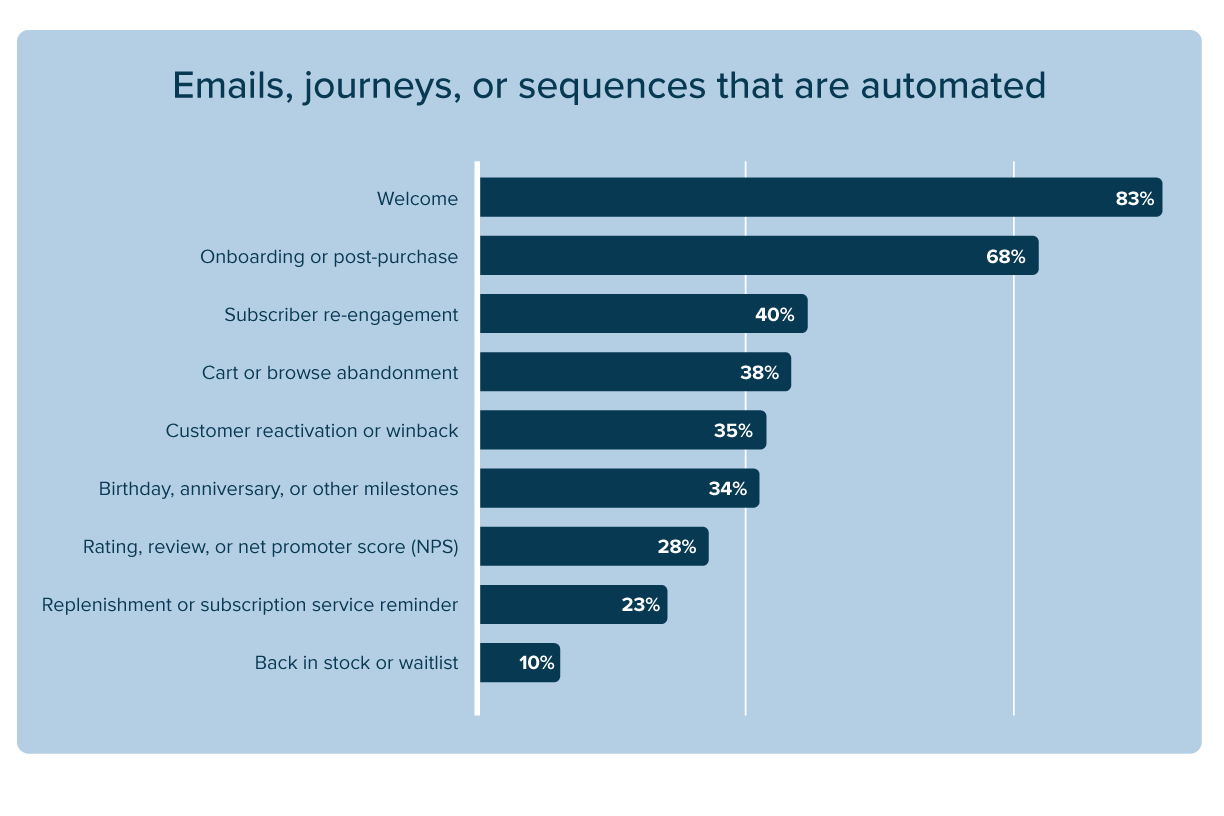 Get to know subscribers with A/B testing
Another way to learn more about your subscribers so you can create more personalized, optimized experiences? A/B testing. Despite the benefits, 55% of marketers say they rarely or never A/B test.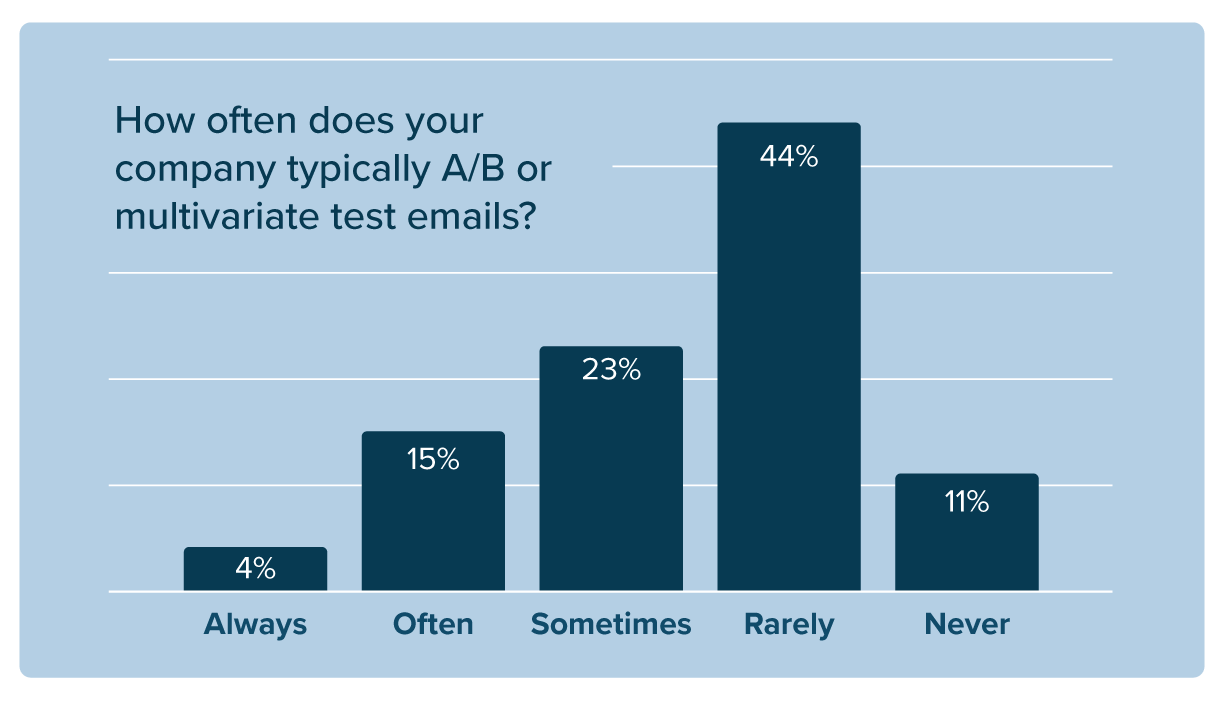 Why aren't marketers A/B testing more often? With changing demographics in fast-growing email lists, A/B testing has become more challenging. Your subscribers and what they want could change in days. And with smaller lists, statistical significance has been all but impossible to achieve.
So if you want to make a difference, you've got to swing big. Test more significant changes rather than subtle differences, consider context like seasonality or promotions, and reference historical data.
AI is important—but slower on adoption
When it comes to machine learning and AI, adoption is low. 33% of marketers use AI in marketing in general, and 39% plan to in the future. However, our research shows only 14% use it specifically in email marketing today—and they mostly use it for send-time optimization.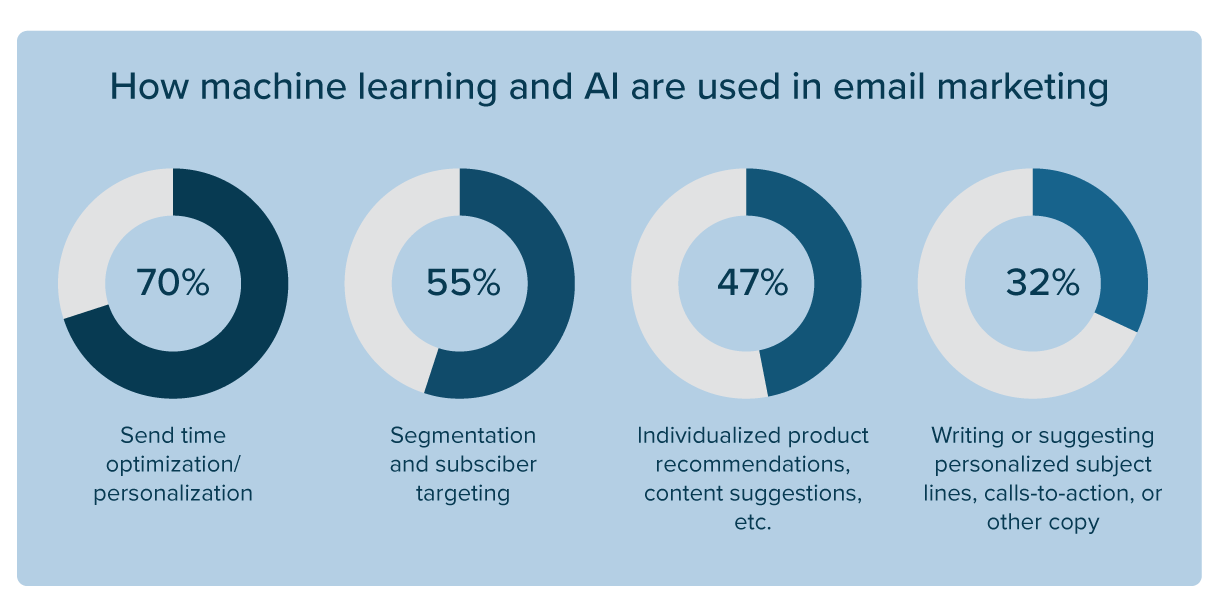 The state of AI in marketing still has great potential to dramatically elevate your marketing program and help you:
Identify potential customers more quickly and accurately.

Deliver personalized content and product recommendations.

Drive higher engagement with your brand through relevant moments that matter.
While the science behind AI is complicated, getting started doesn't have to be. Roll out AI selectively by addressing tightly-defined and measurable use cases. Focus on enhancing existing programs where engagements are well understood, processes are defined, and outcomes benchmarked to fully monitor how the AI is working and driving value. Programs such as dynamic email content and email subject line optimization are great places to start your initiative.
Email segmentation and personalization take messages that could be generic and turn them into ultra-targeted messages that convert. The simplest place to start is by adding subscribers' names, but don't let that be the end of your strategy. Ask subscribers for their preferences and take advantage of customer behavior and insights to make their email experience unique.
Ready to level-up your personalization?

See how Litmus Personalize, powered by Kickdynamic, empowers you to use email personalization to create individualized experiences at scale.

Originally published by Steph Knapp on October 24, 2019. Last updated May 18, 2022.