Getting caught in the spam folder is an email marketer's nightmare, but it's more common than you might think. If you're not watching and paying attention, it's easy to get your emails blocked or blocklisted and not know it. Or there might be issues with your infrastructure or the content of your email that can trigger spam filters, preventing your messages from being delivered to the inbox.
But how do you know if your email is at risk of being sent to the spam folder? Spam filter testing tools are instrumental in getting this critical visibility.
We asked thousands of marketers if they run their emails through spam filter tests before sending—and which tools they use to do so. Here's what we found.
The majority of brands use spam filter testing tools
53.8% of all marketers say they rely on spam filter testing tools to test their emails for potential spam issues before they send, according to our State of Email research. Third-party spam testing tools are the most popular, with 37.7% of brands using them. Another 16.1% of brands rely on the spam testing tools provided by their email service providers (ESPs) for pre-send spam testing.
Marketers who use spam filter testing tools have better visibility into blocklistings
Marketers who use third-party spam filter testing tools are 50% more likely to report being blocklisted (22% vs. 15%) than those who don't.
But that doesn't mean that those brands get blocklisted more often. It's safe to assume that most of these differences are due to tool users having much better visibility into their deliverability. After all, you can't report or resolve a blocklisting if you aren't aware of it.
Here's another stat that supports that theory: Brands who use spam filter tests before sending emails reported an ROI of 51:1, while those who don't report an ROI of 39:1. Having better visibility into blocks and blocklistings means you can take action more quickly—and that leads to better email program performance.
The most popular spam filter testing tools
Many brands use third-party tools in addition to their ESP's functionality to prevent blocking and blocklisting. Out of the 600+ marketers that said they use third-party spam filter testing tools, over half (59.6%) relies on Litmus Spam Testing to ensure their emails pass spam filter tests prior to sending an email.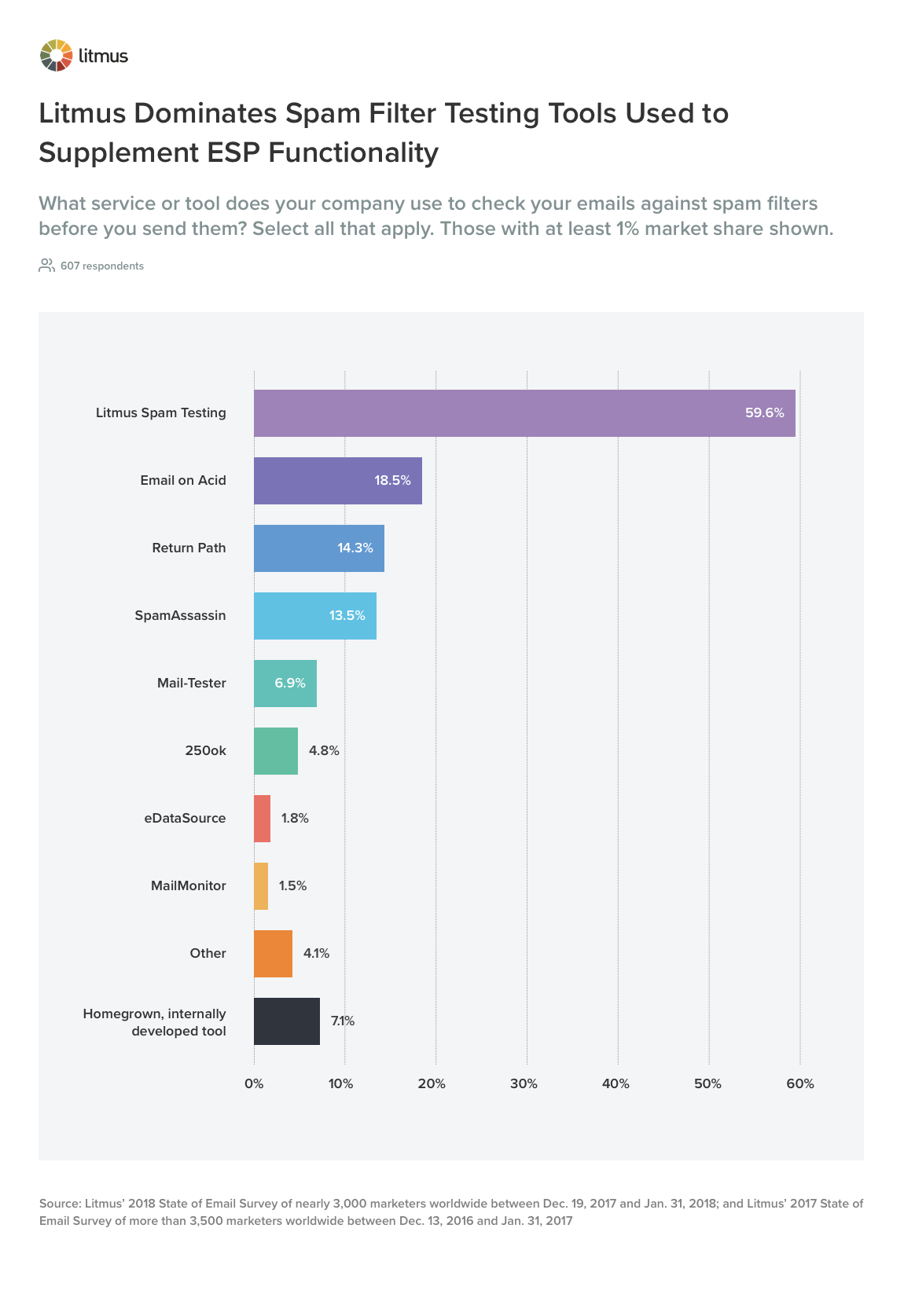 Using tools like Litmus Spam Testing empowers email marketers to send emails confidently, fix issues if they arise, and set your emails up for success.
Get more insights on the third-party analytics tools marketers rely on

Check out our latest State of Email Analytics report to see what metrics email marketers track and what tools they use to do so. And understand how you can bring your own email performance tracking to the next level.
Most Popular
Don't Miss Litmus Live 2022 this Fall!

The Premier Email Event by Email Pros, for Email Pros.
From Anywhere–and Any Budget.

Learn More