Read Time: 7 min
[Updated] What iOS 14 Means for Email Marketers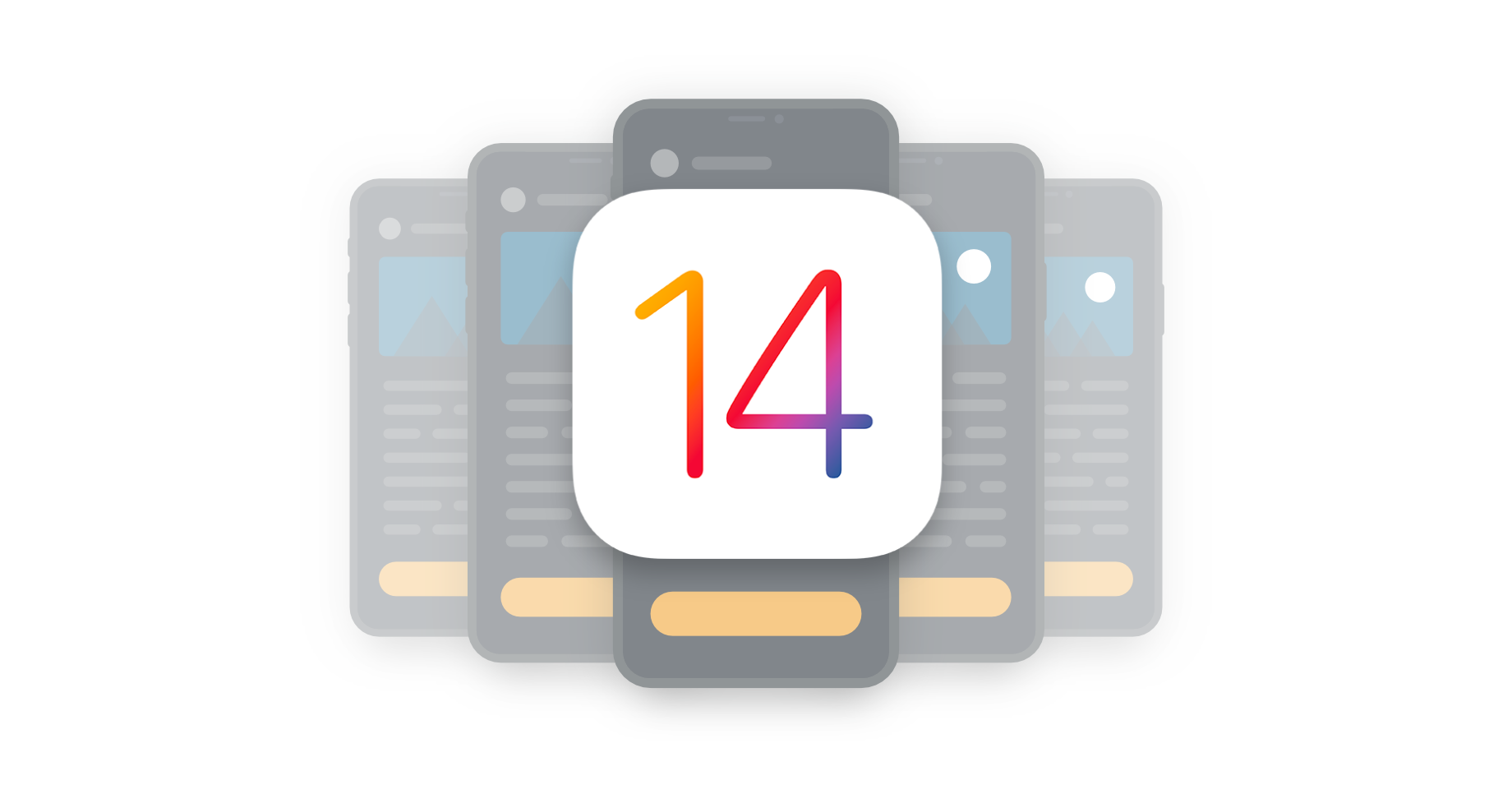 Originally published on October 1, 2020.
On September 16, Apple released the latest version of their popular mobile operating system, iOS 14, which is installed on over 1.4 billion devices worldwide. Although we published a quick post about what to expect in iOS 14—and announced testing support for it the day after its release—we wanted to dig a little deeper into what iOS 14 means for email marketers. Beyond just rendering, there is a major update that could change the way people think about audiences on Apple's devices.
iOS Adoption Rates
Like we've mentioned before, the first thing to know is that iOS is adopted fast. Like, really fast. When iOS 13 was released last year, 50% of all Apple users were already using it within 2 months. We expect the same, if not faster, adoption rate this time around. Apple has announced a number of new features, like Home Screen Widgets, updates to Messages, and App Clips, that are bound to get people moving to the latest version of iOS. And, unlike with Android, iOS enjoys compatibility with a lot of older Apple devices, going all the way back to the first generation of the iPhone SE and the iPhone 6S.
Basically, you should get ready to see large numbers of subscribers moving to iOS 14 in your analytics pretty damned fast. Don't worry, though, Litmus customers have had access to email previews on iOS 14 since the day after its release. Start testing today.
Rendering Changes
The good news for email marketers and designers is that, when it comes to rendering, not too much has changed in iOS 14. As Jaina pointed out in our initial announcement post, the only exceptions are:
A new zoom level for emails
A new, dark background for emails in Dark Mode
While both can certainly affect the display of your emails, they are minor updates compared to bugs and rendering issues found in other email clients.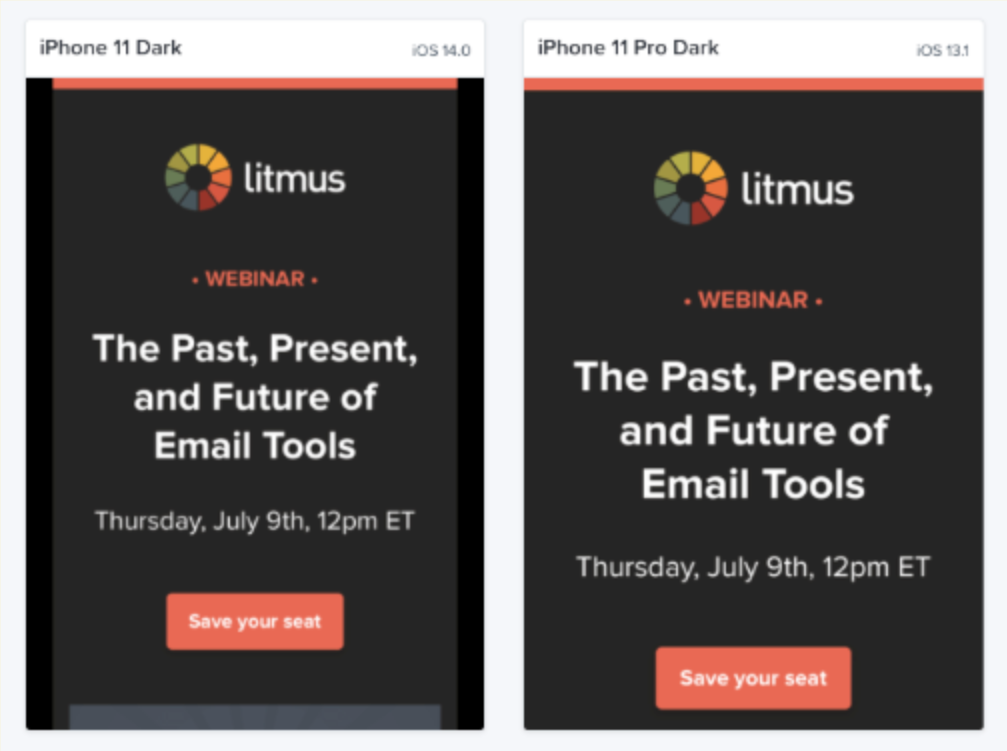 As you can see in the screenshot above, iOS 14 appears to zoom emails out slightly by adding margins to either side of your email. While the extra space on either side of your email is less than ideal, it does allow subscribers to see a little more of your campaign at first glance. As Jaina mentioned in our original post, it's just one more reason to adopt fluid email design techniques to ensure that your emails display well regardless of screen size or updated zoom levels.
Perhaps more important is the new background color when emails are viewed in Dark Mode.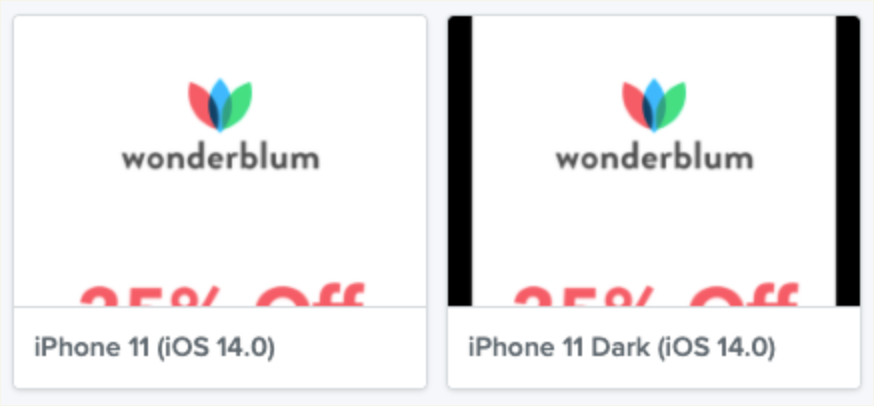 You can see that the margins reveal a dark background color which could potentially clash with your overall email aesthetic. The good news is, Apple Mail has some of the best support for Dark Mode that we've seen in email clients. You can use custom CSS via the prefers-color-scheme: dark media query, which means you can create a beautiful Dark Mode experience that works well with the new margins. You could even match your Dark Mode background to the iOS background, which appears to be pure black (#000000).
Not sure if Dark Mode matters? It does. We've been testing an update to Email Analytics that breaks down Dark vs. Light Mode in select clients and can confirm that—at least for Litmus subscribers—a good amount prefer Dark Mode. Between iOS 13 and 14, we saw 10.5% of our audience using Dark Mode in recent sends of one of our newsletters.
When it comes down to it, Apple Mail on iOS (and Mac) is one of the best email clients around. It has some of the best support for HTML and CSS and plays nice with a lot of more advanced techniques like CSS styling, CSS animations, and interactivity. If your audience has a bias towards Apple Mail (which is still the #1 email client according to our own reporting) then you're in a good place to explore everything you can do in modern email marketing.
Non-Apple Default Apps
In my opinion, the most significant change in iOS—the one that will directly affect email marketers—is the ability to customize default apps for both browsers and email. While Android users have been able to choose their default apps for browsing and email for a long time, this is the first time that Apple has officially supported changing some of your default apps.
To be fair, there are a ton of popular email apps on the App Store beyond Apple Mail, but email marketers can expect a more diverse set of clients in their own subscriber base moving forward.
According to The Verge, the number of apps you can set as your default email client are still limited to:
But those are four email clients that render differently and have different capabilities. The rise of Hey and Gmail, in particular, could pose challenges and opportunities to email marketers. Hey is built on the idea of taking email back from the clutches of marketers, so you could see decreased engagement if Hey truly takes off. On the other side, Gmail has invested a lot in promoting Gmail as a huge marketing tool with things like AMP for Email and Inbox Notations, so faster Gmail adoption could give email marketers more tools for reaching subscribers. Either way, it's never been a better time to keep an eye on your email analytics to watch for changes
It'll be interesting to see how non-Apple default apps change the ecosystem moving forward. We'll be watching closely and will share whatever we learn along the way.
New Device Sizes
On Tuesday, October 13th, Apple held its "H, Speed." event. Amidst the announcements for 5G support and HomePod Minis, Apple introduced a number of new iPhone models and screen sizes, including:
6.1" iPhone 12 Pro
6.7" iPhone 12 Pro Max
5.4" iPhone 12 Mini
6.1" iPhone 12
Each model features Apple's Super Retina XDR Display but varying resolutions and pixel densities. The default email client on iOS—Apple Mail—supports CSS media queries for adapting styles based on screen dimensions, so it's worth noting that your media queries may need to be updated if you want to target the newest Apple devices specifically.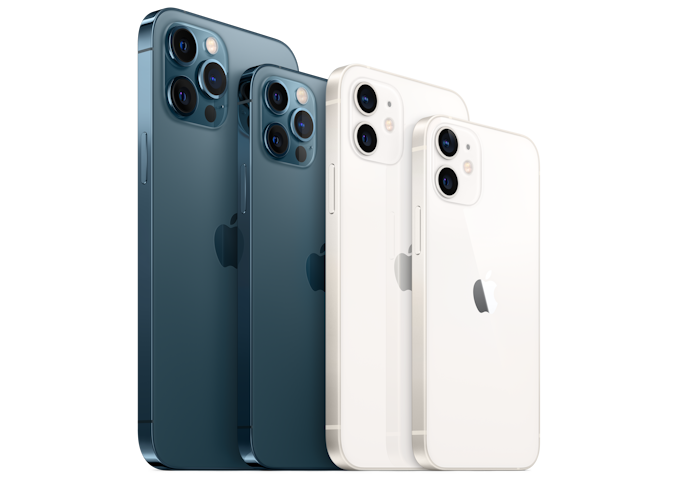 That being said, the new sizes are comparable with some older models of iPhones. Both the 12 and 12 Pro are equivalent to the iPhone 11 and XR. The 12 Pro Max is now the biggest iPhone but is only slightly bigger than the XS Max—6.7" compared to 6.5". And the smaller iPhone 12 Mini is reminiscent of the 8 Plus. Media queries used to target those devices will likely only need minor tweaks to target the latest iPhones. If you want to dig into specific device sizes and screen resolutions, Apple has a great comparison tool exactly for that.
I would caution that the need to target specific devices should be rare. Ideally, your designs are flexible enough to adapt to any screen size using responsive coding techniques like those we've discussed before.
Just like everyone else, we have to wait to get our hands on the newest devices. But we'll update this post when we do with anything we learn in our testing.
Start Testing Today
iOS 14 is a great update to an already mature operating system. The ability for users to set their own default email app should keep things interesting for email marketers in the coming years. And the evolution of Dark Mode and rendering in Apple Mail means there's never been a better time to invest in creating a functional and beautiful experience for Dark Mode users, which you can test today in Litmus.