Looking for some fresh ideas for your email program? You might be in the beginning stages of coming up with a new email nurture or want to learn more about how your subscribers interact with a different email design. After all, when they have a great experience with your emails, it has a positive ripple effect on your overall brand. So, where can you find email inspiration and examples for new strategy, copy, design, and development ideas?
Let us be your inspiration guide! I—along with the rest of the email team—dug into our bookmarks and found some treasures that have helped us along the way. And I hope they help you, too.
But first, some important questions to ask
When looking for some email inspiration, you can easily turn into a magpie—be attracted to bright, shiny things! Here are some questions I keep in mind when I'm looking for inspiration for Litmus' email program.
Does this work for your brand?
Just because something looks cool or has that wow factor doesn't mean it will fit your brand. When looking for inspiration, keep your brand guidelines and brand voice top of mind.
Did it actually work?
You just saw a really cool interactive email in your own inbox, and it blew your socks off. But what you don't know is how it actually performed. Just because you liked it doesn't mean the senders' entire audience did, too.
Want more ways to improve your newsletters?

See how your emails stack up—in our Live Optimization Workbook (newsletter edition!). Explore all the ways email marketing experts would make real-life newsletters more effective. Then, apply those takeaways to your own email newsletters.
The best sources for email inspiration, ideas, and examples
Where do you find email inspiration? Everywhere. But to be more accurate, here are a few places Litmus' own email team gets their inspiration from.
Your own inbox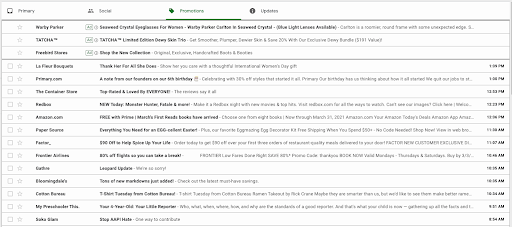 Subscribe to all the emails! Your own inbox can be a treasure trove of inspiration. I for one have subscribed to more newsletters than I can think of.
Seeing how other brands, businesses, and senders send email always gives me ideas. I'm often left wondering how senders have achieved certain things or what their rationale was behind the timing.
And I don't limit myself to specific industries or senders—I will happily sign up to everything. My personal favorite brands to subscribe to are Todoist, Thinx, and YNAB.
Lily, our Email Design and Production Specialist, also uses her own inbox as a source of inspiration: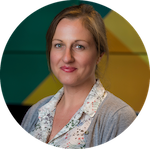 "I rely pretty heavily on what lands in my inbox. I have a big 'email inspiration' folder that I save everything to. I also use Litmus Scope to capture and save great emails for sharing with colleagues, fellow designers, and email geeks."
You never know what email could inspire your next great email.
Curated collections
If you're not a fan of filling up your inbox with promotional emails, there are a lot of websites out there that collect the most inspiring emails for you without impacting your need to hit inbox zero every day.

Your email copy needs to sing as much as your emails' design. When I've hit a bit of a block, I'll head to Just Good Copy for a bit of copy inspiration. Simply reading what others are writing in their emails is a great source of inspiration for me.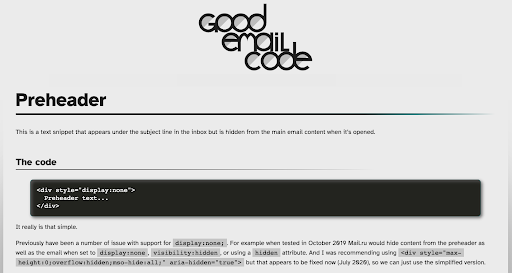 The go-to coding resource for Carin, our Email Marketing Specialist, is Good Email Code. In a nutshell, it's email code that just works. Great resource if you want to try something new, but unsure if it'll actually… well… work.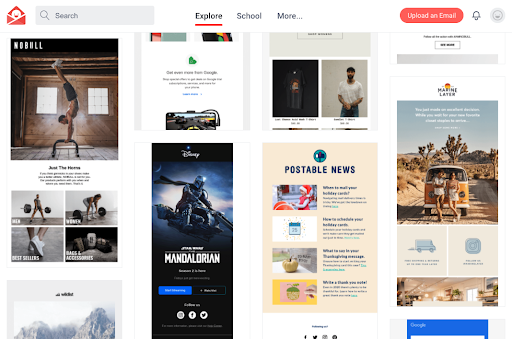 The entire team is a huge fan of Really Good Emails. I'll head to their website if I'm working on a new initiative or email program, and I don't know where to start with it. What's great about their website is everything is already sorted into categories that you can easily search. Need some inspiration about a reactivation program? Boom—it's there. A newsletter? You got it.
You can even save your favorites into your own collections to reference later (kind of like Pinterest). If you're curious about what inspires our email designer, Lily, check out her profile on Really Good Emails.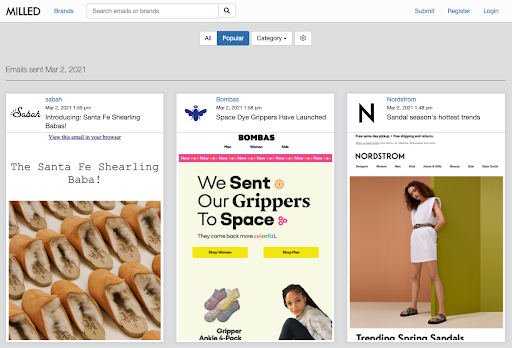 Want to see emails from brands—especially in retail—you aren't subscribed to? Milled can help. You can follow brands, and get updates on 'what's new from brands you follow' in your inbox with collated email examples.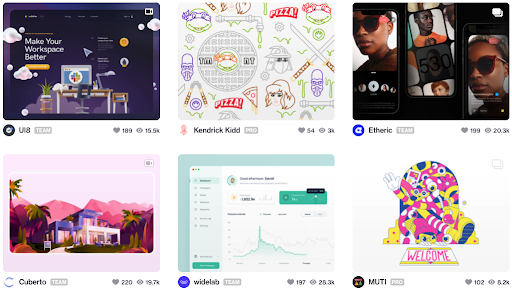 Dribbble has long been a source of inspiration for web, UX, and UI designers. But it's also a great source of inspiration for email designers, too. Lily has been using it as her design inspiration go-to website, no matter what project she's working on.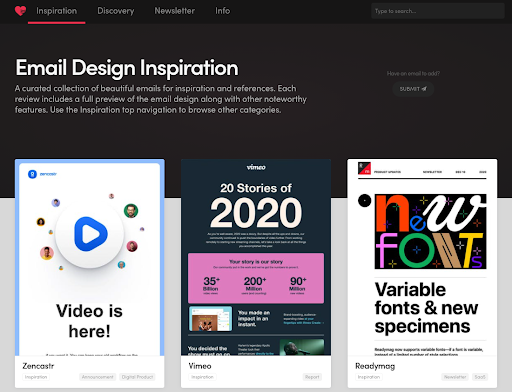 Speaking of design inspiration, here's another website that'll get those design juices flowing: Email Love. They have a curated selection of very design-led emails that Lily says she "loves sifting through."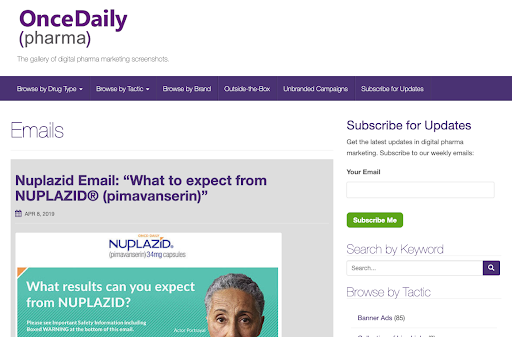 Sometimes you need some very industry-specific inspiration. And for a regulated industry like pharmaceuticals, looking at what retailers are doing with their email programs doesn't really help. Hot tip from Carin: OnceDailyPharma has an entire category devoted to pharmaceutical emails for you to get some inspiration from.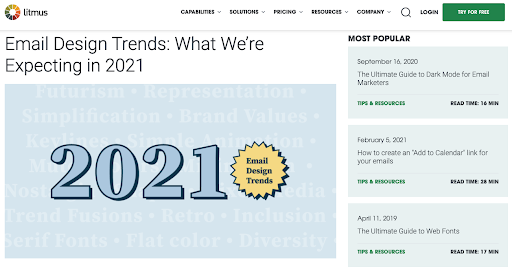 Well, before I worked at Litmus, the Litmus blog was my go-to for inspiration. And even now that I'm at Litmus, it still is! We've got a veritable library packed full of ebooks and reports that I still haven't fully read. Plus, there are events and webinars that provide learning in a different setting for me.
The email community (you!)
This blog post would be incomplete if I didn't also mention the email community and industry thought leaders who openly share what they've learned.
Carin follows fellow #EmailGeeks on Twitter: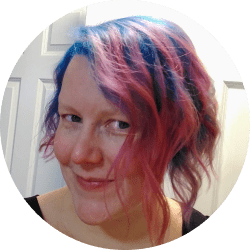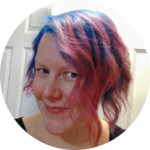 "My Twitter feed is like 75% email geeks. I wasn't even active on Twitter until a Litmus Live event, and I realized I was missing half the conversation that was happening online under #LitmusLive. Kim Derkx started a list called 'VeryImportantEmailPeople' that's great to follow if you don't know who to follow yet."
Then there are communities like the Email Geeks Slack channel and Women of Email (which has an active Facebook group) where you can chat with other folks in email marketing and get or give help to others in the industry.
And there are a handful of more email-focused emails that feed my constant need for email inspiration. Whether that's design, strategy, or things that make me go "hmmm," these are the newsletters that help keep me on top of my email game:
Speaking of email newsletters for inspiration, I couldn't go without also giving Litmus Weekly a shout out here, too. Every week, Litmus' content team takes turns to share what's got them buzzed in email marketing—from Litmus and the wider community.
Inspiration: Check! What's next?
Now that you're feeling inspired, you might want to run off and implement something you've seen or read about. How do you go about it effectively?
Do some A/B testing
Whenever you're introducing anything new to your email program, I highly recommend you A/B test your new idea vs. what's currently being sent. Whether that's a change to cadence, content, or design. What works for someone else may not work for you. So, you need to understand if the "new" you've introduced actually helps your email program or not. And the only way to learn that is to test.
Ensure your new email ideas look flawless

There's nothing worse than trying something new with your email content or design—only for it to break. Oops. Preview your emails across 90+ email clients, apps, and devices to ensure an on-brand, error-free subscriber experience. Every time. Try Litmus free for 7 days.
Don't steal
Drawing inspiration and stealing are very different things. When something inspires you, it gives you new ideas. When you've found something that inspires you, try to nail down what exactly has inspired you and how you can implement that in your own email program. Versus literally copying another brand's email.
Where do you get your inspiration from?
Is there a website or community I haven't mentioned here that inspires your email program? Share it with us in the comments!