The weekend after Thanksgiving launches the holiday shopping season, and for some brands, the biggest revenue month of the year.
The stakes can be high to meet revenue goals in a crowded retail and e-commerce space. Every brand is competing for those holiday shopping dollars. According to Salesforce, $270 billion was spent online around the world during Cyber Week—the week leading up to and including Cyber Monday—last year. In the US, it was $61 billion.
For any marketing strategy, email is critical to driving revenue.
4 ways to stand out in the crowded inbox
How do you smash your revenue goals this year? Here are four ways to get you started.
1. Plan your email marketing strategy in the summer
Your holiday inventory is getting purchased during the summer season. So set your holiday email planning in motion. Talk to your buyers to see what's coming in so you can capitalize on their momentum.
There's no need to reinvent the wheel to get your BF/CM strategy going.
See what's being planned to be stocked for the holidays, document those items, and start looking at ways to promote what is new, unique, or noteworthy.
That being said, supply chain issues are real (thanks, COVID). Have a backup plan that doesn't rely on products juuuuuuust in case your stock doesn't come in on time.
The last thing you need during a busy holiday season is to scramble to get your next email campaign out of the door.
Create a campaign brief in a collaboratively stored place so you can keep everyone on the same page on what plan A and plan B are.
Again, when you're left deep breathing in a paper bag, you'll have a hand sheet close by with all of your plans. Panic avoided.
If the summer passed you by, and you're just now planning, you still have time! Better late than never. Get a campaign brief together now to outline your measurable goals and the collateral and assets you'll need to accomplish them.
Keep your team on track


Email briefs help ensure an email's goal, messaging, audience, and timing are clear—from inception to execution. Prevent your emails from getting lost in translation, and stay on track with your initial purpose and strategy.
2. Make BF/CM your own
Every consumer's inbox is going to be packed with emails that say something like "Happy Black Friday!", "Your Black Friday Deals Just Dropped", or "Cyber Monday Starts Now."
It's easy to get lost in the sea of campaigns, deals, and gift ideas. Yes, that content is important and enticing for consumers. But how do you make yours special?
How can you put your own branded spin on the weekend?
Consider a few of these ideas:
Puns
Can you get punny with "Black Friday" or "Cyber Monday"? Of course, but it has to make sense for your brand.
When I worked for an adult toy retailer, we turned "Cyber Monday" into "Cyber Moan-day". It was still recognizable as Cyber Monday but promised the signature spin of our offers.
Deal wordplay
Is there a way to put your own twist on the sale or deal you're running?
Here's a great example from KIDLY's "Brrrr-illiant deals."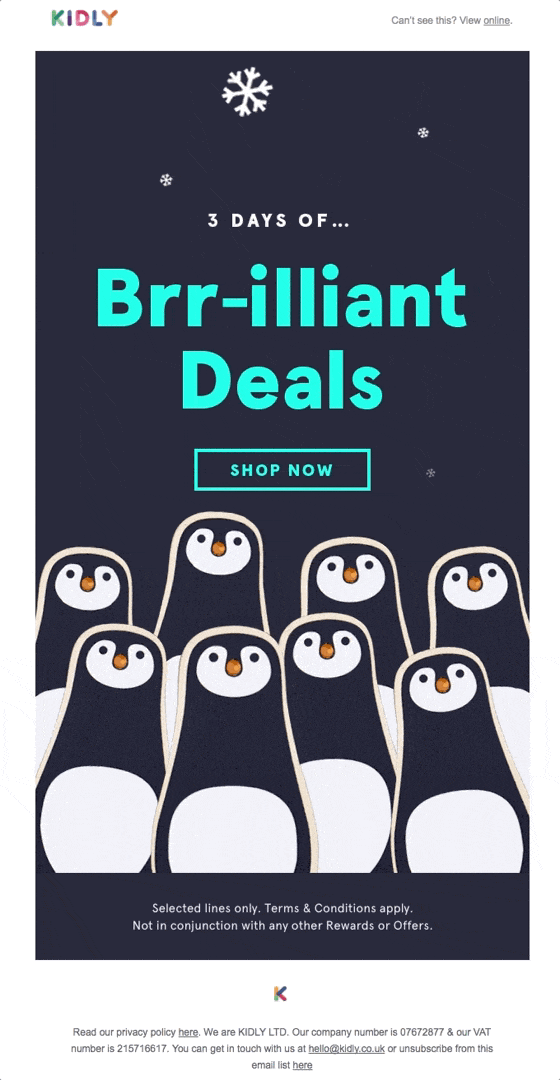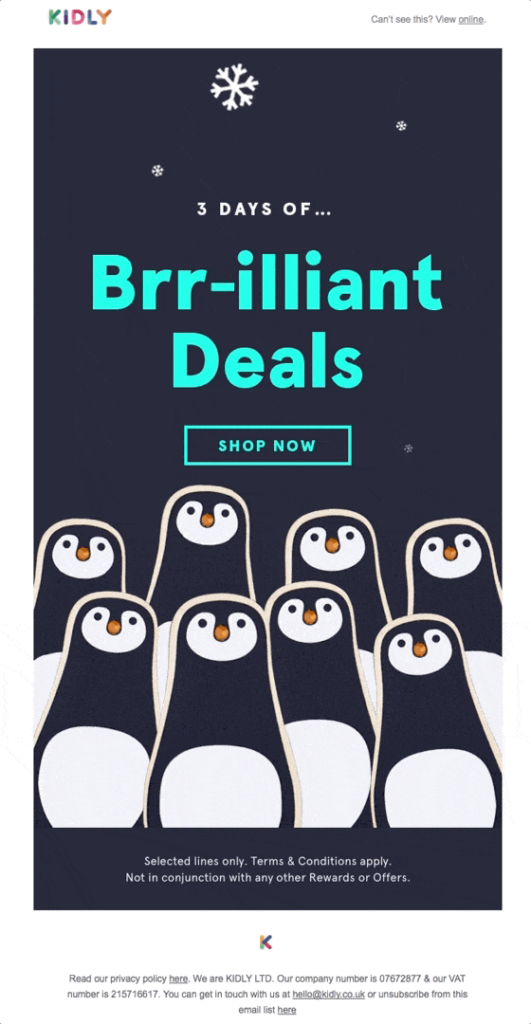 Special edition
Do you have something special or limited-edition only for the holidays? Make sure to tease them before it drops and remind your subscribers it's only for a limited time. FOMO, anyone? (That's "fear of missing out" for those who don't know.)
Here's a great example:


3. Give the gift of giving
Yes, deals are amazing. They incentivize consumers to purchase. Right. Now.
Not every brand has the margins for deep discounts. How else can you deliver value? Gifting.
There are two ways to go about this:
Gift guides
Giving consumers ideas takes some of the mental load off their plate. It delivers value that isn't necessarily monetary. However, everyone is looking for gift ideas around this time.
Yes, some subscribers will already know what they want to buy for their special someone. But what about the 10 other people on their list that they have no clue what to buy?
Give them ideas! Here's a great example for dog lovers.


And here's another gift guide example:

Giving
Your brand might have a highly values-aligned audience. For example, if you make sustainably sourced products or fair trade clothing, your subscribers clearly appreciate the social and environmental impact of their dollars.
Capitalize on that interest by launching a giving campaign. You can either donate a certain percentage of profits over the holiday season or match any donations from your subscribers.
Here's a great example from Patagonia.

4. Make your offer easy on the consumer
Whichever offer you land on, lead with it.
Don't bury it under the preheader or below the scroll. Put it front and center.
Sometimes when we try to get too creative with our campaigns to stand out, we forget about the user experience.
Make your offer visible and easy to take advantage of. For example, entering a coupon code at checkout creates an extra step for a consumer which slows down the process. If you can put items on sale so they are automatically discounted at checkout (or auto-apply the coupon code in the cart), you've just made it really easy to take advantage of the offer.
Here are a couple examples of clearly articulated offers. This one is from hims: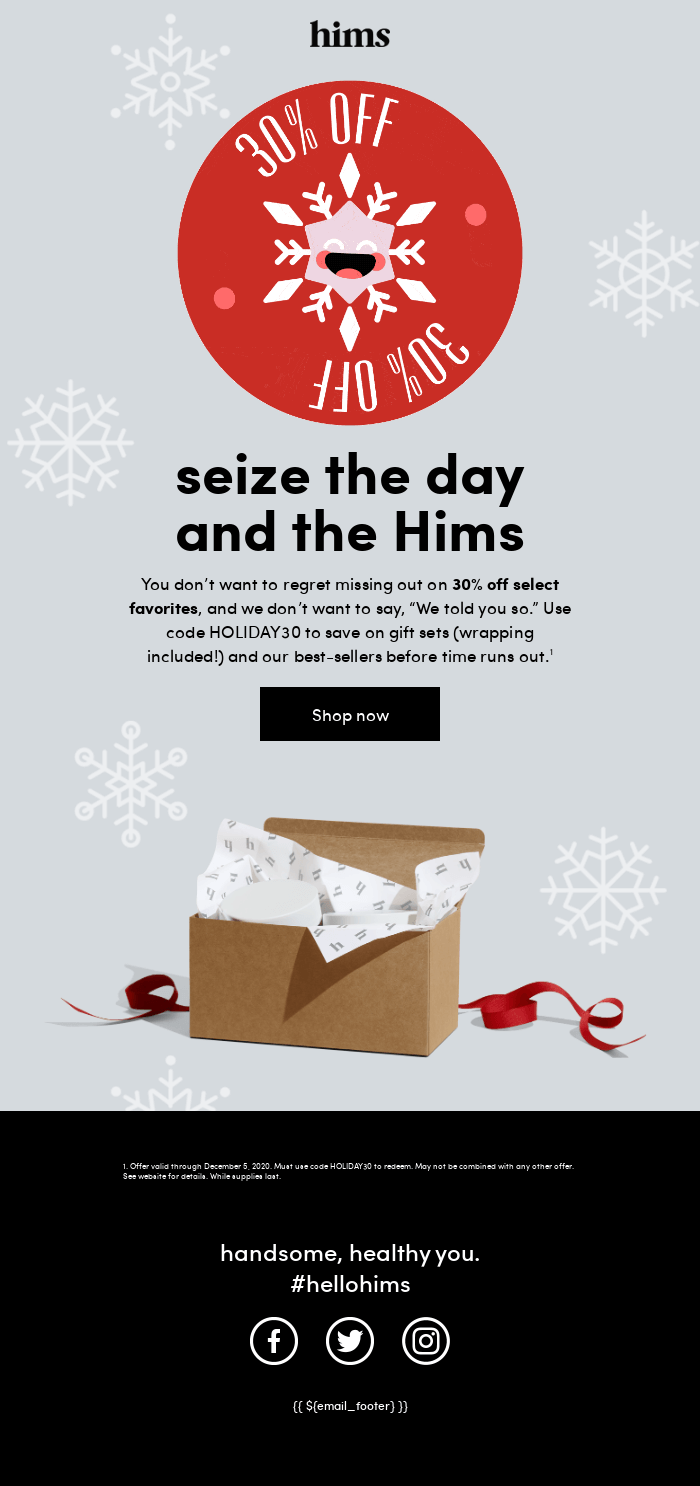 And this one is from Onsen:

Get ready for the holidays
There's no better time to start planning for BFCM than now. Get your campaigns planned out, messaging themes down, and offers solidified.
When November sneaks up on you (because you know it will), you'll have a plan ready to put into action.
Hint: Put the link to this page in your campaign planning doc so you can come back and review it later.
Either way, your job is to make your emails stand out in the inbox, make it clear what your offer is, and make it easy for your subscribers to claim. You'll be rewarded by meeting your goals in the end.
Good luck this holiday season!
For more holiday email inspiration and best practices, go to the next article in Litmus' blog series.
Up next: Green Monday emails →
Or check out all of Litmus' holiday-related blog posts:
Optimize your BF/CM emails with Litmus

Spread the holiday cheer—not fear. Preview your emails in 100+ email clients, apps, and devices to ensure a delightfully on-brand, error-free subscriber experience. Every time.
Emily McGuire is the Principal of Flourish & Grit, an email marketing agency that builds and retains customer relationships at scale. With lessons learned over a decade in tech, sending thousands of email campaigns, and earning clients over $80 million in email campaign revenue, Emily loves sharing the mistakes and strategies of email marketing done well. You'll typically find her with a cup of coffee in hand because #momlife. When her head isn't in her laptop, you can find her chasing her kid, reading a book, or binging trashy TV.