Read Time: 5 min
Email Client Market Share in June 2021: How Mail Privacy Protection Raises the Need for Personalization Even More
Every month, we're sharing the top trends and shifts we see with email client market share. Although we dive deep into our findings in our annual email client market share blog post, we decided to take a closer look, month-to-month, to bring you up to speed with the latest insights.
We found in looking at last month's data, we had a bit of a glitch with our reporting. So this month, we're diving straight into data for June and how it compares to April's email client market share instead. But even more so, we'll be looking at it through the lens of Apple's recent announcement on Mail Privacy Protection going into effect this fall.
Let's see how email client market share changed in June 2021.
Top 10 email clients overall
The top 3 email clients are still Apple iPhone (iOS Mail), Gmail, and Apple Mail (macOS Mail). Although the rankings haven't changed since April, there have been some interesting shifts in each client's share of the market.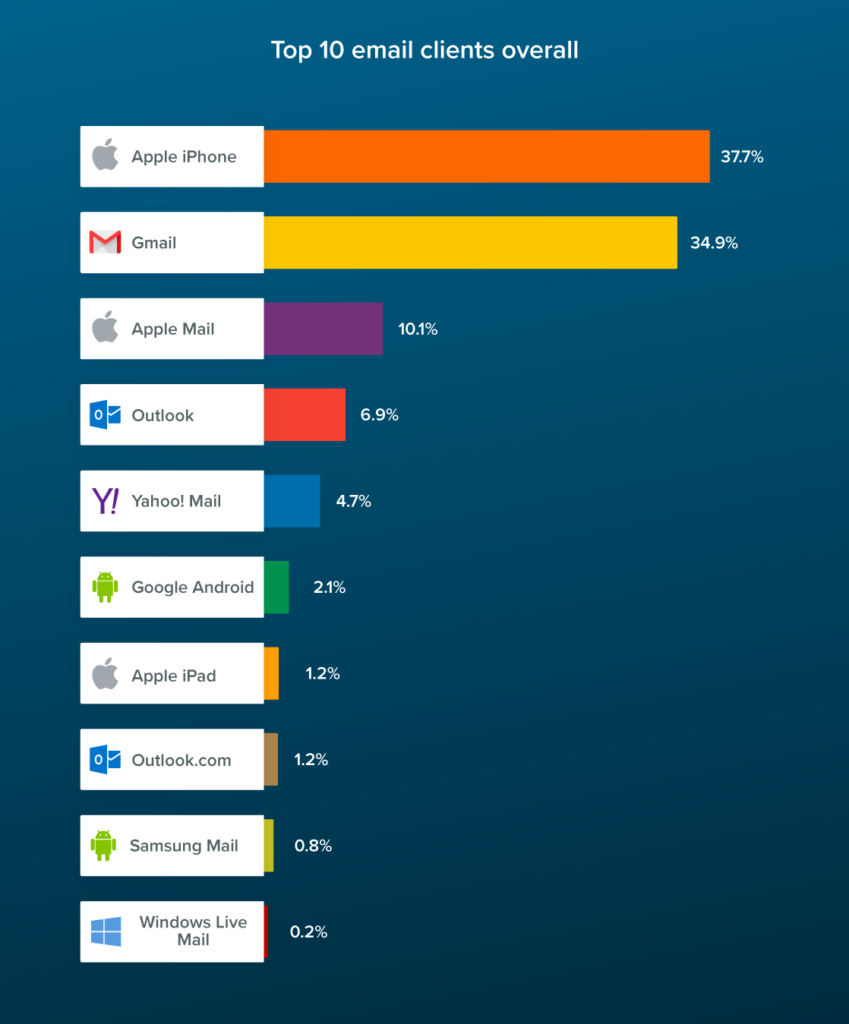 Apple Mail's total share across iPhones, Macs, and iPads has gone down a tiny bit from 51.1% in April to 48.6% in June. But that's still a huge number, and we expect it to remain strong for many years to come.
Unfortunately, this also means Apple's Mail Privacy Protection will have significant repercussions to email marketing in general. Instead of feeling nervous about this data, let it empower you. Use it to identify "real opens" so you can start adapting now to the future of insights and analytics.
In particular, the Apple iPhone continues to rank as the top email client overall, but Gmail isn't far behind at second place. In fact, Gmail has increased its share by almost 22% since April. This does mean, however, that the remaining email clients have decreased theirs.
Apple iPhone: 37.7%
Gmail: 34.9%
Apple Mail: 10.1%
Outlook: 6.9%
Yahoo! Mail: 4.7%
Google Android: 2.1%
Apple iPad: 1.2%
Outlook.com: 1.2%
Samsung Mail: 0.8%
Windows Live Mail: 0.2%
Opens by environment
Mobile continues to outrank webmail and desktop email clients in the competition for email opens.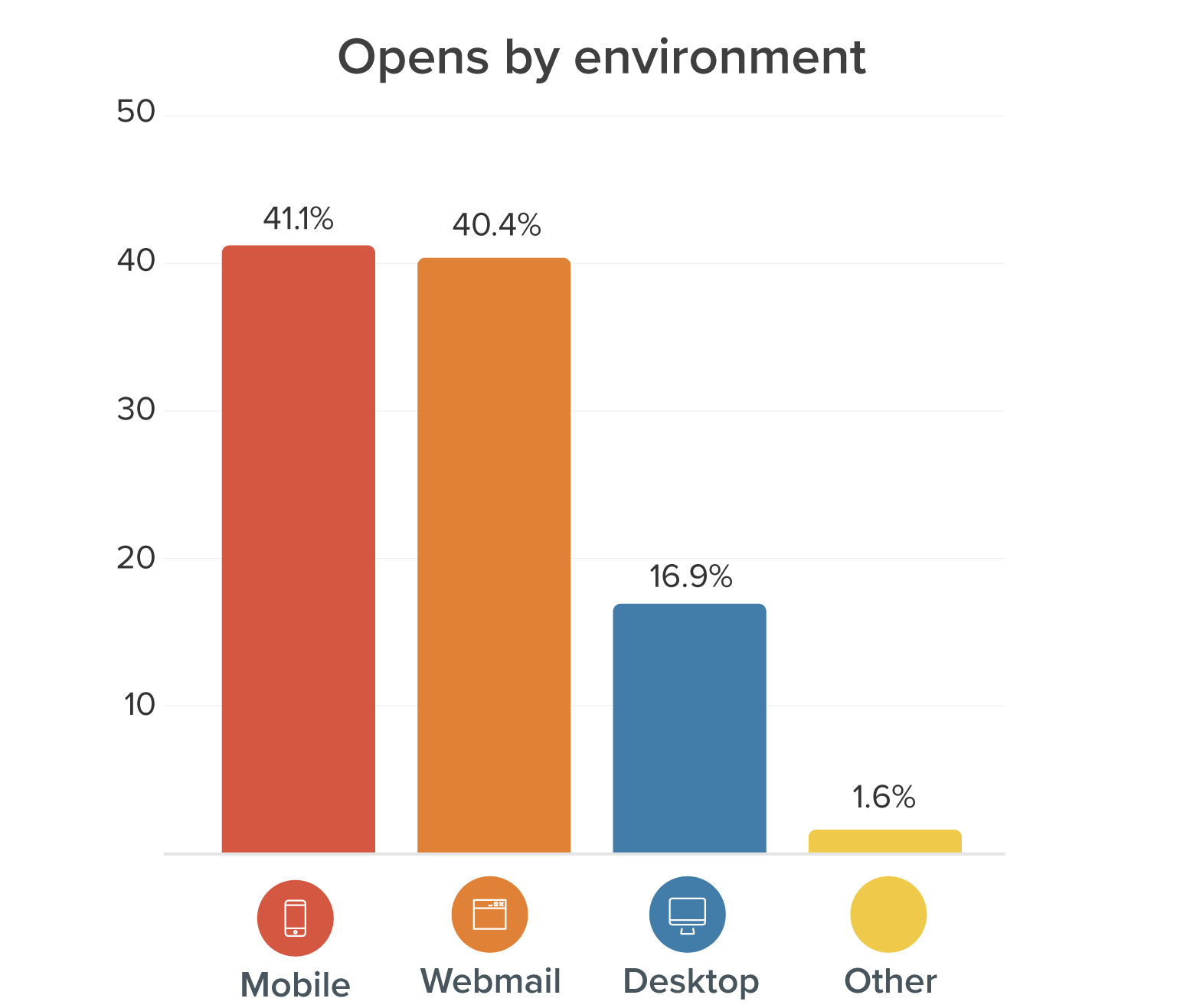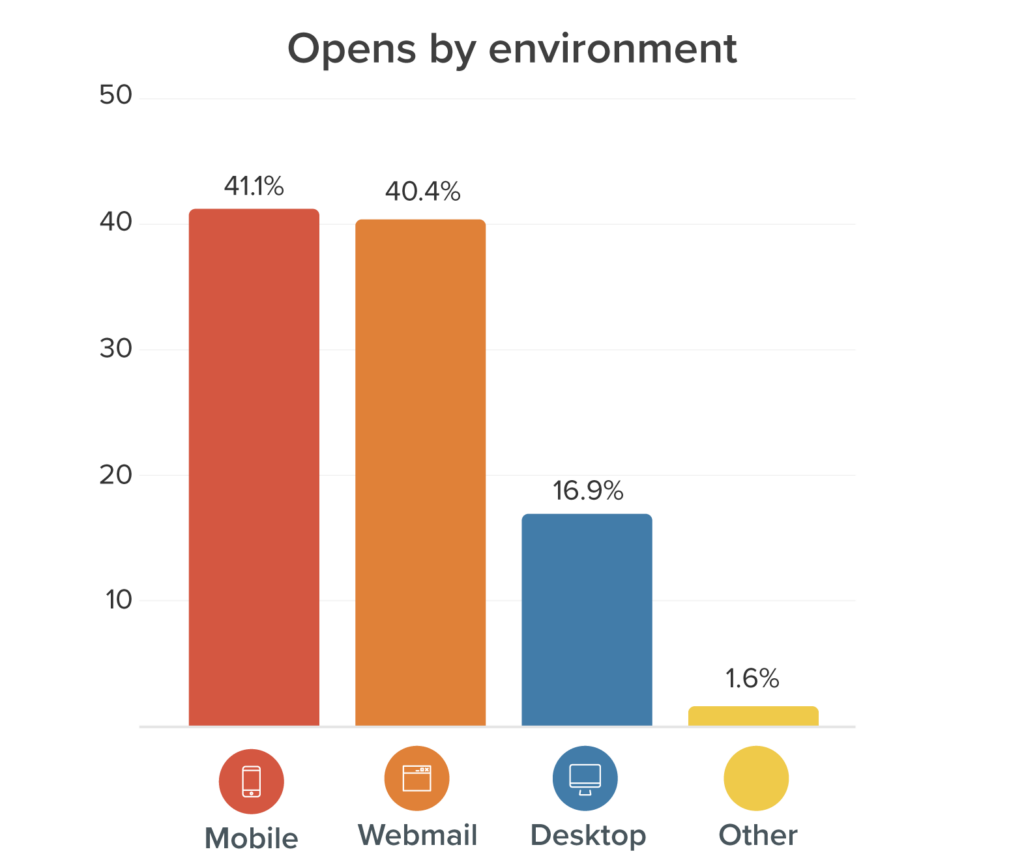 We didn't look beyond the top 10 email clients in April, so for the rest of this article, we'll be comparing June's numbers to Q1 (January to March).
Mobile had a healthy lead in Q1, but the gap between mobile and desktop is now smaller, going from an almost 7-point difference to slightly less than a 1-point difference. This is likely due to Gmail's growing popularity. (Curious why we count Gmail as webmail? Learn how Gmail opens are reported in Email Analytics.)
Mobile: 41.1%
Webmail: 40.4%
Desktop: 16.9%
Other: 1.6%
Keep in mind, another thing Mail Privacy Protection will prevent marketers from seeing is which device emails are being opened in from the Apple Mail client. Similar to Gmail, Apple Mail opens won't differentiate between iPhone, Mac, or iPad. In other words, we'll lose even more visibility into mobile vs. desktop. So if you're wondering whether you should design and code emails for mobile, you'll want to view your own audience makeup now to see if it's worth the effort. You can find this information either in your email service provider (ESP) or with an email tool like Litmus Email Analytics.
Most popular mobile opens
When it comes to mobile email opens, there has been and continues to be a very clear winner.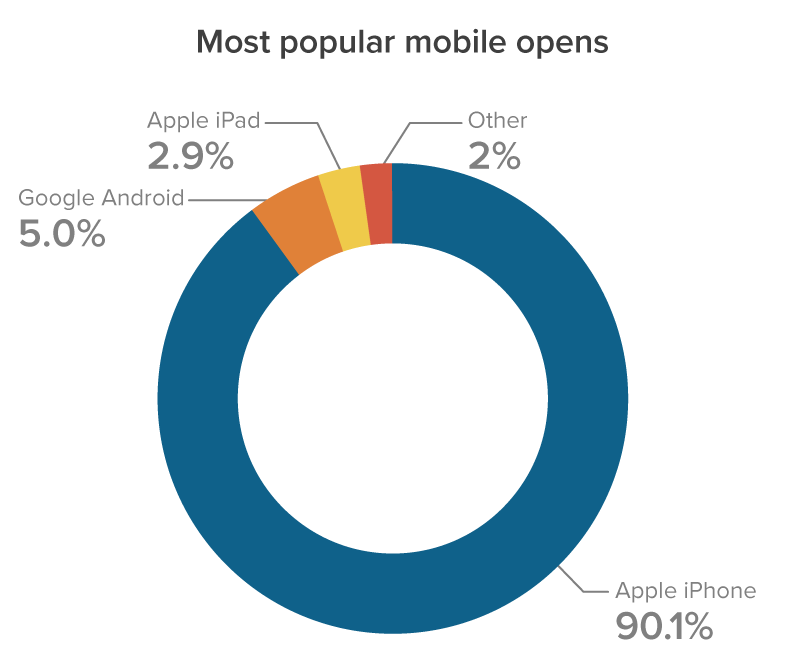 Apple iPhone takes the mobile email cake. However, it's worth noting that its piece of the pie is basically the same while Google Android has increased their mobile email client market share since Q1 by 43%. That's pretty significant, but don't expect anyone to take the iPhone's crown anytime soon.
Apple iPhone: 90.1%
Google Android: 5.0%
Apple iPad: 2.9%
Most popular webmail opens
With Gmail gaining ground overall, it's no surprise that it's still #1 in webmail clients—leaving other webmail clients even further behind than before.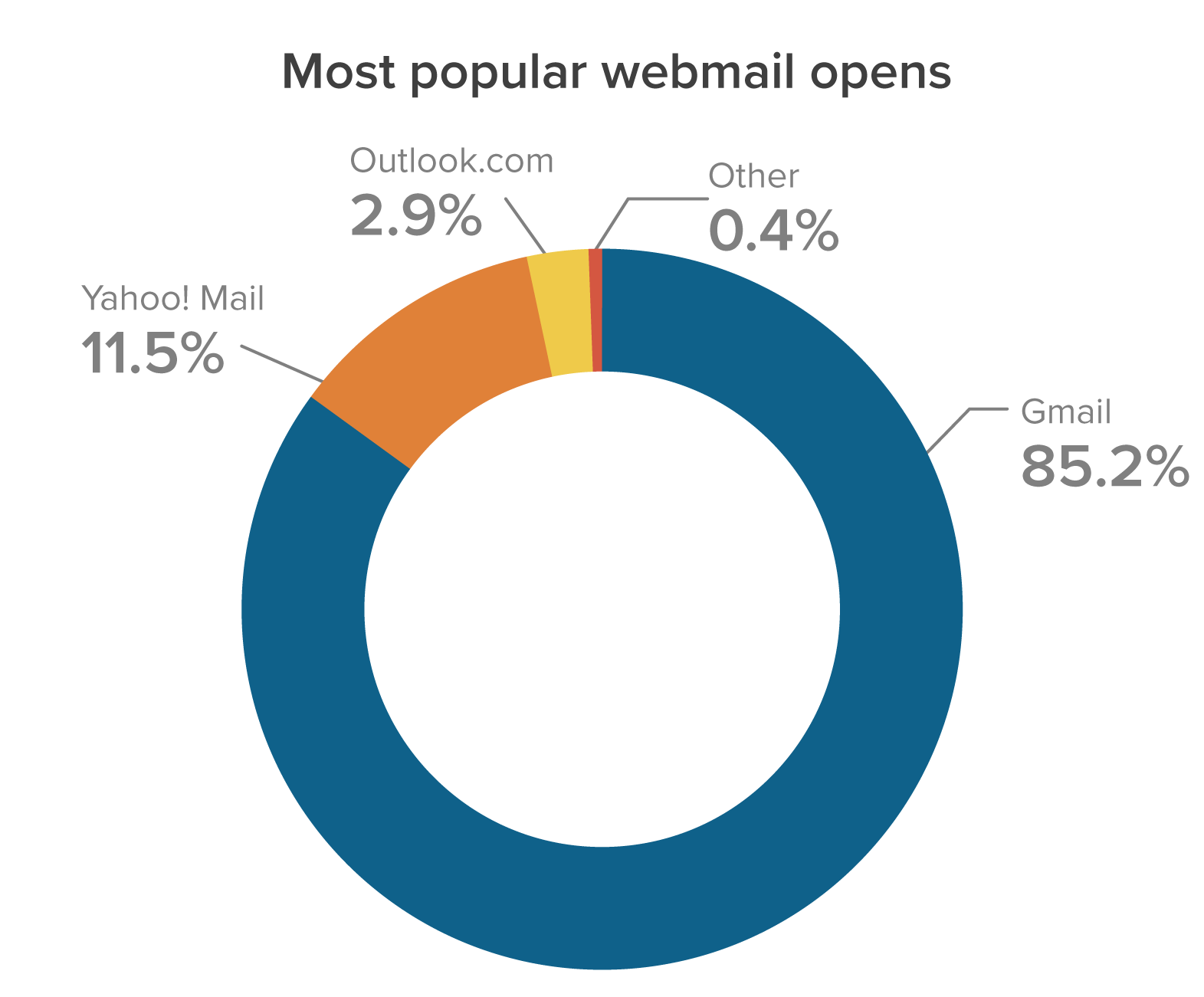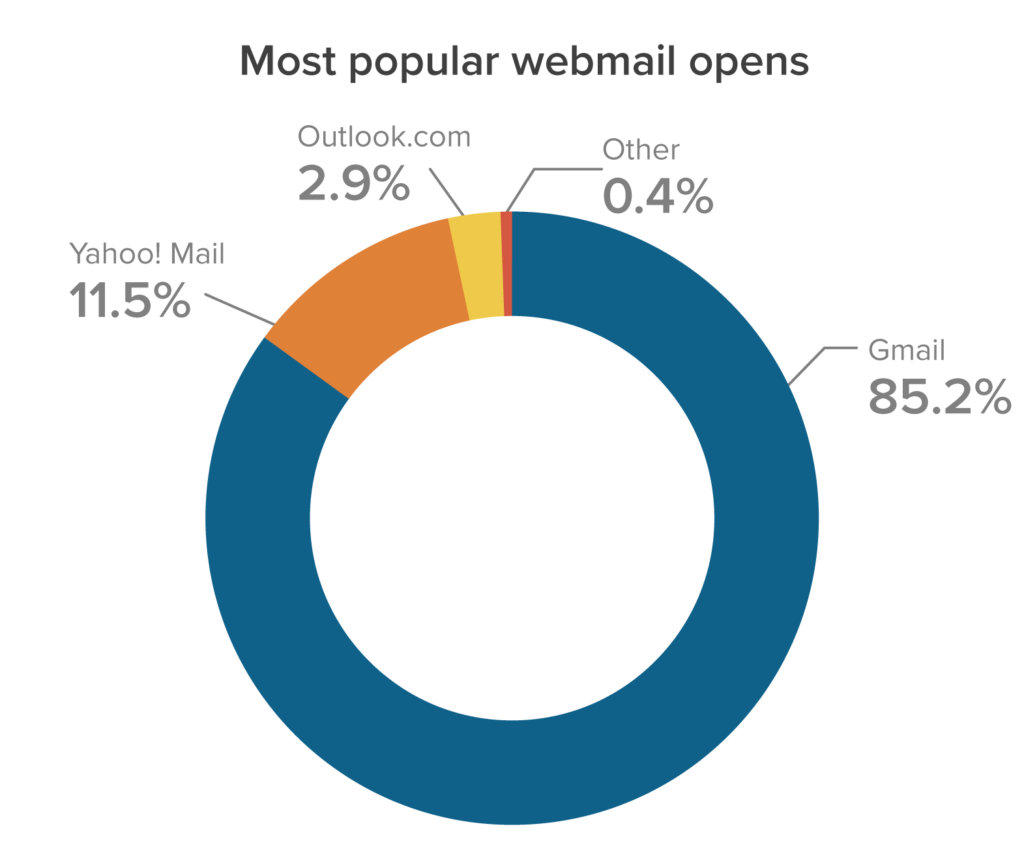 Gmail has over 13% more of the webmail email client market share than it did in Q1. And with Yahoo! Mail losing over 22% of its share, the gap between #1 and #2 has widened by 13.5 percentage points. Outlook.com, sitting at #3, increased its own share by nearly 21%, but its share is so small to begin with that it barely makes a dent.
Gmail: 85.2%
Yahoo! Mail: 11.5%
Outlook.com: 2.9%
Most popular desktop opens
The macOS version of Apple Mail once again reigns supreme in desktop email client market share.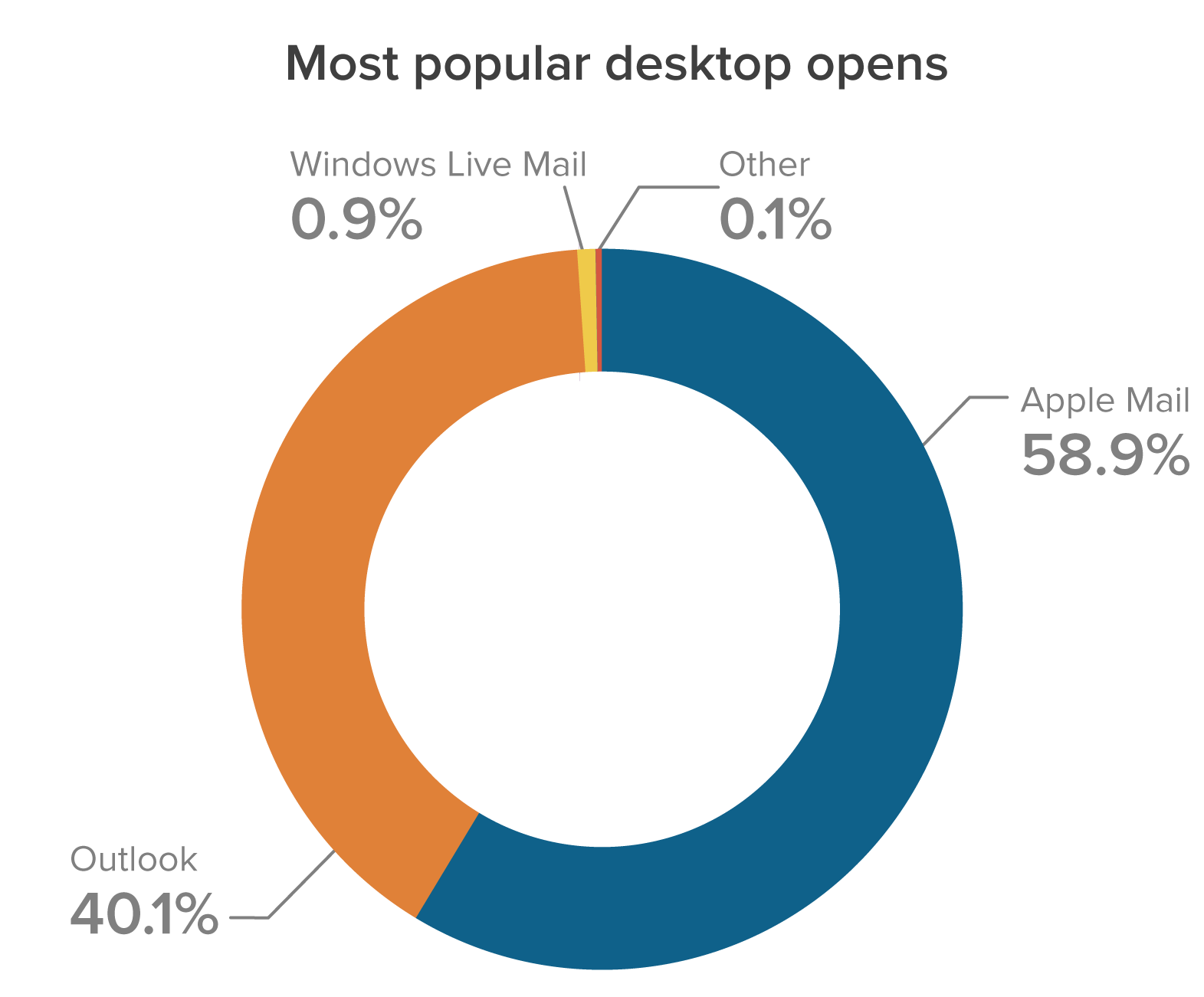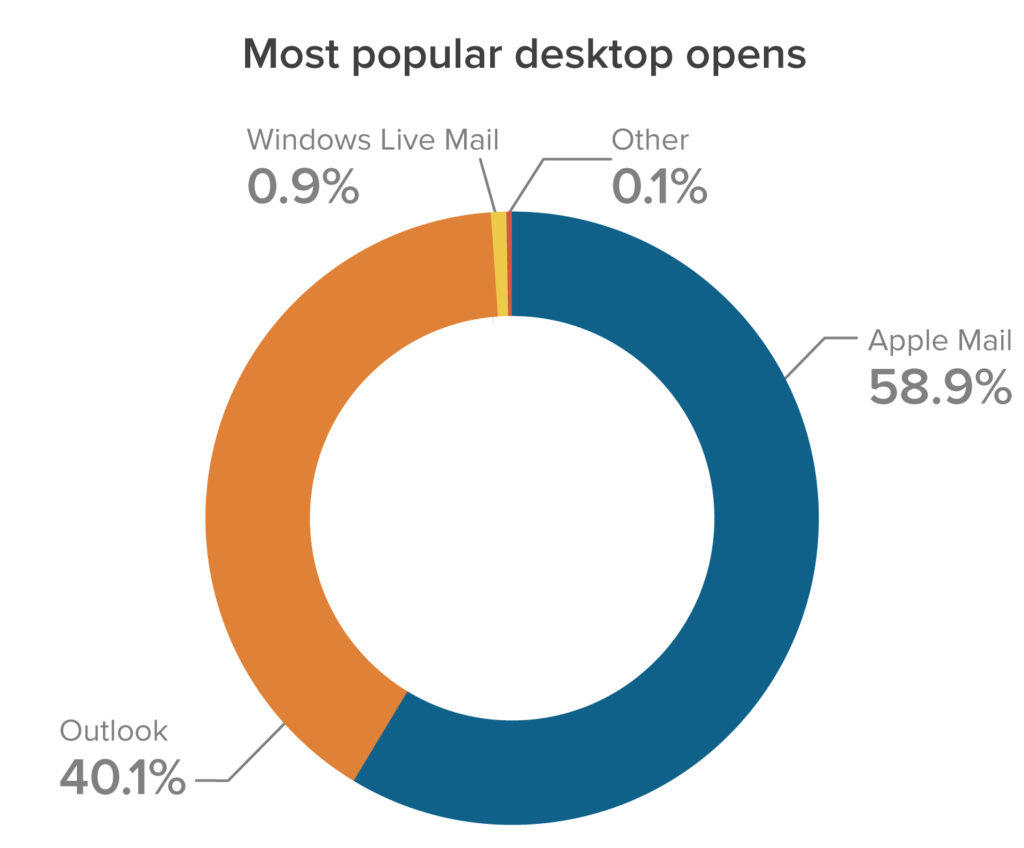 Surprisingly, the exact breakdown of the most popular desktop email clients is almost identical to what it was in Q1. The only difference? Outlook grew from 40% to 40.1%, taking from the Other category of desktop clients. See? Barely worth mentioning.
Apple Mail: 58.9%
Outlook: 40.1%
Windows Live Mail: 0.9%
What will happen next?
Overall, the key insight we're seeing for June is that total Apple Mail opens across all devices still sits firmly at #1 in overall email client market share. And with Mail Privacy Protection just around the corner, the need to personalize your emails is more important than ever since you'll be losing insight into valuable open data. Check out these 5 tips to prepare now if you haven't already.
And stay tuned as we report back again next month.
Where did we get all this data? Our email client market share stats are pulled from millions of email opens, anonymously collected and aggregated with Litmus Email Analytics from June 8-30, 2021. It highlights global trends across all industries and verticals. Some email clients may be over- or under-represented, particularly with mobile and webmail. This is due to image blocking or image caching, most notably with Gmail. Still curious? Learn how we get this data.
Now, take a look at your data

What's trending with your subscribers? See your key insights with Litmus—all while ensuring every email looks pixel-perfect. Send with confidence, and get started today!