Can you believe it's already the end of Q1?! The first quarter of the year always seems to fly by (for me at least), and it's got me reflecting on how I distribute my time, energy—and attention.
Speaking of attention: did you know the average amount of time readers spend with an email is only 8.97 seconds? That's not much time at all, considering the average was 13.4 seconds in 2018.
So: what emails kept our attention span for longer than 8.97 seconds this month? Keep scrolling for a showcase of our favorite emails from March 2023. 
Surreal
Subject line: We've landed Dwayne Johnson
Preview text: And Serena Williams. And Ronaldo.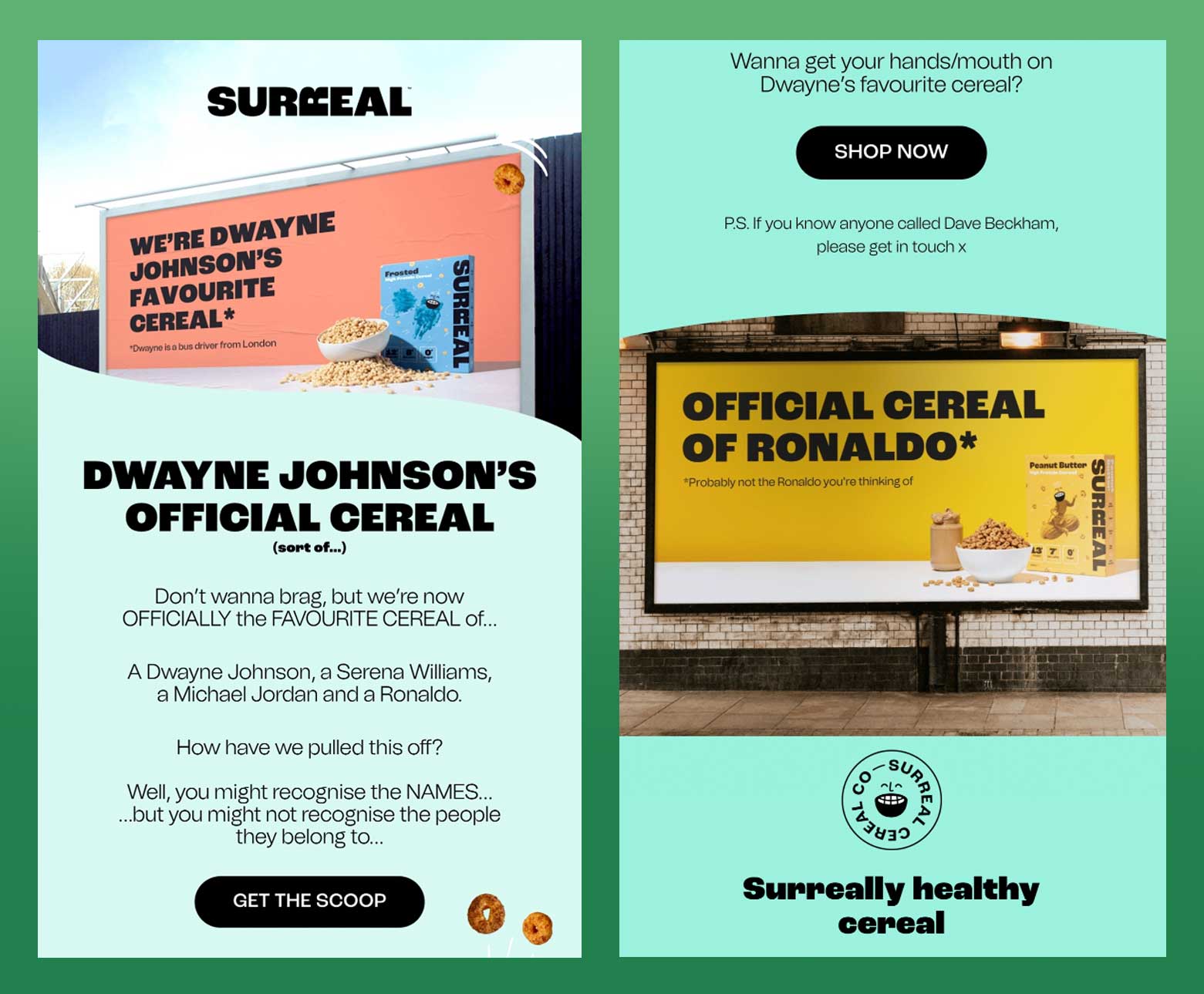 Carin Slater (Litmus' Email Marketing Specialist) says: I'm familiar with Surreal's brand, so I knew something was going on when the subject line hit my inbox—but I wasn't sure exactly what. Upon opening I was not disappointed.
I loved how they pulled in their advertising into the email. And the call-to-action (CTA) went to a video on their Instagram explaining the whole thing. A great way to showcase the entire ad campaign, as well as introduce me to their socials. 
The bit after the CTA about getting in touch if you knew a Dave Beckham is cheeky and useful (and if I knew a Dave Beckham I'd totally reach out). I'd also order some if they delivered to the US, but  in the meantime I'll just keep enjoying their emails.
Awesome Books
Subject line: Awesome BARGAIN! 💰Up to 80% OFF on awesome reads! 💰
Martyn Lee (Litmus' Design Associate) says: I love how fun this email from Awesome Books is—from the animated GIFs to the pastel color palette! The email doesn't explicitly say anything about Easter, but you get the vibe from the colors and polka dot design.
Fable
Subject line: ⚡️The Fable Chronicle: Join us on Discord, New Export Formats, New Behaviors…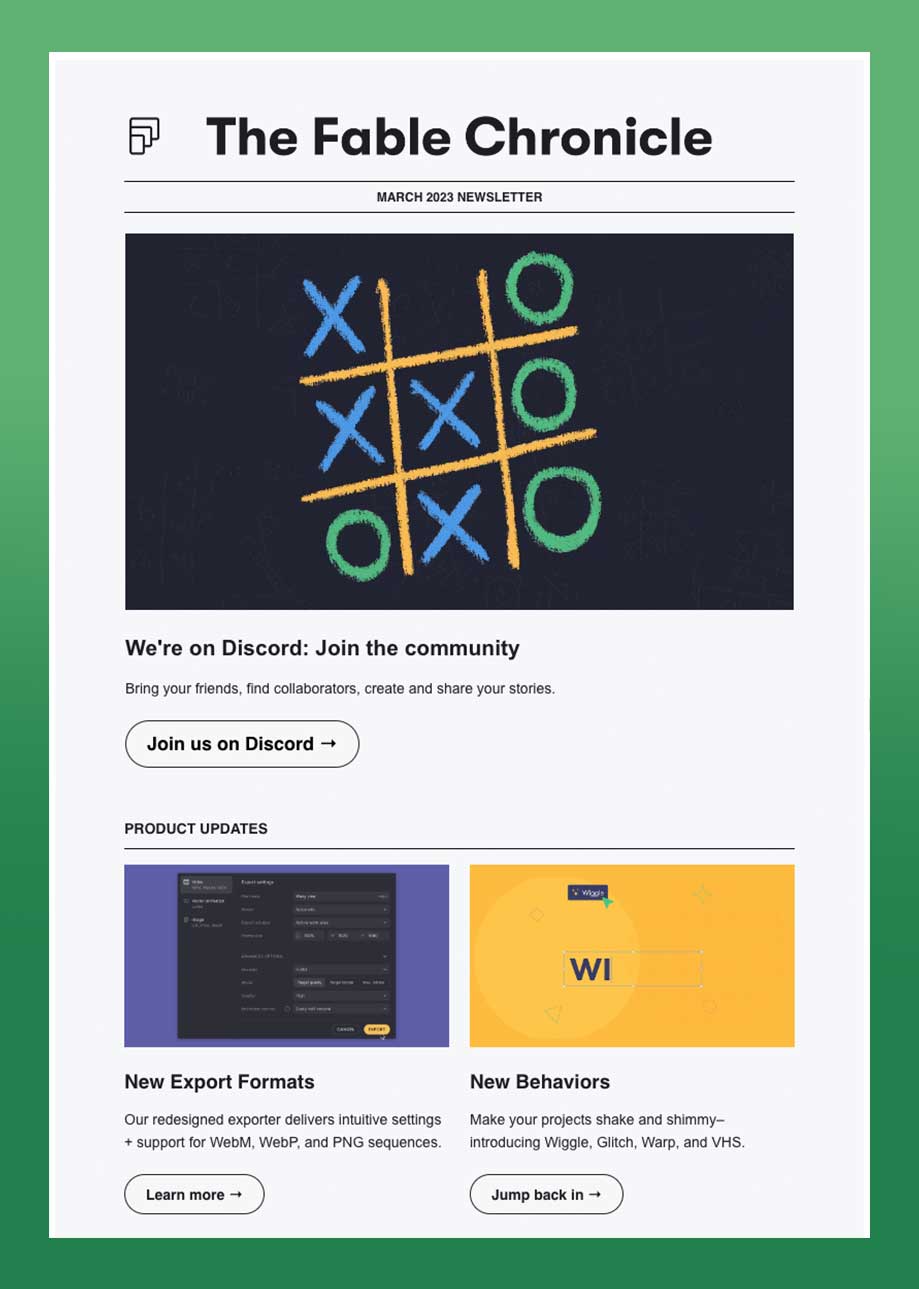 Hannah Tiner (Litmus' Email Designer) says: Fable knocks newsletters out of the park. I love the variety of content from product news to tutorials, human stories and inspiration.
I've been using Fable a bit for motion graphics in emails, so I was intrigued by "new export formats" in the subject line and literally cheered when I saw the new PNG sequence export option in the product updates section. I also appreciate the subtle animations Fable includes in their email newsletter which show off their product.
If you're interested in designing animated PNGs for email, you can read about it on our blog.
Billie
Subject line: ✨SURPRISE LAUNCH✨
Preview text: Our NEW razor color just dropped
Nicole Swift (Litmus' Customer Support Senior Manager) says: This email from Billie is a super fun throwback with the vintage/pixelated looking graphics. I love the mysteriousness of the new color, enhanced by the cloud animated GIF. I definitely clicked to see what it was!
The Standard
Subject line: This Is She ✨
Preview text: Celebrate International Women's Day at The Standard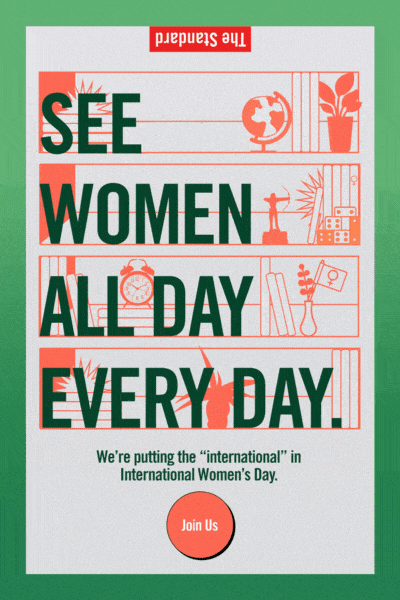 Swift says: I like that this email kept it simple and graphic. The image alone shares a great message, but then there's a simple CTA to join them and celebrate (the website had a list of happenings for the month across all their locations).
I also love the little elements in the background of the image. They subtly convey the message (the clock for all day, the archer for strength, the globe for international), but also end up having a nice, homey effect—like a well designed room you want to visit! I also like how the CTA is a bright circle and your eye is drawn to it with the inverted pyramid effect.
Peacock
Subject line: hi, i'm M3GAN 💕🔪😈
Preview text: Congratulations! You've successfully paired with your new M3GAN robot.
Swift says: I love how Peacock TV is advertising this sci-fi horror movie by embodying the character. I have to admit, based on the subject line I thought it was spam at first, but then I recognized the sender (power of the from name/sender name recognition right there!) and also I had already seen ads for this movie.
The content is great—nailing M3gan's voice (even how she would write/spell things, complemented with the hearts), but also coming across as super creepy with the images/GIFs. "Who even uses email anymore? That's so boomer." lol—all of us!!
Appcues
Subject line: Let's go sailing…into Salesforce
Preview text: Join us and a guest host to learn about the Salesforce integration with Appcues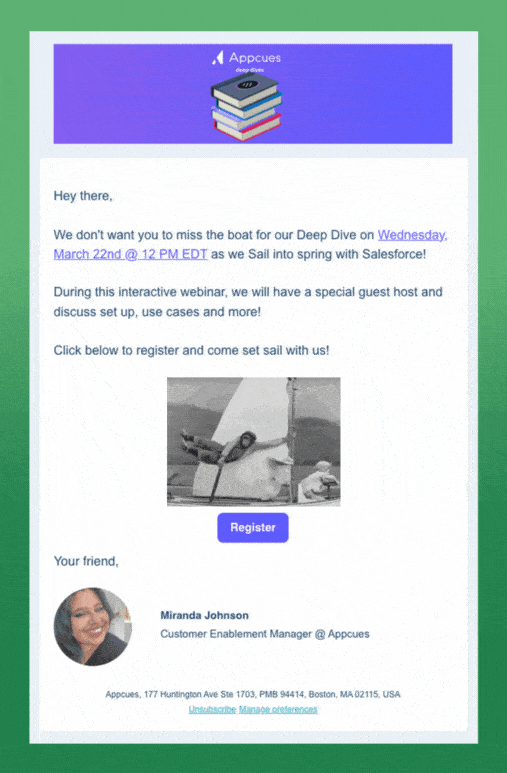 Swift says: I always appreciate a pun! This is a nice example of how to make a webinar invite a little more fun with some playful copy and a silly GIF.
I also like how it's set up like a letter and signed "Your friend." I wish the purple header at the top matched the width of the white background and I think the CTA button could have continued the fun sailing theme somehow, but overall it was a breath of fresh air in my sometimes stale work inbox!