Heads-up, email geeks! The Gmail Promotions tab has gotten a major update that you shouldn't miss. The new Promotions tab provides email marketers with brand new, more visual opportunities to deliver even more value to Gmail users—and makes it easier and faster for subscribers to see inspiring images and deals.    
The new Gmail Promotions tab
strengthens the future of personal
email: amplifying the most valuable
parts of the best B2C email.

Jordan Grossman
Product Manager, Gmail
The most valuable promotional email, right at reader's fingertips
Using machine learning, Gmail identifies the most valuable messages for each user and groups them into bundles organized by topic or themes like Top Deals or Top Picks.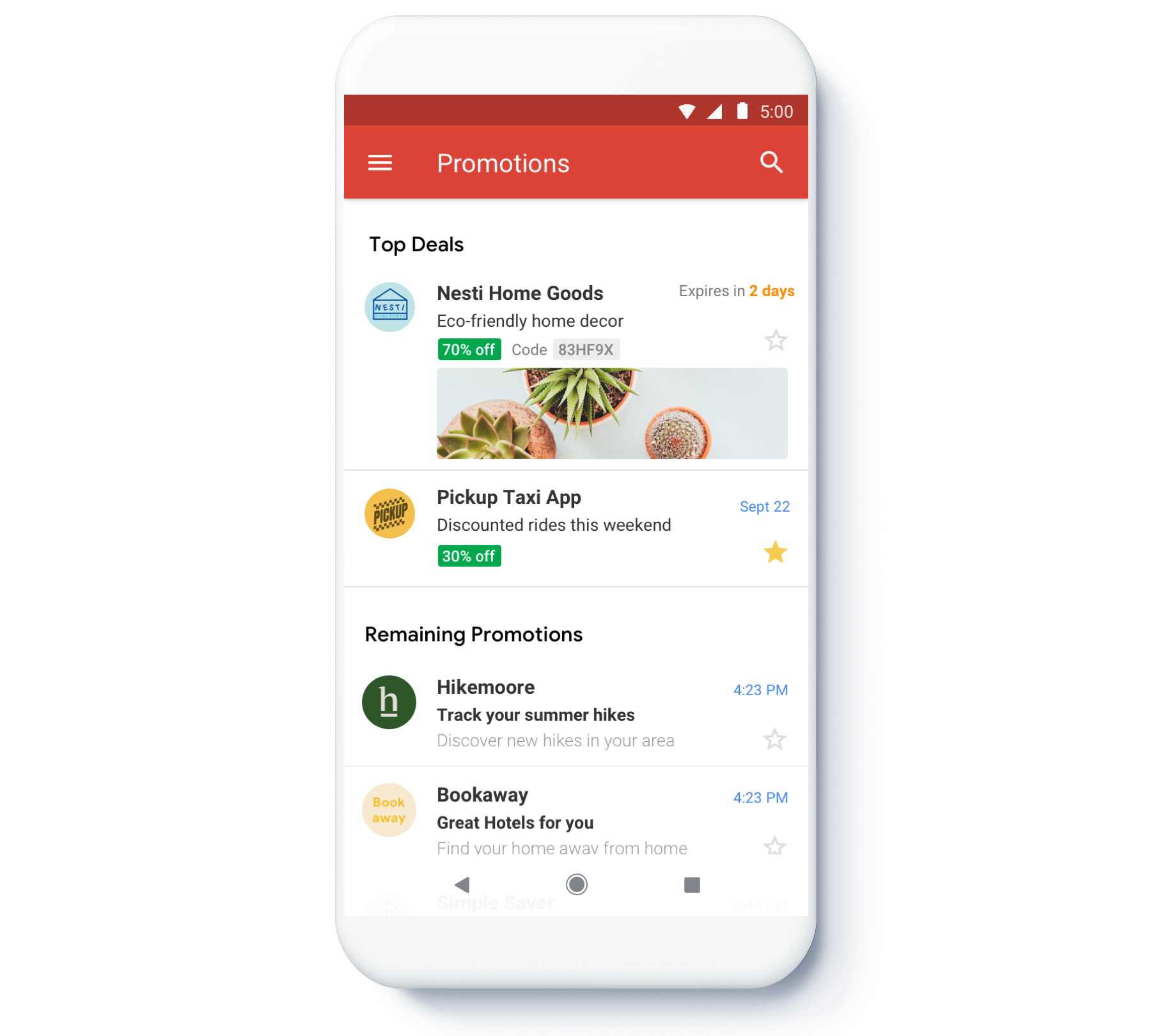 Bundled email have additional functionality: in addition to standard inbox text (like a subject line), marketers can include additional information like promotion codes, a featured image, and deal expiration dates—all visible to your subscribers before they open your email.
Gmail doesn't create value in the Promotions tab. It's the best emails that create value. The new Promotions tab rewards brands who send truly valuable email by making them easier to find with a richer means of delivering that value.

Jordan Grossman
Product Manager, Gmail
Jordan shared an overview of Gmail's new Promotions tab at the DDMA Email Marketing Summit. Check out his keynote:
The update is live for all Gmail mobile app users on Android and iOS, with Gmail's web client following early next year. This experience does not impact G Suite users.
The benefits for email marketers
The new Promotions tab in Gmail rewards the brands that provide the most value to their subscribers with a more prominent placement in the Promotions tab and a new, more visual way to present their offers.
Here's why that's great news for marketers:
A new opportunity to stand out in the Promotions tab
Gmail's new Promotions tab makes the best email stand out more, all while giving marketers full control over messaging and visual appearance of their email within the bundle. Here are the modules you can customize: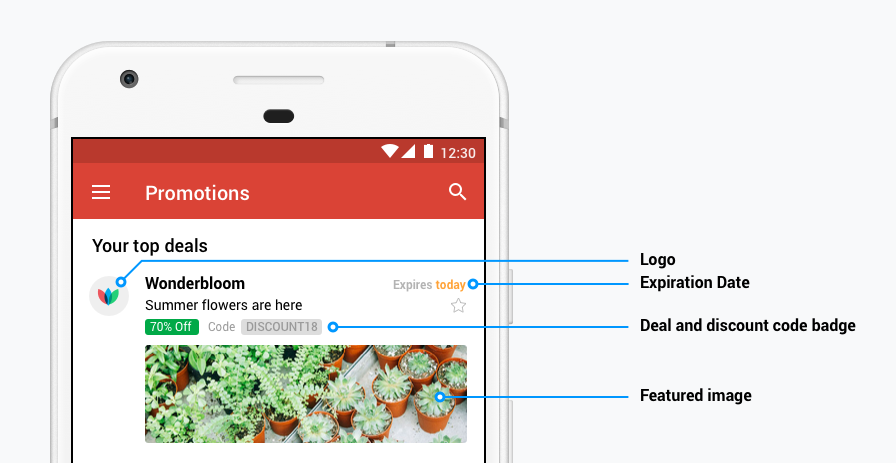 Single Image Preview


Say goodbye to a text-only Promotions tab. Add a custom image to your email with product or lifestyle imagery to give Gmail users a sneak peek of your email's message.

Green deal badge
This is space for you to extend your email messaging to provide details on the value of the deal you're offering. "20% Off," "Free Shipping," or "Buy 1 get 1 free" are great examples. There is technically no character limit, although the text in your badge may be cut off or truncated based on the total character count of all features used. The preview tool we've partnered with Gmail on will help you see if your text is getting truncated.
Grey discount code badge


Populate this field to prominently feature your discount code in the deal preview. This field is optional, so if your email doesn't feature a discount code, you can omit the grey discount code badge.

Logo


Display your logo so it shows in the preview of an email when populated in the bundle, enabling your subscribers to quickly identify email from your brand with a quick glance.

Expiration date


Give your subscribers insights into when the offers in your email expire. A powerful way to create urgency!
A chance to get your email featured more than once
Setting an expiration date for your deals allows an email two opportunities to get featured at the top in a bundle: once when it is first sent, and again before the offer expires. That's two chances to get your subscribers to take action—without you having to resend the email.

How to enable enriched previews in the Promotions tab
While any promotional email can get pulled into a bundle, the enriched preview featuring the custom image, logo, and deal details will only display if you annotate your email HTML. Annotation happens through a custom bit of JSON code that specifies deal details—discount codes, the type of offer, and a featured image, for example.

Email annotation for Gmail made easy
Can't write JSON code? You don't have to. We've teamed up with Gmail to make sure you've got the tools you need to annotate your email without having to learn new coding skills. Litmus' Gmail Promotions Builder lets you set your deal details and export your code without writing a single line of JSON.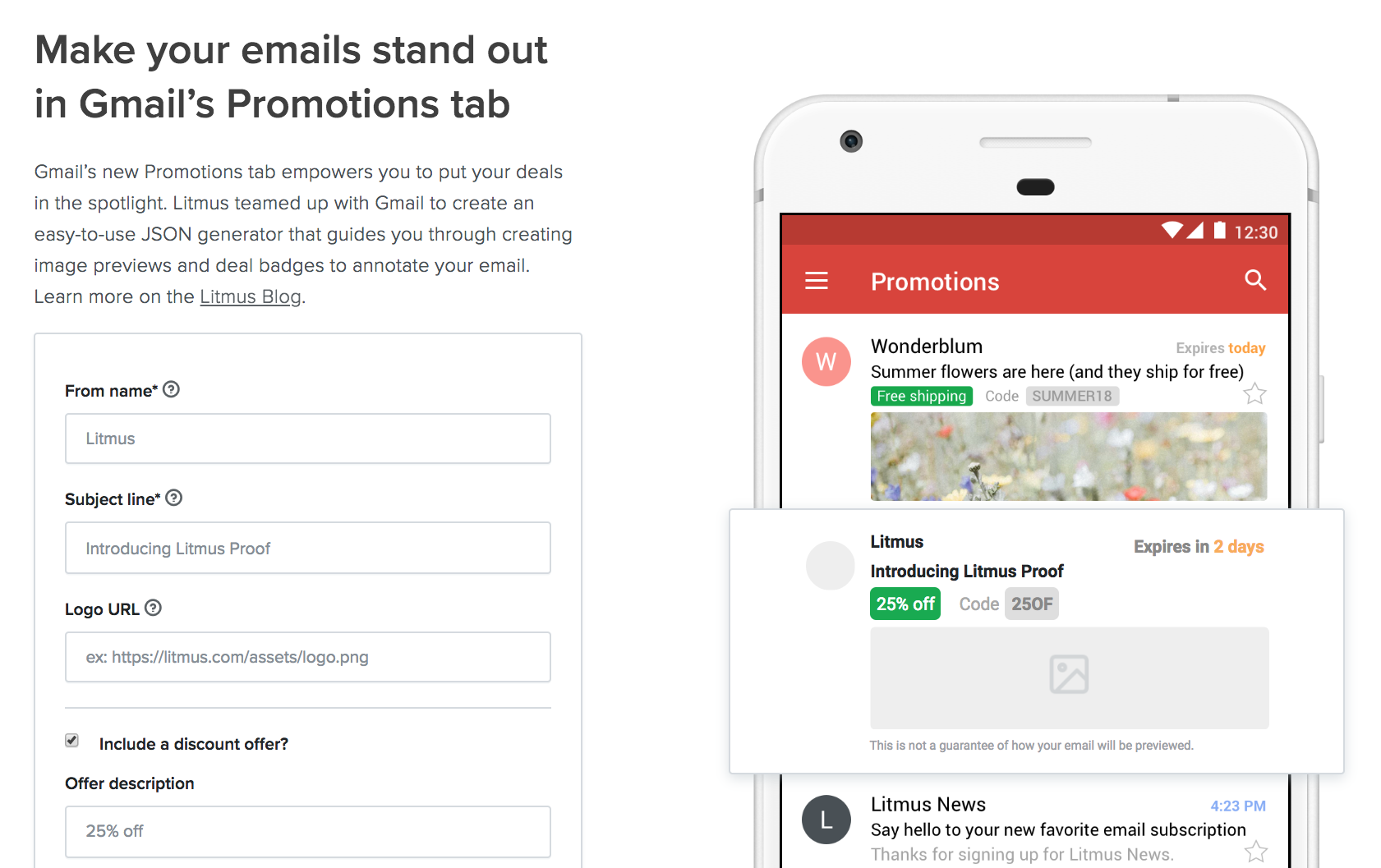 Litmus partners with Gmail to help email marketers get the most out of Gmail's new Promotions tab
Plus, together with Gmail we'll make sure that you have the knowledge you need to utilize the power of the new Promotions tab, learn about common mistakes, and understand the best practices to make your email even more valuable for Gmail users.
We're excited to team up with Litmus to empower marketers with the knowledge and tools they need to optimize their email for the new Promotions tab and deliver more value to our users.

Jordan Grossman
Product Manager, Gmail
Watch our exclusive webinar with Jordan Grossmann, Product Manager Gmail. We cover everything you need to know about Gmail's new Promotions tab, explain how you can annotate your emails, and answer many questions from the community. 
Watch the webinar recording now.
Questions or feedback?
We'd love to hear it
Do you have any questions or feedback for Litmus or our friends at Gmail? Share them in the comments below!