Read Time: 4 min
Predictions for the Future of Email Marketing: Why It's Time to Embrace Stricter Privacy Laws
Does your marketing team fear tighter privacy laws? It shouldn't. The truth is, tighter anti-spam regulations force brands to implement tactics that have been email marketing best practices for a long time anyway. The result? Better email experiences for everyone.
Before the European Union's General Data Protection Regulation (GDPR) went into effect in May 2018, we heard dire predictions that the new, stricter laws would shrink email lists, throttle new opt-ins, and damage marketers' use of email to achieve their business goals. Marketing teams everywhere became afraid that their lists would shrink along with their ROI.
Now, two years after GDPR went into effect, where do we stand? Let's take a look.
Strict anti-spam laws are not the death of email—they make it better
The truth is, marketers shouldn't be afraid of tighter anti-spam regulations. Research into the impact of GDPR on email marketers indicates that stricter regulations are actually a good thing for marketers.
A clear majority of email marketers have not suffered the major list damage the doomsayers predicted, with 60% of brands who comply in full or in part with GDPR saying they saw either no effect on list size or a loss of less than 10%. The UK DMA's 2019 Marketer Email Tracker Report found 56% of UK email marketers were positive about the impact GDPR is having on their operations. Among the responses, 41% said opt-out rates decreased, while 55% said spam complaints were down and 55% said email deliverability had improved.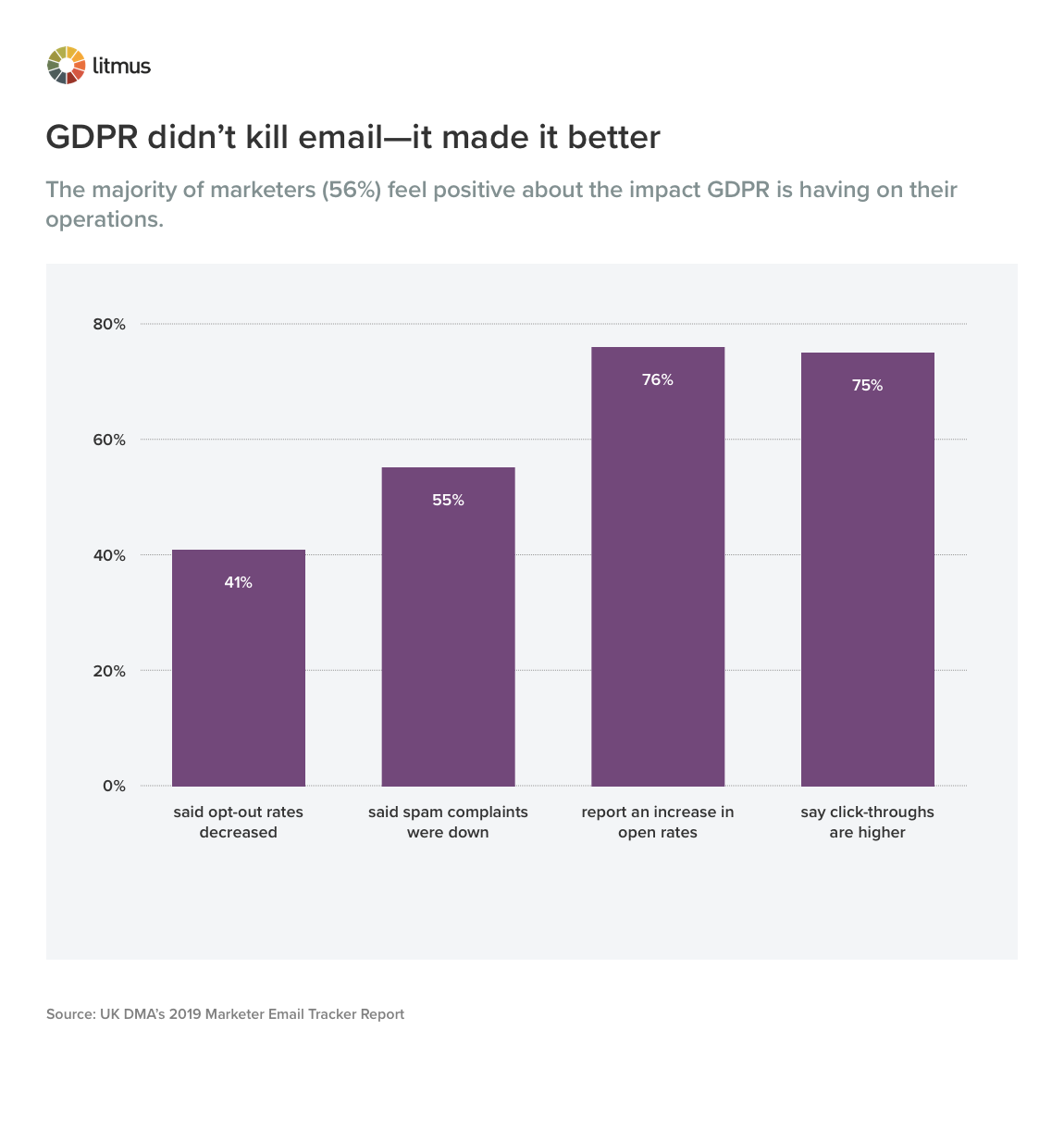 Unengaged and inactive subscribers add little to no value to your email program, and GDPR has forced many brands to remove these email addresses from their mailing lists. While a cut in list size can feel like a loss to many email marketers, it can actually improve the performance of a brand's email program.
Leading marketers understand that respecting subscribers' privacy and putting their audience in full control of what information they'd like to receive is the secret to effective email—and embracing privacy laws like GDPR or CCPA is an important step on that journey.
In the next decade, brands will have no choice but to embrace new privacy regulations. If they don't, they're dangerously out of sync with customer expectations and also risk significant fines by the authorities. In January 2020, the California Consumer Privacy Protection Act (CCPA) went into effect and is considered a precursor to a national standard in the United States. More states and countries will step up when it comes to raising the bar for consumer protection worldwide, and consumers will have more control than ever when it comes to what email they receive and when.
The best programs will stay compliant and make subscriber retention a priority
Regulations like GDPR and CCPA result in better email marketing experiences for everyone, forcing brands to finally implement best practices that have been around for a long time. The size of subscriber lists is important—but the best email marketers know the performance matters more. Plus, since many of the email acquisition tactics that brands relied on to grow their lists are no longer compliant under GDPR and other laws, a focus on retaining subscribers will be more important than ever.
There's a natural ebb and flow when it comes to unsubscribes. There are plenty of unsubscribe methods out there, and not all of them are ideal. Some of them make subscribers feel ignored, lack empathy, and are overly complicated. Keeping subscriber retention in mind, it's more important than ever to provide your subscribers with options—maybe they want to "snooze" emails from you for a while, or only want to hear from you a certain number of times a month, or only for certain topics. If you provide options for what kind of communications they'll receive, you'll find that subscribers will be more likely to stay connected with your brand.
In the next decade, consumer privacy will become the highest priority, but interest in email won't go away. Email marketers must respect their subscribers' privacy and allow them to unsubscribe at any time. Offering the option to opt-down can be a powerful way to stop subscribers from cutting the cord with your brand, but in times where subscribers are in full control of what marketing they'd like to receive, brands have to focus more than ever on one thing: Focusing on hyper-personalized and targeted campaigns that provide true value to your subscribers and will keep subscribers interested.
What does the future hold for email strategy, design, teams, and more?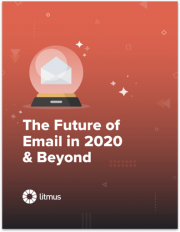 We asked leading industry experts about how some of the most crucial elements of email marketing will change in the next decade. In this ebook, you'll find their collective predictions on what the next 10 years hold for email design, strategy, teams, and more.