Social proof is a powerful way to boost brand trust and engagement in your email campaigns. In this post, we'll share what it is, why (and how) it works, and ways to do it, with examples to inspire your own campaigns.
Read on to learn:
What is social proof?
Social proof is a psychological phenomenon that explains how "human beings often make choices about what to think, and what to do, based on the thoughts and actions of others." It's one of the six key principles underlying the science of persuasion, through the lens of social psychology.
Why use social proof in email marketing?
When used in email marketing, social proof can be a powerful tool. In a world where subscribers are inundated with promotional messages (the average person sees about 10,000 ads a day), having social proof in your emails is a way to showcase the approval of your brand from customers themselves—and that's marketing gold.
To put it simply, people trust people. By leveraging social proof in email—whether it's a testimonial, number of "likes," or user-generated content—it reinforces brand trust with your subscribers.
Plus, with open rates becoming less of a reliable metric due to Apple's Mail Privacy Protection (MPP), email marketers should be thinking about other ways to measure success—and that means shifting focus to engagement metrics.
Subscribers love social signals, proven by consistently higher click-through and conversion rates. The best part? Once it's set up, it can be automated, helping you do more with less.
3 ways to use social proof in email marketing campaigns
Here are ways to integrate social proof into your email campaigns:
1. Social signals
Social signals showcase live interactions with a product or service. By displaying this engagement, you not only add real social proof to your emails but also encourage more openers to click, too. This makes it easy for subscribers to see the value and desirability of each product.
How it works
Social signals are powered by clicks. The live number of clicks are displayed accordingly, commonly as "likes" or "loves."
Example: DFS
DFS showed the number of people "loving" each product with a purple banner on top of the product imagery, showing the exact number of clicks/"loves" each item is receiving. This gives subscribers a browsing experience backed (and validated) by other shoppers.

Example: T.M. Lewin
T.M. Lewin asked subscribers to choose their favorite look for each day of the week. Once each look had over 100 clicks, a "trending outfit" message appeared alongside the live number of clicks, updating at every open. The live vote had over 20,000 clicks, with the second- highest number of clicks on the last look—proving how engaging content gets subscribers to keep scrolling.
They then used this as a launch pad for a nurture campaign: Tailored follow-up emails were sent to each voter showcasing their favorite look's products, directing them to shop the collection.


Example: Puma
Puma showcases the live engagement (number of clicks) on each product. The number of likes are displayed alongside a heart icon.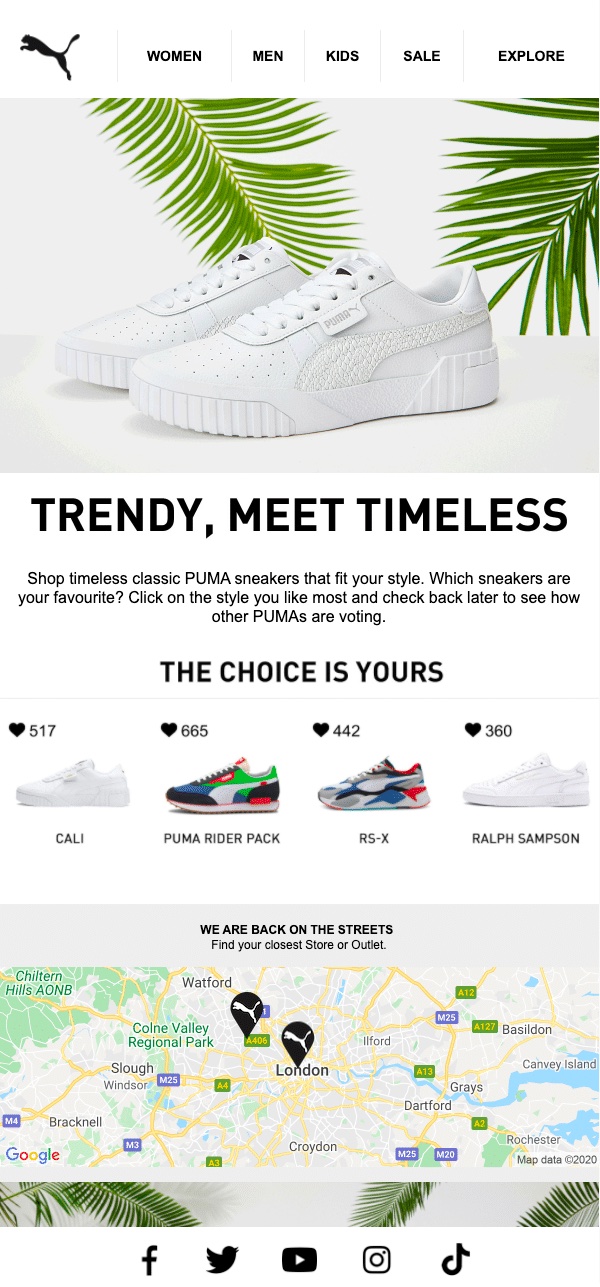 Example: New Look
New Look used social signals in banner form, displaying "Almost gone" when a product's stock fell below a certain number—set up through their shopping feed.

2. Live social feeds
Social feeds in email display your brand's latest social media posts. This gives your subscriber an omnichannel experience, as well as increases visibility (and engagement) on your social media channels.
How it works
Directly connect your social channels to email service provider (ESP) to display live social posts. You can use a tool like Litmus Personalize, powered by Kickdynamic, which uses social APIs to retrieve the latest posts on your social channels. This ensures your emails are always up-to-date with your latest Twitter and Instagram posts at every open.
Example: MatchesFashion
MatchesFashion sent a welcome email directly promoting their social channels (Instagram, Twitter, and Facebook). Up top, they pulled in posts from their Instagram feed, followed by the most recent tweet from their Twitter account.

Example: Mobiles.co.uk
Mobiles.co.uk capitalizes on the real-time functionality of live social feeds. By showcasing the latest tweets from their Twitter account, it provides the most up-to-date timing on open.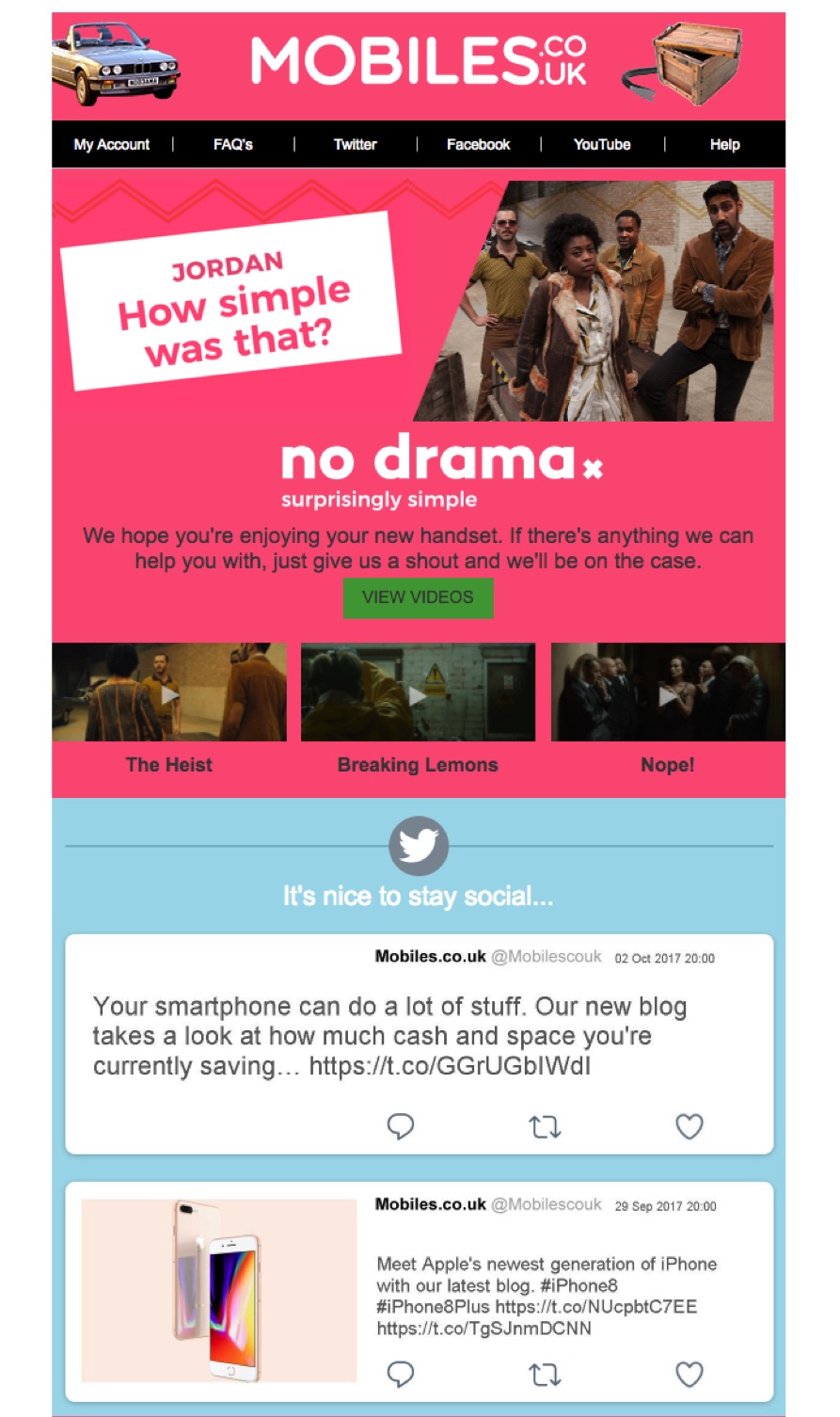 Example: Mamas & Papas
Mamas & Papas pulled their Instagram feed into the bottom part of this email. Their Instagram content mix consists of people, products, and quotes, helping to bring more brand personality into email.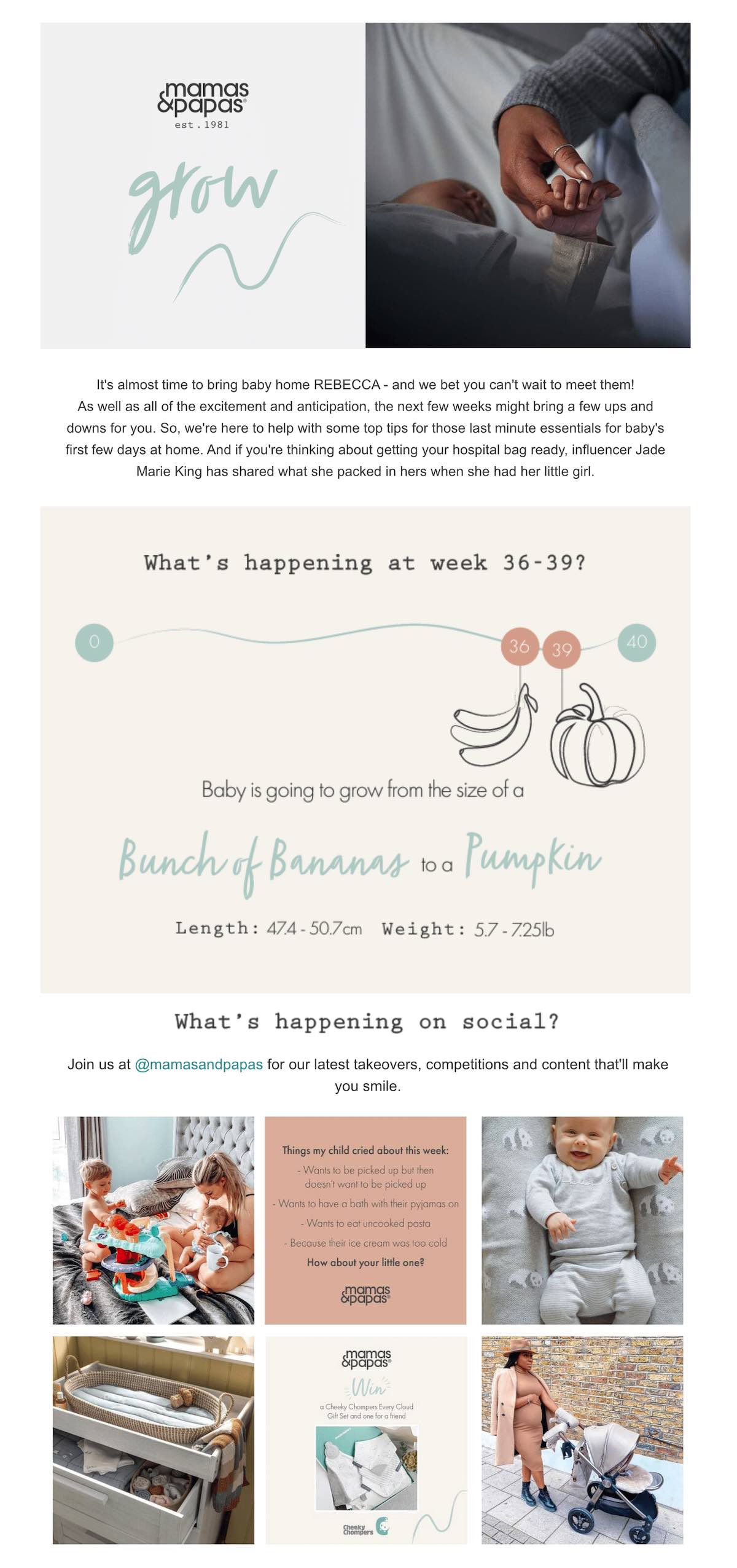 One thing to note: If user-generated content (UGC) is part of your social media content strategy, you should consider adding live social feeds into your email campaigns. Because UGC is generated by people (versus your brand), it acts as an additional layer of social proof. Win-win!
3. Social feed counters
Social feed counters display data points from social channels, such as "likes" on Instagram.
How it works
Social feed counters pull the most current "like" status from a profile into your emails, showing subscribers what's resonating on your social channels.
Example: Boux Avenue
Boux Avenue linked their Instagram to the bottom of their email. Posts from their Instagram are displayed (which gets more eyes on each post/product) as well as the number of likes per post.

Show them, don't tell them
Social proof lets your brand speak for itself. Whether it's through display likes/loves on a product, or from your social media feeds—the evidence is there, with validation from your customers to prove it. Tap into this powerful tactic in your emails today!