Get the best results for your clients, on every campaign and email
Let's face it: Fine-tuning hundreds of emails across dozens of different clients is no easy feat. There are approvals to collect, tests to run, and data to keep safe—not to mention messaging to keep on-brand and designs that need to be error-free. With Litmus, it's easy to deliver exceptional quality for every client campaign. Whether your teams are handling a few emails at a time, or thousands.
See how Litmus Spam Testing helped Mothership Strategies identify an issue that was causing low open rates—and then find the fix that led to an instant 30% boost.
Integrate with ease
Speed up production by integrating with all of the most popular email service providers, including Marketo, Eloqua, Responsys, Salesforce Marketing Cloud, and Acoustic. Then build, test, and analyze your way to more conversions. We'll help you streamline every step of the email marketing process into one seamless workflow across clients and accounts.
Collaborate across clients
Turn hours-long review cycles into approvals that take a matter of minutes. With specialized email tools for agencies, Litmus makes it easy to collaborate across clients. Give stakeholders direct access to proofs for fast feedback, and then centralize comments in one quick-reference location. From pre-send testing to in-depth analytics, Litmus provides everything you need to create high-converting campaigns.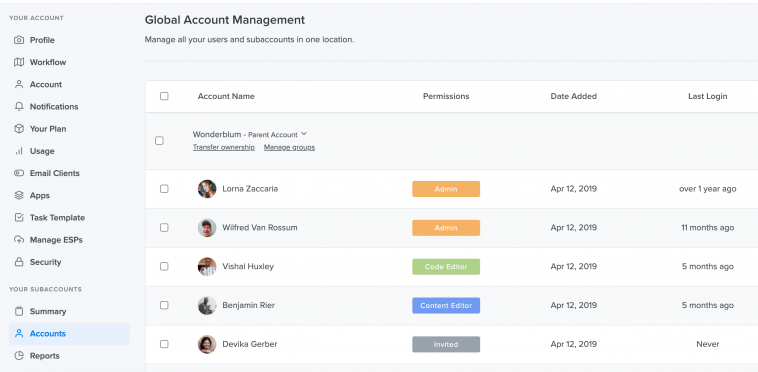 Protect client data
Keep client data safe with separate subaccounts, SSO, and other enterprise-grade security features—plus get important insights without having to collect personally identifiable information (PII). With regular updates and dedicated account management, you can rest assured your client emails abide by all the latest compliance and security standards.

Customize workflows across clients to keep email campaigns on-brand

Set up automated FTP data feeds for seamless reporting and unified views

Control access with separate subaccounts, customizable security rules, and more
Over 90% of the top 30 US ad agencies trust Litmus to create better emails
What Users Are Saying On