This month, our favorite emails swooped into our inboxes from brands like Netflix, Darn Tough, Kanga Coolers, and more. Animated GIFs surprised and delighted, bold colors flashed and popped, while email senders made an impact by leaning into simplicity.
Read on to check out the Litmus team's favorite emails of February 2023 showcase.
Darn Tough
Subject line: You've Never Seen Socks Like This
Preview text: But you wish you could.

Jess says: I loved the bold statement in the subject line and the clever preview text too. Upon opening the email, I thought the animated GIF with the pixelated sock design was a great way to tease out their upcoming new releases while keeping an element of mystery and surprise. The CTA to sign up for texts to be in the know when the new sock designs drop was a great way to build their contact list and set their upcoming launch up for success. I also just love Darn Tough socks!
Kanga Coolers
Subject line: I like big cases and I cannot lie
Preview text: YOUR 30 PACK CAN'T DENY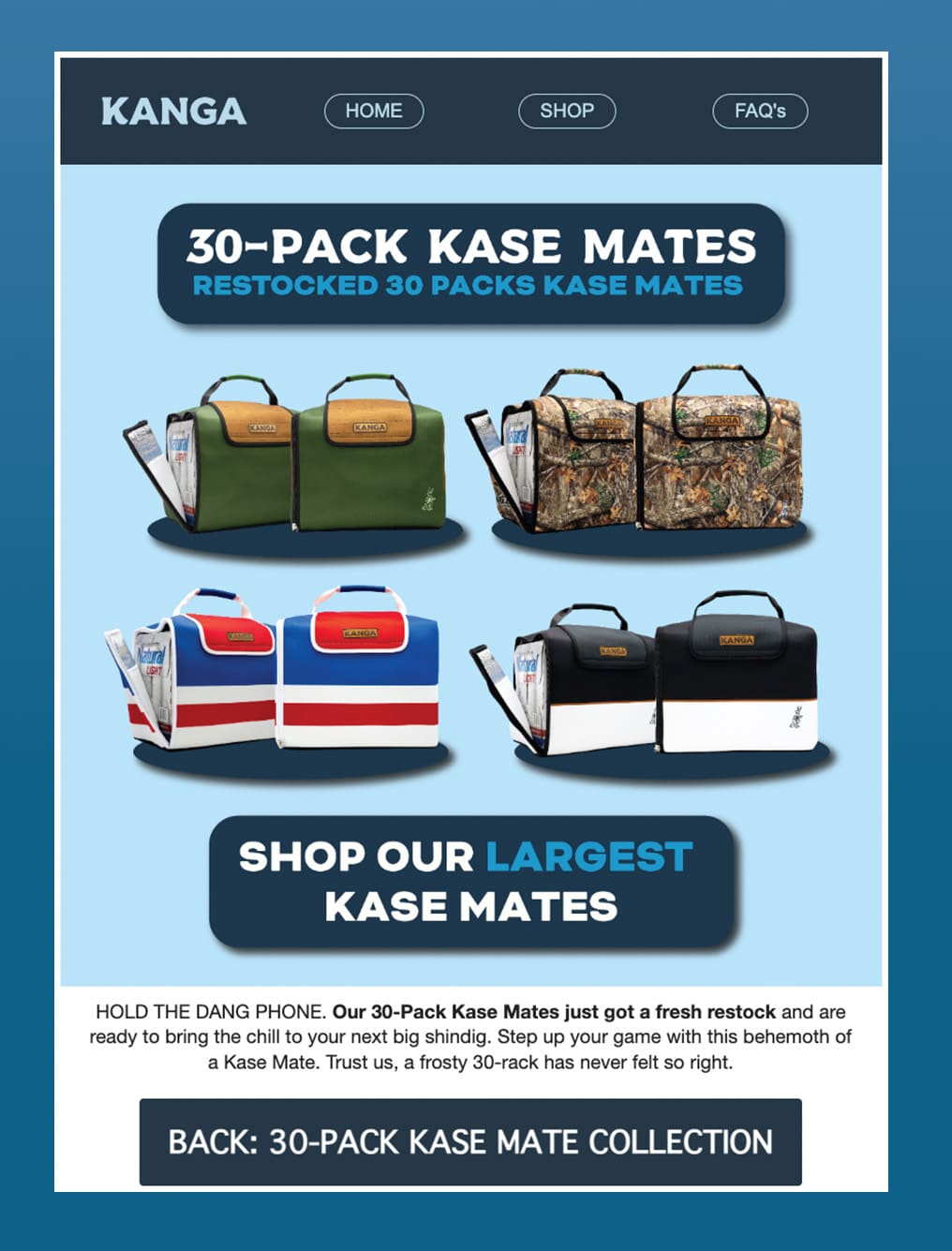 Jess says: The creativity of the subject line and preview text definitely hooked me! I love the simplicity and conversational tone of the email too; it feels like it matches Kanga Coolers' brand really well. 
Netflix
Subject line: More benefits with your Premium plan
Preview text: Enjoy more immersive sound and up to 6 download devices – at no additional cost.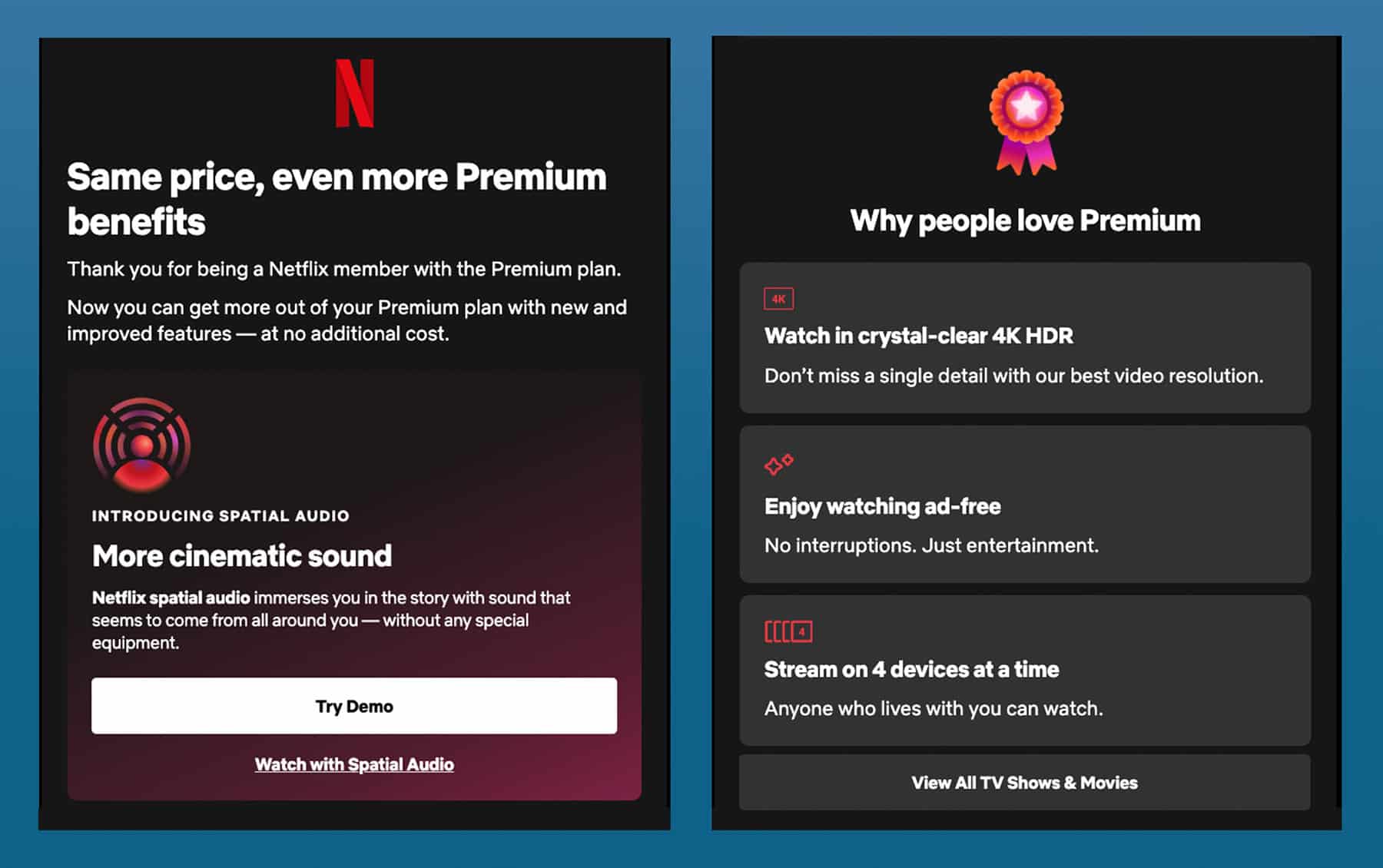 Nicole says: Okay, I realize this email came at a time that Netflix was cracking down on password sharing, so maybe it was just a big distraction, but it WORKED! I love that this email highlights benefits of your plan that you may not know about or using. And at a time when my inbox is filled with companies telling me they're increasing prices, I appreciate one that says we're staying the same price and adding more benefits. I also like that I can try a demo of their new feature before going all in. And finally, there's a lot of benefits to cover here, but I think they kept the hierarchy clear and clean with really just one main call-to-action (CTA).
Maileg
Subject line: Princess & the Pea 👑
Preview text: With a new look.


Nicole says: This email from Maileg is relevant and playful. It's relevant because I've purchased in this category before (for my kids!), so I do want to hear about new items they've added. They also connect all the like items in a way that makes it easy for me to take in and click on all the related options. But it's also so playful and fun—it warms my heart! (The animated GIF is EVERYTHING!!)
My kids love playing with their mouse castle and the GIF shows just how to make it all come to life. The copy is also playful with the "Visit the Palace" CTA and line about the mice scurrying about. I think it all captures imaginative play so perfectly. I actually want to share this email with my kids!
New York City Center
Subject line: Celebrating Black excellence
New York City Center had one goal with this email: to get subscribers to click to watch a video. I really like how simple this email was. The body copy is short and succinct; it gives a brief history as to who they're highlighting and why it's important. Lastly, by incorporating compelling imagery, it adds a touch of personality without being too distracting from the main CTA of the email.
Stay tuned for next month!
And there you have it: The Litmus Team's favorite emails of February 2023. Stay tuned for next month's installment—we can't wait to see what fun and creative missives hit our inboxes next!