Welcome back to our monthly round-up of favorite emails! We at Litmus have handpicked a collection of emails that have landed in our inboxes recently—ones that captured our attention and kept us scrolling.
From stylized ALT text, bite-sized content, exceptional email design, and captivating storytelling, get ready to be inspired as we unveil the best of our inboxes. Let's dive in!
Quip
Subject line: ChatGPT, will robots replace my dentist?
Preview text: As an AI language model, I can only speculate…
Carin Slater (Email Marketing Specialist, Litmus) says: I was not expecting a newsletter from Quip, but this was filled with fun. From the Spotify playlist to the bite-sized bits, I was delighted with each part of the email. It was fun and educational throughout.
First impressions: Quip
Did you know that the average time a reader spends with an email is only 8.97 seconds? That's why, first impressions are so important in email. Let's dive into what immediately caught the attention of Logan Sandrock Baird (Senior Community Evangelist, Litmus) and Kimberly Huang (Content Marketing Manager, Litmus): the dual calls-to-action (CTAs).
Kimberly says: You know how in marketing, one CTA is the best practice? It's kind of cool that they have a "for adults" and "for kids" section.
Logan says: It bugs me a bit that they are not the same length, which I know can be tricky, depending on how they built the email.
Kimberly says: I think it works here!
Who Gives A Crap
Subject line: thank you thank you thank you thank you thank you thank you thank you
Preview text: *deep breath* thank you thank you thank you thank you thank you thank you
Carin says: The subject line/preview text had me laughing and got me opening. Then, when I opened with images off and saw the stylized ALT text, I could still get the gist of the email through the ALT text. 🙌🏻 Nicely done, Who Gives A Crap.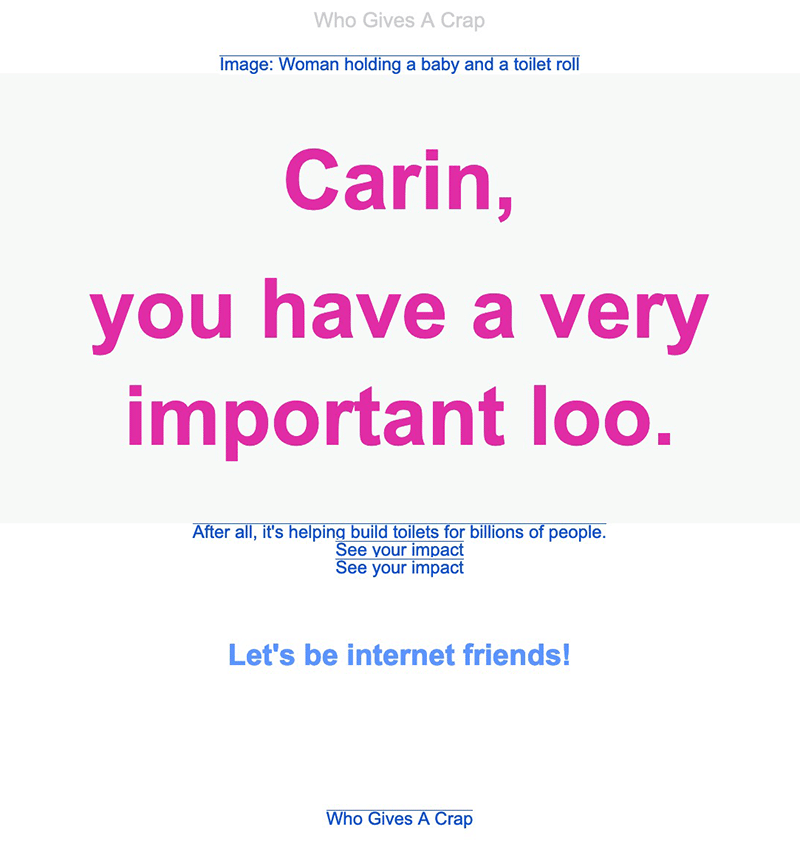 I wasn't a huge fan of when I loaded the images and found out how much text was in the images. But the message was definitely communicated well even with images off, so I count it as a win.
Read more: Experts Say: Why You Shouldn't Send Image-Only Emails
Fandango
Subject line: Don't Miss THE GUARDIANS
Preview text: Guardians of the Galaxy Vol. 3′ opens exclusively in theaters tomorrow.
Tracie Pang (Email Marketing Manager, Litmus): I liked the progress bar at the top of the email that explained Fandango rewards points program. I also liked the direct CTA buttons that linked to the ticketing page for each night during opening weekend: TONIGHT, FRI. 5/5, SAT. 5/6.
Costa
Subject line: Martyn, open up in the name of The King! 👑
Martyn Lee (Design Associate, Litmus): With an inbox flooded with coronation-themed emails, this email from Costa stood out because I thought the offer was really clever! To reward people with similar names to King Charles was a great idea to me. I also REALLY loved the loyalty card/bean counter at the bottom of the email (as well as the subtle counter at the top of the email).
DTC Newsletter
Subject line: 📦 Operation: Find Van Thief
Kimberly says: The story of the stolen van had me hooked! It was a clever use of storytelling, and I thought DTC Newsletter did a great job at contextualizing the content to make it relevant to their subscribers.
I also have to shoutout the email design. I appreciate how the content is broken down, with a concise and skimmable table of contents in the introduction, allowing me to quickly grasp the structure of the email and what to expect. Also, the subheadings gave me a sense of time (e.g. 🐝 Monday, May 1st: The sting.) as the narrative unfolded, helping to give clear expectations for each section of email copy.
Stay tuned for next month!
That's a wrap on our monthly round-up of favorite emails! We hope you enjoyed perusing our collection from May 2023. We'll be back next month with our picks!