Alas, all good things must come to an end—including the biggest and most inspiring email marketing event of 2023! We laughed, we cried, we talked shop, and delighted in the presence of each other's company for a wild two (or for some, three!) days of this extraordinary email extravaganza.
Missed it? No worries! Come along with us as we reminisce on all the highlights of Litmus Live 2023!
Workshops – Monday, September 11, 2023
First off, let's begin with pre-game. And by that, of course, we mean the optional day of workshops on September 11, the day before the conference started. For the truly dedicated, or just those local to Boston, we offered five, three-hour in-depth workshops on the real meat and potatoes of how to do email real darn good. 
That workshop list included…
About 50+ folks showed up to get their hands dirty on workshop day, and left with some real learnings about coding, testing, accessibility, and workflow management. What secrets did they learn? You'll have to find someone who attended and ask them. We'll never tell! 😉
#LitmusLive2023 workshops, complete! ✅

We had a blast learning from @emailjay_ , @jainamistry, @hannahjtiner, and Abigail Sims this afternoon.

See you on the email stage tomorrow for Day 1 of our main conference! 🚀 pic.twitter.com/Fxj2fQtwfL

— Litmus (@litmusapp) September 11, 2023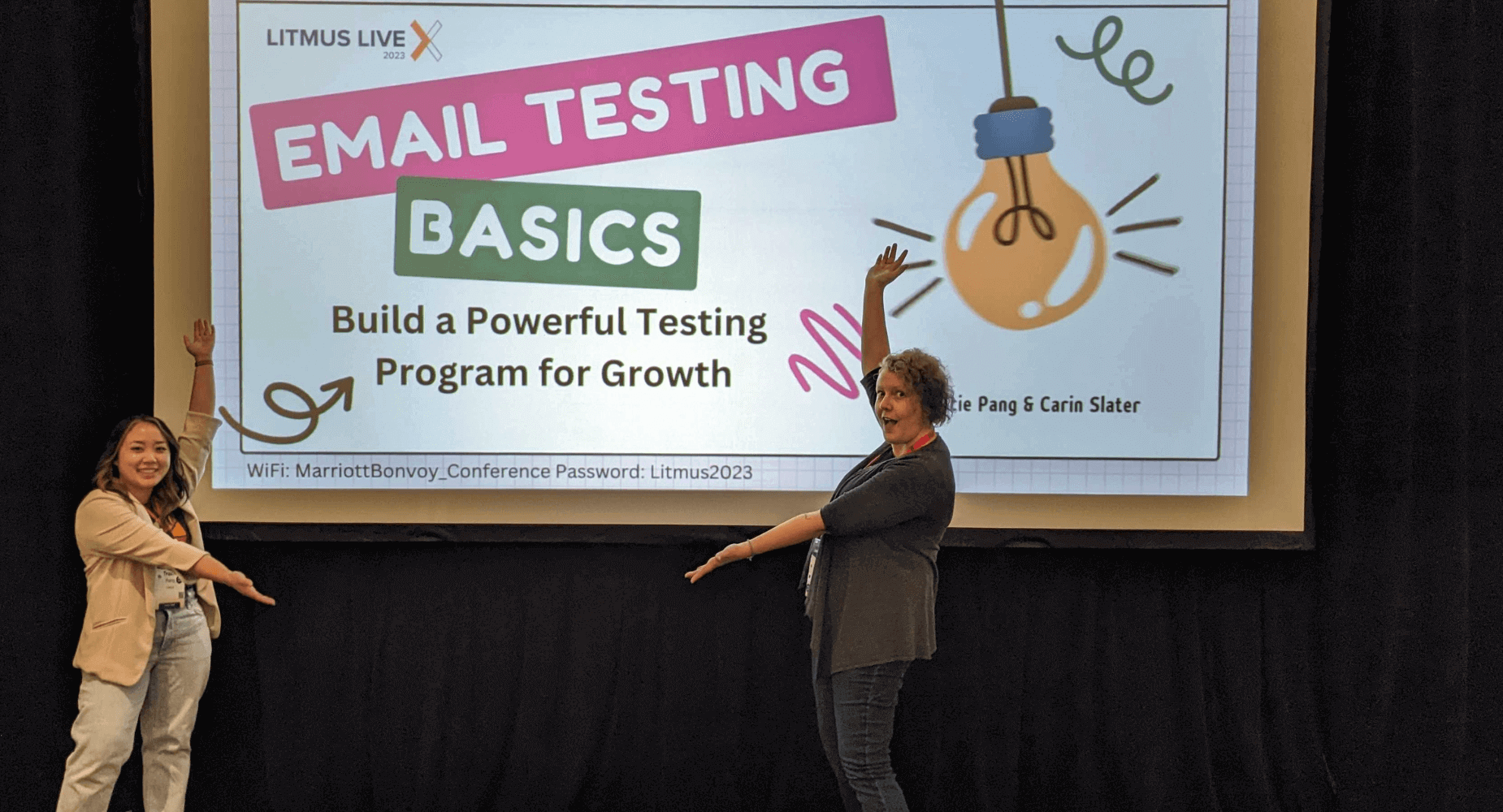 And with that, workshop day drew to a close, and the real fun began…
Litmus Live 2023 Day 1 – Tuesday, September 12, 2023
Litmus Live 2023 began properly a little after nine in the main hall to the tune of late 2010's pop, reminiscent of a millennial's highschool homecoming. The vibe felt less like a conference about to commence, and a little more like summer camp, honestly. We were just a joyous bunch of email geeks, all chatting and rustling in our seats, slapping new Litmus Live stickers on laptops, and waiting for the camp counselors to arrive. 
And so it was, to great applause, that Litmus' own SVP of Marketing Cynthia Price and Senior Community Evangelist Logan Sandrock Baird made their opening remarks, and kicked off the next two day of email-based camaraderie! 
Here's a quick peek at each of the sessions on day one: 
BTS of Achieving the Impossible: 100% Conversion Rate – Samar Owais
Our very first keynote session that morning came from one of the biggest names in email, the legendary Samar Owais. She shared one of her biggest wins—a 100% conversion rate with her client Workamajig—and then told the story of just how exactly she accomplished this legendary win. 
Living my e-mail dreams seeing @samarowais IRL here at #LitmusLive2023 pic.twitter.com/Y37UJ9sj9v

— emily ryan👩🏻‍💻 (@emilyryantweets) September 12, 2023
The goal of that project? Move the entire customer base of Workamajig to a new version of the product before a very tight deadline. Samar was faced with a tricky problem. She had only email at her disposal to accomplish this very big ask. To do so, she began with the customer. Because, as she stated, "Without customer research, there is no email strategy." So real, Samar, so real. 
"Without customer research, there is no email strategy." — Samar Owais
So, she shared, her team went all out to find out how to reach every customer in a way they would respond to. They hosted a webinar, they sent out follow-up emails, and ultimately got every single customer switched over to the new version before the deadline, resulting in a 100% conversion rate! Now that's a win for the email marketing history books. 
But it wasn't all just her. She shared just how much she relied on the people around her to accomplish this, too. "It's never just one person," she said. "You are part of a team". 
Couldn't ask for a better teammate 🥺 @Winraar #litmuslive2023 pic.twitter.com/il6MxQj80j

— alex kelly (@alexkellysays) September 12, 2023
After that inspiring keynote, we broke out into our sessions for the day. We hosted two tracks, running simultaneously—the Professional and the Practical. Attendees could choose which to attend, and switch back and forth between them as desired throughout the day. 
Let's take a peek at what those sessions covered!
What's the Point of Marketers? – Najmah Salam
In this session, Najmah Salam confronted some of the burning questions facing marketers today head on. In a world where "60-70% of an employee's time could be automated," how does the dedicated marketer provide real value to a team? How do we set ourselves apart from generative artificial intelligence (AI) and automation tools? 
We learned that the answer is to demonstrate what you can do that a machine can't do. And it's not enough to be quietly confident anymore. "You have to be SEEN doing the work and show how difficult the work is," said Najmah. It's time to be our own advocates in the workplace, and louder than ever!
Email Deliverability: A Result of Respect – Radek Kaczynski
Over on the practical track, Radek Kaczynski tackled the issue of email deliverability. What is the magic formula for getting into inboxes, and staying there? The answer is simple: it's about respect, and showing your audience that you respect them, their time, and their choices. 
"Respect is the center of email deliverability." — Radek Kaczynski
Sender reputation takes time to build, and every time you send an email with broken links, ignore a subscriber's communication preferences, or don't deliver on the promise you made when first establishing the relationship with your audience, you jeopardize that respect. 
How B2B Marketers Can Prepare for How Data Privacy Will Change Email Metrics and Strategy – Natalie Jackson
If data privacy isn't top of mind for you as a marketer these days, who are you and how are you functioning? Between GDPR, CPRA, and the end of third-party cookies, it's a pretty big deal. In this insightful panel, Natalie Jackson covered how to rethink your email strategy as some of our favorite reporting metrics just simply no longer work for us. 
And of course, we had to face the cold hard truth: email opens are dead. 
"Email opens are dead. What else can you measure?" — Natalie Jackson
Natalie stressed the importance of moving to opt-in marketing, even for B2B companies, and making sure that opt-in doesn't direct you immediately to a sales nurture. Also, make sure you think creatively about how to measure success in a campaign—and look at where your opportunities are really coming from. 
Are your emails RAD?? @NatalieTJackson #LitmusLive2023 pic.twitter.com/foQQwyWO4T

— Najmah Salam (@najmetender) September 12, 2023
And finally, make sure your emails are RAD:
R

elevant

A

dd value

D

esigned in a way that's easy to navigate
Accessibility Implementation: Removing the Resistance with Behavioral Science – Paul Airy
In this fascinating installment on the Professional track, Paul Airy walked us through how to improve adherence to accessibility best practices with some cold hard science. That's no exaggeration, either—it was science! Behavioral science. 
Frankly, accessibility goals can look really far away. And we need help figuring out what's slowing us down from getting there. How can we make that process simpler and easier for our brains? 
"The efforts towards achieving our goals increase exponentially the closer we are to achieving them." — Paul Airy
Paul covered ways we can make accessibility measures look more achievable to our brains—like the punch card method—and how to break down big steps into smaller ones. By making the goals smaller and easier to reach, we can reduce the "slow thinking" currently required to get us to our goal. 
Carving Out Your Career Path in Email – Crystal Ledesma
There are so many career possibilities within email, it can sometimes feel hard to make a choice, let alone be confident in that choice. In this session on the Professional track, Crystal Ledesma guided us through the job of a manager—to get better outcomes from a group of people working together—and the career path she took to reach that point. 
@sentbycrystal slaying with both the career guidance AND the look at her talk, "Carving Out Your Career Path In Email" here at #LitmusLive2023 pic.twitter.com/oELhyBHdu5

— Logan Sandrock Baird (@logansandrock) September 12, 2023
You don't have to know all the answers to manage, but you will have to learn to hire people who do know those answers and get comfortable asking them for help. And that can be really uncomfortable at first! But, Crystal shared, "Getting comfortable with being uncomfortable is vital to carving out your career path". Words to live by!
Secrets From My Swipe File: Copy Strategies You Can Steal – Lianna Patch
For all us content folks in attendance, this session caught our attention! Lianna Patch shared her strategies for clever, click-worthy copy in this educational session. From opening curiosity loops, to experimenting with sender names, to "putting some emojis on that bad boy", we all walked away with some new tricks to try.
I'm watching @punchlinecopy at #LitmusLive2023 and it was full of practical advice + examples. Plus the chat was poppin 👀 pic.twitter.com/DuwYGRhRD7

— Aleena Khan (@aleenahkhan) September 12, 2023
Some tips, however, were a little more off the beaten track. For example, we learned to think outside the box with sender addresses, including such clever examples as, "Your closet" and "A toilet!" We also learned about the power of interactivity, like including little games in your emails. And finally, we covered the importance of "micro copy", and making even the small touches on your email seem more human wherever you can.
This session was best and most cleverly summed up by Lianna herself: "Think of your subject line as what someone would call out of their car window at you as they drive by".
Litmus Product Session – Maida Kasper
With our morning sessions complete, we headed into our post-lunch main hall session for the hottest and most-anticipated session of Litmus Live 2023! First, Litmus CEO Erik Nierenberg kicked off our product launch by entering his latest email era—and reminding us at Litmus of all the eras we've been through, as well. Here at our 10th Litmus Live? It's quite a few!
When the team are sharing a notes doc and attending the same sessions during #LitmusLive2023 @litmusapp @eriknierenberg pic.twitter.com/SgklfQq3jA

— Rose (she/her) (@thetrickisto) September 12, 2023
Today's announcement, however, would be the biggest yet. After reviewing the last decade of successful time at Litmus, Erik welcomed onstage Maida Kasper, the VP of Product & Growth at Litmus. 
"When I was here 7 years ago, there was a lot of talk about how 'email is dead', but I don't hear that anymore. We've come a long way… and we're entering a whole new world with AI." — Erik Nierenberg
Maida announced the big news: Litmus has a brand new feature called Litmus Email Guardian, and a slew of updates and changes to existing features that make the most of our new AI capabilities. "In today's era of email marketing, there are more things than ever that can go wrong," said Maida, "Many of which are out of your control". Whether it's an ESP issue, an email client update, or just Outlook at it again, that's the truth. 
And Email Guardian is here to protect you (and your brand) from issues like these. Email Guardian is always on, and always watching, even when you can't. How's that for a new era of email marketing? 😍
Panel: Exploring the Impact of AI on Email Marketing – Cynthia Price
Our next item of business? A fascinating panel on AI. Onstage, Litmus' SVP of Marketing Cynthia Price was joined by panelists Chad S. White (Head of Research, Oracle), Leah Miranda (Lifecycle Marketing Manager, Zapier), Jay Oram (Head of Development, ActionRocket), and Darryl Bolduc (VP of Product, Acoustic) as they dug into the fascinating effects AI has had on our industry… and looked forward to its potential uses for the future.
Some key moments from that panel included: 
"We're not replacing people with AI. That's not cool!" – Leah

"The way we see alot of clients using Generative AI is to come up with new ideas" – Jay

"Generative AI gets you to 80-90% of the way there." – Leah

"It'll be pretty much impossible to have 100% trust in something AI based." – Darryll

"For small teams, AI is a nice equalizer." – Leah

"Generative AI is the best help for a senior copywriter." – Chad

"The jury is still out on AI creating email code."- Jay

"I'm excited for AI to give me more time back." – Jay

"The notion that we can start replacing people is what worries me about AI. That's where it can really go wrong." – Leah
Overall, the jury remains out on many aspects of AI, especially generative AI, but most continue to test all available tools in this new industry with avid interest. Even if these tools can't do all we dream they might one day, there's still a lot they can offer us now, especially with the proper guidance and oversight. Are they coming for our jobs though? Not anytime soon. 😜
How to Get Organizational Buy In – Val Geisler
After these exciting main hall keynotes, we broke out to those Professional and Practical tracks again for our afternoon sessions. First on the Professional track was an insightful and practical look at getting organizational buy-in from Val Geisler. "I'm going to teach you how to play poker at work," she said—and that's pretty accurate, honestly.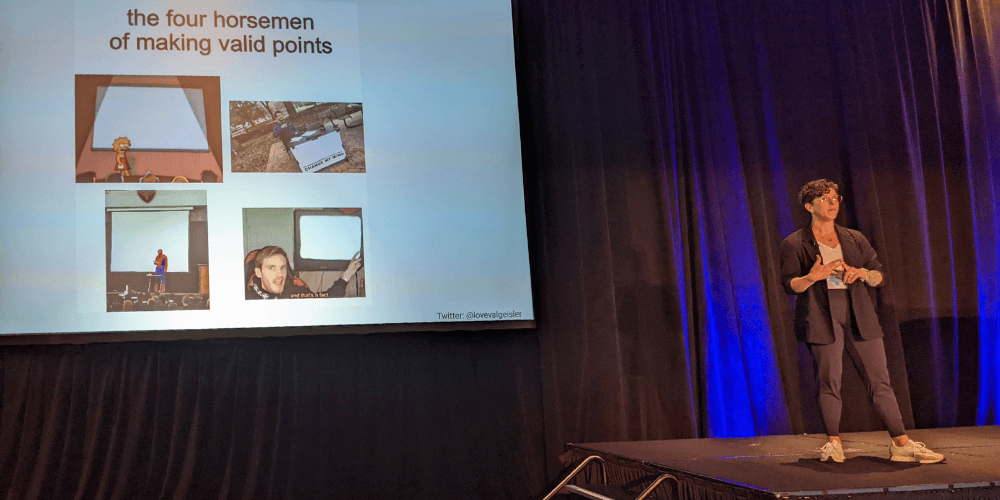 We learned about prioritization, including making lists of the things we want and sorting them into three buckets: never gonna fly, might work, and easy wins. From there, you can argue more succinctly and successfully for the things that are most important to you. 
A great phrase that we're totally going to borrow for our next project: "I am willing to be proven wrong, but I would like to test this. Here is my timeline." Thanks for the tips, Val!
Demystifying Sender Score: How to Improve Yours and Land in the Inbox – Brian Minick
On the Practical track, Brian Minick walked us through strategies to get (and stay) in the inbox. In a world where poor data quality is the number one enemy of sender score and email deliverability, one of the best things you can do to improve sender scores is to make sure that your lists are clean. Just… "Do not send people content they don't want." It's that simple—and that difficult. 
"Do not send people content they don't want." — Brian Minick
What happens if you do get stuck in spam? That's bad news bears. How bad? Well, "27% of people say they only check their spam folder only a few times a year," said Brian. So we want to make sure that we stay out of spam. How do we do that? Keep your bounce rates low, for one thing. If the bounce rate is more than 2%, it will impact your sender reputation.
Lost in Translation: How to Communicate Cross Functionally – Moni Oloyede
There's nothing like the power of communication! At work, however, communication can be difficult, and can even be downright impossible when working between teams. Moni Oloyede took us through how to communicate goals and work with multiple departments as smoothly and efficiently as possible. 
Love hearing what @MoniOloyede has to say about building strong cross-functional communication here at #LitmusLive2023 pic.twitter.com/nTJQ5wgQo3

— Logan Sandrock Baird (@logansandrock) September 12, 2023
Cross-functional success comes down to effective communication, problem solving, relationship building and fostering teamwork. Work is never just about work, shared Moni, "It's about people".
Unleash Email Awesomeness: Ways to Delight Your Subscribers Through Teamwork! – Gulben Karaoglu
In this practical session, Gulben Karaoglu shared how designer and developers can work together (or agree to disagree) on how to provide the best inbox experience possible. While these two roles often seem like they're going head-to-head on email needs—what looks pretty versus what's possible—they're really more similar than they are different. 
Worked with Gülben Karaoglu at my very first email role and love seeing them on stage talking about teamwork to unleash email awesomeness today 👏🏽 #LitmusLive2023 pic.twitter.com/x8Q0rVqAOO

— Crystal Ledesma (@sentbycrystal) September 12, 2023
For example, when dealing with Dark Mode, Gulben shared, "If I have to explain [what I'm doing], I'd rather explain why our image is lilac (not on brand), than explain why it can't be read". Both designers and developers can provide better customer experiences by keeping the subscriber top of mind!
From Conversations to Conversions: Customer Interviewing for Email Marketers – Allison Bryant
In this session, Allison Bryant shared the customer journey mapping framework that increased Ten Percent Happier's email revenue by 30% in a single year. We learned why it's necessary to build trust early in the conversation, how to address problems head on (and why that's important), and when to be wary of mismatches in your expectations. Plus, we learned that you have to ask the hard questions to get good answers. 
"Ask questions that will ensure diversity in your user interview pool." — Allison Bryant
You can't just ask your customers why your product is awesome. You don't get compelling stories that way! Instead, ask questions that invite narrative and really bring you closer to the customer's authentic experience with your product. 
Designing for Inclusion: Positioning accessibility practices into your already busy workflow  – Tylor Loposser
Finally, we took one more peek into the how-tos of accessibility with Tylor Loposser. In this session, we got a handy (and very practical) look at why accessibility matters and how to share your passion for the subject with others in the workplace. Whether you're doing this work for altruistic, business, legal, or other reasons, it will be necessary to "Use your passion and education to convince people that this endeavor is important," said Tylor. 
Believe in yourself and consider labelling yourself as the expert to know you have something valuable to contribute. #LitmusLive2023 pic.twitter.com/8xEC1xEBr0

— Jaina Mistry (@jainamistry) September 12, 2023
If you don't feel like you have the authority to advocate for more accessibility practices—be brave! You do have something valuable to contribute. 💗
And with that, we reached the end of day one of Litmus Live 2023!
Day 1, complete ✅ Thanks to all our wonderful speakers and attendees for making day 1 a success!

See you tomorrow morning! ☀️ pic.twitter.com/ajubaEixlM

— Litmus (@litmusapp) September 12, 2023
Litmus Live 2023 Day 2 – Wednesday, September 13, 2023
Day two of email summer camp (a.k.a. Litmus Live 2023) dawned on an enthusiastic crowd. The previous day's information overload hadn't scared off any of our lovely email geeks, and Logan's opening remarks were met with warm and eager anticipation. Applause, even. 😃
And without further ado, we jumped into the day's sessions! 
Green Your Emails: Eco-Friendly Strategy, Design, and Code – Alice Li
Our very first keynote of the day kicked off with Alice Li's fantastic presentation on the environmental impact of too much email. We learned so much, seriously. For example, did you know that if every email user in the US send 10 "Thank You" emails a day, the carbon footprint would be equivalent to 1 million+ Boston to London flights?! That's email pollution. 
Thank you thank you for sharing considerations for email marketers on our climate impact, @AliceLiCode. Such an important topic 💌#litmuslive2023 pic.twitter.com/rsQTEt3ywt

— Natalie Jackson (@NatalieTJackson) September 13, 2023
What can we do about this? Well, said Alice, "Making an eco-friendly email starts with design". You can reuse hosted assets, shrink images, and even use live text rather than images where possible. You can also just… send less emails. This also has list benefits, since "Email fatigue from recieving too many emails is a big reason for people to unsubscribe." Think critically about whether you really need to send another email when you have an option.  
The bottom line is this: sustainability is the new accessibility! 
How to Migrate to a New ESP (While Keeping Your Data and Your Mind Intact) – Kisha Anderson
For anyone that's led an email service provider (ESP) migration before, Kisha Anderson's talk hit home! In this session, we got a thorough walkthrough on how to plan for the migration, how to perform an audit for data inventory, and even how to handle campaign and data migration (sanely). Our favorite takeaway: DO LESS. As Kisha shared, "Do not try to keep doing all the things while you migrate". Please, please, please pause regular programs while you migrate. Please. 
…by myself 😂 so yes @EmailArtisanIO #litmuslive2023 pic.twitter.com/E8vX89LfMr

— alex kelly (@alexkellysays) September 13, 2023
How long will this ESP migration take? Well, ballpark how long you think it will take… then double it. It will always take more time, effort, and stakeholders than you think! So plan carefully, communicate openly, and be prepared for unexpected setbacks. 
The No Bullshit B2B Lifecycle Plan – Nout Boctor-Smith
In this session, Nout Boctor-Smith taught us how to create a lifecycle marketing plan—with email marketing as the core channel—for B2B companies. It's easy to lose sight of the real goals, especially in marketing, which is why being reminded of the full customer lifecycle matters so much. "Marketing can be focused on acquisition and then fizzle out," said Nout. "We get addicted to leads and larger list sizes." (Don't @ us like this!)
More gold (of course!) from my fav B2B email geek 🔥yeah, Nout!#litmuslive2023 pic.twitter.com/d5OqDXcPyq

— Natalie Jackson (@NatalieTJackson) September 13, 2023
How to do we fix it? First, understand business goals and how you sell, then audit your communications, map the funnels and customer journey maps, identify leaks in the funnel, and finally: create a strategy to stop the leaks. Ask yourself at each stage of the buyer journey, "Do I have an opportunity to engage here?" and do so wherever you can. 
Automating Outside the Inbox – Leah Miranda
Worried robots will take your job? Not on Leah Miranda's watch. In this session, she shared how automation makes life easier…but it's not magic. "Robots will always need a little supervision," she shared. Automation is awesome, especially when it can take away your least favorite tasks, but it won't take away the work that needs a human touch. 
@fidgetcoder outlining opportunities to automate tasks based on to-do's we frequently face when logging into Slack every morning 😂 #LitmusLive2023 pic.twitter.com/7CybwboPOR

— Naomi West (@emailfromnaomi) September 13, 2023
Why are we automating things in the first place? We want automation to make life easier and better at work. We want more time for the projects that make us excited. So keep an eye on the times when you say "ugh" at work, and consider whether you can automate something about those moments.
In conclusion: "Automation, much like CrossFit and your favorite MLM—you're going to want to tell someone about it."
Leveraging intelligent automation to retain your customer base – Allie Guerin
In this session, Allie Guerin showed us how to identify trends from customer segments, implement journey auditing, and improve how quickly you can test and deploy new email strategies. First—and perhaps most important on that list—was to find your big spenders. Find your big spenders, potential big spenders, brand enthusiasts, and those waiting for wows. Those people are your strongest opportunities.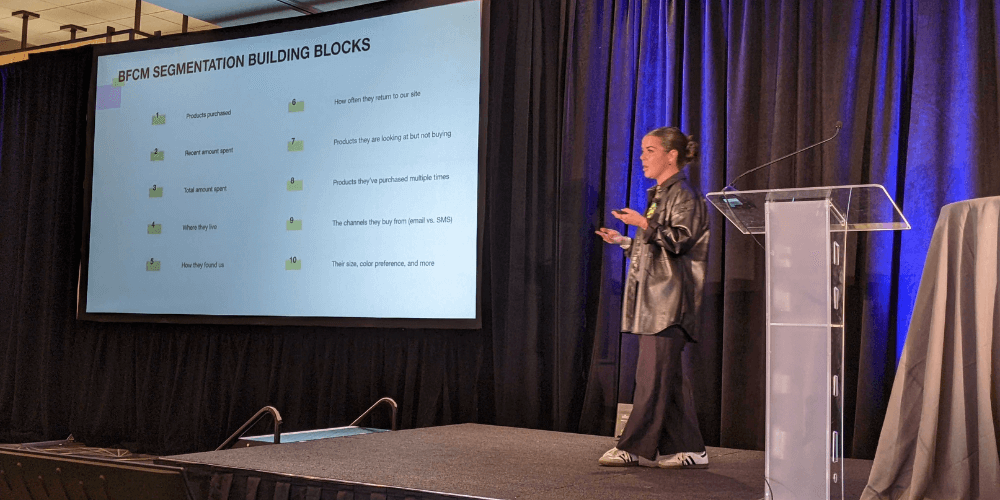 The answer, as it is so often, is to increase your data collection in order to better segment and personalize for different audiences. Better data means more targeted segments and better personalized emails, which lead to audience retention over time. Nice! 
Are you Organised to Win, Lose or Draw? Setting Up Your Process to Success – Jason Cort
In this highly practical session by Jason Cort, we got a look at the cold hard facts of processes and process building. "Best practice is a myth," shared Jason. "Best implies definitive and immutable. Best is subjective." It's necessary to change the way that you think about best in order to continue to iterate. 
"At best, perfect will distract you. At worst, perfect will destroy you." — Jason Cort
Ultimately, "Perfect is BULLSH*T!" And if someone's process gets the job done and isn't breaking any operational requirements, does it really need to change? Great food for thought, Jason. 
All About Email Footers: The Underdog of Your Email – Emily Ryan
When it comes to email footers, straying far from the norm is a good thing! In this session, Emily Ryan shares how to stand out in the inbox while staying compliant with legal needs. Many people ignore this important section of your email—but that's a mistake. By giving your email footer extra attention with a beautiful design and the facts your recipients and customers require, you'll check both the respect and trust boxes. 
Get those footer Easter eggs in!! Love the "Card of the day" idea in this footer. Make it funny and keep it light from @emilyryantweets #LitmusLive2023 pic.twitter.com/AJKVjVF8BT

— ActionRocket (@ActionRocket) September 13, 2023
One great way to stand out is to have fun in the footer, including by trying different shapes, colors, or fun language. Some folks even use animated GIFs down here! In the end, your footer is like the bottom part of a hamburger bun: "So don't make it soggy"!
Live Email Optmization – Tracie Pang, Hannah Tiner, Carin Slater
Our post-lunch panel here on day two of Litmus Live was another hotly-anticipated session! In this Live Email Optimization session, Carin Slater (Email and Content Growth Marketing Manager), Tracie Pang (Email Marketing Manager), and Hannah Tiner (Marketing and UX Designer) to share their thoughts on the audience-submitted emails. 
Some key moments from that panel included: 
"

A/B test

different messaging by having one of the two

calls-to-actions (CTAs)

read differently." – Tracie

"Using a mid-tone colors will

help your icons stand out on Dark Mode

." – Hannah

"Using H1 & H2 tags will help with screen readers and create a heirarchy for anyone listening to your emails instead of reading them." – Carin

"Make sure you put

ALT text

on everything. Headers and footers can often get overlooked." – Carin
This was a lively session, with lots of audience contributions and some lovely emails submitted by attendees. Hats off to all the brave souls who volunteered to have their work critiqued on the big screen!
Our very own email team, on stage for Live Optimization! @carinslater @hannahjtiner @tracie_pang 💌 pic.twitter.com/o0kuQtOj81

— Litmus (@litmusapp) September 13, 2023
What We Do In the (Email) Shadows: Building a Successful Brand & Contractor Partnership – Corrina Cohen & Genna Matson
In this wild and entertaining session, Corrina Cohen and Genna Matson shared their tips and tricks for working with contractors, from both sides of the aisle. (By which we mean contractors and their corporate counterparts, not vampires and familiars. Probably.) Essentially, when you work with a contractor, you want a partner for your company, who understands your needs and can work with you. 
You don't need a task-taker, you need a partner.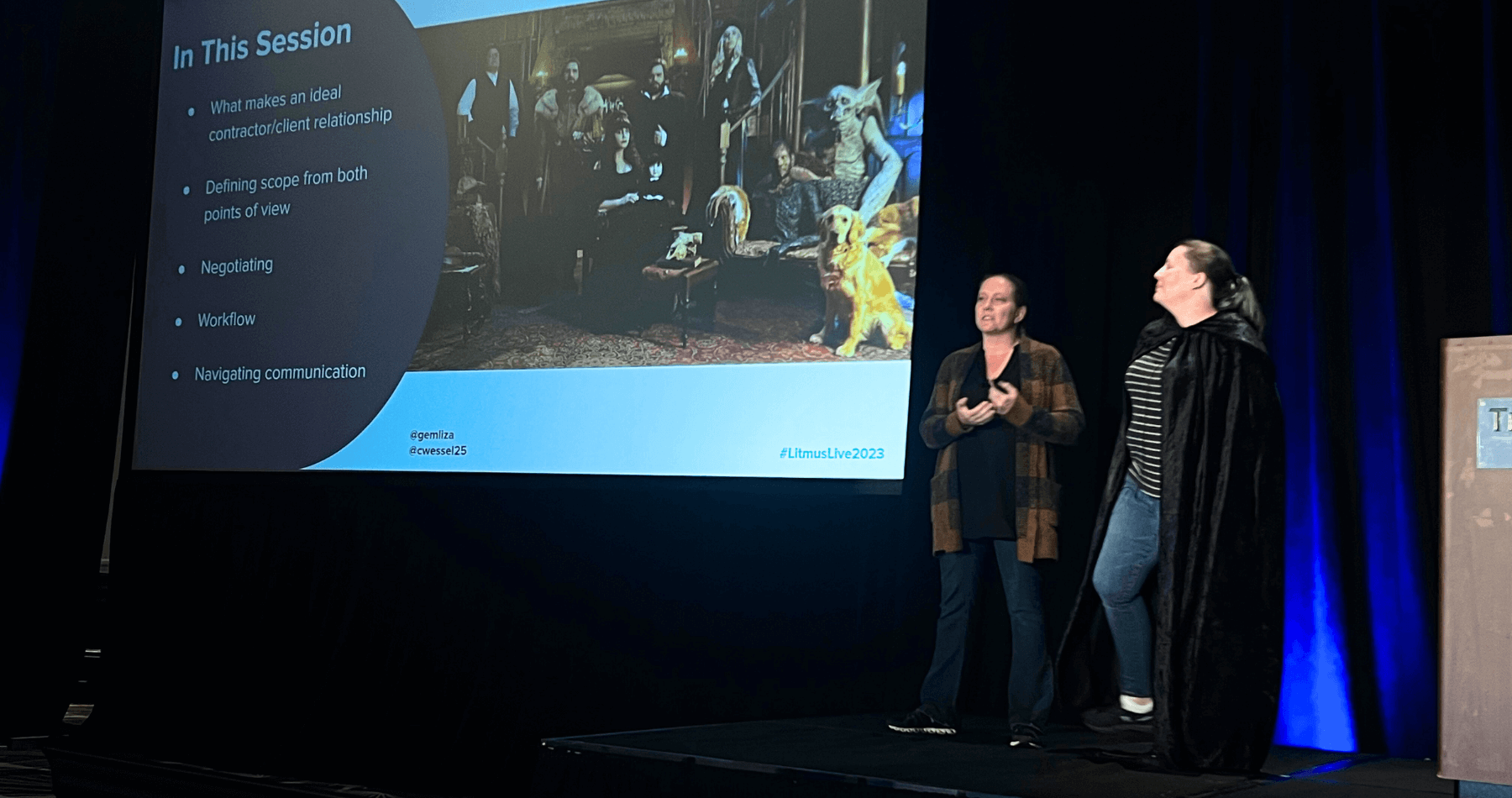 Make sure that when you're working with a contractor, anticipate that there will be some training! All your software, systems, and data are going to take some onboarding in order to make the most of that partnership. But it's definitely worth it. 
Ultimately, a successful contractor relationship comes down to three things: documentation, communication, and trust!
That Tracks: An HTML progress bar build – Anne Tomlin
In this highly technical session, Anne Tomlin unpacked how experienced developers can learn how to use faux position absolute in HTML to create a customized tracker with two to five steps. Yes, this session was inspired by pizza trackers. In fact, Anne got asked to make a "pizza tracker" that needed to be accessible, created with HTML, and used live text for email (aka a progress bar). Tall order? Not for her!
This is super spice @pompeii79! You make coding emails seem so simple 😍 thank you for sharing your coding genius! #LitmusLive2023 pic.twitter.com/Ayc5avqQYW

— Leah Miranda (@fidgetcoder) September 13, 2023
Anne shared how to use Liquid to create rules for how the code changes. It's easy enough that a non-developer could do it! In fact, "You only need two drop-downs to create 17 different trackers". Thanks for sharing your wisdom, Anne!
seeing all the code @pompeii79 had to write by hand for this tracker#litmuslive2023 pic.twitter.com/cd0jHyp0Im

— alex kelly (@alexkellysays) September 13, 2023
Supporting Your ADHD Colleagues – Davida Fernandez
In this insightful session by Davida Fernandez, we learned all about how to better work with our ADHD collegues at work—and busted a few ADHD myths. Memory, engagement, speech fluency, time blindness, prioritization, processing issues are all struggles of ADHD, and there are tried-and-true solutions to each of those issues that you can use to help your ADHD friends. 
Common ADHD struggles – going to get tips to help with these whilst at work. From @DavidaInColor at #LitmusLive2023 pic.twitter.com/kb6EH6zOqd

— ActionRocket (@ActionRocket) September 13, 2023
And the upsides of working with ADHD collegues are off the charts. They're exceptionally creative, highly empathetic, often have a go get 'em attitude, are deeply intuitive, insatiably curious, flexible thinkers, charismatic, and laser focused. All those traits make them innovative problem solvers and powerhouses to have on your team. They just may need a little floor time now and then. And that's okay. 
Creating Awe In the Inbox – Annemarie Dooling
In this insightful session on the Practical track, Annemarie Dooling shared how to inspire awe in the inbox—yes, awe! That feeling of look at the Grand Canyon or an ice cream tower taller than your head… but in the inbox. "Understanding how we can have new experiences that change our line of thinking," she said, "can help us speak to people like people". 
"This is such a big universe and no one's going to remember that you had a typo in your subject line." — Annemarie Dooling
There are three keys to creating awe:
Accommodation

: the concept of making way for new ideals based on new information received

Internal consistency

: understanding our place in the grand scheme of life

Connectedness

: speaking to humans in a way that feels natural to them, to create an understanding of trust
Want to get a head start on any of the above? Increase your own understanding of awe by going out into the world or into nature, and experiencing awe for yourself.
Passing the Baton: Who Will Carry the Torch When You Move On? – Lisa Wester
In this session, Lisa Wester shared how implementing a succession plan can ensure a smooth transition to a new role or replacement team member, plus how to go about it. Succession planning is a focused process for keeping talent in the pipeline—in fact, it is generally a 12-36 month preparation process.
Document your skills today and the critical skills you need to develop your own career development plan, so you can close your skills gap. #litmuslive2023 pic.twitter.com/8Jks8IAY9t

— Jaina Mistry (@jainamistry) September 13, 2023

The top three reasons to have confidence in a potential succession candidate:
Relevant skills and qualifications

Familiar with team dynamics and culture

Demonstrated performance and track record
99.9% of Emails Fail Basic Accessibility Testing, Why? – Mark Robbins & Naomi West
And finally, in the last and perhaps most-anticipated session of day two, Mark Robbins and Naomi West shared their take on why 99.9% of emails fail basic accessibility testing, and what to do about it. We started with the cold hard facts: according to Parcel's Accessibility Report, 64.07% of emails tested had critical issues, and 35.89% had serious issues. That's "Not cool", said Mark. 
"The implications of having inaccessible content is discrimination. You're putting barriers on your content, and that's not cool." — Mark Robbins
What can we do about this? Hire a specialist on accessibility, to start, whether that's an in-house hire or a consultant. You can also learn yourself. 
We're 5 mins in and I'm already in love with this talk @M_J_Robbins and @emailfromnaomi! #LitmusLive2023 pic.twitter.com/7n2GLbn9Dp

— Leah Miranda (@fidgetcoder) September 13, 2023
Here are some accessibility take-homes to put on your virtual refrigerator: 
Add accessibility to your QA process

Start logging issues

Continue learning

Work cross-functionally to attain accessibility
Thanks for sharing your tips, Mark and Naomi! 
And that's a wrap!
We closed with a gratitude open mic wrap-up, where many attendees shared heartwarming moments of appreciation for their fellow email geeks. A few of us definitely teared up… but we shan't say who! It was a pleasure to share those sweet moments of gratitude for this community together.
And that, friends, was Litmus Live 2023. We can't wait to see you all again…but after a few good long naps and some well-earned PTO, maybe. As Logan shared with us all, "Putting together a conference is difficult… almost as difficult as sending an email." Mood, honestly. 
#LitmusLive2023 pic.twitter.com/yLaMuroeKa

— Anne Tomlin (@pompeii79) September 13, 2023
Thanks to all who joined us for this year's Litmus Live, and we'll catch you all next year! 📧