Email was ranked among the top three most impactful marketing channels by nearly 80% of respondents who completed our 2021 State of Email survey. But 70% of them also said their email workload had increased–and 45% are contending with more last-minute email changes than they have in the past.
You may not have full control over all the demands placed on your email marketing team–but you can focus on ways to optimize your email workflow to gain more control over how much time, resources (and frustration) creating impactful campaigns can otherwise take.
Read on for a few ways your team can use Litmus to streamline your email workflows and get the full value out of all the technology tools your teams rely on to create, review, approve and send your marketing emails.
Make it easy for team members access the features they need
Litmus capabilities span email design, development, email testing, email collaboration, review & approval, and campaign measurement. But different members of your email marketing team will use different capabilities based on the role they play in your email program.
Members of your Litmus account can be given different privileges and access to different Litmus features to make collaborating seamless. (Permissions and roles vary based on the Litmus plan type you use).
 For example: 
Enterprise users can assign "Reviewer" access to those who need to view existing emails, spam tests, and campaign results in Litmus Email Analytics. They can also review, leave comments and approve using Litmus Proof–but cannot delete or modify anything in the Litmus account.
On the other hand, a person with "Code Editor" access has read-only access to the Design Library, so they cannot cannot create, edit, or delete Templates, Partials, or Snippets. But, they can still edit code elsewhere in Litmus.
Customizing Litmus access based on each team member's role on the email marketing team can eliminate the potential for error and streamline your processes from start to finish. Your team members will have access to the tools they need to complete their respective tasks quickly, without getting bogged down with functionality they don't need.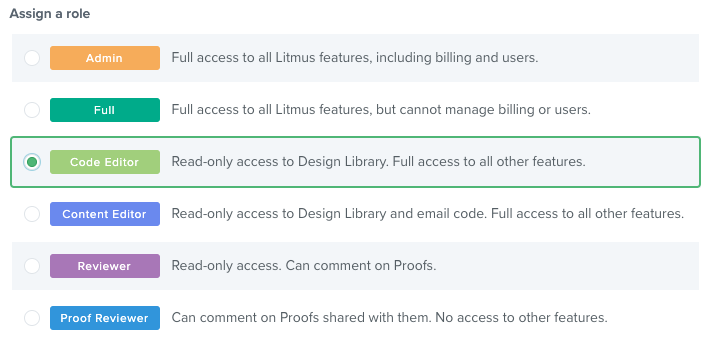 Take advantage of Litmus integrations
When you integrate Litmus with your existing tech stack (including email service providers (ESPs), popular code editors, and other productivity tools like Slack and Trello), you can instantly build efficiency into your email workflow. And with our newly launched Integrations Marketplace, it's never been easier to find and manage the integrations that are available based on your ESP or marketing automation platform (MAP)–and activate them from one location.
If your team interaction will be limited or sporadic, the easiest way to incorporate Litmus into your team's project management software is with links. Attaching Litmus links to a particular task makes it easy for everyone to get to the right spot in Litmus, while providing context for the rest of the project.
You can also choose to send portions of email testing with links highlighting particular issues.
Generating public share links for Builder files/Proofs can also streamline your email workflow. (and avoid the back and forth conversations when someone didn't get a link, or can't access it!)
Tailor email workflow processes based on where your team builds 
Does your team's email workflow involve building emails inside of Litmus–or outside of it?  Our customers vary in which path they use, and the email workflow processes will vary based on where the "source of truth" for email code resides.
Recommended email workflow if your team builds inside of Litmus:
Sync each new email to your ESP as soon as you create it in Builder. Any changes made to a synced email in Litmus update in your ESP. Setting it up first means you don't need to worry about it later.
Build out your design library. The design library houses your team's templates, partials, and snippets. Teaching your team to use these will save precious time and be helpful should you ever move to a new ESP.
Recommended email workflow if your team builds outside of Litmus:
Emphasize using test email addresses. Test email addresses are how you'll send emails into your account for quality assurance testing. Using the right test email address will make everyone's life easier.
Use a Wiki to document email files and templates. If your team doesn't use Litmus as your primary design library, you can still link to Litmus in your documentation. At Litmus, we keep track of all our templates, snippets, partials, with a Google Sheet. This helps us keep track of where they're implemented, if they're sync'd with our ESP, when they were last updated and links to the files in Litmus Builder. Adding these links raises Litmus' visibility in the team and allows us to quickly locate and make changes as needed.
 Understand (and use!) Litmus email tests
Email client apps update about every two days, so testing every email is essential to make sure expectations match reality with every message you send. For most teams, sending a test email to yourself, your team, or your shareholders is a standard part of email workflow. But, team members who provide the final check and seal of approval on an email can quickly get overwhelmed with scattered versions and comments.
With Litmus, each account has designated Litmus email addresses to send test emails. Instead of creating a new email in Litmus, your team can send an email draft to the Litmus test address, to add the email to your account. By using a different type of test address, you can make sure your email is attributed to the correct team member or organized in the correct folder quickly and easily.
Here are some of the test address types your team should know:
Personal test email addresses. Each user has an email address, which is useful for tracking who created and sent which emails.
Project-specific test email addresses. Projects and folders keep everything in your Litmus account organized, and each has a designated Litmus email address. Sending emails to these addresses automatically sorts drafts into the correct spot.
Using Litmus capabilities to test email addresses. If you're testing and editing a single email, send a test with the address for that message within Litmus Test or Litmus Proof. That way, the new version will overwrite the previous version instead of having multiple copies of the same email floating around.
Finding the perfect email workflow is an art and a science, but finding your stride can have major benefits. Need some inspiration? Learn how Litmus customer VSP was able to save 100 hours per month by streamlining email processes.
Pixel perfect, every time.


Integrating Litmus into your email workflow helps your emails be pixel-perfect with every send—ensuring they're on-brand and error-free, every time.
This article originally published on November 11, 2020. It was updated to include additional information on August 5, 2022.