Let's celebrate! Email marketing has an ROI of up to 45:1 for some industries, but it's also a whole lot of fun. Aside from the typical celebrations like holiday emails, teams have an opportunity to make subscribers feel recognized on their special days.
Automated milestone emails for special occasions like birthdays are an opportunity for brands to connect with subscribers one-on-one and have a bit of fun while doing it.
What are milestone emails?
Milestone emails celebrate an important day in your subscriber's life or the customer lifecycle. If you consider sending a card to a friend for an event, you might email subscribers. Since your subscribers could have milestones any day, setting up email automations for these messages makes sense.
Common examples of milestone emails include:
Your subscriber's birthday
A company milestone
The anniversary of a customer buying from you
A product anniversary
How to create the best celebration emails
Just because celebration emails are lighthearted doesn't mean there aren't rules to follow. To get the right mix of fun and function, keep these best practices in mind:
Remember the relationship. No amount of email personalization can make you and your subscribers actual BFFs, so keep your message appreciative and polite. You can also personalize messages based on how long they've been a customer or past purchases they've made.
Make the message worthwhile. Subscribers likely expect a discount or freebie alongside your well wishes. If you don't have an offer, keep the message short and experiment with fun designs or animations to surprise and delight.
Celebrate the subscriber. Avoid making the message all about your brand, or else it'll end up feeling like a thinly veiled sales pitch. The subscriber is the reason to celebrate! If you're recognizing a company milestone, make sure to thank customers for their involvement.
Here are some of our favorite milestone email examples
At first glance, something like a birthday or anniversary email feels pretty cut and dry. There are plenty of ways to get creative and experiment with your strategy. To help you feel inspired, we've rounded up examples across five different subcategories of milestone emails.
Birthday emails
Subscriber birthday
Birthday emails are some of the most common celebration messages. For that reason, your subscribers might get a lot of promotions in the days leading up to their birthday. One way to cut through the noise is to experiment with sending birthday messages before or after the actual day.
Outdoor Voices sends a half-birthday email with a discount code. Their reasoning? "Half birthdays don't get enough love these days."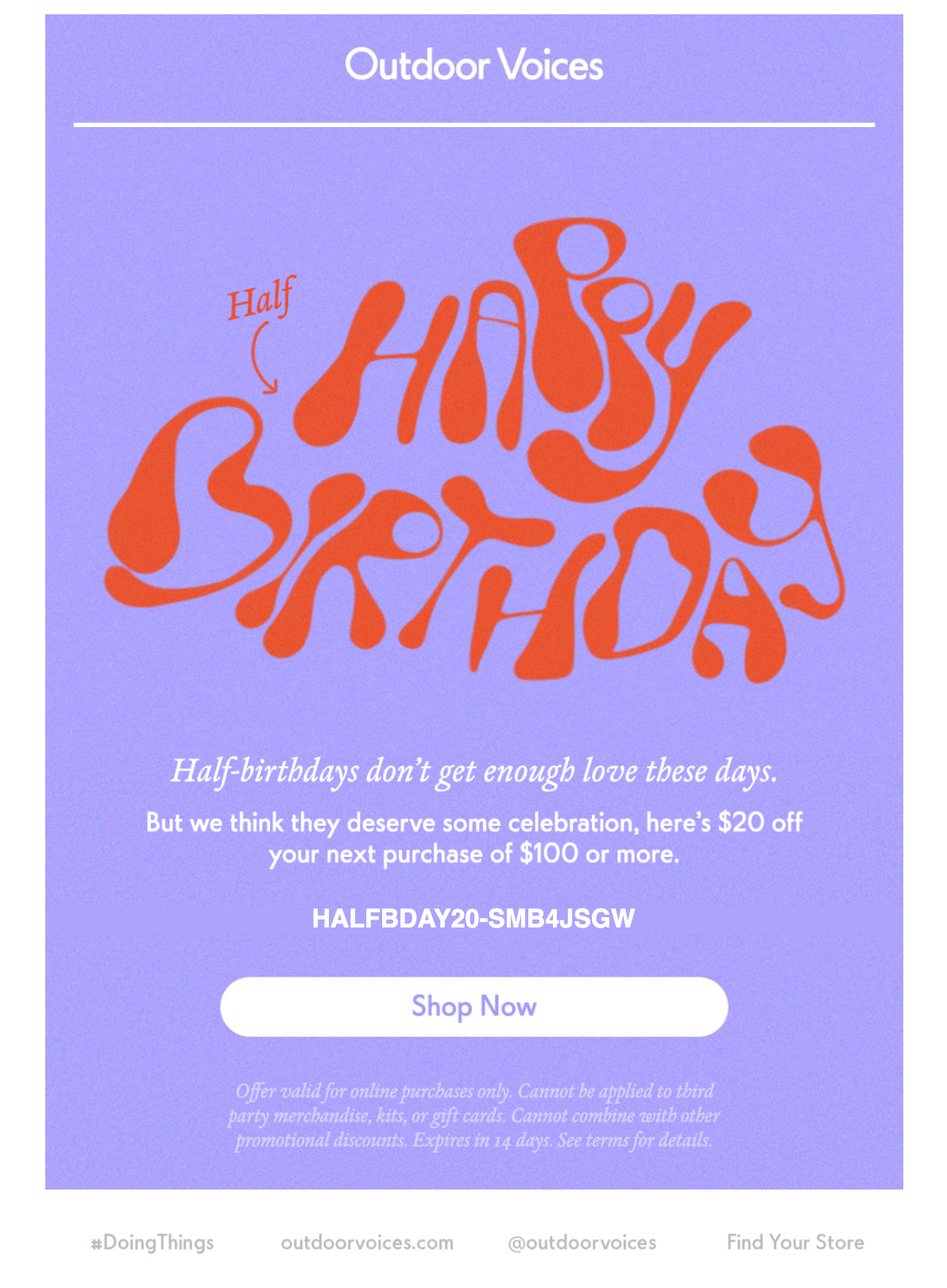 Then, the brand offers the same $20 off $100 purchase after a subscriber's birthday. Waiting to send the deal until the confetti has settled gives people a chance to use the offer with any gift cards or birthday money they received.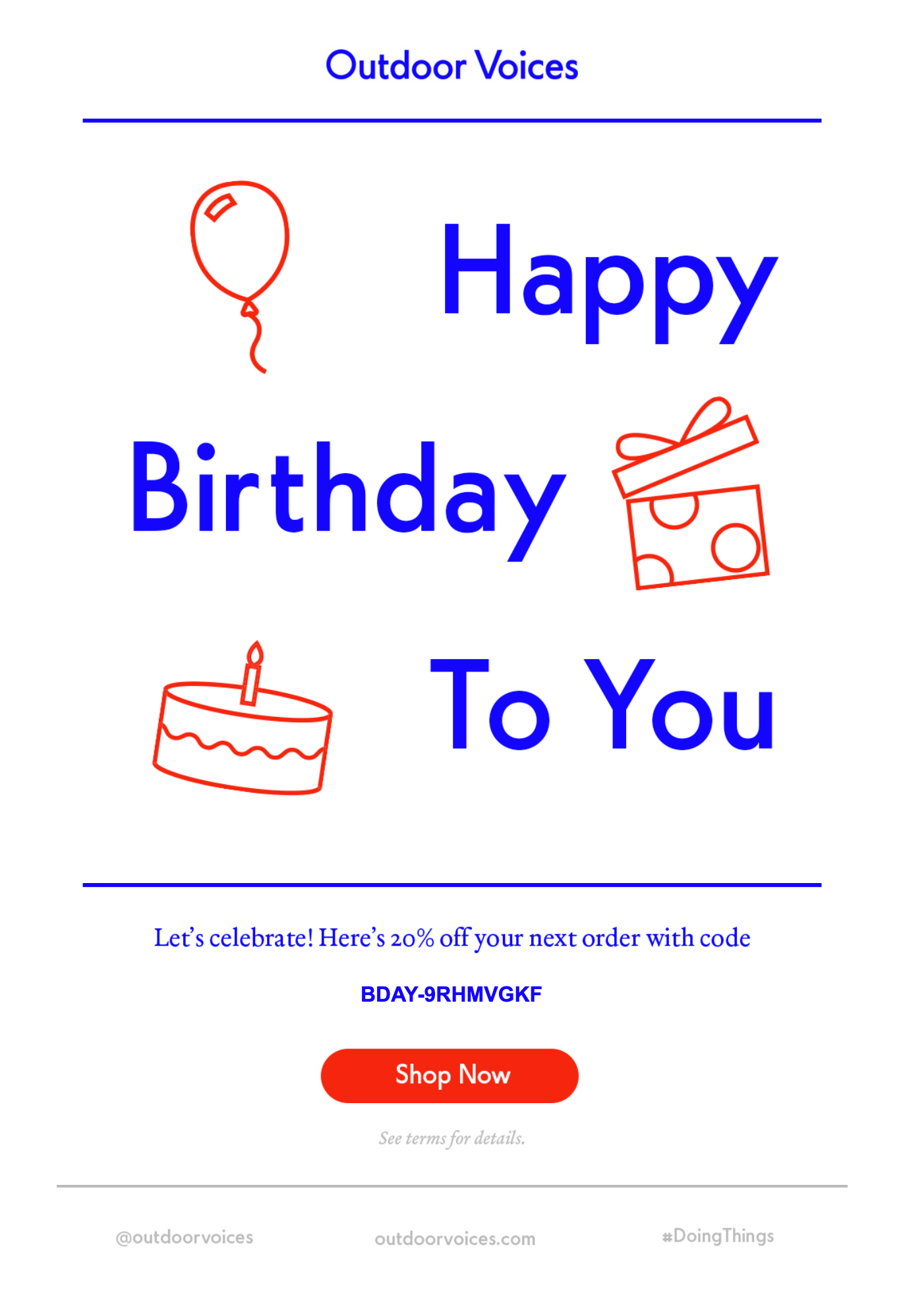 Other brands, like First Watch, like to slide into the inbox just before a subscriber's birthday. Their buy-one-get-one "brunchday" offer gives people a reason to add the restaurant to their birthday itinerary.

Company birthday
Your subscribers aren't the only ones who can celebrate a birthday! Some brands take the time to acknowledge their company birthday (or "anniversary," depending on the brand). Paula's Choice celebrates its founding by offering a product discount and quantifying the brand's accomplishments.

The Cosmopolitan of Las Vegas takes a unique stance on what to put in a birthday email. Instead of a direct offer or discount, the company created a trivia game. Don't worry; the company noted that everyone wins a prize.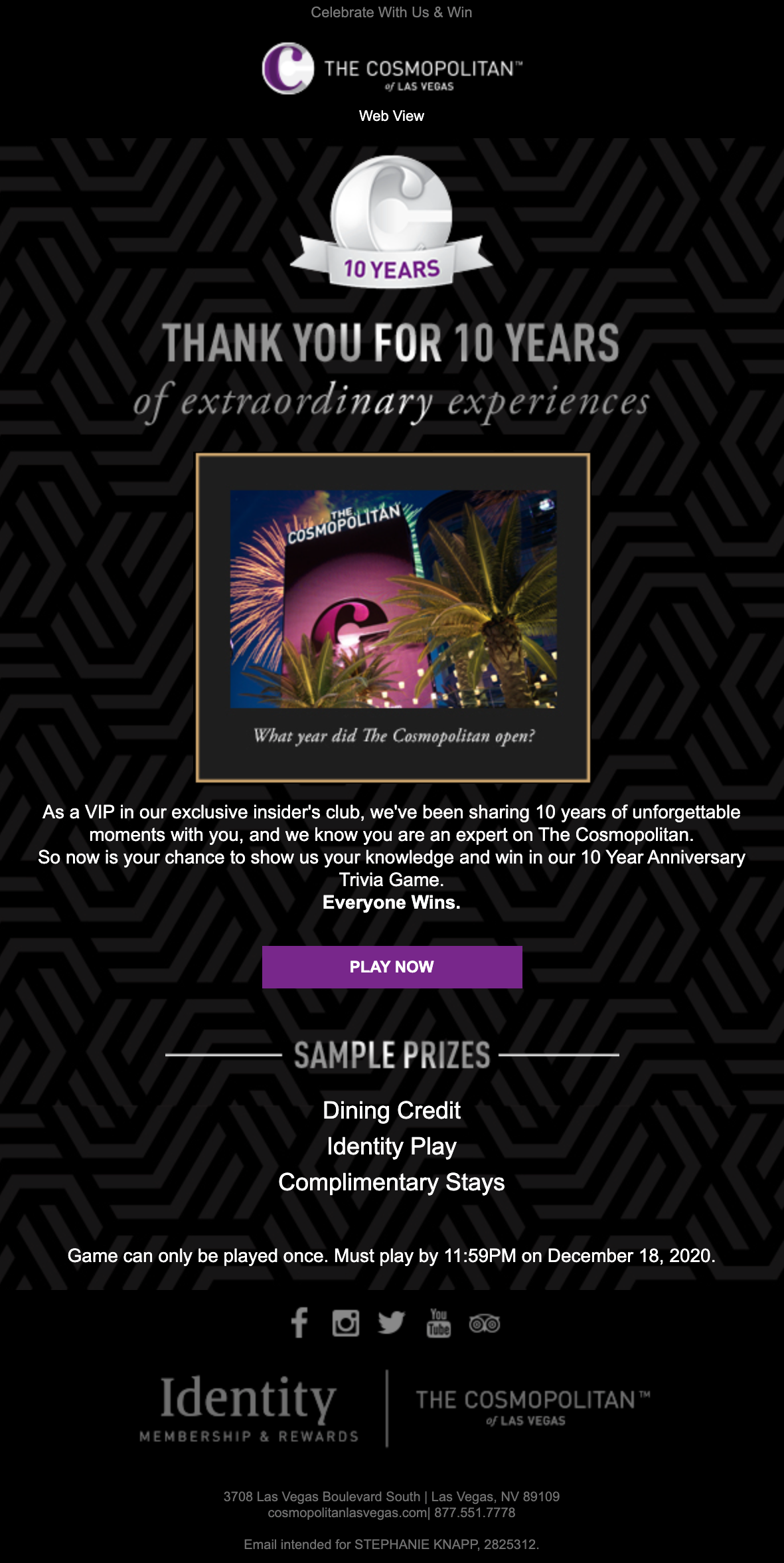 Anniversary emails
User anniversary
If a customer has stuck around with your company—celebrate them! SurveyMonkey lets users know when they've hit their first anniversary with the company. User anniversary emails are a great place to pull in personalized data about their past purchases or activity and encourage them to keep it up.

Wemo uses the customer anniversary as a time to offer a discounted upsell. Since the customer has had time to use and enjoy the product, an anniversary is a good time to pitch a second purchase.

Product anniversary
Brands can also celebrate progress by acknowledging a product or feature anniversary. The United Postal Service sent a message to My Choice service users letting them know the 10th anniversary of the portal was approaching. The email thanked users for their support and teased upcoming promotions.

Farmacy took a similar approach by offering a discount to celebrate a new product's first anniversary. The message is a product introduction (or re-introduction) with a limited-time offer for free shipping on any order with the product.

Grand opening/reopening
Not every milestone email is a candidate for automation since they could pop up at any time. Businesses that reopened their doors after COVID-19 restrictions can let subscribers know their doors are open once more.
The Golden State Warriors alerted fans to the reopening of their Oakland facility for in-person children's programs. While they had info about classes to get everyone excited, they also covered safety procedures to keep everyone informed.

If your business operates multiple locations, you can use localization to personalize reopening announcements. Apple sent a "Grand Reopening" message with details about the place, time, available services, and promotion for the first 1,000 customers.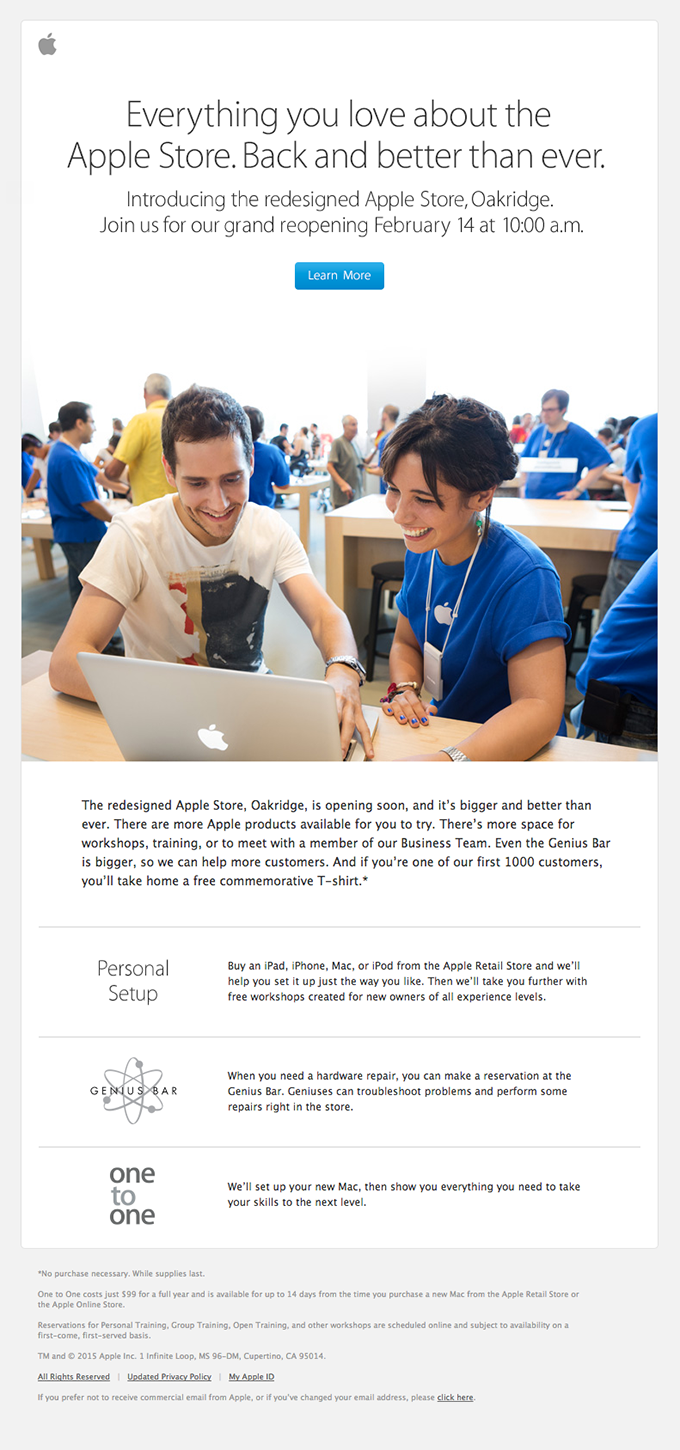 Create efficient milestone emails
Celebratory emails drive engagement and sales, but they aren't the cornerstones of your email marketing program. That means you probably can't dedicate as much time to these campaigns as you typically would for something like Black Friday or Cyber Monday.
Using templates and code modules in a central location lets you make the most of your precious time. When inspiration strikes and you want to create a new milestone email campaign, you can get it into the inbox quicker by integrating testing and collaboration tools.
If you want a head start on your next round of milestone emails, we've got your back. Snag our Subscriber Love Template Pack here.