Back in September, we announced a call for submissions to our 2022 Email Excellence Awards. We received 116 responses from our very talented email community—and the creativity, strategy, skill, and effort that went into the work they nominated did not disappoint!
After a nearly one month long judging process conducted by a panel of email experts, the winners of four categories have been chosen for:
And thanks to votes cast by our Litmus Weekly newsletter subscribers using live poll functionality powered by Litmus Personalize, the "Litmus Choice" winners for Best Email Design (B2B) and Best Email Design (B2C) were selected, too!
Without further ado, please join us in congratulating our 2022 Litmus Email Excellence Award winners. We hope you'll be as inspired by their work (and the stories behind their winning emails) as we were.
Drum roll please…
Most Innovative Personalization (B2B)
Winning Company: Zendesk
Submitting Team: Anne Tittensor, Deepali Kerai, Bhavika Jagwani
Submission Title: CX Classroom 2022 with Buying Stage Specific Targeting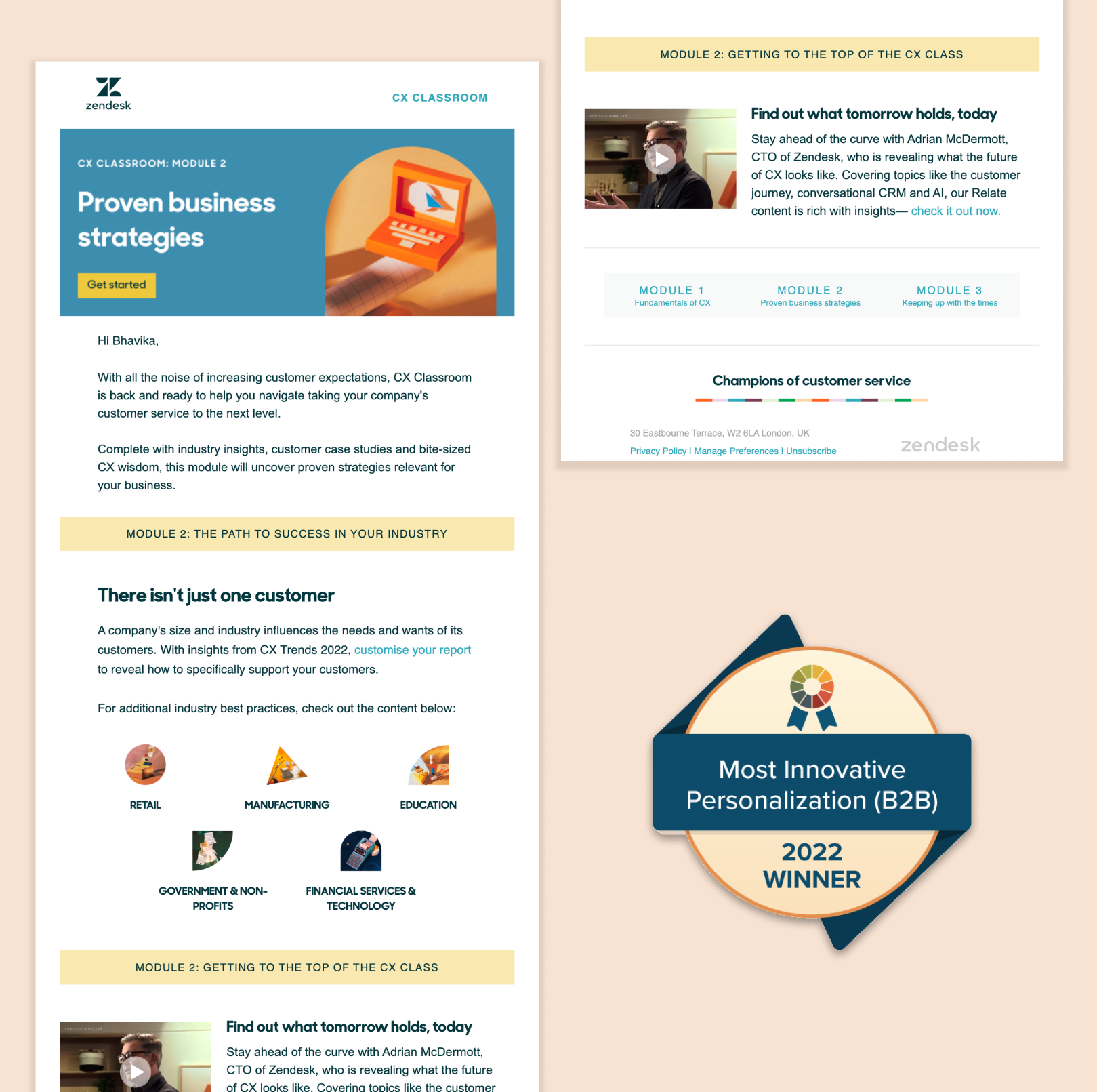 This submission from the Zendesk team claimed our B2B Most Innovative Personalization award this year. They wanted to develop personalized content that would further engage with EMEA EN, DACH & BENELUX audiences, using email to drive traffic to landing pages that hosted existing content from core global, EMEA-specific, and local campaigns/events. They aimed to drive people down the funnel in an engaging way with the theme of "school." The campaign followed a marketing funnel approach, where emails were personalized and featured dynamic content based on the recipient's buyer stage.
Zendesk chose which elements to personalize based on:
1. Database audit
In addition to basic personalization elements like name, salutation, and industry segments, the team conducted a thorough database audit to assess audience size in each buyer stage, and average engagement rates for the last 12 months compared to benchmark. This helped the team identify the areas where email engagement could be improved.
2. Insight from cross-functional teams
The email team partnered with cross-functional partners including customer and regional marketing, social, brand, and public relations to understand trends and topics surrounding customer needs. With this knowledge, the email team prioritized which types of content should be included in the emails, and the best way to present it.
3. Email narrative
The team considered the email recipient journey by adjusting the number and sequence of touches (unique to each buying stage), to deliver a relevant narrative throughout the campaign.
The team's primary goals in using email personalization were to:
Increase brand awareness
Establish industry expertise
Increase overall email engagement metrics against benchmark
The vast majority of emails in the campaign exceeded benchmarks for unique open rate, unique click-through rate and click-to-open rate. Thanks to the landing page traffic generated through the emails, average session duration increased by 255% and the bounce back rate decreased by nearly 27%!
Most Innovative Personalization (B2C)
Winning Company: HH Global (for client Purina)
Submitting Team: Helena Symons, Leanne Moore, Vitanee Oliver, Sarah Harris, Chris Bamford, Karen Bailey, Tony Collinson, Neil Bursnoll, Aileen Raynos
Submission Title: Driving Engagement with Purina Pet Avatars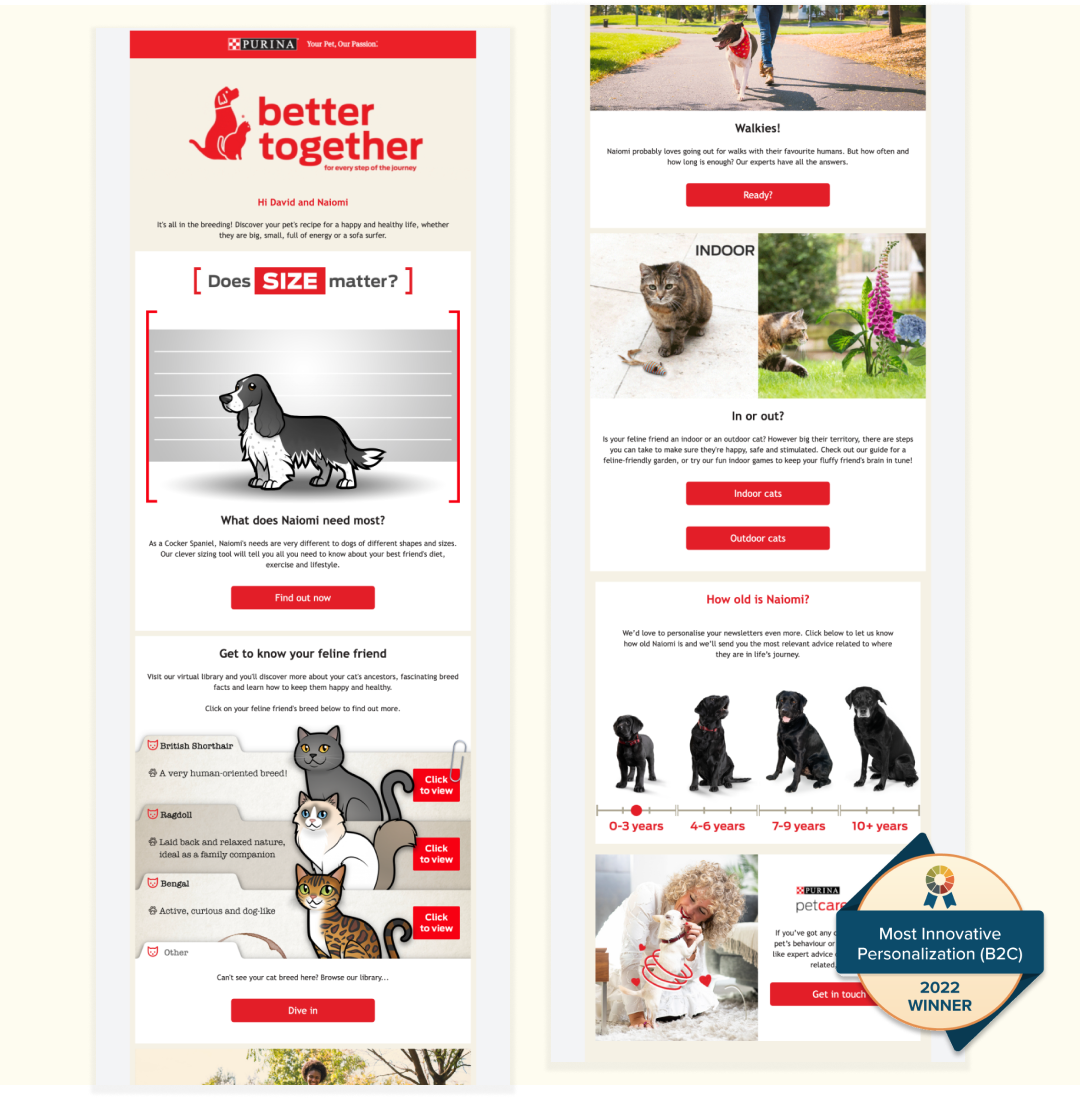 HH Global claimed our B2C Most Innovative Personalization award for its work with Nestlé pet food brand Purina. Beginning in 2021,  Purina worked with HH Global to devise a data capture campaign to drive sign-up to the CRM program, engage and excite existing consumers, and capture pet data.
To do this, the team created an interactive digital experience that gives consumers the opportunity to create digital Avatars of their pets. The pet data captured during the Avatar build process is loaded into Purina's CRM database, allowing the brand to build meaningful relationships with consumers through tailored advice and offers.
For this email, the team dynamically populated consumers' own Pet Avatars into the email's hero module by programmatically generating the image links in the email, using consumers' Pet Avatar IDs. The module focused on the different needs of dogs, driving traffic to an educational landing page specific to their pet. In addition to the Avatar image, copy was personalized with the pet's name and breed.
HH Global chose which elements to personalize based on:
1. Consumer and pet data fields
The team audited and segmented to understand which fields drive response and are most valuable to Purina and the consumer in terms of the ability to personalize communications.
2. Defined set of criteria
The considered criterion needed to build core pet data profiles, including the type of pet (cat or dog), name, age, and breed. It also set up a lower priority set of data fields (like pet gender, color) and indoor/outdoor (for cats) that could be used for future personalization.
3. Data capture strategies
Purina sought to drive personalization through first-party data capture to boost engagement with the brand's email program. These strategies were based on the data fields to improve the quality of consumer information, including the introduction of the Pet Avatar Creator.
The success of Purina's data capture strategy has enabled the brand to send over 400,000 personalized emails each month, with up to 14,000 combinations of content served through a single dynamic email template. The August newsletter surpassed Purina's benchmarks across click-through and open rate, and personalization consistently delivers a 150% uplift in response. The Avatar Creator has also been a leading driver of database acquisition for Purina and provided a great starting point to build an ongoing relationship with consumers.
Best Data-Informed Email Transformation
Winning Company: InVision
Submitting Team: Emilie Vachon, Trina Ng, Stephanie Esplin, Mike MacFarlane, Chris Vandermarel
Submission Title: Using Product Data to Help Increase User Engagement by 42% in Lifecycle Programs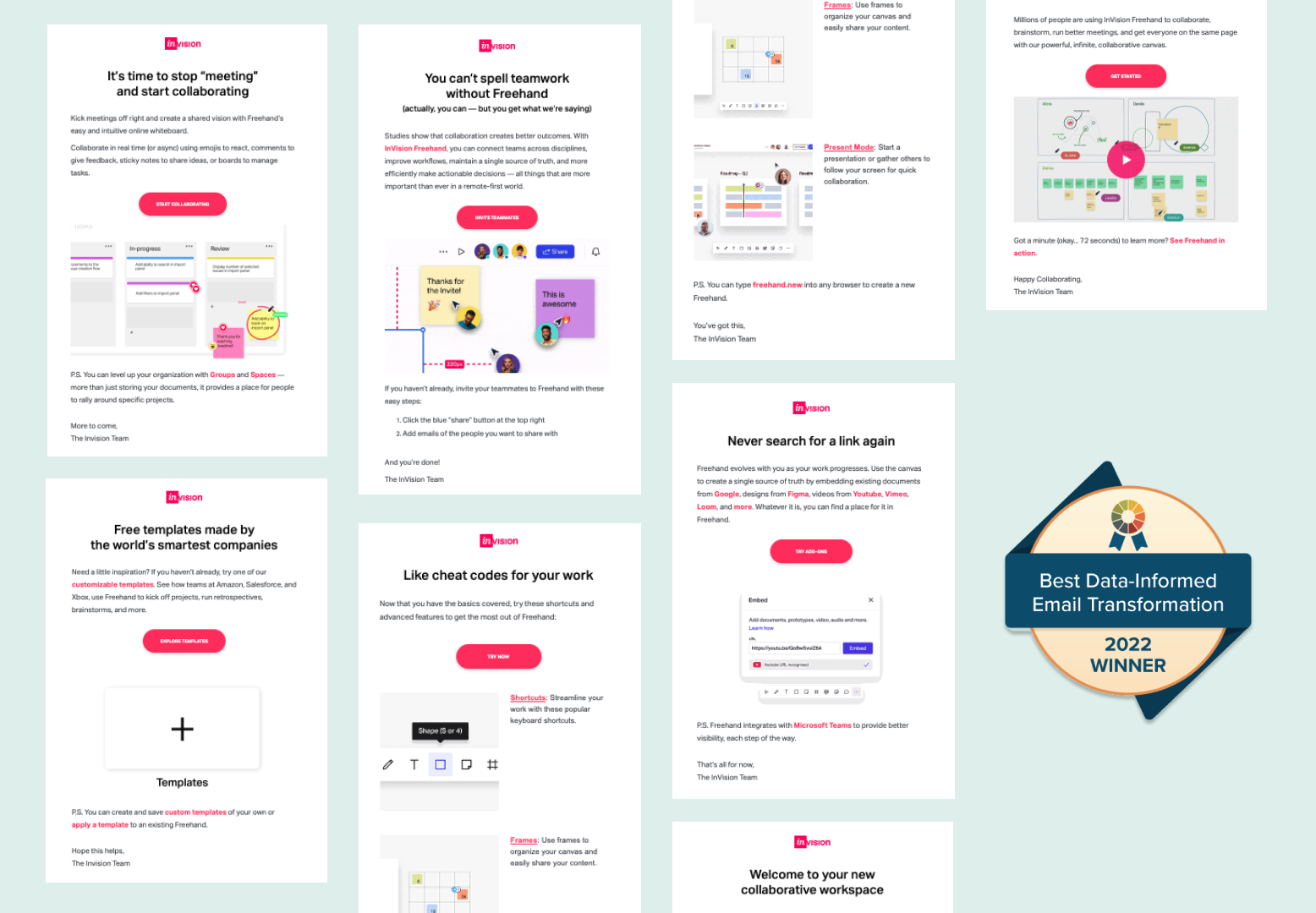 The InVision team's primary onboarding program's goal is to activate users and retain them in its platform. To measure improvement in its email program, it looked at open rates, click rates and product activity; it selected core product actions, paired with product logins, as key indicators of success.
It then applied this data to see what was working well (and wasn't). To increase email engagement, it tested content, layout, sender name, and language within the emails (all at different times), to see which variations increased engagement. The team also highlighted different use cases and product actions to see what would drive users into the product for activation.
Key takeaways from testing:
Reducing the amount of calls-to-action (CTA) in email increased the likelihood of clicks
Getting users into the product at the start of their journey is critical
Best Onboarding Email Series
Winning Company: NCSOFT
Submitting Team: Marianne Ng, Rachel Kamel, Lina Eriksson, Thomas Caprel, Pedro Cano
Submission Title: NCSOFT's 2022 New Player Journey For Guild Wars 2 Increased Logins by 46%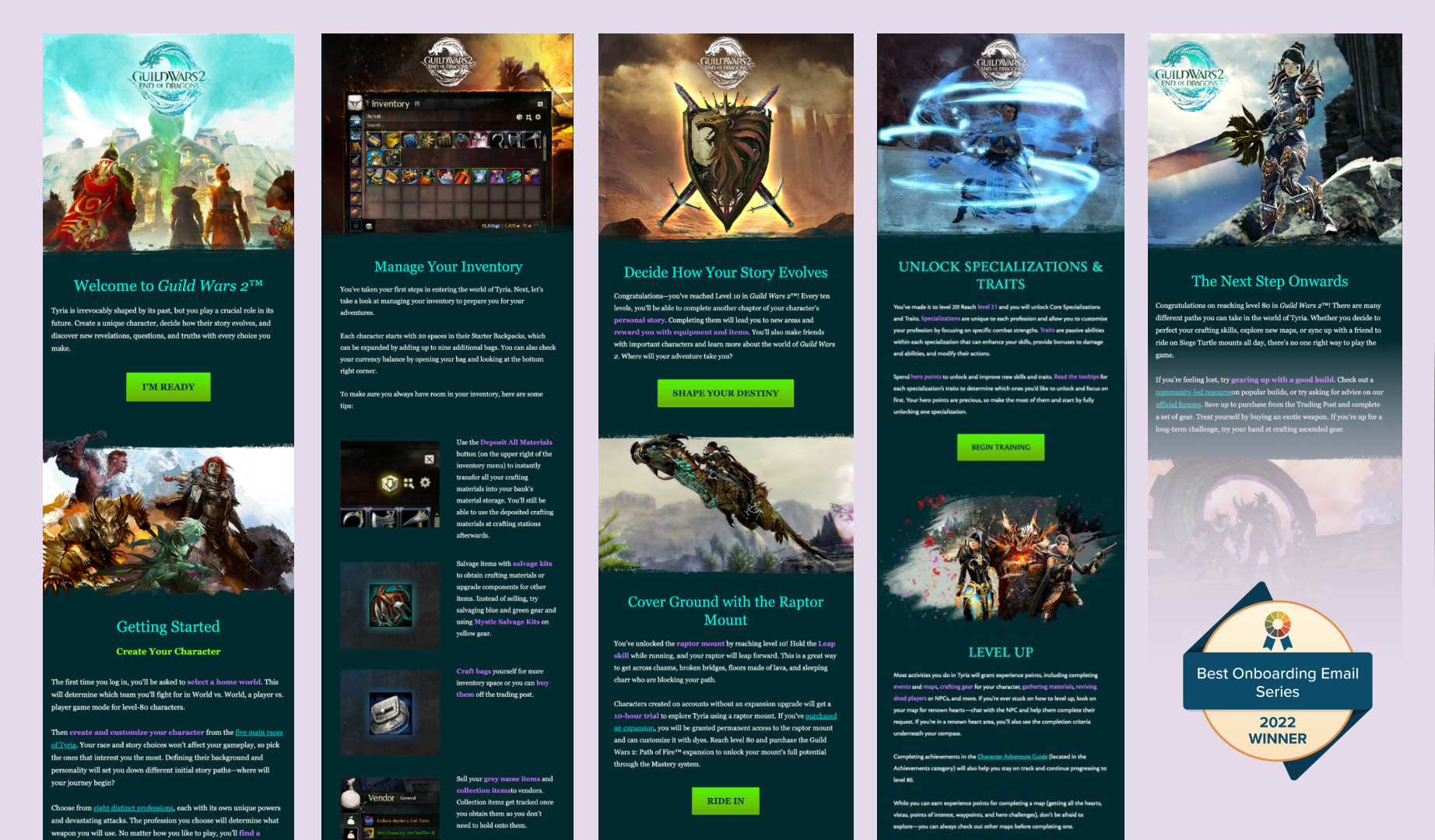 As a video game publisher and developer, NCSOFT is known for games like Guild Wars 2. They include a lot of options for new players–but that can be overwhelming and cause churn. To combat that, NCSOFT's onboarding email series for the new player journey guides players on what to do at different player level trigger points. From the day they log into the game for the first time, the user gets an email letting them know the easiest and quickest way to get started, including tutorial information and links to community-driven player guides.
To make this journey valuable, the team's approach was to help players understand:
What to do when they begin the game
Where to go (the in-game world includes many options)
How to get there in the most efficient way
To do this, CTAs linked out to community resources for players who need an in-depth guide, and offered previews of what to look forward to as play continues. (For example, reaching certain milestones gives players rewards and equipment). It also created dynamic CTAs by audience. If a player had not yet chosen a character, for example, the email would feature a CTA to customize their character and learn about each profession.
The onboarding journey is based on data behind player behavior to analyze how players move through the game–and where they tend to get stuck. Its new player journey has increased logins by 46% and incremental sales by 48%—in the first half of this year!
Litmus Choice Winners
The winners of our Litmus Choice Best Email Design category (for B2B and B2C) were chosen by the readers of our newsletter Litmus Weekly.
Using live polling functionality powered by Litmus Personalize, the email community cast their vote based on suggested considerations like:
Does the email have a clear layout and hierarchy?
If applicable, does the email have enticing imagery?
Does it use easy-to-read fonts and typography?
Are there clear CTAs?
Is the email accessible?
Here are their picks for the two winning email designs in B2B and B2C.
Litmus Choice: Best Email Design (B2B)
Winning Company: Ally Financial
Submitting Team: Cara Couture, Michelle Long, Brianna Batton, Rakeem Anderson, Matt Jerdan, AJ Wood, Taylor Mitchell, R/GA digital design agency
Submission Title: Ally Bank – October Savings Toolkit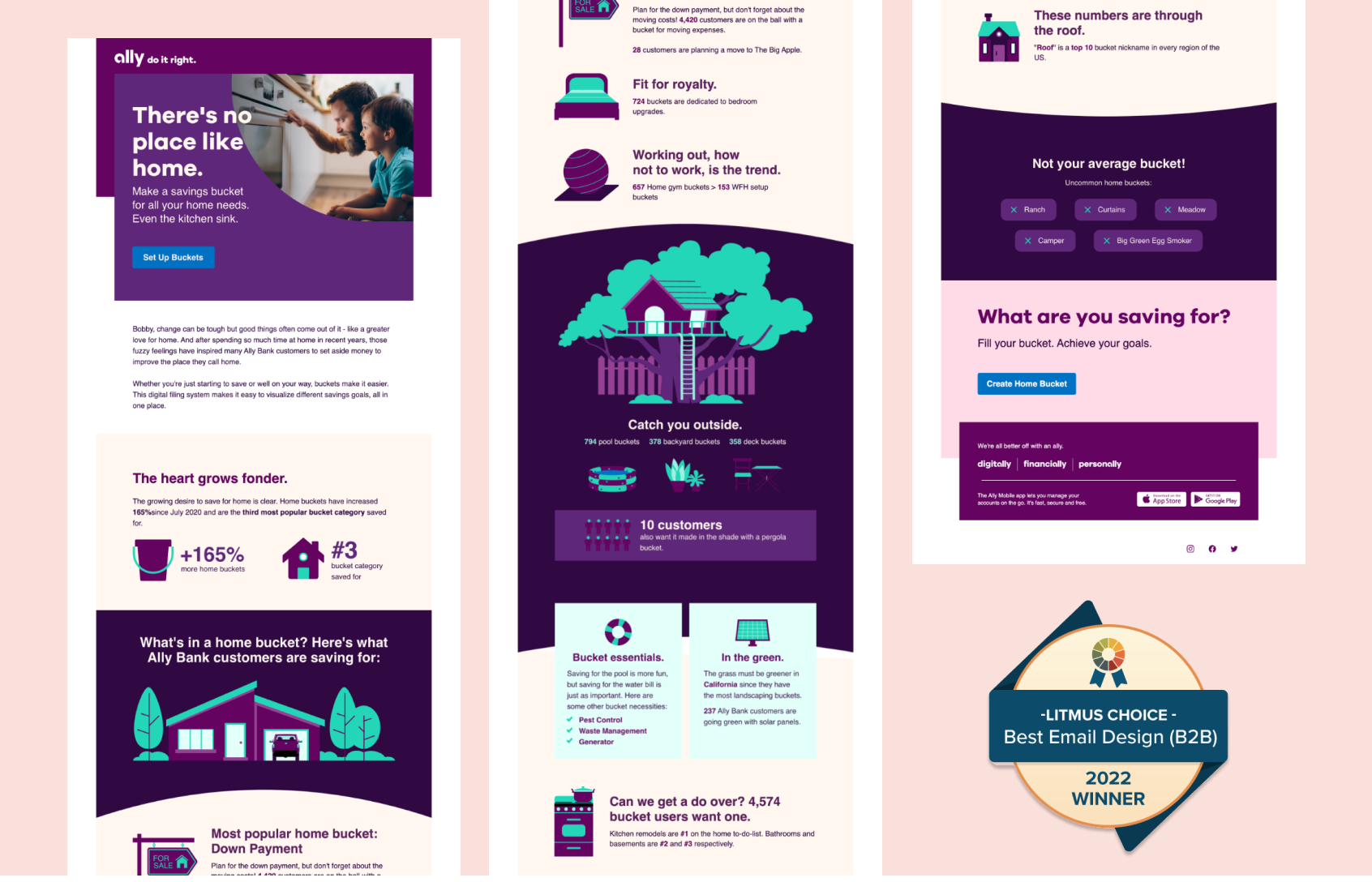 With 53% of the vote, Ally Financial won over Litmus Weekly subscribers to claim the title of Best Email Design (B2B).
Litmus Choice: Best Email Design (B2C)
Winning Company: Lev
Submitting Team:  Kelly Minnick, Cassie Becker, Taylor Comeau, Cat Mears, Frida Salmon, Kate Tinklenberg, Klarissa Smith, Rachel LaFreniere, Sonos CRM and Brand Teams
Submission Title: Sonos Roam Shoppable Email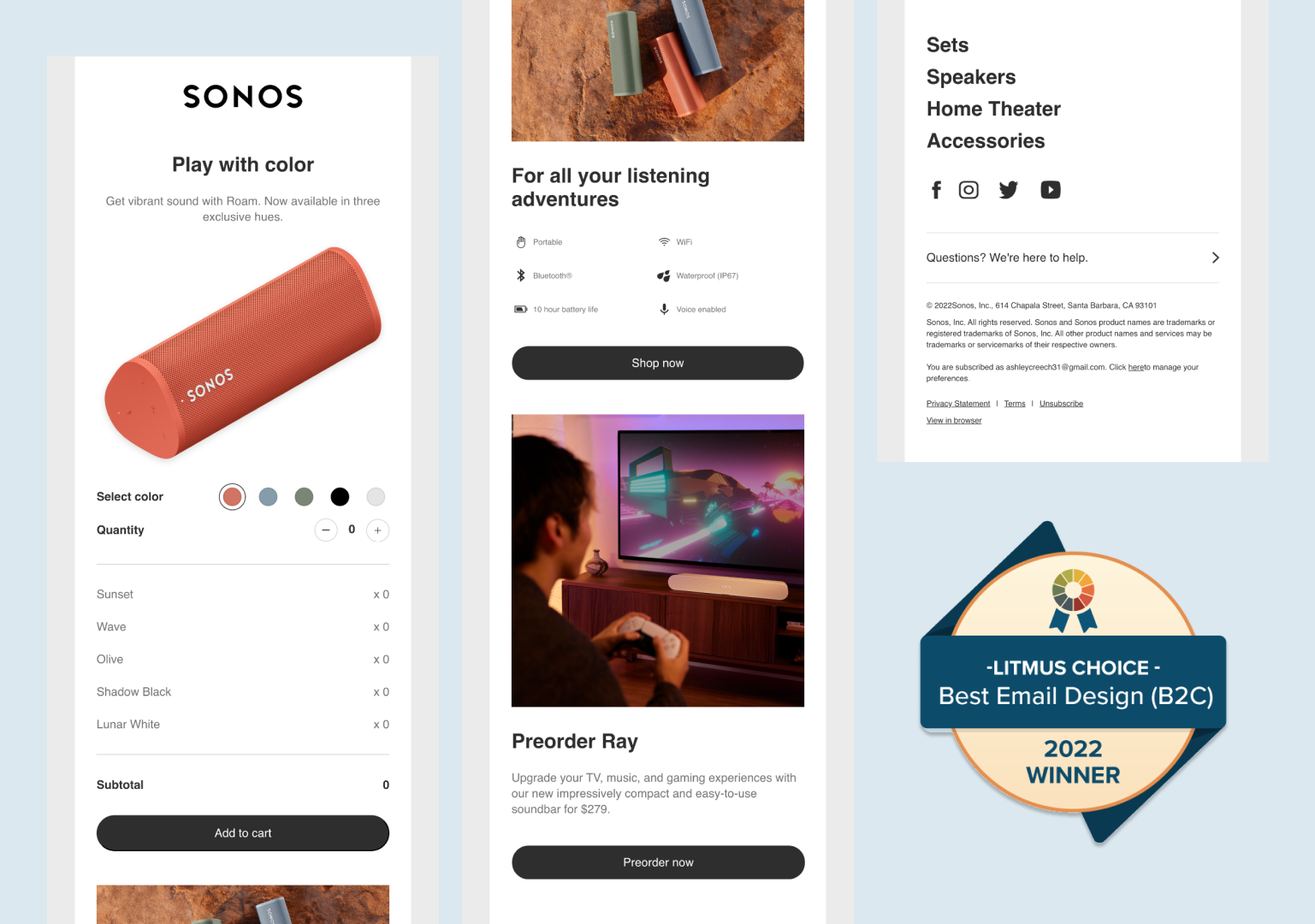 Lev won over Litmus Weekly subscribers with 80% of the vote to claim the title of Best Email Design (B2C).
Thanks for your submissions!
Thanks again to all who submitted their work to our 2022 Litmus Email Excellence Awards.
Want an inside look at what makes a winning email? We break it down in this blog post.