There's a lot to consider before you hit send on your latest campaign or send a new template into the world. With so many variables, opportunities to optimize your emails can hide in plain sight. 
It's a bit like starting a home project and promising to come back to it later. The busy-ness of life sends the details to the background, and you get used to how the half-finished room looks. 
When you create emails day in and day out, it's tempting to look at bigger and more exciting ideas. Sometimes, it pays to go back to basics.
Here are some tips and best practices that I keep in mind as Litmus' email developer, across six essential parts of an email. 
Carve out some time for an email check-in—and see where you may have opportunities to optimize.
6 email sections to optimize 
Don't know how to optimize your emails? Start at the top. Review your current email templates one section at a time to ensure you don't accidentally skip something.
1. Envelope
An email is just a virtual letter, so it makes sense that there's an envelope. The email envelope contains your subject line, preview text, and sender name. The job of these elements is to encourage someone to open the email; the pieces need to work together. For example, Paula's Choice sent an email about their vitamin C serum with the subject line '3 Things to Know About Vitamin C 🧡' and '#3 is v. important' in the preview text.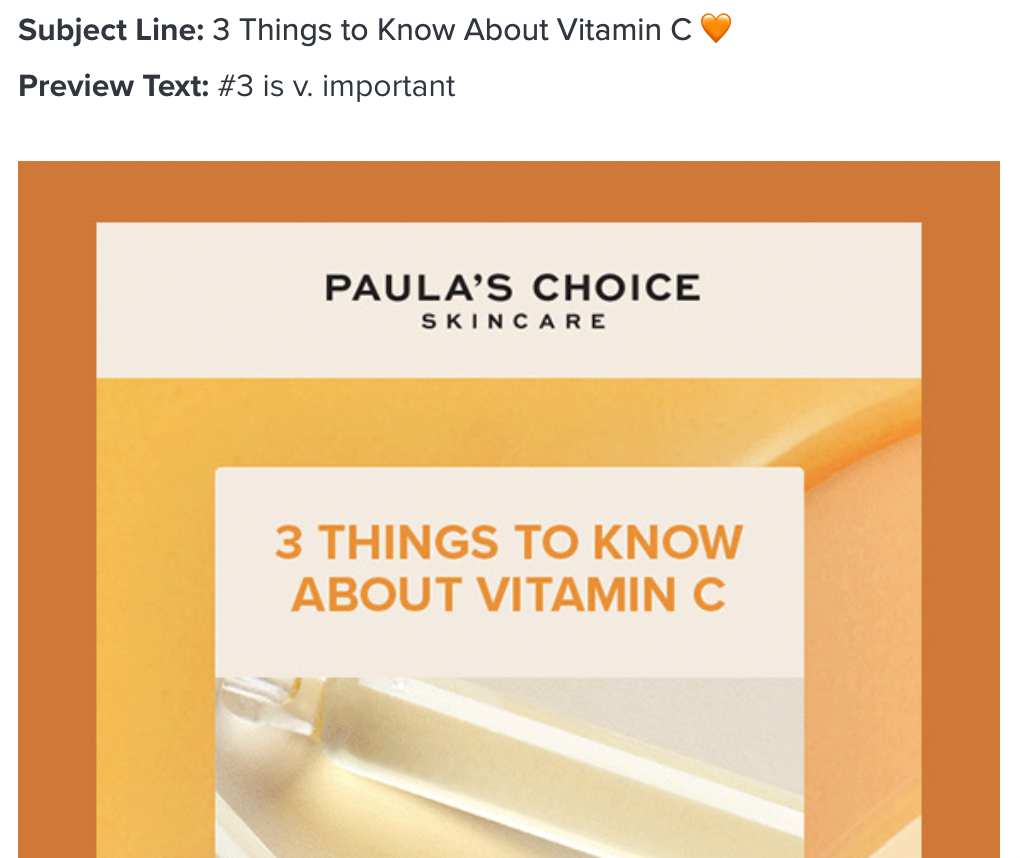 Tips for optimizing your email envelope:
Make your sender name welcoming—don't use a 'no-reply' address

Use a sender name that's obviously from your brand

Don't stress about words that trigger spam filters (they don't really

impact your email deliverability

)

Coordinate your subject line and preview text, like the preview text answering a question in the subject line or both setting up a topic that the email continues

If a message is 'from' someone on your team, make sure the email actually looks like it's from a person

Don't use 'Re:' or 'FWD:' in your subject line. Your emails should build trust, not deteriorate it.
Read more: The Preview Text Hack You May Want to Use in Every Email
2. Header
When a subscriber opens your email, they'll first see your header underneath the envelope information. You have a few options for how to set up your header, but most headers should at least include your logo. You can also make your header dynamic, for example, our newsletters have a dynamic link in the header. If the subscriber is a Litmus customer, there's a login button. Non-customers will see a 'View online' link.

Other things you could include in your header section include social icons or menus. I'm not a fan of including social media icons unless they're directly related to a call to action. And menus are only good if they fit the message of your email. But if they're necessary for your brand, the header is an OK place to include them.
Tips for optimizing your email header:
Hiding your preview text won't trigger spam filters, so leave it out of the header.

If you want to use navigation in your email header, restrict it to desktop opens. Real estate on mobile is much smaller, it's better to put your message at the top and move the menu to the footer.

Make sure the font, size, and color of your header contents are

accessible.
Read more: Modular Starter Template: Header with centered logo
3. Hero
Your email hero is a visual element—typically an image, animation, or text header that sets the tone for the email. Because of its size and location, subscribers might look to the hero first and foremost, so it should explain the message. Schoolhouse used a header, text, and CTA button with a background image to create a cozy mood in their email.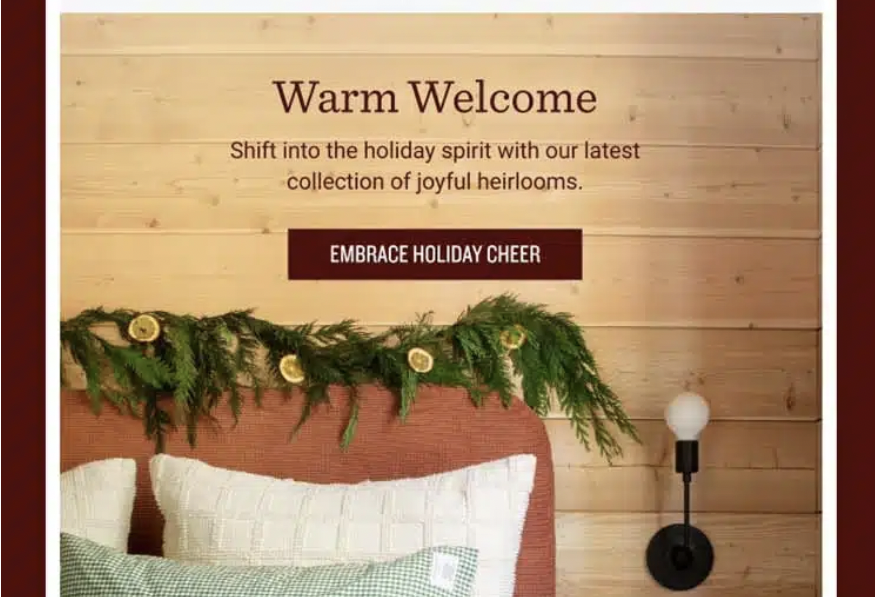 Tips for optimizing your email hero:
Always use retina images for photos and set width and height attributes. Outlook doesn't render CSS styles, so without attributes in place, your images will be blown out.

Use an

inverted pyramid design

for text-based headers with a header, subheader, text.

Make your headline and/or hero image clickable if your header doesn't feature a CTA
Read more: The 102 of Email Code: Working with images
4. Body copy
If your website is like a digital shop, your email is the display window that attracts people.You don't need to explain everything in your email, just enough to drive a single action. Drizly kept their copy short and sweet while still giving necessary dates and details.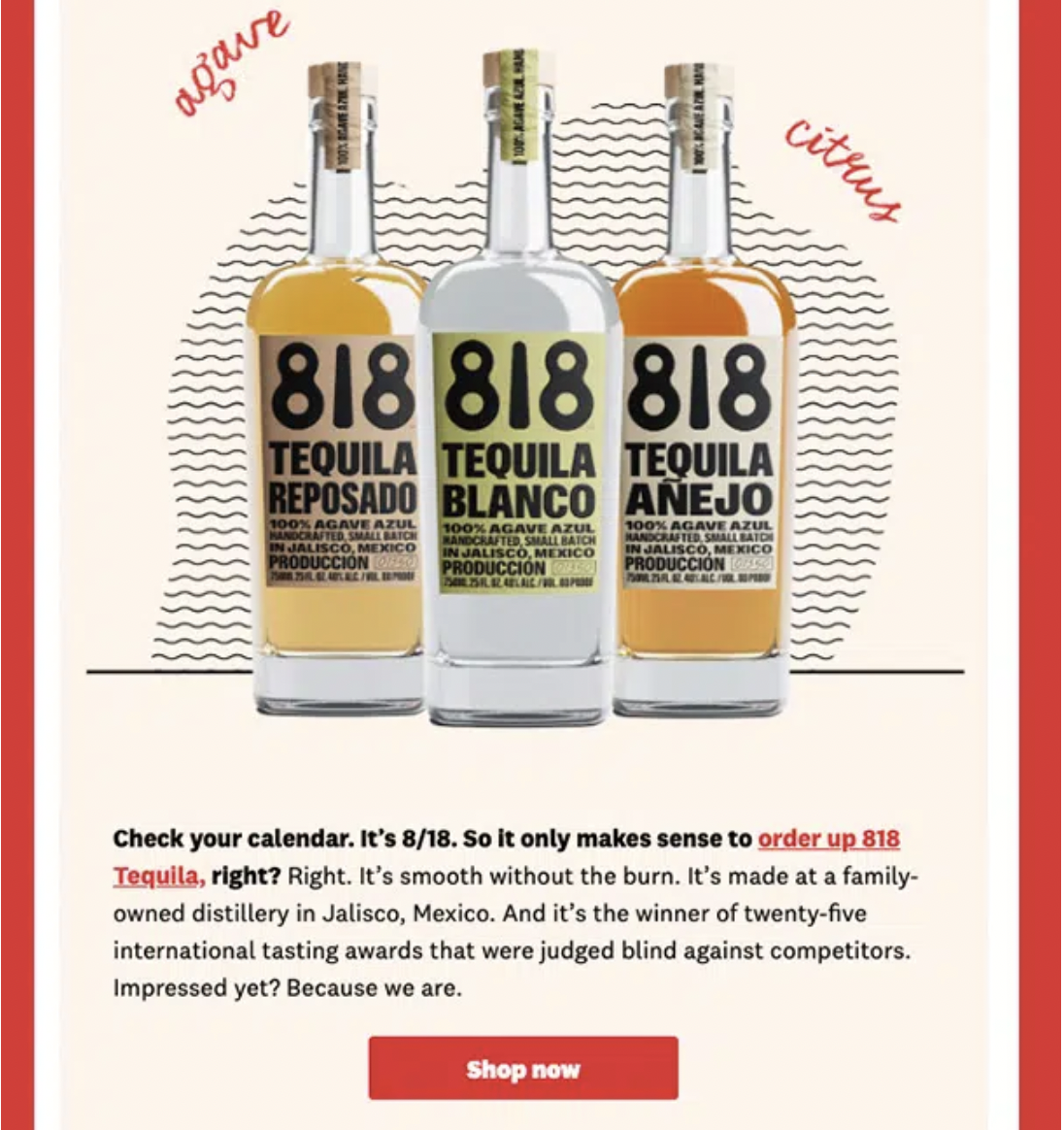 Tips for optimizing your email copy:
Use live text in a

web safe font

. You can add web fonts where supported, but it's better to create an accessible email than one with subtle font changes that most people won't notice. 

Keep your copy concise

and left align your text if it's more than three lines long

Use the '

rule of three

' to create engaging and scannable

ordered lists

Take advantage of

white space

Use semantic code to denote headers and paragraphs

Break up more text-heavy emails like newsletters with images or offset quotes
Read more: How to Use Dynamic Email Content to Increase Engagement
5. Calls-to-action (CTAs)
Hick's Law states that the more options you give someone, the longer they take to decide. So, wield your CTAs thoughtfully and use bulletproof buttons to ensure everyone sees them. For example, ILIA used a little bit of copy and a clear CTA to direct subscribers to their website.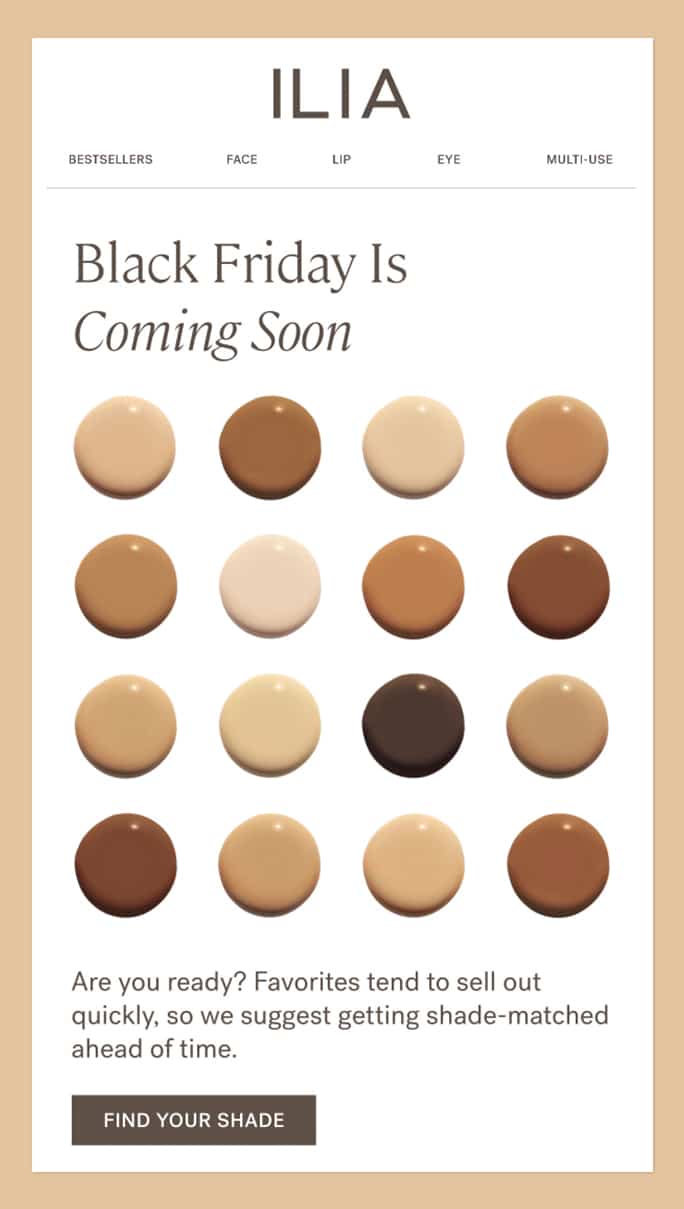 Tips for optimizing your email CTAs:
Use

Litmus Personalize

to dynamically update which content and CTAs a subscriber sees based on their past actions

Make sure there's visual interest pulling subscribers to the bottom of the email if that's where your CTA is

Linking the same page in multiple spots gives you a fallback in case one link doesn't work. Make sure to change up the copy on the CTAs though to avoid being repetitive. (Don't forget, you can use Litmus to

automatically check links

before you send, just sayin'.)
Read more: Guide to Calls-To-Action (CTAs) in Email Marketing
6. Footer
Your email footer wraps up your message and holds important bits like unsubscribe links and legalese, but it can be fun, too! Litmus Weekly emails always include 'Made with ❤️ using Litmus' but you can even switch up the message each week.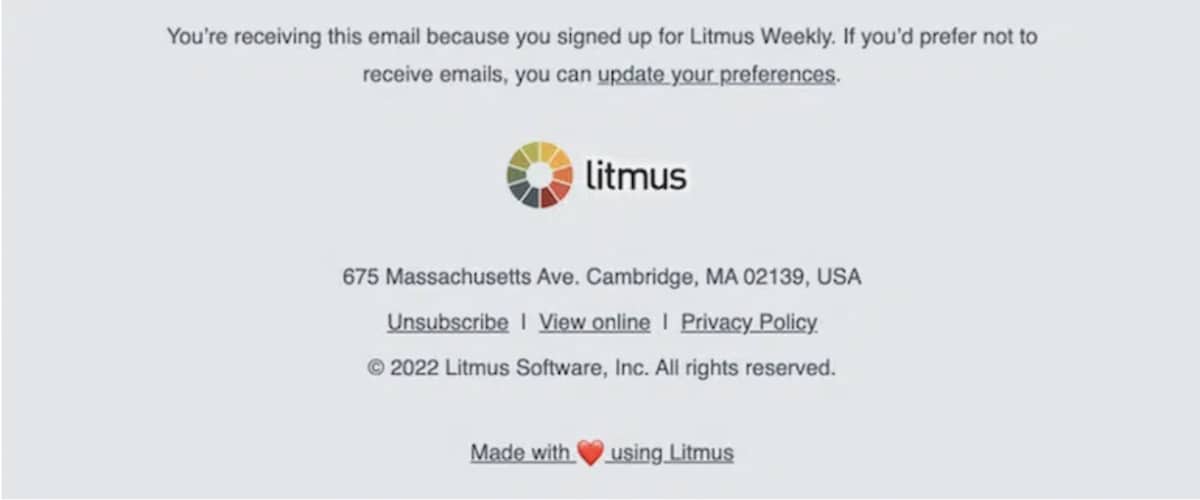 Tips for optimizing your email footer:
Make your unsubscribe link visible

Put your address in the footer

If you don't want people to reply to the email, tell them how they can contact you

If your 'view in browser' link isn't in the header, put it in the footer

Keep your footer organized and readable

Don't be afraid to have a little fun and show personality in the footer
Read more: 12 Email Footer Design Best Practices
Above all… test!
Everyone should test every email. Testing is the best way to ensure that all your hard work shows up exactly as you intended in the inbox. Litmus Previews and QA let you preview how your email will appear across email clients and devices, check links, ensure accessibility, measure load speed, and check for potential spam issues.