Read Time: 4 min
Test and preview emails without ever leaving your ESP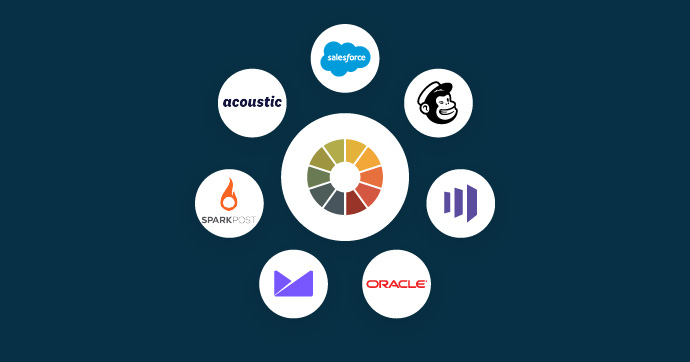 Switching back and forth between tools can be a hassle—and such a time-suck. 82% of marketers lose hours a week juggling different technologies according to the HubSpot Global Tools Survey. But when your marketing tools are connected, information seamlessly flows from one to the other so you can automate manual tasks.
Did you know you can build, do quality assurance (QA) testing, and analyze emails inside your favorite email service provider (ESP) or marketing automation platform (MAP)? No more switching back and forth between tools. Did I just hear a collective, "Yes"?!
That's right—Litmus lets you do all of that all in one place for a more efficient, seamless workflow across your entire organization.
Seamless. Workflow.
Saving time is a snap when you can catch and fix costly errors while you build within your email platform. And if you need to hop into Litmus separately, any code changes you make will automatically sync to your ESP or MAP so nothing gets lost in translation. Finally, your team will get some time back to focus on innovative strategies instead!
We currently integrate with:
SparkPost
Campaign Monitor
…and more!
Interested in the power of Litmus within your ESP?

Let's chat. We're happy to help—whether that's answering your questions, showing you how Litmus works, or getting you started with a free trial.
No more copying and pasting email code
Getting your email from your code editor into your ESP and making sure you use the most up-to-date code can be dizzying. Not to mention leaving your email open to errors during all that back and forth. Say goodbye to the manual copy and paste process.
With ESP Syncing, you can automatically sync your code from Litmus Builder to your ESP in one click. And whenever you make changes to your code in Litmus? It automatically updates in your ESP, too.
Once your email is done and ready to test, use ESP Sync to instantly begin testing your email across key spam filters to make sure it reaches the inbox and gives your subscribers the best experience.
Troubleshoot emails right where you build
When you're working with your ESP's email editor (or a separate one), QA testing can be a clunky process. For example, you might build your email in your ESP, then move it into Litmus for testing. And if you find an issue, the process starts all over again. That's a lot of copying and pasting and switching between tools.
The Litmus Extension is a powerful Chrome extension that brings the power of Litmus Test and Email Previews right into your favorite build environment—including your ESP.
Preview emails inside your email platform
Litmus Email Previews are also integrated in hundreds of popular ESPs and is a great way to see how your emails look across 90+ email clients—right where you create them. Some ESP integrations even include the full power Litmus' automated pre-send testing. No more switching between your ESP and Litmus.
See how it works, using Salesforce Marketing Cloud as an example:
What ESP or MAP would you like to see integrated with Litmus?
Don't see your ESP or MAP on the list? We're always looking for ways to simplify your email day and would love to know where you'd like to see Litmus next!
This post was originally published on August 14, 2020, and has been updated with our newest ESP integrations on January 27, 2021. Keep your suggestions coming!