You need to move fast. And Litmus can keep pace by your side. Our latest updates give you and your team (even the non-coders!) the flexibility you need to tackle on-brand emails, last-minute changes, and quick turnarounds with ease. No mistakes found here.
Explore all the new ways Litmus makes you agile and efficient—so you can reinvest your time in driving innovation and conversions instead.
Drag and drop email modules in Visual Editor
Building emails can be a very manual and repetitive process. Especially copying and pasting the same bits of code over and over again. That's not scalable. And it's prone to mistakes.
So it's no wonder that 33% of marketers use a drag-and-drop visual editor to create their emails—and another 37% wish they had one—according to our State of Email Workflows report. Wish. Granted.
With new drag-and-drop modular building with Visual Editor in Litmus Builder, you can:
Create emails at scale by simply dragging and dropping modules into your template—no training or coding knowledge required. And no unnecessary elements added to your code, either.
Empower flexibility, creativity, and innovation with any combination of modules.
Stay on-brand and error-free with smart controls and validation on email modules to prevent accidental changes or mis-use.
Friendly heads-up: This one's exclusive to Litmus Enterprise plans.
Organize your modules with Categories in Design Library
30% of emails are built using a library of standard components, snippets, or partials—aka reusable code modules. And while they speed up email creation, searching for the right ones can slow you down. Now you can tag your modules with custom categories.
With new Categories in Design Library, you can:
Create custom categories to organize your modules by team, region, or whatever fits your needs.
Assign multiple categories per module for ultimate flexibility and ease of use.
Quickly find your most up-to-date, brand-compliant modules to collaborate more efficiently and scale email production.
Friendly heads-up: This one's exclusive to Litmus Enterprise plans.
Get a fully optimized email template with modules
All this talk about modular emails got you curious? Our email team created an email template with lots of snippets and partials you can play around with—and we added this to Litmus Builder for all to enjoy! So even if you don't have drag-and-drop functionality, you can still save a ton of time with reusable code modules (our own email developer can build an email in 10 minutes!).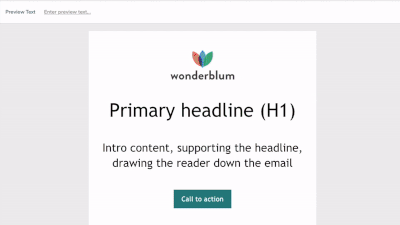 Friendly heads-up: This one's available in all Litmus plans.
Filter and sort Email Previews
Heavy workloads. Aggressive deadlines. Add the countless devices and views to test, and you've got yourself a mind-numbing and time-consuming process. So it's not surprising that 50% of marketers say optimizing email workflow is a priority. Save time, and focus on the email clients with the most impact on your audience.
Introducing Email Previews filtering in Litmus Test. Now, you can:
Filter and find Email Previews by keywords such as Outlook or iPhone.
Sort by "most popular" overall or, with Email Analytics data, hone in on where your subscribers open emails.
Show flagged previews for quick email collaboration and troubleshooting.
Friendly heads-up: This one's available in all Litmus plans.
Sync your emails from Litmus to HubSpot
63% of email marketing teams understand the importance of pre-send testing and use a quality assurance (QA) checklist. But copying your Litmus-tested email over to HubSpot? What a hassle—especially when you're constantly making updates and re-testing or if you're using more than one ESP. Not anymore.
With new ESP Syncing for HubSpot, you can:
Sync emails created in Litmus to HubSpot in a single click.
Sit back and relax—any changes made in Litmus Builder will instantly update in HubSpot.
Friendly heads-up: This one's exclusive to Litmus Enterprise plans.
Test as you build in Adobe Campaign Standard
39% of email marketers rely on email editors provided by their email service provider. So going back and forth between creating emails in Adobe Campaign Standard and testing in Litmus can be a pain. Now you have one seamless view to keep your process moving.
With new Adobe Campaign Standard support for the Litmus Chrome Extension, you can:
See Email Previews to ensure error-free emails while building in Adobe Campaign Standard.
Automate your QA tests to instantly see the critical elements (like links and load time) that affect email performance before you send.
Friendly heads-up: This one's exclusive to Litmus Enterprise plans.
See how your emails look in even more email clients
Ensure your emails look great in the latest additions to the Email Previews testing suite in Litmus:
Microsoft Edge for all web clients
Office 365 Light Mode (Dark Mode already available)
That's now over 100 email clients, apps, and devices you can preview your emails in!
Friendly heads-up: This one's available in all Litmus plans.
Ready to get started?
Doing more with less can seem like a distant dream, but we hope our newest Litmus updates make you see it's in sight. Modular email building, quick ways to find the modules and Email Previews you're looking for, and more ESP integrations give you the efficiency boost you need to give you and your team the time to focus on email optimization and innovation. And that's only part of what Litmus does for you.
Or if you're already a customer on a Litmus Enterprise plan, see what's new in your account. Otherwise, get in touch with us to see how you can get the new Enterprise features.