This year you can expect to see more personalized emails, as well as more interactive emails. For the second year in a row, those two email design trends stood out above all others, according to a Litmus poll of more than 240 marketers.
The next tier of email design trends included using more AI-driven content, using more live content, and simplifying email designs. The other eight email design trends that we asked marketers about received a bit less enthusiasm, although they're all still likely to be important this year.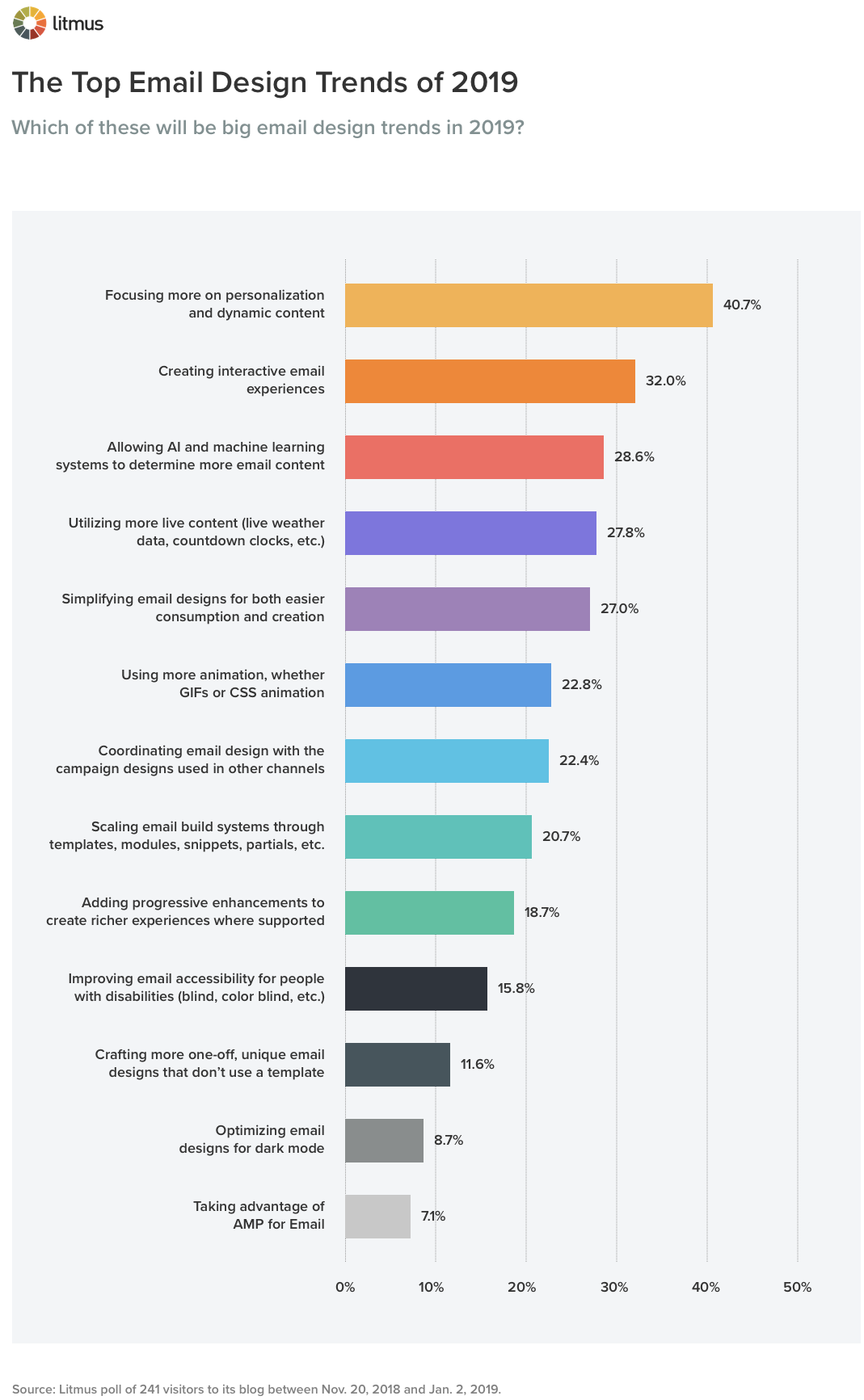 To bring some perspective to these email design trends, we reached out to our friends at Action Rocket, Campaign Monitor, Trendline Interactive, Oracle, Really Good Emails, Yes Marketing, and Adobe. Let's discuss each of these 13 email design trends in more detail:
1. Focusing more on personalization and dynamic content
After coming in at the No. 2 spot last year, personalization came out on top this year. The focus on dynamic content is in part due to the rise of AI-driven personalization, which allows tailored email content on a scale and level of granularity that's otherwise impossible.
"Email marketers will continue to become more comfortable using artificial intelligence and machine learning features to help scale their campaigns," says Bridgette Darling, Product Marketing Manager, Adobe Campaign. "Artificial Intelligence features, like predictive fatigue or predictive offers, will begin to be woven into every aspect of a campaign process. These features will allow email marketers to more effectively create experiences that speak to our customer's interests, behaviors, intentions, motivations, and next-steps."
AI and machine learning is our third biggest email design trend of 2019, but first let's talk about…
2. Creating interactive email experiences
Falling one spot, interactive emails are still high on marketers' priority list for 2019. The ultimate promise of interactivity—the ability to check out in an email—is part of what's continuing to drive this trend.
"I want to see real-time ecommerce in email, but I don't think the tech is ready for it yet," says Matthew Smith, Co-Founder of Really Good Emails. "Once we have 1-click purchasing in email, where email can retain my logged in state for a shop, then we will see a shift in money, talent, and tech into email. I doubt this will take off in 2019, but we'll see."
But even without grabbing that holy grail, brands are creating more engaging and frictionless experiences by using interactivity. For instance, Home Depot and Etsy now have interactive product review request emails where subscribers select their rating (1 to 5 stars) and type their review into the email. The conversion point is in the email when they click "Submit Review." The landing page is only used to confirm the review submission.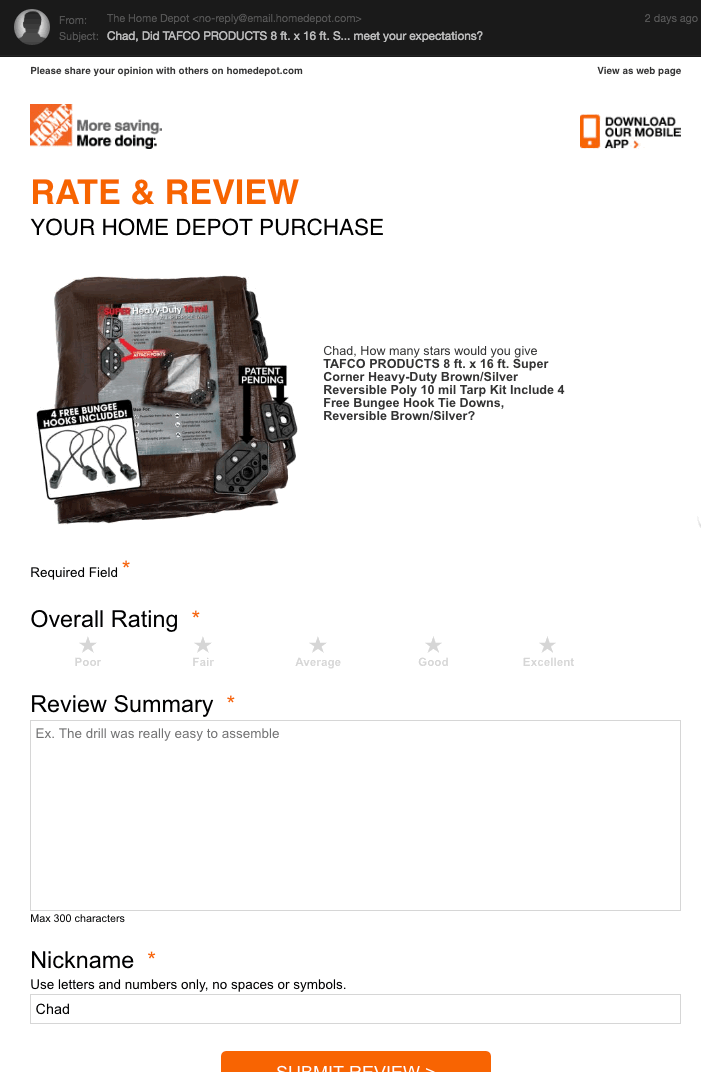 Darling from Adobe says interactive experiences like that will become more common this year. "We rarely see these interactive tactics fully integrated into a brand's overall experience," she says, adding that they tend to be one-off campaigns. "In 2019, we should begin seeing more adoption of interactive email features as content and design functionality emerge natively within email platforms to allow email marketers to more easily integrate them into daily campaigns."
Learn about Interactivity

In this 4-page whitepaper, email leaders get data on the adoption of interactive emails and the most popular interactivity, examples of interactive emails, and an explanation of the challenges.
3. Allowing AI and machine learning systems to determine more email content
This growing trend is part of what's propelling the industry's No. 1 email design trend—personalization—because machine learning makes it possible to individually tailor send times, product suggestions, and other email elements at unprecedented scale. Subject line recommendations based on past reactions to various words and word patterns are also a significant part of the trend of more machine-driven email.
"We are still far off for AI-designed emails," says Mike Nelson, Co-Founder of Really Good Emails, "but software will play a larger part of autonomously inserting content into already designed emails with specific rules developed by senders."
Logan Sandrock Baird, Design Services Lead at Campaign Monitor, agrees, adding that advances in email design have made it easier for brands to use AI-driven content. "The increased reliance on machine-learning to serve up relevant content at scale builds on the lessons we've been learning as an industry about the value of modularity when designing and developing."
However, Baird warns that as the use of machine-learning grows, so too must the safeguards. "We'll need more human safeguards and QA processes in place to make sure that we keep the communication our subscribers receive personal, contextually relevant, and sent at a human cadence."
JP Flores, Associate Creative Director at Oracle Marketing Cloud Consulting, says that Burger King did a campaign that poked fun at the idea of AI controlling too much creative. "Though it was tongue in cheek, there is some truth to it," he says, citing AI-written subject lines as one trouble spot because data-driven systems prioritize opens ahead of subscribe expectations and brand perception.
For instance, let's look at the subject line: "Alert! It's a good time to save." "The use of 'Alert!' is common in AI-generated SLs as the term generates opens," says Flores. "However, this places opens ahead of brand trust."
4. Utilizing more live content
Live content in email is populated at the time of open, not at the time of send. This allows for live content to be more up to date and relevant for subscribers who don't open the email immediately, or who open it more than once.
Common uses of live content include:
Real-time countdown clocks (e.g., end of sale)
Up-to-date weather information and forecasts
Live sports scores and medal tallies
Current inventory data
In addition to interactivity, live content is one of the primary capabilities of AMP for Email, which we'll discuss later.
Whether your goal is engagement, entertainment, or education, interactivity and live content can work well together, says Patrick Colalillo, Associate Creative Director, Oracle Marketing Cloud Consulting.
"Gamification can help marketers engage customers in a new way and stand out from business as usual sends," he says. "We see the use of live polls, quizzes, and interactive contests leading the way for a dynamic customer experience. Live results can be populated and change with every view, encouraging customers to open and click the same email multiple times."
For example, this email from Xfinity includes a poll with live results:

5. Simplifying email designs for both easier consumption and creation
Email attention spans are short—about 11 seconds, according to Litmus research. Brands are increasingly creating email content that better fits this attention span, with the added benefit of making their emails easier to create.
"We'll see people simplifying their emails for faster changes," says Really Good Emails' Smith. "Note how Behance and Dribbble both recently went simpler. It's a strong feel. It's about pushing content, not just style."
Mobile has been the principal driving force behind simpler email designs. Oracle's Flores says, "With the increase in mobile usage and advances in usability on mobile devices, mobile-only design just makes sense. We always recommend clients keep their emails concise and drive customers to 'Learn More' on a landing page. A mobile-only design forces you into that best practice."
Flores says this approach makes even more sense if your audience is heavily comprised of Gen Z subscribers. According to Fluent, 81% of people 18-24 check their email on a smart phone most often.
6. Using more animation, whether GIFs or CSS animation
Movement is attention-grabbing. It's a basic design principle, and a common email design element. Animated GIFs are considerably more popular than CSS animation, but both can be effective ways to add motion to emails.
"Simple flashing gifs aren't cutting it anymore," says Matthew Caldwell, SVP Worldwide Creative at Yes Marketing. "Our designers spend as much time in Adobe Animate as they do in Photoshop. Tweening, easing, and other advanced animation concepts has allowed our animations to become more eye-catching and sophisticated."
As with everything, there's the risk of too much of a good thing. "I think we'll see a lot of abuse of GIFs in email," says Smith. "It's already getting worse. The image file sizes are stupid."
Keeping animated GIF image sizes small, limiting the number of frames, compressing the file size, and ideally using just one animation per email can all help keep email load time down.
7. Coordinating email design with the campaign designs used in other channels
Email marketing is undergoing a massive de-siloing. Once isolated, email marketing is being folded into brands' omnichannel operations.
While one-third of brands have yet to make this transition, the remaining two-thirds are either currently making that transition or have already completed it, according to our 2018 State of Email Survey results.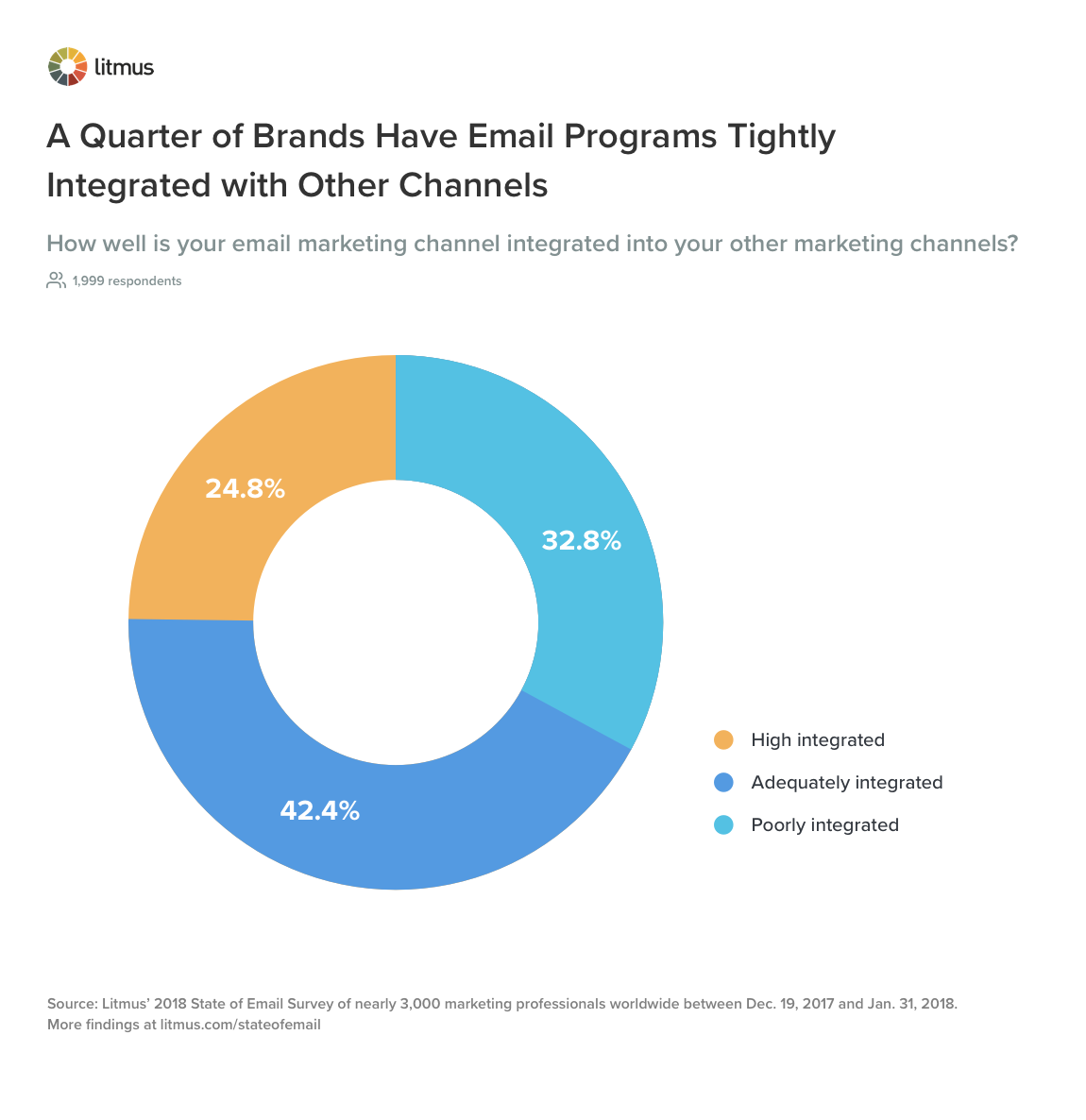 Yes Marketing's Caldwell is seeing this shift in what their clients are asking for.
"Now instead of making emails, our clients brief us and we make emails, digital ad packs, and social ads," he says. "This is a trend toward less siloed agencies and more multichannel concepts, but it's more of a trend of our clients adopting DMPs and truly executing across channels."
8. Scaling email build systems through templates, modules, snippets, partials, etc.
Email design has only become more complex over the years. To tame this complexity so brands can build emails efficiently, they need to adopt email design systems. That means adopting email templates and modular builds composed of snippets and partials.
"Creating a template build system means brands can create email quickly, efficiently and reduce risk of errors," says Elliot Ross, Managing Director at ActionRocket and CEO at Taxi for Email. "It means everyone in the process knows what they're working to—so marketers know the timeline they're working to and copywriters know how much to write.
"Smart marketing teams are already adopting design systems and master templates," he says. "This will become the norm in 2019."
9. Adding progressive enhancements to create richer experiences where supported
Email marketers have long abandoned the goal of creating "pixel-perfect" emails. That goal causes marketers to play down to the lowest common denominator, to limit their designs to what the least advanced email client supports. While it ensures a consistent brand experience, that experience is uninspiring.
Savvy marketers are now fully embracing the goal of creating "platform-perfect" emails that play up to the capabilities of the more advanced email clients. Email interactivity, AMP for email, and responsive email design are all part of this trend of using progressive enhancements to take advantage of advanced email clients along with fallbacks to deals with less advanced email clients with poor support.
Hybrid or fluid responsive code is also part of this trend, says James Wurm, Manager of Email and Web Development at Oracle Marketing Cloud Consulting.
"Conventional responsive code uses media queries as breakpoints to snap from desktop mode to mobile," he says, "but this constrains the width and can make it look awkward on some devices. Fluid coding allows for flexibility in device width, maintaining a responsive look while enhancing the experience for more users because it's supported across more email clients."
10. Improving email accessibility for people with disabilities
Email accessibility has been a growing concern for several years now. However, Campaign Monitor's Baird says the trend is evolving from the reactive solution of accessibility to a proactive approach of inclusive design.
"Accessibility is making special considerations for people with disabilities after we've created our initial designs," he says, "whereas inclusion is beginning the design process with a broader scope of making what we are designing useful for as many people as possible."
During 2019, email marketers will continue to improve the experiences that subscribers with poor vision, color-blindness, and other permanent or temporary disabilities. However, this year brings a new concern: voice-assistive technologies.
"Between Google Home and Assistant, Siri, and Alexa, voice-assistance is becoming ever more ubiquitous," Baird says, "and we'll need to continue to shift our approach to email design as more subscribers have their emails read to them. This means an increased emphasis on building engagement through compelling copywriting and easing voice navigation through clean, semantic markup hierarchies on the email development end."
11. Crafting more one-off, unique email designs that don't use a template
Email templates are great for building brand consistency and easy recognition in the inbox. However, more brands are recognizing the power of occasionally abandoning their usual template to create a special email design for a special message, like a major announcement or key seasonal campaign.
Only 12% of brands never use one-off email designs, down from 22% in 2016, according to Litmus' State of Email research.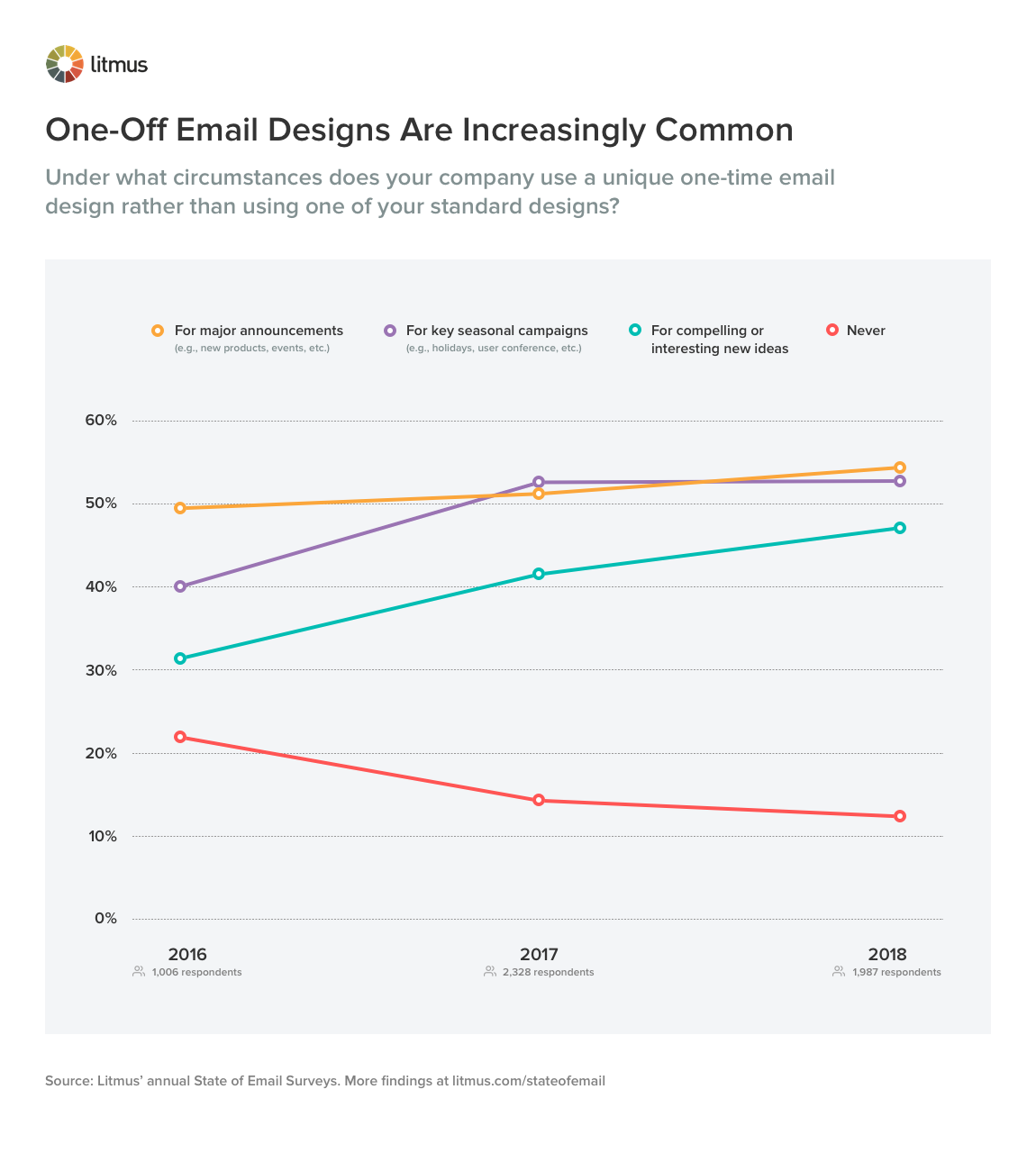 "Template system adoption has been good for consistency and efficiency," says Alex Williams, SVP of Trendline Interactive, "but to increase performance, you will see designers zag to stand out against the rest of the inbox. You will start to see designers move away from completely flat and boxy designs and add more depth and asymmetrical patterns."
When it's appropriate for a brand to use a one-off design is one of the issues that should be addressed in their email brand guidelines.
12. Optimizing email designs for dark mode
Apple Mail, Gmail, and Outlook.com are among the email clients that allow users to enable dark mode, which uses a darker color palette for all windows, views, menus, and controls, making the interface more suitable for work in low-light environments or at night.
It's likely that more email clients will follow suit and add dark mode capabilities, and that's likely to spur subscriber usage. That will require some email design adjustments from brands, says Trendline Interactive's Williams.
"A lot of it depends on the implementation choices the clients make and the ability to detect/alter if you are in dark mode or not," he says. "But generally, brands should adjust by predominantly using HTML/CSS to drive layout, using web text for all copy and making sure the type looks good in a light color on a dark background, using vibrant icons and images, and making good use of color contrast in your layout."
13. Taking advantage of AMP for Email
AMP for Email was formally announced early last year, and will become available for use early this year. It offers both interactive email functionality (our No. 2 trend) and live content capabilities (or No. 4 trend), so why are so few marketers excited about it?
The biggest issues are that:
AMP for Email is a new coding language that email developers would have to learn.
Adding AMP for Email to an email requires the addition of a completely new MIME part, which means coding a completely new version of the email in addition to the plain-text and HTML MIME parts.
While AMP for Email is an open standard, only Gmail is adopting it currently.
Email interactivity suffers from all three of those issues to a degree—requiring the learning of new code that mostly only works in Apple email clients—but that hasn't dampened enthusiasm for that trend.
When Litmus polled marketers back in May about their level of interest in AMP for Email, nearly a third who were familiar with it said they were very likely to use it. But many marketers said they didn't know what AMP for Email was.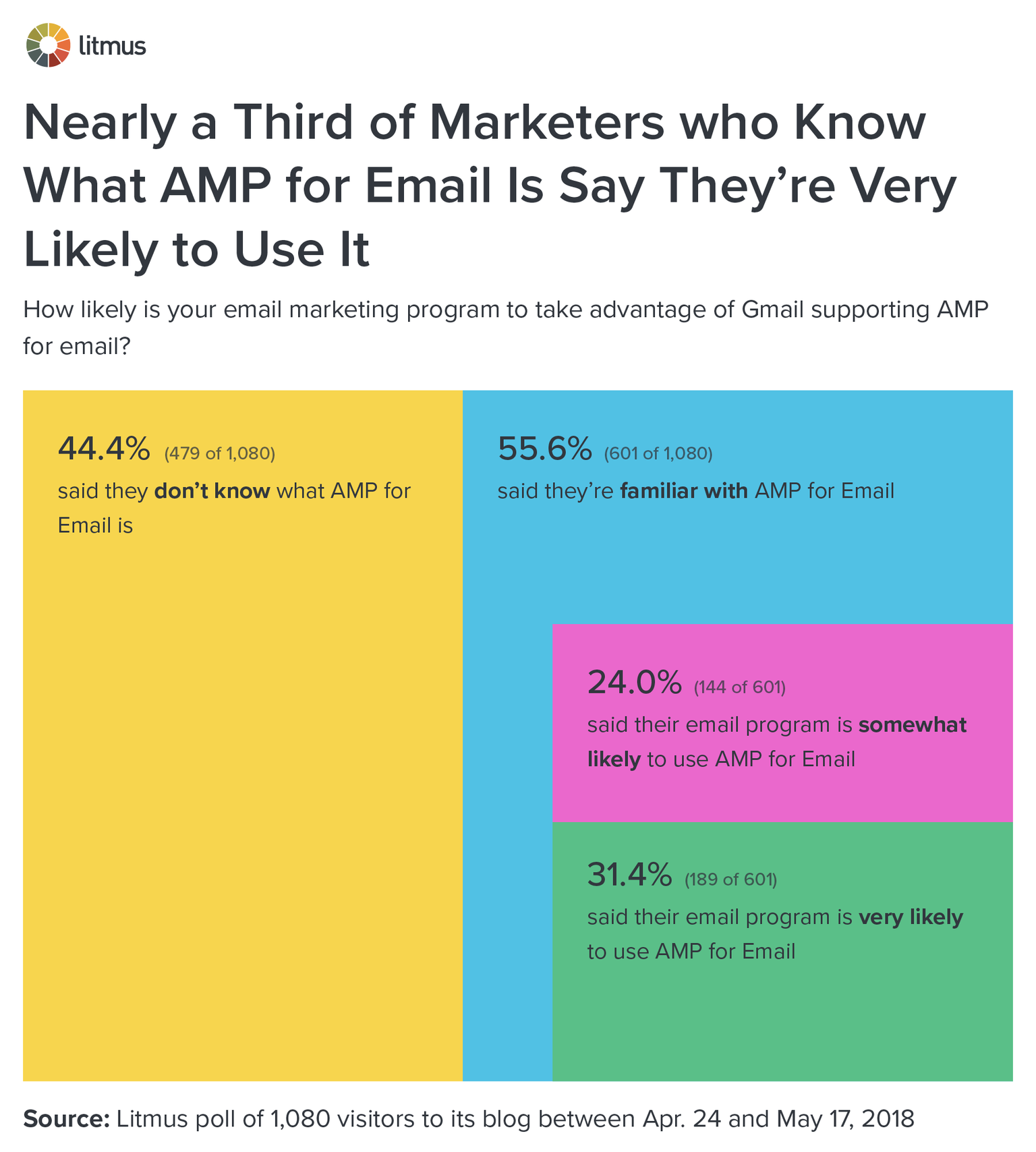 It's possible that as brands have learned more about it, they've become less interested. It's also possible that a lack of email service provider support has dampened enthusiasm.
If ESP support improves significantly and some early adopters can demonstrate the power of AMP for Email, attitudes might change dramatically by the end of 2019, especially among B2C brands with young email audiences that are among the heaviest users of Gmail. This just might be the most volatile of all the email design trends we've talked about.
2018's Top Email Design Trends
When Litmus consulted with our industry friends about the top email design trends for 2018 and then polled the Litmus community on their thoughts, here are the trends that came out on top: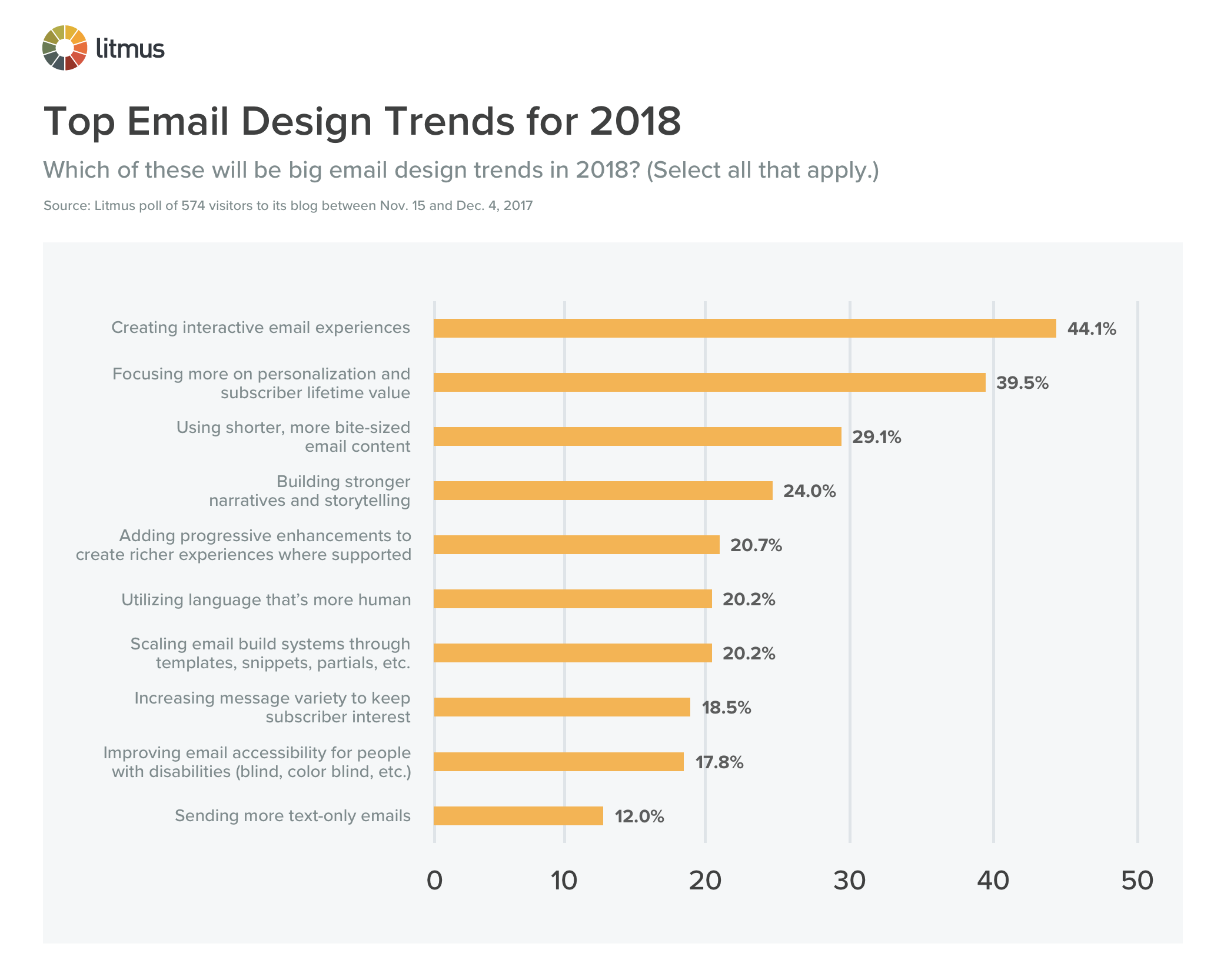 Want more resources like this?
Subscribe to Litmus Weekly to get your weekly dose of email inspiration, tips, and tricks, right in your inbox.