On average, it takes 2+ weeks for email teams to get a campaign out the door and 3.8 hours to just code a single email. Especially when you're working on multiple campaigns at a time—and that need will only grow—it's natural to want to save as much time as you can.
Thanks to the newest updates to Litmus, it's never been easier to produce high-performing, on-brand emails quickly without sacrificing quality—even if your team is distributed.
Here's what's new.
Create and collaborate on shared resources in Design Library
Ask any email marketer or developer: Creating an email from scratch is tedious. And, even if you're using templates or reusable code snippets to help streamline the process, locating them (and ensuring they're the most up-to-date version) is time-consuming and increases the chances of sending off-brand, broken emails.
Growing demands on your email team means more risk for mistakes slipping through. With the Design Library in Litmus, you can centralize key components of email campaigns to more easily collaborate, ensure brand integrity, and scale email production across your team—regardless of where team members are located or which ESP (or ESPs) you use. Gone are the days of locating and updating resources across multiple ESPs, code editors, and storage solutions.
The Design Library makes it easier for email developers to create and share templates with other developers that are just starting out and learning—or even non-developers. Plus, using the Design Library within subaccounts lets you keep all of your assets separated as needed, whether it be by region, client, or business unit.
Test email clients and devices that matter most to your audience with Email Client Recommendations
With 90+ email apps and devices constantly updating or changing, ensuring you're testing those that matter most to your audience can be daunting. How do you know you're testing where your emails are actually being opened? That information is critical to create a great subscriber experience for everyone.
With Email Client Recommendations in Litmus Checklist, you can get live insights on what your subscribers are using so you can focus your attention on the email previews that matter most to your audience—now available for all paid plans.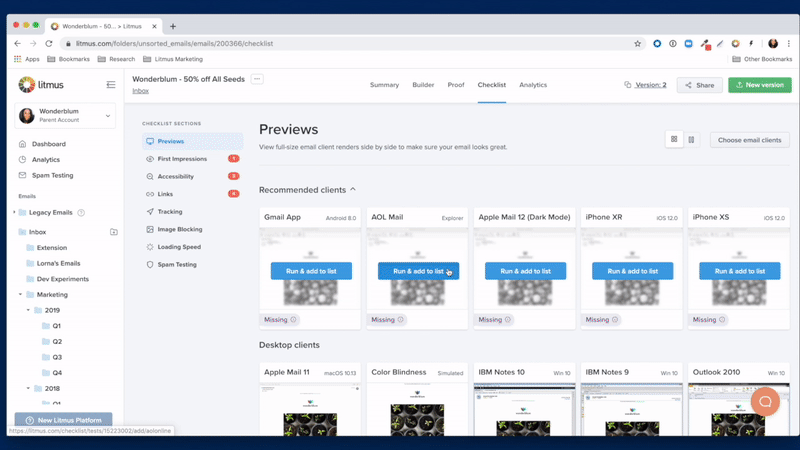 Plus, you'll get notified of any new clients and devices we add, so you never miss a new addition—and can rest easy knowing you're always checking your campaigns in the latest environments.
Streamline email design review and approval process with Cloud Storage Support for PNG and JPG
Back in December 2019, we launched image support in Litmus Proof—and now it's even better.
We know email reviews don't start and end with the code; you're reviewing email design, too. That's why we've added support for PNG and JPG files in addition to HTML for reviews and approvals in Litmus Proof. Import your design files and HTML to Proof directly from popular cloud storage solutions including Google Drive, Dropbox, and OneDrive, allowing your team to easily provide design feedback and streamline your review and approval process.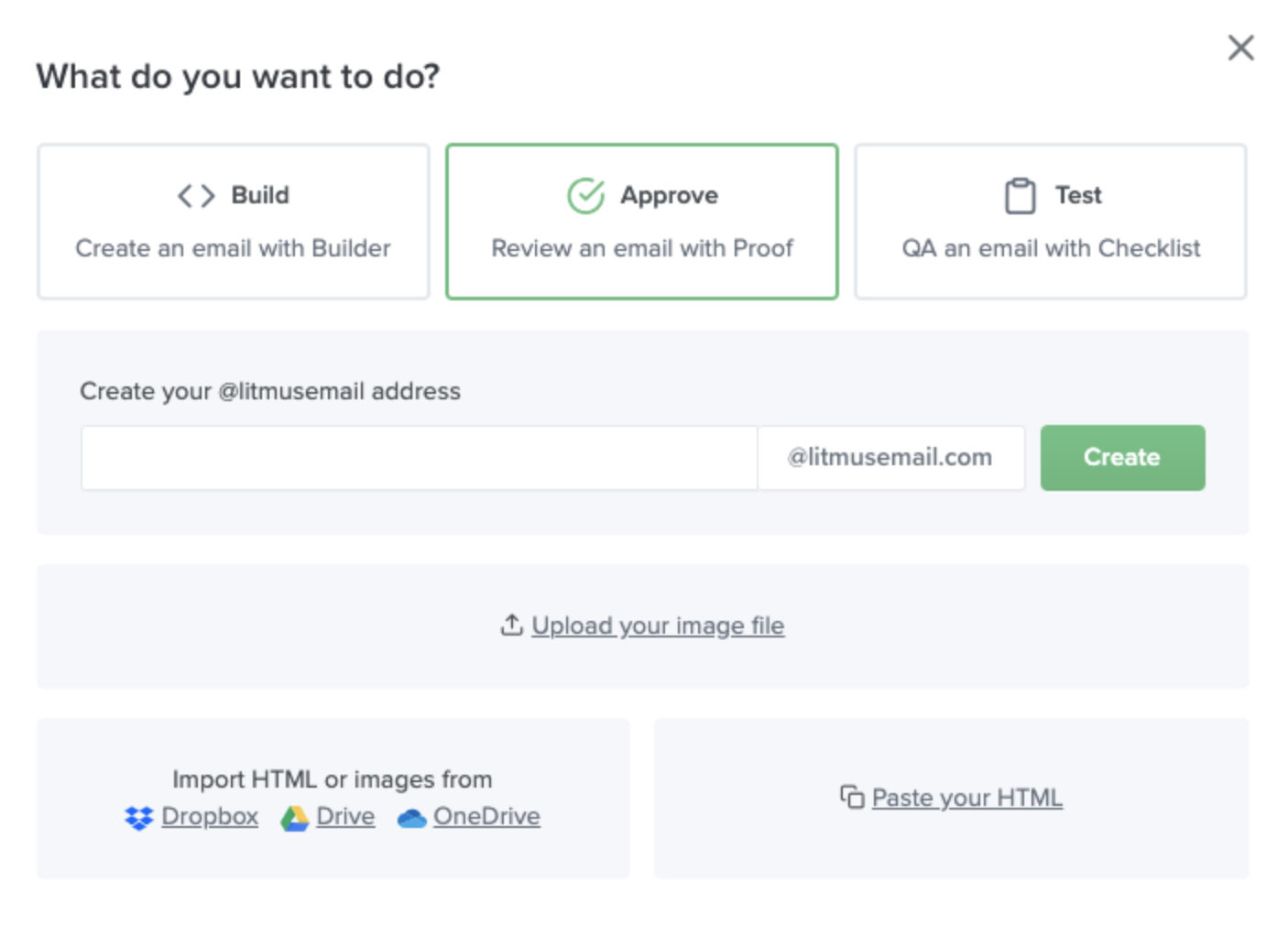 Other Improvements to Litmus
We've got a number of other improvements across our platform, including:
Email Preview support for

Outlook Desktop Office 365

in both Light and Dark Mode

New ability to toggle between emails in a new sidebar when you're in Litmus Builder, Proof, Checklist, or Analytics

Ability to email a project to a specific folder

Easily add Litmus Email Analytics tracking codes within Litmus Builder—plus get notified if your tracking code is missing
Ready to dive into our new features?
If you already have a Litmus account, get started with these updates today. We can't wait to hear what you think!
Not a Litmus customer yet? Start a free trial or talk to a Litmus expert for help getting started.