We know that switching back and forth between tools can be a hassle, so we're working hard to help you integrate Litmus with the email tools you use most. Today, we've got exciting news for everyone who uses Salesforce Marketing Cloud to develop and deploy marketing campaigns. With our brand new integration, you can now access Litmus right within Email Studio, Salesforce Marketing Cloud's email marketing solution, to view real-time previews of your emails in 70+ popular email clients and devices—all without ever leaving Salesforce Marketing Cloud.
Here's how our brand-new integration helps you streamline your email production process so you can get error-free emails out the door, faster.
Preview your emails within Salesforce Marketing Cloud
With the new integration, you can say goodbye to switching back and forth between tools. Litmus Email Previews are now integrated within Email Studio, so you can test your emails and troubleshoot issues easier and faster than ever before.
To bring the power of Litmus right into Salesforce Marketing Cloud, simply visit the "Preview and Test" section within Email Studio, click the Litmus button, and connect your Litmus account. Once authenticated, you'll be able to preview your email in popular mobile, webmail, and desktop clients without leaving Email Studio. If you don't have a Litmus account, you can also start a free 7-day trial from within Email Studio.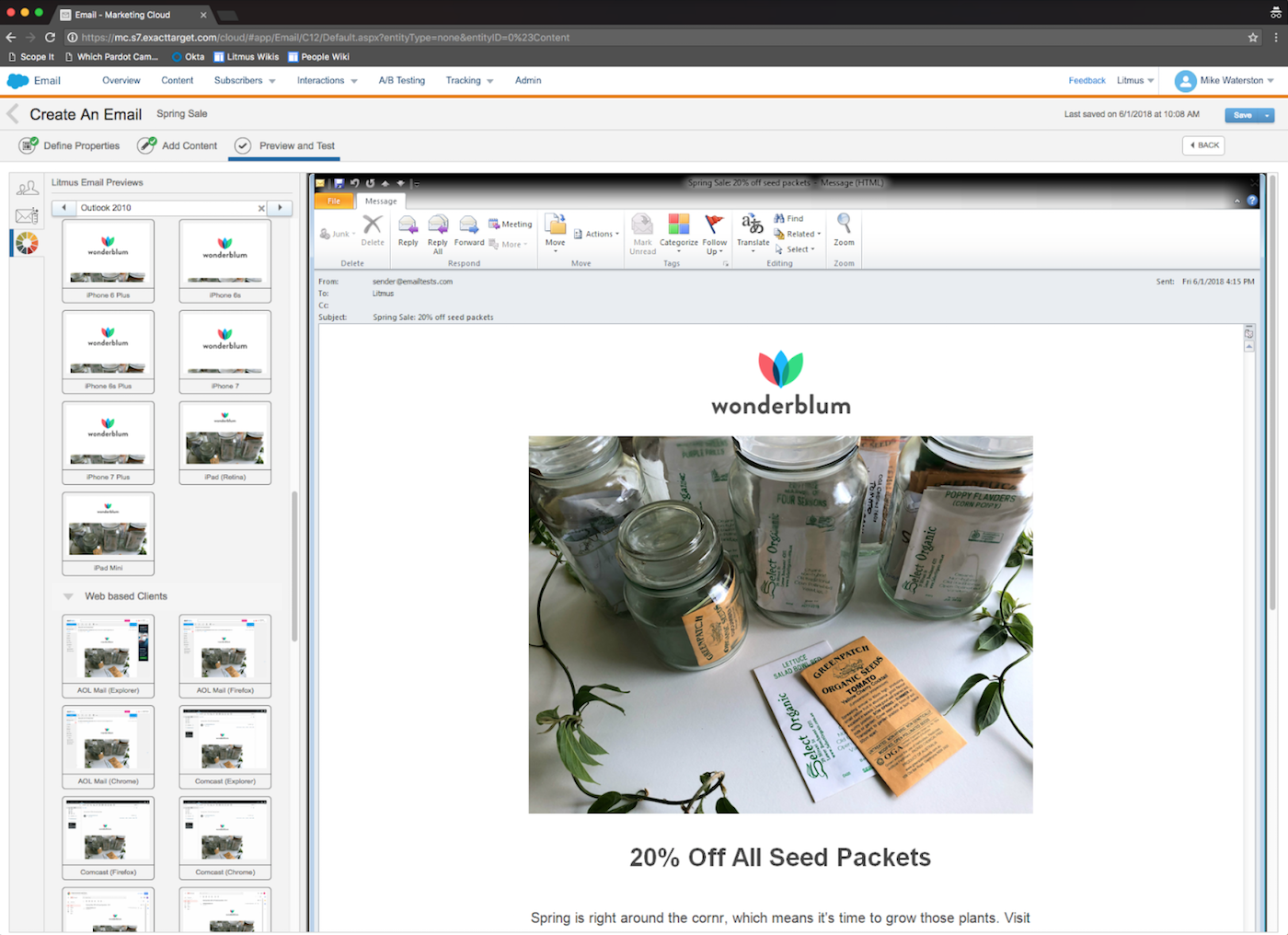 Preview AMPscript, personalization, and dynamic content in seconds
You can also preview how AMPscript, personalization strings, and dynamic content within your email will render in 70+ popular email clients and devices. First, perform a subscriber preview in Email Studio by selecting a subscriber with the desired data and attributes you'd like to preview. With the subscriber preview intact, simply navigate to the Litmus icon to begin your test.
Here are just a few ideas for how you can use this powerful combination of features:
Test common personalization and dynamic content variations. Ensure your emails look great for every subscriber—no matter their unique personalization and data requirements or what clients or devices they use to open your emails.
Fail-proof edge case scenarios.

Unusually

long, non-standard, or unexpected data formats can break even the best-tested template. The ability to easily test dynamic content allows marketing teams to create edge case scenarios and test them in popular reading environments—so you can ensure templates are scalable, flexible, and bulletproof under common (and less common!) scenarios. Confirm your campaigns have been tested to accommodate customers with long or hyphenated names, international shipping addresses, special characters, and more.

Utilize the power of modular design—without the risk.

Modular design using stored

snippets, partials

, and similar build systems that can be reused across emails can help speed up your build process significantly. But if you're utilizing the same code across campaigns, it's even more crucial to ensure that it looks great and works well everywhere. Adding Litmus previews to your pre-send process will provide additional visibility into template and brand consistency.
Get started with Litmus and Salesforce Marketing Cloud today
Explore all the way Litmus integrates with Salesforce Marketing Cloud, catch errors before you send, and start creating better campaigns, faster.