Welcome to the email marketing Super Bowl. Despite a rise in shopping holidays throughout the year (looking at you, Prime Day), retail's favorite pseudo-holiday, Black Friday, is still one of the busiest e-commerce days of the year. If you want to close out Q4 on a high note, this is the campaign to nail. 
Black Friday continues to break records, with 2022 breaking $9 billion in sales. While this number reflects the impact of inflation (around 7% at the time, a historic high), it's still a big time to buy and save for shoppers around the world. Last year, Black Friday deals eclipsed Cyber Monday by over 50%, according to Retail Dive.
Here are a few of the top trends we predict will be all over inboxes come November 24:
Early Access Campaigns
Consumers know and love Black Friday—and to make the most of it, we predict retailers will go bigger this year. This means more "pre-sale," "sneak peek," or "early access" campaigns that ramp up excitement and make subscribers feel more exclusive. 
Source: Really Good Emails
Source: Really Good Emails
We checked our inboxes and the earliest email we could find that referenced Black Friday last year landed October 21. 
That's a bit much. 
If you must send an email early, start with November 1. 61% of customers started their holiday shopping by early November in 2021 and 57% shopped online, according to the National Retail Federation (NRF). Your subscribers expect to receive deals for Black Friday and may pass on an earlier discount hoping for the big reveal later.
Black Friday Starts…NOW
Okay, please don't use that subject line. Just cross it off the list. That subject line is everywhere Black Friday, and this year we think it will be more of the same.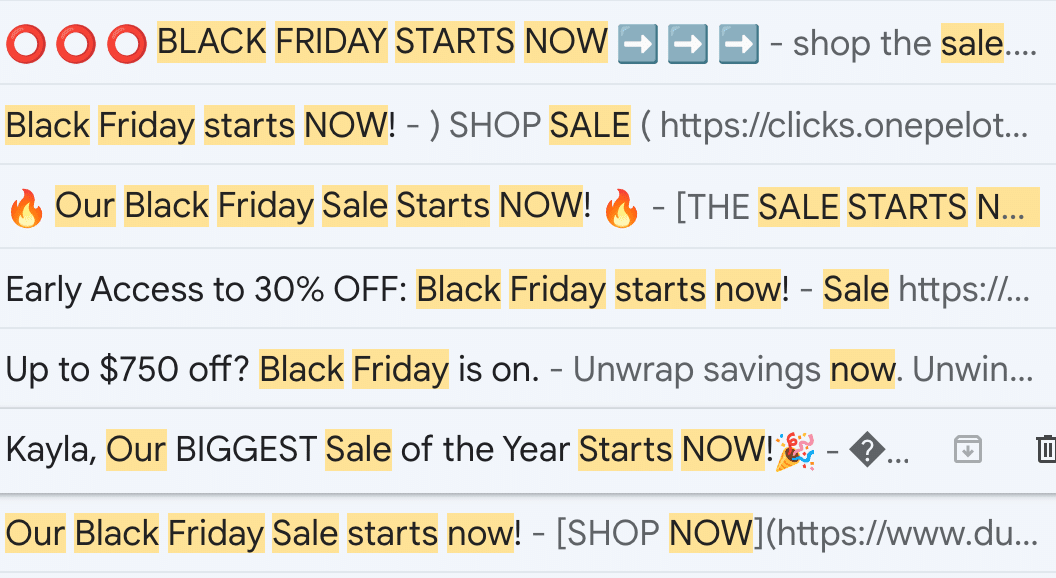 If this year is anything like last year, we'll see a lot of similar subject lines like…
"Black Friday starts now!"

"Black Friday deals just dropped!"

"Our biggest sale is happening now!"

"LAST CHANCE! SHOP NOW!"
These get a little shout-y. Everyone knows it's Black Friday! Try to do something different with your subject lines this year. Now is the best time to get creative with your campaigns, experimenting with emojis or fun wordplay, like these examples:





Anti-Black Friday Campaigns
This trend isn't new, but it's been picking up steam for the past few years. Started by outdoorsy brands like Patagonia and REI, these bold campaigns put a spotlight on bigger issues and appeal to younger consumers looking to break free from tradition. 
Source: Really Good Emails
Source: Really Good Emails
Shoppers like to buy from brands they know are giving back, especially during the holiday season. 81% of millennials say they want to support brands with corporate citizenship. That's why we predict that campaigns questioning the premise of Black Friday—aren't we supposed to be thankful about what we have on Thanksgiving, anyway?—will continue to become popular. 
Dark Mode-Friendly Email Designs
Black and white color schemes dominated our inboxes last year. Black on Black Friday? Groundbreaking, we know. But these sleek, monochromatic designs do a great job showcasing products without too many bells and whistles. A few years back, every email was animated or had a cool interactive email element to it. But we're seeing retailers streamline their marketing efforts and go for substance over flash:
Source: Really Good Emails
Source: Really Good Emails
Source: Really Good Emails
As a bonus, these designs are all Dark Mode-friendly. With 40% of all opens tracked doing so in Dark Mode, it's important to make sure your emails can be read and engaged with. Dark Mode uses light-colored typography on dark backgrounds, so designing your emails with a black-and-white color scheme means even if your email client reverses your color scheme, you'll still get your point across.
More Personalized Email Campaigns
We're not talking about "first name" here. Instead, we're hoping to see more retailers tailoring their campaigns directly to their subscribers this year. 
80% of customers are more likely to purchase from a brand that provides personalized experiences. Instead of sending a blanket Black Friday campaign, consider dynamic content within your campaign that recommends deals on recently viewed items, those frequently bought together, or promoting the same product category as a recent purchase. 
Source: Really Good Emails
Source: Really Good Emails
Because Black Friday deals are everywhere this time of year, you'll get lots of subscribers who may be browsing for themselves and for gifts. It can get overwhelming, so point them in the right direction by showing off products they're already interested in, or go big with your bestsellers on sale.
Mobile-Specific Messaging
According to our data, from Thanksgiving to New Year's Day, over 44% of emails were opened on mobile devices. And generally speaking, 60% of emails are viewed on mobile devices. 
Retailers are catching on—we predict more mobile-specific messaging this year, with CTAs focused on "tapping" instead of "clicking" and bigger CTA buttons above the fold. We'll also continue to see one-column email layouts.
Source: Really Good Emails
Source: Really Good Emails
If you're not already optimizing for mobile, it's time to work the kinks out now before one of these big campaigns. Use responsive email templates to display your content with consistency across any device and at scale to deliver mobile-friendly emails with every send. 
Gift Guides for Every Shopper
'Tis the season for gift guides all over social media, so why not in your emails? We're seeing more brands try out this tactic for their Black Friday campaigns and throughout their holiday marketing. 
Source: Really Good Emails
Source: Really Good Emails
Source: Really Good Emails
It's easy to forget sometimes that your shoppers aren't just looking for themselves, they're looking for gifts, too. Make it easy to get everything they need in one place with a gift guide email. 
Get ready for Black Friday this year with Litmus
Black Friday is a big honkin' deal in the email world. With your biggest sales numbers on the line, breathe easy with Litmus. Our suite of email tools for designers, developers, and marketers make sure you send a top-notch email, every time. Where to get started? Benchmarking your email performance. Start planning your biggest campaign of the year with Litmus Email Analytics.
This post was originally published in fall 2016. Updated August 2023.